Are you looking for the best Sims 4 body mods to improve your simming experience? Well, you're in the right place! No need to waste time scouring the web for ideas because I already did that for you. And in this post, I have a list of the most creative and exciting body mods you can use for your Sims.
But before that, you might want to check out my Mega Guide: Mods and CC for The Sims 4 for a more comprehensive guide that details everything you need to know about The Sims 4 Mods and Custom Content.
Body mods are designed to change the shape of your Sims' body, like by giving them bulging muscles or a baby bump. The Sims 4 is constantly updated with new content and mods. One reason to install these is to make your Sims look more like you. There are so many body mods and cc available, that you are bound to find some that suit your taste.
And here are the must-have body mods for the Sims 4 – from skins to hair sets, eyes, piercings, and more. Enjoy!
Below you will find a list of the most popular body mods on the internet. Take a look!
The Most Popular Sims 4 Body Mods Listed
#25 New skins for your Sims and Aliens Set
I'm starting this list with a very awesome skins pack that you've got to check out! The New skins for your Sims and Aliens Set is a useful mod for fans of all sorts of special and extraordinary skin tones. Kitty259's mod features 54 new skin color tones for all kinds of Sims or aliens, teens or older.
With more than 250,000 downloads of this mod at ModTheSims, the New skins for your Sims and Aliens Set are one of the most popular mods for The Sims 4 in this regard. And it definitely deserves your attention too.
#24 Whisper Eyes Package
Let's continue with a more realistic mod – the Whisper Eyes Package. This mod was developed by Kellyhb5 and is certainly a mod you should check out. It features unbelievably sweet eyes for every type of Sim, including toddlers. It doesn't require anything but the base game, so you won't need any DLCs to use it. They come as default, non default and contacts.
#23 Piercings Set
This one is for all of you who just can't get enough pretty accessories for your urban Sims. For you, the Piercings Set designed by Necrodog is undoubtedly one you should look into since it adds many cool piercings and tattoos. These are all male accessories and they look beautiful in-game. Definitely check them out!
We also recommend that you check different sim nose piercings here.
#22 Bigger Chest Set Body Mod for The Sims 4
Do you want a sporty Sim? Then definitely have a look at this mod and make some adjustments to your character's body parts!
The Bigger Chest Set is a useful extension for you, as it allows you to make your Sim look like Arnold Schwarzenegger and show off their muscles. Linkster123's Bigger Chest Set adds a set of modified muscle sets for male Sims. With it, you can make your male Sims look more realistic, especially the ones that are into sports.
#21 Hair for Toddlers Package
A way to increase the options of hairstyles for a toddler is something that has always been missing in the Sims 4. This is a complete package of toddler hairstyles that you're going to love.
From long and messy hairstyles to short and funny ones. This package has everything you need to make your toddlers one-of-a-kind! Don't hesitate to try it out!
#20 Skintones Sims 4 Body Mod Set
I live with a fact that I can never deny – there aren't enough skin options in Sims 4! And because of this, I can't help but recommend you the 6 Skintones Sims 4 Body Mod Set by Kitty259.
This pack features a lot of new skin options for the game. There are gentle and there are harsh tones. And it's up to you to choose the ideal one for your Sim.
#19 Simlish Clubmaster Glasses Set
For all the nerdy female gamers, The Simlish Clubmaster Glasses Set by Tamo features cool eyeglasses for all ages and genders. And it's one of the best body mods for Sims 4 that I've ever installed myself.
This pack features tons of stylish eyeglasses for your Sims. Here you will find regular glasses for everyday wear. But there are also many customizations for sunglasses. There are black, brown, blue, red, and other colors for glasses. It's awesome! Don't forget to enable CC in your game settings.
#18 Thong Underwear Set
When it comes to underwear, The Sims 4 has next to no customization options. We can't style our Sims' underwear however we like, but CC can help us out.
And this beautiful Thong Underwear Set by KisaFayd is a perfect example of that! It adds a custom thong in different variations and colors. You can choose the one that really fits your Sims.
#17 Smooth Hair Set Sims 4 Body Mod
We can safely say that Electronic Arts have not put that much effort into hair options in the base game for male Sims. They are simply not that great. And the best way to fix that is to download this super quality custom content!
This Smooth Hair Set adds an incredibly attractive haircut for male Sims to the game. It adds more character to our Sims and it makes them look much much better. It's available in many colors so you can find the ideal version for you.
#16 Dark Elf Skintones Set
And now let's continue with something more extraordinary. Enabling you to have more options in the body shop to create supernatural creatures, the Dark Elf Skintones Set is a useful extension for all fantasy fans out there.
This mod features 9 skin tones made for elves and other fantasy creatures. All skin tones look extremely well in-game and they appear quite natural on these Sims. Don't hesitate to try them out!
#15 Plumbots from TS3 Set
If you're a sci-fi fan, you're definitely going to love this alien body preset. It's a collection of robot options for our Sims. It essentially transforms your Sim into a robot but with tons of customization.
For example, you can choose the model of your robotic head. You can also select the shape of your upper body. And you can pick a color for every part of the body.
All in all, this pack is a fantastic body mod if you like to experiment with CC in Sims 4 and it comes in different textures and swatches to choose from.
#14 Sims 4 Body Hair Set Mod
Have you ever wondered how to make your Sim look super masculine? If yes, then Body Hair Set is the absolutely perfect modification for you.
Created by Castor, this mod adds body hairs for your male Sims. Of course, there are different options for adding body hairs depending on how hairy you want your male Sims to be. You can either add just a bit of body hair or an entire love carpet. The choice is yours!
#13 Afterglow Skin Mod
The Afterglow Skin mod by Kellyhb5 can add a cool new spark to your Sim. It's a much more realistic skin option for our Sims and I definitely recommend it. You'll find it much more suitable for any Sim you might create, especially if you don't use other skin body mods for Sims 4. On the plus side, it works perfectly on every body type there is, whether for your teen or elder sims. So, if you want to have a detailed body overlay, this is the one to get.
You can also check the Afterglow Skin on YouTube before you download it.
#12 Strawberry Blonde' Hair Color Mod
The Strawberry Blonde' Hair Color Mod by Kellyhb5 adds one of the most beautiful hair colors to Sims 4. Not only is this a gentle shade that looks really lovely in-game, but it also also a unique color that NPCs and townies won't have.
The strawberry hair color is a mixture between pink and blonde and I personally love it! Follow the link below to check it out in gretear detail and make a download.
#11 Glass Wings for all Ages Mod
Ah, who wouldn't want to own a pair of butterfly wings, am I right? By this point, Sims 4 hasn't added anything similar to the game and there are certainly no wing options, not even for the fantasy races.
Well, Esmeralda's Glass Wings for all Ages Mod gives you recolorable glass wings for males and females from toddlers to elders. The glass wings can differ in shape and design too, so they're very fun to play around with.
#10 Dreamy Eyes Mod
The eyes are an unsatisfying aspect of the CAS menu in Sims 4. Simply put, we can't create the perfect eyes for our Sims without mods and custom content. Because of that, I highly suggest you install the Dreamy Eyes mod by Kellyhb5.
Aside from the obvious quality upgrade of the eyes, you'll also get to have heterochromia eyes with this mod. This means that you can set different colors for each of your Sims' eyes. Fantastic! We recommend using perfect lipstick mods with it, too.
#9 Curly Ponytail for Girls Mod
I'll admit – there can never be enough hairstyles for our Sims! And here's a perfect example of how one hairstyle can completely change the look of your Sim.
This awesome curly ponytail is a great hair option for many female Sims, no matter if they're children or adults. It's cute, gentle, and absolutely adorable!
#8 3D Eyelashes Sims Body Mod
There are tons of eyelashes CC and mods for Sims 4 already on the internet. However, what makes this CC pack so great is that the eyelashes are actually in 3D!
The 3D eyelashes look much more realistic. They have increased the beauty of every Sim I've ever created while using them, so I totally recommend them!
#7 Sweet Bod Preset
If you're anti-body-shaming, I'd definitely suggest you download this realistic body mod preset. It's a realistic body look for your female Sims and can really elevate their form.
So, instead of creating either skinny or fat Sims in CAS, this preset will give you something in between that simply looks beautiful.
The installation process is pretty simple, here's your download link.
#6 Height Slider Sims 4 Body Mod
We're always on the lookout for body sliders and we finally have the height slider. This is an option that hasn't been available for Sims 4 since the start of the game. But thanks to this fantastic CAS mod by Lumia players can now make their Sims taller or shorter.
To use it, simply click and drag around your Sim's neck in CAS mode to change the height. I've also made a separate post that explains this Sims 4 body mod in detail here.
#5 Face Slider Sims 4 Body Mod
Here's another essential body mods slider, the best face slider for Sims 4! This is an awesome extension that allows you to create realistic faces in CAS.
It's essentially a way for you to customize your Sim's face by dragging your mouse left and right. I'm sure you'll find it super useful.
#4 Breast Slider Sims 4 Body Mod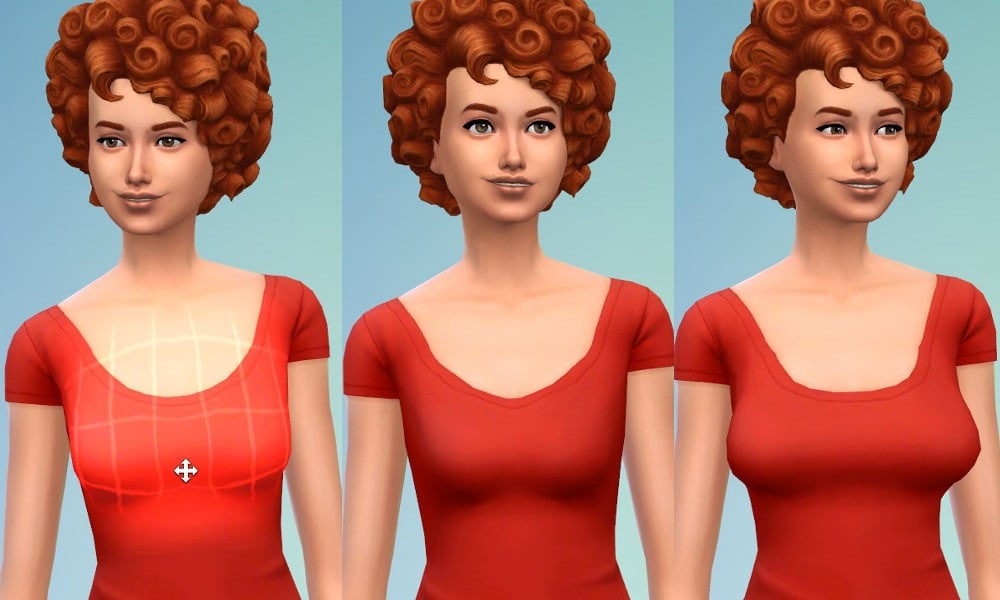 The breast slider is another must-have body mod for Sims 4. It allows you to move your sim character's up or down and set them in the right place of their bodies. It also lets you increase or decrease the size of your sims' breasts.
In other words, this mod allows you to change the shape and volume of your Sims' chests in Sims 4!
Add it to your mods folder from this download link.
#3 Shoulder Slider Sims 4 body Mod
This is a similar tool to the other sliders for Sims 4 and it focuses on the shoulders only. With it, you can grab and drag your Sims' shoulders left, right, up, or down to either increase them, decrease them, or set them up in the ideal place. You should definitely have this mod if you're a fan of sliders!
#2 Pointed Ears Sims 4 Body Mod
Here we have the pointed ears slider, one of the most fun tools I've ever used for the game. It's basically a tool that allows you to drag your pointed ears up, down, left, or right. This helps you create a really good-looking elf in Sims 4, so I totally recommend it!
#1 Butt Slider Sims 4 Body Mod
The butt slider is another must-have tool for Sims 4. It offers a convenient way for us to increase or decrease the size of our Sims' butts. It also allows us to change its shape, so it's the ideal tool for the game! I recommend this mod if you want to highlight your sim's waist and add a touch of realism to your game.
Final words
One of the new features that were introduced in this game is how you can customize your character as they are being created. Players can choose from several different body types which can be tweaked to make them more accurate to their physical type with sliders. You can also choose what color skin tone you want your character to have, what hairstyle, hair color, eye color, nose shape, lip size etcetera. This was our list of the best body mods for Sims 4! We hope you enjoyed it. Make sure you check out related content more amazing mods for the Sims 4.