This article links to more comprehensive guides for each career listed. The individual Sims 4 career guides provide detailed information about that particular career, including job levels, promotional requirements, rewards, ideal moods, and more. Continue reading to learn more about the awesome Sims 4 careers.  
Getting A Job In The Sims 4
You can look for a job in The Sims 4 using your Sim's phone or any computer and clicking the Find a Job interaction. Alternatively, you can also click the Find a Job option from the Career Panel. Doing so will prompt a large pop-up box to appear. You can then select a career for your Sim from any of the options available.
Learn in-depth about the different Sims 4 careers by visiting the guides below!
Types Of Careers In The Sims 4
The game offers lots of different careers for your Sims. But before we discuss all the options, it would be helpful to get to know the various career types in The Sims 4 and how each career falls into different categories.
Rabbit Hole Careers
Standard careers are those that come with the Sims 4 base game (free now). They are also referred to as rabbit hole careers because Sims tend to disappear when they go to work and only reappear after work hours.
Semi-Active Careers
Semi-active careers are introduced in The Sims 4: City Living expansion pack. Jobs in this category allow your Sims the option of going to work (in a traditional rabbit hole way) or working from home and completing several tasks.
Active Careers
The Sims 4: Get to Work introduced active careers in the game. Unlike rabbit hole careers, active jobs allow you whether or not to follow your Sims to work, perform interactions, and generally take control of their work performance.
Freelance Careers
Freelance careers allow Sims to earn Simoleons without the need of actually "going to work" since they are paid per project. They only need to find and complete gigs.
Part-Time Careers
These careers are exclusive for teen Sims. They pay less per hour, but some part-time jobs are more flexible in work hours as teens can choose between morning or afternoon shifts.
Getting A Promotion
Every job level in any career in The Sims 4 has corresponding promotional requirements that your Sims have to meet to get a promotion. These requirements change and get harder as your Sims work their way up the career ladder.
Aside from meeting the requirements, Sims also have to work hard, go to work in time, and not pull fake sick days. It also helps if they go to work in a good mood. So, a Sim's Needs and Emotions play a crucial role, too, as they both affect work performance. Completing the Daily Task likewise gives a boost to work performance, and as a result, faster promotion.
The Sims 4 Base Game Careers
This section provides basic information about The Sims 4 careers in the base game. These careers are those that your Sims can choose in standard TS4 gameplay even without any expansion pack. Each job listed here is linked to its corresponding The Sims 4 career guide, which is more comprehensive and gives detailed information about that particular career.
Astronaut
The Astronaut career in The Sims 4 is one of the most exciting jobs in the base game. Though it is a rabbit hole type like other base game careers, it allows your Sims to own a space ship and use it to Go to Work! Moreover, Sims in this line of work can interact with aliens and bring home space artifacts.
Astronaut Career Branches:
Space Ranger Branch
Interstellar Smuggler Branch
Athlete
The Athlete career in The Sims 4 is a social career that offers Sims the opportunity to become professional athletes and get famous. To succeed in this career, Sims need to focus on boosting their fitness and charisma skills.
Athlete Career Branches:
Professional Athlete Branch
Bodybuilder Branch
Business
The Business track has always been a career option for Sims since The Sims. However, in The Sims 4, it was not included in the original release and was only reintroduced in 2014 as part of the patch nine game update. What's great about this career track is that your Sims will never have to work weekends. They'll also have a more consistent work schedule than in other careers.
Business Career Branches:
Management Branch
Investor Branch
Criminal
The has been a staple in the Sims game franchise. Sims in this career track have to focus on mean and mischief interactions to gain better work performance and quickly advance in job levels. Here's our comprehensive The Sims 4 Criminal Career Guide.
Criminal Career Branches:
Boss Branch
Oracle Branch
Culinary
The Sims 4 Culinary Career is a fun and useful career in the base game. It mainly revolves around making meals and drinks, and eventually branches out to either Chef or Mixologist career path. Check out our The Sims 4 Culinary Career Guide for more details and information.
Culinary Career Branches:
Chef Branch
Mixologist Branch
Entertainer
The Entertainer career track in The Sims 4 presents an opportunity for Sims to make a career as musicians or comedians. It's a rabbit hole type of job, but Sims can still practice their skills related to music or comedy at home and public lots.
Entertainer Career Branches:
Musician Branch
Comedian Branch
Freelancer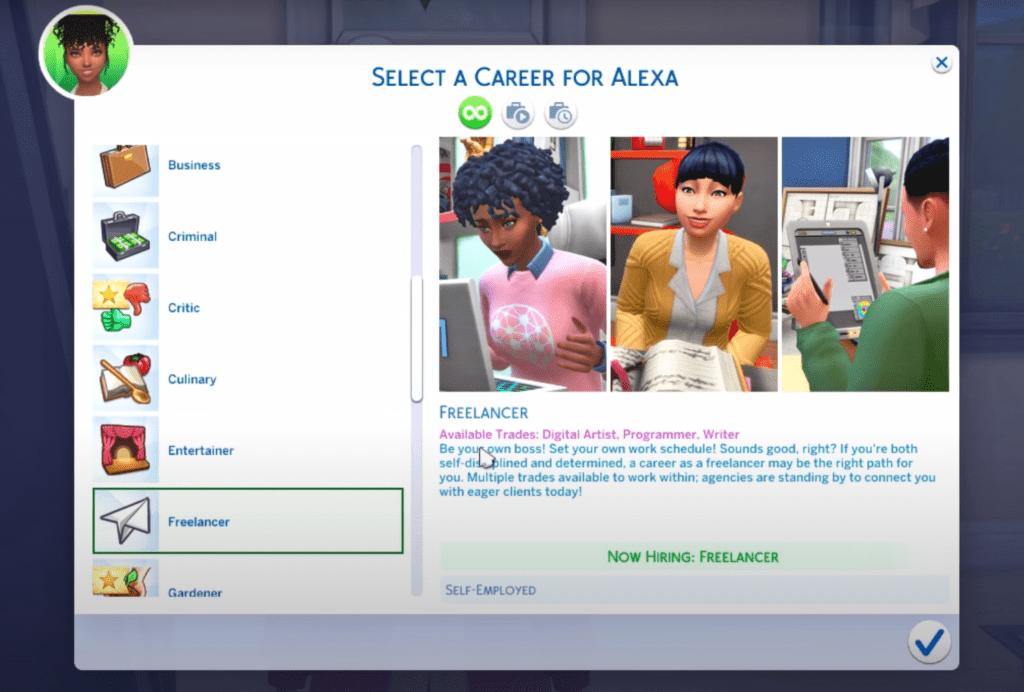 Unlike most standard careers in the base game, the Freelancer career allows Sims to earn Simoleons without the constraints of a work schedule. Freelancer Sims work from home at their own pace.
Freelancer Career Branches:
Digital Artist Branch
Programmer Branch
Writer Branch
Fashion Photographer Branch (The Sims 4: Moschino Stuff)
Crafter Branch (The Sims 4: Eco Lifestyle)
Painter
Creative Sims who love to paint can choose the Painter career track in The Sims 4. The career mainly focuses on creating paintings on an easel, so a high Painting skill is necessary. Expertise in either Charisma or Logic skills are also needed depending on which branch you'd choose after level 6.
Painter Career Branches:
Master of the Real Branch
Patron of the Arts Branch
Secret Agent
The Secret Agent career in The Sims 4 is a rabbit hole type that allows Sims to live a life of a secret agent and earn Simoleons! They need high levels of Logic and Charisma skills, though, to get through the early parts of this career path. For those branching to the Villain branch, skills in Mischief will likewise come in handy.
Secret Agent Career Branches:
Diamond Agent Branch
Villain Branch
Style Influencer
The Style Influencer is a new career introduced in the base game only in 2018. It's a semi-active career that allows Sims to work as a stylist or as a trendsetter. They can work from home or go to a rabbit hole type of work setup.
Style Influencer Career Branches:
Trendsetter Branch
Stylist Branch
Tech Guru
Another rabbit hole job included in The Sims 4 base game is the Tech Guru career. Related jobs allow Sims to earn Simoleons from playing video games and hacking the internet!
Tech Guru Branches:
eSport Gamer Branch
Start-up Entrepreneur Branch
Writer
The Writer career track offers writing jobs to your Sims. Selecting this track allows your Sims to be either an author or a journalist. Aside from Writing skills, they will also need Logic skills for the Author branch or Charisma skills for the Journalist branch.
Writer Career Branches:
Author Branch
Journalist Branch
Different Careers In The Sims 4 Expansion Packs
While we've covered the standard Sims 4 careers in the base game, this section includes other job opportunities for Sims that can only be found in different expansion packs.
The Sims 4: Get To Work – Detective, Doctor, And Scientist Careers
Get to Work is the first expansion game pack for The Sims 4. Fortunately for us, players, this fun-filled expansion pack introduces three new active careers: Detective, Doctor, and Scientist. It also allows Sims to own and run retail businesses.
Detective – This active career track features jobs that let Sims play Detective and solve cases.
Doctor – The Doctor career is one of the most popular and challenging ones in The Sims 4. The jobs allow Sims to treat patients, deliver babies, and perform surgeries.
Scientist – This career path allows Sims to be a scientist and perform science-related activities, unlock new inventions, upgrade SimRay, and more.
The Sims 4: City Living – Critic, Politician, And Social Media Careers
The City Living expansion pack welcomes three new additional careers in The Sims 4. These include Critic, Politician, and Social Media. Unlike standard jobs in the base game, these career opportunities allow Sims to take interactive assignments that take them to various locations.
Critic (Art Critic and Food Critic)
Politician (Politician and Charity Organizer )
Social Media (Internet Personality and Public Relations)
The Sims 4: Seasons – Gardener Career
One of the best features of the Seasons expansion pack for The Sims 4 is the introduction of a gardening career. In this line of work, Sims get to earn Simoleons and climb up the career ladder as a Gardener. As they progress to higher job levels in the career track, Sims will have the option to choose between the Botanist branch or the Floral Designer branch.
The Sims 4: Get Famous – Actor Career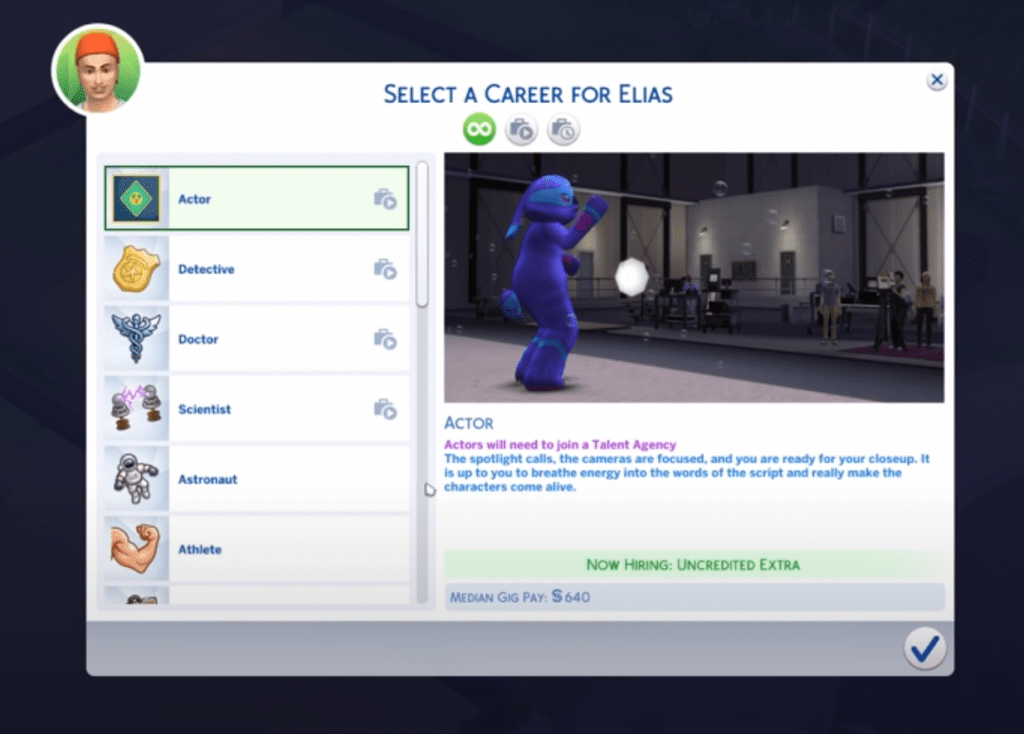 The Sims 4 Actor Career is an exciting profession introduced through the Get Famous expansion pack for The Sims 4. It is an active career type, which means that you can take control of your Sim's work interactions. As a start, Sims must join an agency to start getting auditions and accepting gigs.
The Sims 4: StrangerVille – Military Career
The Military Career in The Sims 4 was introduced through the StrangerVille game pack. This career provides two different branches: the Covert Operator branch and the Officer branch. Either way, your Sims need to have high skills in Fitness and Logic or Charisma.
The Sims 4: Island Living – Conservationist Career
The Island Living game pack comes with a new exciting full-time career called the Conservationist. Earlier job levels allow Sims to focus on the state of Sulani's environment. Initially, they'll have to collect samples, and trash from beaches then choose between the Environmental Manager branch or the Marine Biologist branch.
The Sims 4: Discover University – Education, Engineer, And Law Careers
The Sims 4: Discover University expansion pack adds three exciting careers in the Sims 4 gameplay: Education, Engineer, and Law. Though these careers are included in the game pack, they do not require student Sims to attend school. Instead, they have to start from the first job level, like any other career in TS4.
Education (Administrator and Professor)
Engineer (Computer Engineer and Mechanical Engineer)
Law (Judge and Private Attorney)
The Sims 4: Eco Lifestyle – Civil Designer Career
The Civil Designer career comes with the introduction of The Sims 4: Eco Lifestyle expansion pack. It is a work-from-home job that offers two branches, the Civic Planner branch and the Green Technician branch.
List Of Part-Time Jobs In The Sims 4
Base game
Babysitter
Barista
Fast Food Employee
Manual Laborer
Retail Employee
The Sims 4: Island Living
Diver
Fisherman
Lifeguard
Afterschool activities
The Sims 4: Seasons
The Sims 4: Get Famous
The Sims 4: Discover University
E-Sports Competitor
Soccer Team Player
Sims 4 Careers Pay
10 Highest Earning Careers In The Sims 4
| | | |
| --- | --- | --- |
| JOB TITLE | CAREER | EARNINGS PER WEEK |
| Interstellar Smuggler | Astronaut | 14,868 Simoleons |
| Botanist | The Sims 4: Seasons | 14,700 Simoleons |
| Investor | Business | 12,992 Simoleons |
| Triple Agent | Secret Agent | 12,875 Simoleons |
| Diamond Agent | Secret Agent | 12,780 Simoleons |
| Boss | Criminal | 12,460 Simoleons |
| Management | Business | 12,000 Simoleons |
| Space Ranger | Astronaut | 11,816 Simoleons |
| Doctor | The Sims 4: Get to Work | 11,200 Simoleons |
| Scientist | The Sims 4: Get to Work | 11,115 Simoleons |
Best Sims 4 Careers Mods
Aside from the usual careers in the base game and different The Sims 4 expansion packs, you can also choose from lots of The Sims 4 career mods available. And mind you, the choices are countless! Listed below are just some popular examples of career mods we've found so far.
Acting
Singer
Law
Gardening
Model
Fashion
Youtuber
Archeology
We've also made a detailed post about the Best Sims 4 Career Mods that you can download and play for your Sims! Check it out here.