The Latest & Greatest Septum Rings
For the longest time, piercings have been a badge of honour for those with commitment to uniqueness and a desire to express it. In The Sims, where we enjoy the lives and adventures of characters of all types, showing that individuality is extremely important. For those who wear their heart on their sleeve, here's a list of different septum piercing designs to channel their personality through!
Shiny Expressions
Strife Septum
Some classics are always in fashion, and that's the case with the PralineSims Strife septum piercing. This item comes with gold, black and silver options, and replicates the more traditional style with a gap and two beads on each end. Popular with both women and men, it has garnered a stunning 190000 downloads for good reason. Download it here!
EGO Septum
For a discreet and elegant take on septum piercings, the EGO style by PralineSims and R MARKS is an excellent pick. Not only you get 20 different colours to pick from, but there's also two size options! Download it at The Sims Resource.
Destroyer Septum
Blending the plain and beaded septum piercing style is the DESTROYER by PralineSims and WALTERBLACKTH. Its smooth surface is interrupted by a single bead in the middle for a minimalistic but elegant touch. You can find this style for all genders in small and large versions, with a wide variety of colours. Get it here!
MOX Septum
Those looking for a more bottom-heavy look will find it in the MOX series by PralineSims, dirtyolddunmer and Master of Worlds. This gorgeous item comes with a whooping 35 versions, including both metallic and blinged up ends. What's there not to love? Download it here!
GrafitySims – Lilah Septum Ring
Goth and scene girls rejoice – GrafitySims has created a gorgeous septum piercing with spiked edges decorated with stones. This mix of dark styles and glamour comes in pink, gold, silver and matt black, to fit all styles your Sims might go for. Download it at The Sims Resource.
[ Honey Dew ] – Septum Ring Piercing
Also having a crack at the plain style is Screaming Mustard with the Honey Dew Septum Ring. It's highly customisable and very detailed, offering another option for a gorgeous accessory. Download it here.
LeahLilith Memories Septum Ring
The modern goth scene is calling, all aboard Leah Lillith's amazing Memories train! This beautiful septum ring has a gap flanked by two stones, and the best thing is you get to choose which ones. Download this item here!
Bigger Septum Pack
Fans of septum rings who like it bigger and bolder will love to find the PralineSims BIGGER pack. This item has all three major piercing styles, with five different colours to choose from. Download this great item at The Sims Resource!
LeahLilith Disconnect Septum Ring
Leah Lillith is at it again with a very elaborate ornament. This beautiful septum ring is decorated with great detail, rounded off with a single stone at the bottom. Its innovative take on this accessory is great for daily wear, but also is the perfect take of galas and other special events. It can be download at The Sims Resource.
LeahLilith Nocturne Septum
A thick ring with a big pearl, the Nocturne septum ring is a gorgeous creation for fashion-forward women. It throws discreetness out of the window to show its centerpiece, and it excels at that. This decorative piece is perfect for all occasions, and can be found at The Sims Resource!
LeahLilith Vision Septum Ring
For a new twist, the Vision septum ring by Leah Lillith incorporates a thick ring adorned by small metallic beads on the underside. The colour variety makes this item very flexible, and it goes well with most outfits. Get it at The Sims Resource.
LeahLilith Indifferent Septum Ring
Ever felt too cool to care? If you have, then Leah Lillith has just the septum ring for you. The so-called Indifferent line is a double ring complemented by two round stones and a stunning teardrop at the very bottom. Hard to be indifferent against this amazing item, get it here!
GrafitySims – Crystal Septum Ring
Fans of ornamental styles will love the Crystal septum ring by GrafitySims. Its metallic finish is available in gold, silver, black and blue, with a row of small stones to each side of a large one in the middle. It's stylish, elegant and ready for all occasions! Download it at The Sims Resource.
Magnolia-C – Benty Septum
Fabulous boys and girls rejoice, the Rirann Benty septum piercing is here to glam up both in equal measure. With an elegant matt finish, this item comes in black, pink and gold, and is decorated by small beads in the lower third of the slim ring. Take your Sims' fashion to the next level by downloading it at The Sims Resource.
Moonlight Septum
For fans of finer details and exceptional craftmanship, the Moonlight septum piercing by PralineSims is a treat! It comes in ten colours, and is defined by thin hollow leaves around the lower end surrounding a stone. This gorgeous style is available for all genders, and can be found at The Sims Resource.
Nightcrawler-PearlSeptumRing
Nightcrawler's pearl septum ring is an absolute must for those into creative designs. Its defining features are a thick ring adorned by five pearls, including a large one in the middle. This accessory comes in six different colour options, which mix and match gold, silver and black for the ring with black and white pearls. Download it at The Sims Resource!
LeahLilith Rumour Septum Ring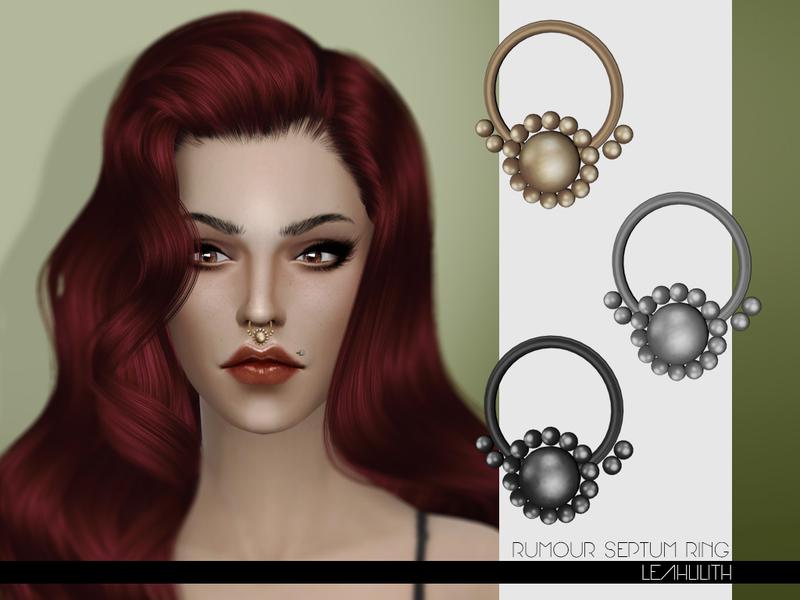 The Rumour septum ring by Leah Lillith is a creative take on this accessory. The centerpiece is a large bead surrounded by smaller ones, creating a beautiful sunflower effect that makes it stand out. Download it at The Sims Resource!
Plain Septums
When you feel like keeping it simple, you can't go wrong with Harfy's set of plain septums. This pack comes with the classic septum piericng with the gap down the middle, with both round and pointed ends available in five colours. Download it here!
GrafitySims – Aurore Septum Ring
Lovers of fine details will adore the Aurore septum piercing by GrafitySims. The exceptional artisanry creates a beautiful look that looks good from both near and far. The tasteful colour selection has the classic gold, silver and black versions, on top of a gorgeous red. Download it at The Sims Resource!
Nightmare Septum
Do you ever feel the need for a punk injection? PralineSims has delivered this awesome septum piercing with spikes and a whole load of attitude. This rocker piece comes in eight different colours and can be downloaded here!
Lumi Septum
For those days when your Sim is feeling like a superstar, PralineSims and MyGoodEye have delivered the amazing Lumi septum piercing. With a thin ring with a big star flanked by smaller ones, it's the perfect way to show who's boss. On top of that, you can change the colour of the star alone or on the entire piece! Download it at The Sims Resource.
4w25 – End of the July Septum
Everyone remembers that feeling. It's the end of July, summer is coming to an end, new adventures are coming with the new season. Neferu has done a great job translating that vibe into a septum piercing, creating an accessory that's perfect to accompany your Sims in their new horizons. You can find it here, at The Sims Resource.
GrafitySims – Chain Septum Ring
Cool cats think outside the box: when the standard septum piercing designs won't do, try GrafitySims' gorgeous chain design. It's comprised of small two rows of chains in different colours, adding a lovely layered effect and a very unique feel. Be the street's fashionista by downloading it here!
Septum Captive Ring for GUYs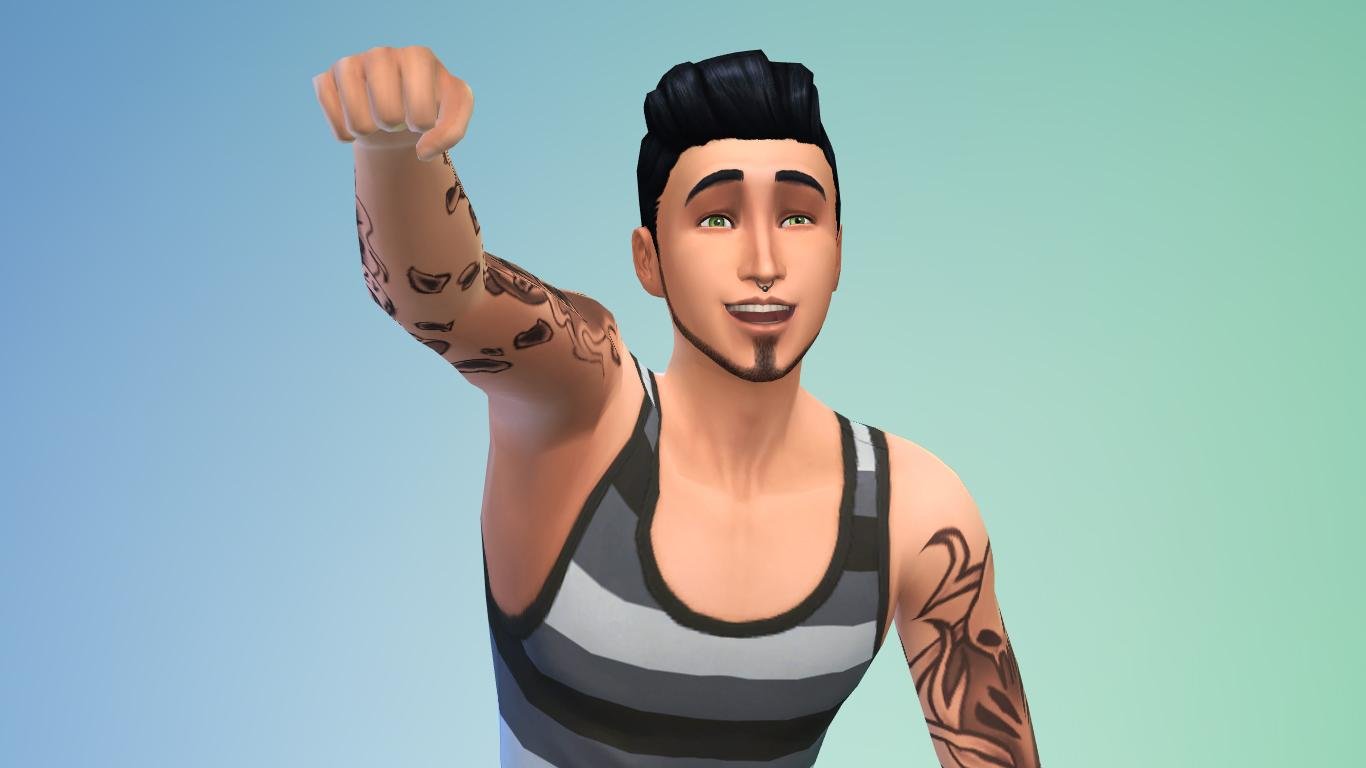 Guys looking to switch up their style are going to love this septum ring by XDNEX. Minimal yet cool, it draws on a classic design that is guaranteed to look good on any man who loves his fashion. You can download this accessory at Mod The Sims.