Sims 4 CCs and Mods for Game of Thrones Fans
These CCs and mods are bringing the seven kingdoms into your Sims gameplays! The Game of Thrones has been one of the most influential series and books of our time. And whether you liked the ending or not, you can now add these Sims 4 Game of Thrones CCs and Mods to play out whatever scenario you want!
Our Selected The Sims 4 Game of Thrones CCs and Mods
Emilia Clarke – Actress (Game of Thrones)
If you want your Sim to look like the actress who played the khaleesi herself, check out Kellyhb5's creation. By downloading this CC from our direct link, your Sim can own Emilia Clarke's wavy locks, soft lips, and of course her iconic eyebrows.
More Fandom Names (Game of Thrones Update 01/05/2016)
This mod by Anakmay adds fandom names into the CAS random name generator and townies generator. Now it's been updated with names from Buffy, Harry Potter, and, of course, Game of Thrones among others. Downloadlink
Game Of Thrones Male Shirts
If you love Game of Thrones but you don't want to make the characters themselves in The Sims 4, these T-shirts are for you! They are available in different colors and styles, and have been downloaded 16000 times from The Sims Resource. Start showing your GoT appreciation by going to this link to download the T-shirts.
Game of Thrones Stark Logo
We are also going to showcase some creations by Xhemmosguitar featuring the major houses from Game of Thrones, which you can use as an ornament in any room. Whoever comes into the room these are in, they will know at a glance that you're a Game of Thrones fan! The Stark house logo is available here.
Game of Thrones Targaryen Logo
The second featured logo is none other than the Targaryen house logo. It is currently around 10000 downloads at The Sims Resource, and was, of course, made by Xhemmosguitar. Bring that "fire and blood" into your living space by going to our link to download it.
Game of Thrones House Sigil Tattoos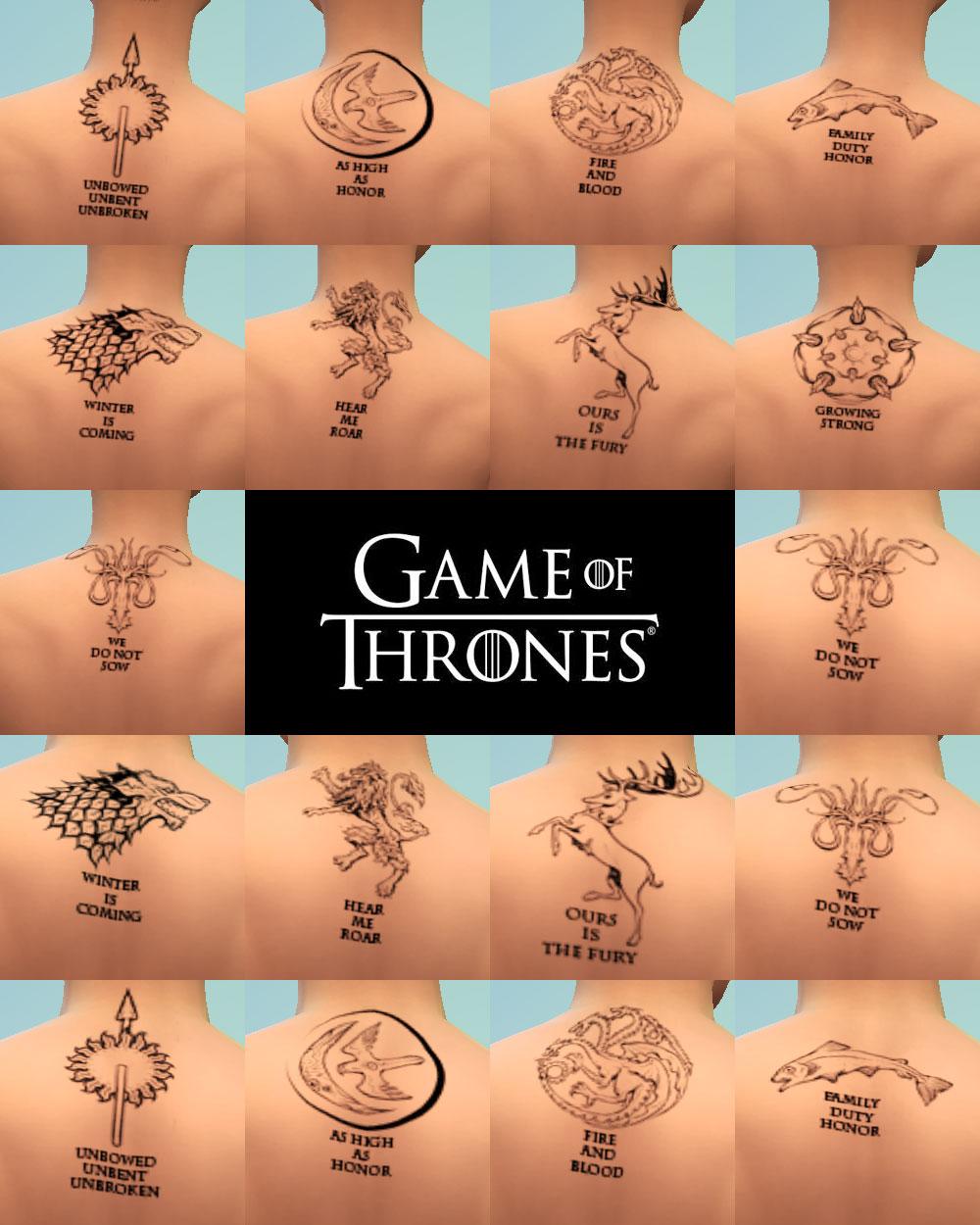 Sigils, just like tattoos, are not only for fashion, but they express where you belong, what your virtues are, and so much more… Jupe combined these two in Game of Thrones sigil tattoos! Go ahead and let the world know which youse you think you'd belong to in the fandom. Available in multiple designs at this link.
Game Of Thrones Shirts v2
Another amazing set of short sleeve T-shirts for the GoT fans out there. Devilicious's creations feature realistic images of your favorite characters, as well as the Game of Thrones script on the back. Go and grab the T-shirts via our download link.
Game of Thrones Baratheon Logo
Continuing the series of house logos made by Xhemmosguitar: This one is the logo of the Baratheon house which you can also hang as a picture in your home. Download it from here.
Game of Thrones Lannister Logo
And here we go – the last logo in the series, which is none other than the Lannister house. Hear the roar with this logo on your own wall: Download it today from this link!
Game of Thrones 1
If you want some Game of Thrones pictures on your wall, but you think the logos themselves are a bit too direct, here's something fun for you. These pictures made by Ineliz feature cartoon versions of your favorite game of thrones scenes and characters, finished with an elegant picture frame – you can even pick from four colors! Grab the pictures at our link.
Game of Thrones Houses Logos
Xhemmosguitar's last creation featured in this list is the whole set of Game of Thrones house logos! If you love all of them, you can't choose, or simply want to fill the house up with GoT merch, go ahead and download the set here.
Game of Thrones Set
Here's Ineliz's pictures from earlier on the list – now as a whole set. If you want to (or actually need to) have them all, just click on this link and download them right now!
Game of Thrones Jaime Lannister Armour Texture
Did you know that you can also have armors in The Sims 4? And what armor would be classier than the one of Jaime Lannister? It radiates power and manliness with the blood red and gold colors, finished with the lion of the Lannister house. You can actually make your Sim become a GoT character! Who wouldn't want that? And all you have to do is just go to this link.
Game of Thrones – Qarth City (Inspired)
Qarth is a tropical city surrounded by an oasis. It's really special. People call it "the Greatest City that Ever Was or Will Be." And not only that, Qarth is also a trading city, and the only one in Essos that's not afraid of the Dothraki. And guess what: Now it's available in The Sims 4 as well, thanks to Sim4fun. Download it today from this link.
Game of Thrones Sword In The Darkness Jon Snow Nights Watch Outfit
"Night gathers, and now my watch begins." You've probably heard those words when you were watching Jon Snow on the Night's Watch. It's never been easier to bring his character to life – especially if you play The Sims 4. Download his outfit today from this page.
Game of Thrones Robb Stark The Young Wolf Outfit With and without arm plate
Not only Jon Snow, but you can also get other outfits from Game of Thrones. For example, look at this Young Wolf armor (worn by Robb Stark). You can have it with or without the arm plate. Amazing either way. Go to this link to download it.
Game of Thrones Jon Snow Winter Is Here Blue Leather outfit with or without armplate
Jon Snow was not only in the Night's Watch. Here's another famous outfit he wore: The blue leather outfit completed with an armor which you can choose with or without armplates. Download it from this link.
Game of Thrones The Night's Watch Take The Black Jon Snow Outfit
Another take on Jon Snow's Night's Watch outfit, this time made by Him666. A very iconic look. Just download it from our link here.