The most fashionable leggings for your sims
Leggings are women's most favorite item. They're versatile, comfortable, and sometimes fashionable! They go really go well with skirts, dresses, and even as a standalone item! So today we have gathered our favorite leggings in a list so that we can share them with you. You will find them all with their download links in their description.
Happy simming!
Here are our favorite leggings
Stand Out leggings
These fashionable leggings are the perfect start to our list. They are three-quarters long (meaning they reach till your sims' calves) and are cut out on the sides! They come in a total of 5 variations. We would love to see them with a pair of tall running shoes.
Feather Nightie & Leggings & Slipper
These beautiful PJ leggings are going to be perfect for your sim's sleeping outfits. They will keep your sims' legs warm, while still giving them a cool and fashionable look. They also come in a total of 7 color variations for you to pick from!
Jeans Leggings
These jeans leggings are going to be your go-to when designing your sims' daily outfits. They might be jeans but they have this comfortable, leggings feel to them. These jeggings come in a total of 7 color variations and in 4 different patterns to match your sim's every outfit.
Vampire Leggings Nr. 01
We love these cool athletic leggings by Annett! These jogger leggings are three-quarters long and are a perfect choice when your sims want to hit the gym. They also come in a plethora of colors to choose from and we especially love the green/yellow one!
Vampire Leggings Nr. 02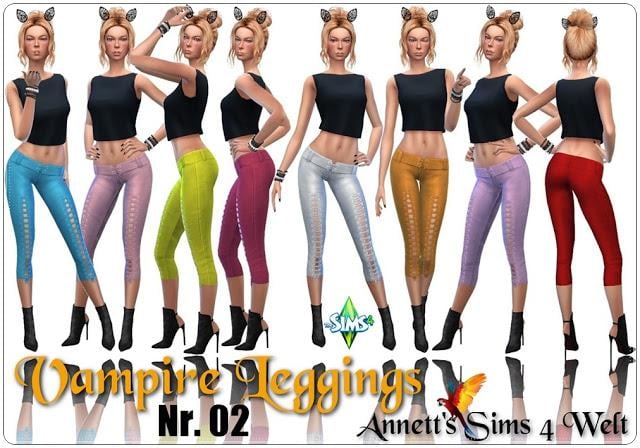 Here are some more jeggings pieces by Annett! We love their really cool and daily look. They are three-quarters long and have nicely patterned holes in the front, which will make your sim stand out from the crowd! They also come in 8 unique color variations!
Jeans Leggings Bowling
You will find these high-waisted jeggings under your sims' accessories category. They come in 4 total variations in bright, girly colors. Pair them with a nice pair of sneakers and a cute crop t-shirt to get your sim ready for a fun bowling night!
Designer Sporty Leggings Collection 01
This mod by Pinkzobiecupcakes is going to bring Adidas's iconic sporty leggings to your game. They are just over ankle length and come in a total of 10 unique variations. Pair them with a nice pair of sports shoes and a cute top to make your sim gym-ready in seconds. More Adidas mods are listed here!
Victory Leggings
Bring your favorite Nike leggings into your Sims 4 game with this mod by Metens. They are ankle-length and come in a plethora of colors to help you pair them with your favorite tops. It's no surprise that they have gathered over 252.000 downloads so far!
ShakeProductions 106-4 Leggings
These leggings by Nike recently got popular for their unique look and were loved by fitness influencers all over the world. Now your sim can also wear them thanks to Shakeproductions! They come in plenty of colors for you to choose from when planning your sim's gym outfit.
S4 Nike Sports Leggings
Here are the iconic striped leggings from Nike, brought to your game thanks to Margeh-75! You will find the high-waisted leggings we all know and love in a total of 8 different color variations, giving you plenty of freedom when designing your sim!