One thing we love about the Sims 4 is the endless options of custom content that keeps the game fresh and exciting. It has become more fun than ever to play the Sims 4, now that fantasy CC transports the game into a completely different realm. In this post, we will be highlighting some of our favorite Sims 4 Fantasy CC packs, that you can install for free!
Sims 4 Fantasy CC: Dog Dragons, Fairy Wings, and more!
Though the Sims 4 has several packs with magical elements, like "Realm of Magic" with its spell casters, "Island Living" with its mermaids, the "Paranormal pack" with specters, and the "Vampires" pack with, well… vampires. Many simmers, us included, desire more fantasy elements in their game.
But luckily for us, the Sims 4 CC creators have expanded their talents and begun to develop Fantasy CC. Something that makes our simmer hearts so happy we could cry. We find the addition of fantasy CC in our games to be a real treat. And therefore, we are excited to share our top random fantasy cc picks with you here.
1. PufferHead – MLYS
Calling all Harry Potter fans! If you have not heard about this incredible cc inspired by the young wizard himself, you are in for a treat. Created by MLYS, the Potterhead stuff pack features the Sim, Henry Puffer. From create-a-sim, to build mode, this cc pack features puffer merchandise, and versatile items revolving around magic. Furthermore, the pack is designed to be loved by different Pufferhead generations!
Henry Puffer is the most popular simlish literary wizard. And now your sims can finally get the chance to display their love for him! With a collection of readable books, movie posters, furniture, clothes, decorations, and more enchanting goodies, this pack is truly magical! So, whether you are a loyal Potterhead or a wannabe Pufferhead. Do your sims a favor and download this magical pack here!
2. Dragon Package Pets – THEKALINO
If you are a fan of Game of Thrones, or the How to Train Your Dragon movies, you will adore this CC pack. Created by THEKALINO, this fun Dragon package features magical CAS items for your large sim dogs! Ever wanted a little dragon in your game? Well, now you can turn your beloved sim dog into one! Out of all the CC packs we will mention in this post, this pack might be our favorite. Just look at how cute these dragon dogs are. We cannot stop staring at these stunning creatures! Now, this CC pack does require the Sims 4 cats and dogs pack to work, seeing as though it is created to fit large dogs.
But beyond that everything is good to go. This enchanting pack comes with 2 dragon tails, 3 dragon heads, and wings and claws for large dogs! Furthermore, you get 4 dragon colors to choose from! So, whether you want a fiery red, an adorable blue, an angelic white, or a mysterious dark sidekick, this CC has got your sims back! Now, what are you waiting for? Get to create Daenerys Targaryen and her dragons in the Sims 4 now!
3. Gossamer Fairy Stuff – PYXIS
Have you ever wanted to create TinkerBell in the Sims 4? We bet you have, and to be honest, so have we. This is why we were so excited when we discovered this Fairy cc by PYXIS! This fantastic pack sprinkles fairy dust from Neverland to Wonderland!
By downloading this cc to your game you will get 2 magical eyeshadows, 1 illuminating blush, 2 light lipstick options, 2 lip highlights, 17 colorful bug eyes, 1 moth antennae, and 1 butterfly antenna, plus a pair of stunning dragonfly wings. So, whether you want to create the whole cast of Disney's Tinkerbell, or you just desire some colorful bug eyes – this is the Sims 4 fantasy cc for you! Now, stop wasting time, go install this pack!
Check out these horns custom content for the Sims 4.
4. Lucrezia Hairs BGC – Sims 4 Fantasy CC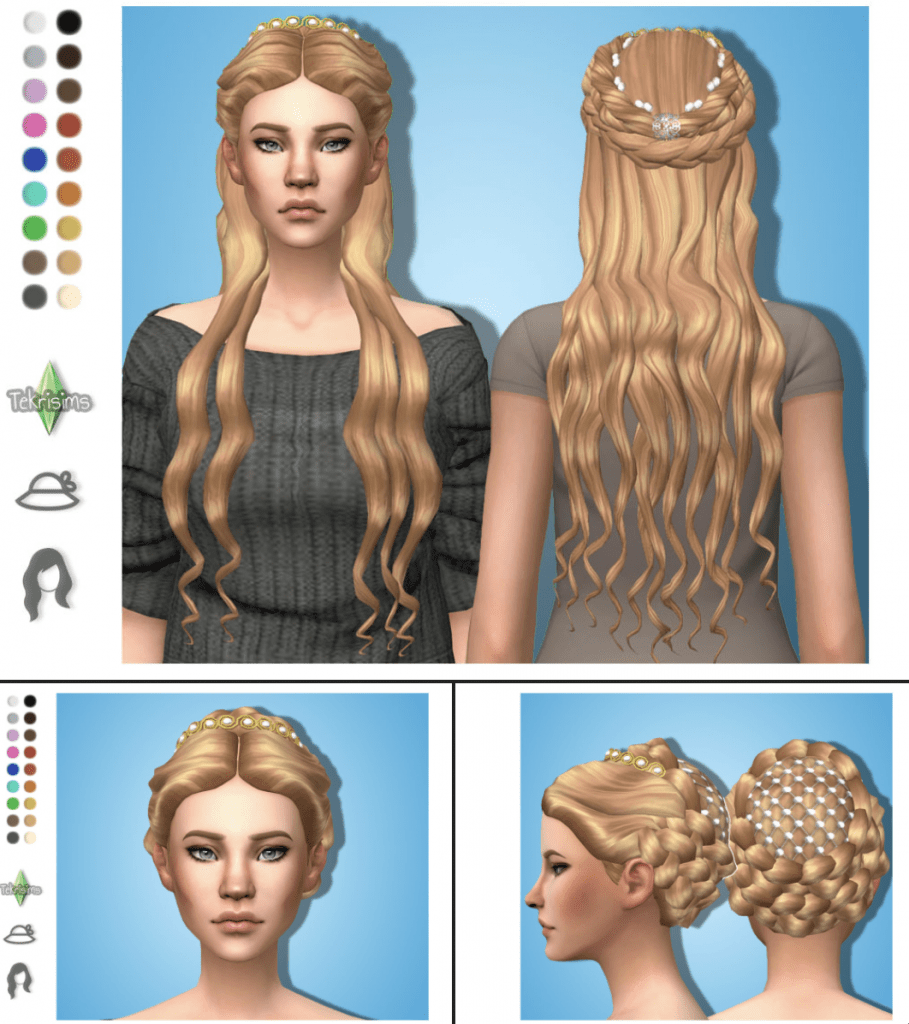 If you have been wanting some royal-looking fantasy hairstyles, this CC pack is for you! With this beautiful pack, created by TEKRI you get two hairs. One version is a long down version, like the image on top. Whereas, the second hairstyle is a bun with a hairnet and pearls. As the second image shows.
These two beautiful hairstyles fit all of your female sims from teen to elder and come in 18 default EA mesh colors. Furthermore, these hairs are hat compatible. And the netting and pearls are painted to save polycount! We are in love with these stunning creations, and we know you are too! So, treat your Sims to this fantasy hair by installing this pack. Here's your download link!
5. Day 1 Elf Costume – APATHIE
Ever wanted to create some magical creatures in the Sims 4? Well, this is your chance! If this Elf costume cc pack by APATHIE doesn't scream Magical, Enchanted Forrest, we don't know what does! This beautiful creation is available for teens, young adults, adults, and elders of feminine frames. And, comes in an incredible new texture and a new mesh.
Beyond that, this leaf outfit is marked as an everyday, formal, party, swimwear, and sleepwear outfit! Meaning your sims can wear it any time! If you have been looking for some supernatural outfits for your Sim elves, then get to downloading this outfit here!
Here's a collection of interesting tattoo options for your sims!
6. Primrose Hair & Flower Accessory – FERAL POODLES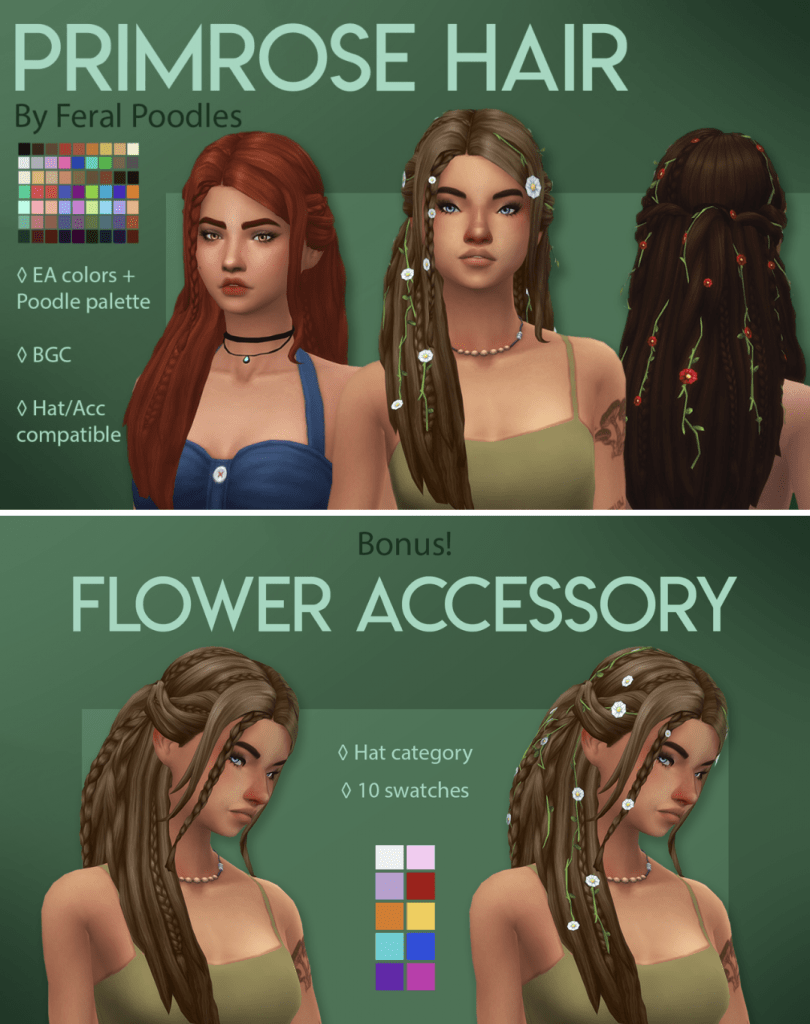 Have you been searching for some quality fantasy cc hairstyles recently? Yeah, so have we. But, now we do not have to look any further thanks to FERAL POODLES! With this stunning cc pack, FERAL POODLES features the Primrose hair and the flower accessory. Perfect for all of your nature witches, spellcasters, potion makers, and enchanting elves!
This magical hairstyle comes in 63 swatches, which includes 18 EA colors, and 45 unique FERAL POODLES swatches. Furthermore, the flowers are a separate and removable accessory, just as we like them to be! It is sorted in the hat category, and comes in 10 swatches! Beyond that, this hairstyle is of course hat compatible and fits all your sims from teen-elders. In conclusion, this cc pack provides us with everything we need! Installing this into your mods folder!
7. Honey & Honey Bee Hairs – Sims 4 Fantasy CC
PINKPATCHY has created the Honey and Honey Bee hairstyles, which looks incredible in our opinion! If you have been in need of a solid fairy hair, this is the cc pack for you! We are honestly so in love with these hairstyles that we might dress all of our sims in them. And, we have no doubt you will as well.
Now, these stunning elf-like hairstyles come in 75 swatches, as seen in the image above, 35 of which are unnatural. Our favorite might honestly be the white one, as showcased in the image. Just because we love the angelic look it gives off. After you installing this zip-file, let us know which style and swatch is your favorite!
8. Tonian Ears – SIMANDY
Calling all fantasy lovers! It is our absolute honor to introduce you to the Tonian Ears cc pack by SIMANDY. Yes, they are actual elf ears, and we could not be any more excited about it! Just look at this stunning creation, we are truly in love with it.
Spending time in create-a-sim will become ten times more exciting now that we can put these cute elf ears on all of our sims! In case you were wondering, they do fit all adults and genders! Not yet kids or toddlers, but luckily for us, SIMANDY is working on that. In the meantime, if you want your sims to look as incredible as the elf in the image, go download this cc pack here!
9. Fantasy Forest Set – Sims 4 Fantasy CC
If you have ever wanted to create a magical wonderland, enchanted forest-like lot in the Sims 4, this is your dream cc pack! The Fantasy Forest Set, created by SEVERINKA features a set with 11 ornamental plants and decorations for houses and gardens. Whether you want to decorate your elf houses, magical forest, or enchanted castles, this pack will not disappoint!
The original grass and mushrooms come in a small size, but can be increased in the game. Furthermore, the magical mushrooms come in 3 colorful swatches, whereas the grass comes in 4 variants. So, whatever Sim 4 fantasy land you want to create, get to downloading this pack now from TSR.
10. Fairy Sparkle Wings – Sims 4 Fantasy CC
Calling all Tinkerbell fans! You have to download these Fairy Sparkle Wings by JARU SIMS! Just look at how illuminating these wings are! They come in 14 different swatches, as seen in the image above! Whether you want a whole village of fairies in your game, or just one special fairy queen to rule your fantasy kingdom, this is the perfect cc pack for you!
So, drop whatever you're doing (unless it is your computer, phone, dog, or kid…), and let your sim self fly with these fairy wings! Go ahead and visit this sims resource page to get these wings now!
So, to sum it up, there are so many different Sims 4 fantasy cc packs on the internet. So many that if we included them all, this post would never end. The packs we did feature though, are some of our favorites! If you download any of our suggestions, let us know how you like them! We would love to chat with you in the comments!
Anyways, thanks for taking the time to read this post, and happy simming!
Related Content