If you are looking for a unique aquarium for your Sims, then this post is for you. We scoured the internet and found some amazing Sims 4 fish tank CCs that would make any Simmers happy. Keep reading for a collection of the coolest fish tanks from around the web. There are so many options you'll have to choose from!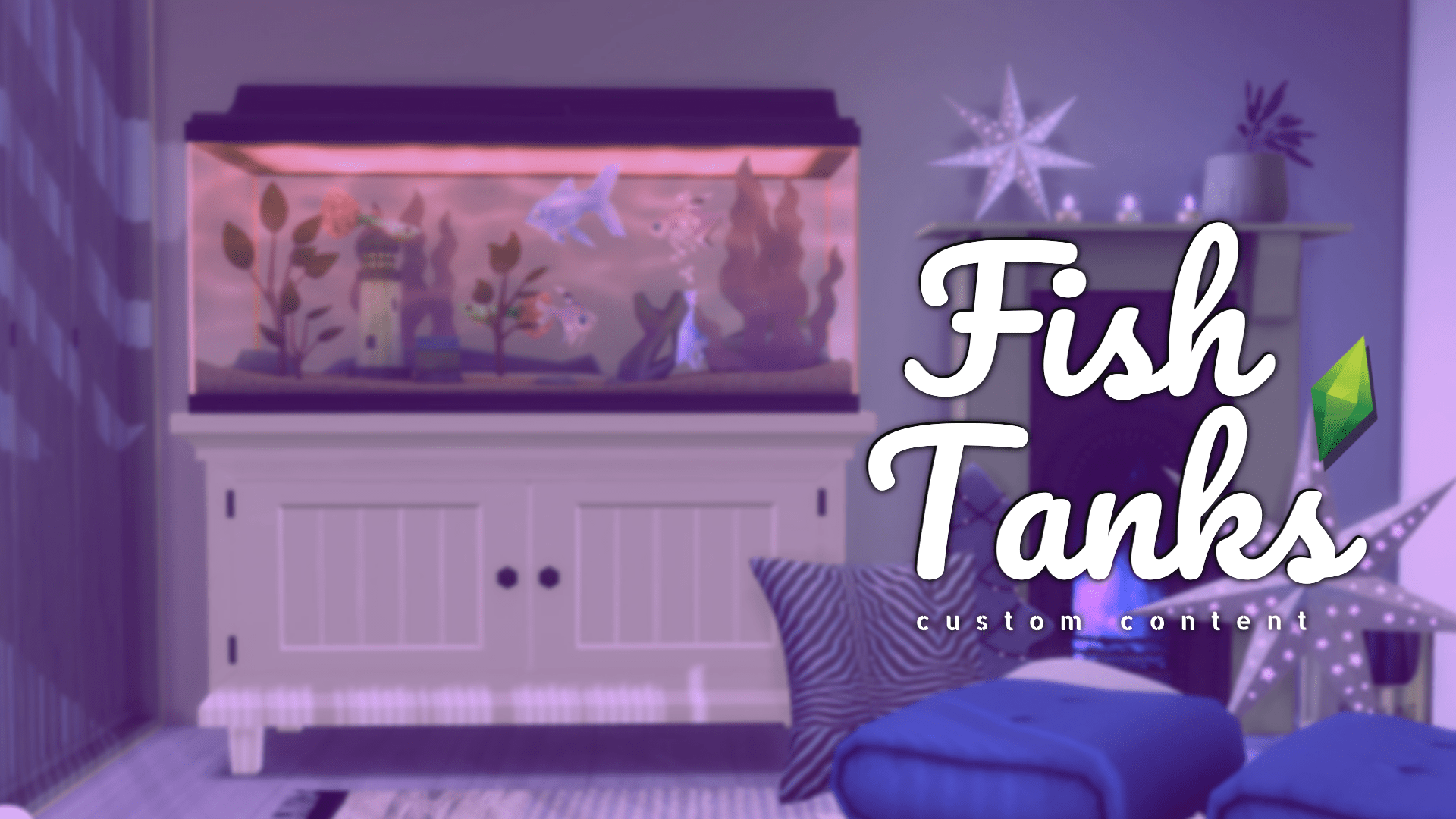 Fish Tank Custom Content for the Sims 4
One of the best ways for your Sim to develop relationships is by giving them a pet. There are many different types of pets that your Sim can choose from, but fish is one of the most popular choices for Sims looking for love. Fish tend to be revered by Sims because they're so intelligent and also have a lot of personalities. They're also great at getting along with both other pets and with humans as well which makes them an easy choice when it comes to finding love.
Fish tanks are a popular hobby for many people, and for a reason! All types of fish are fascinating creatures. Adding fish tanks can be a great addition to any home. They are a great way to create serenity and tranquility in your house. They also provide fresh water and oxygen for your fish which is vital for their survival. Aquariums too can be beautiful additions to any home with added lighting, decorative plants, and rocks. They are a fun way to bring life into your home while providing you with entertainment and relaxation time – all while keeping your pets safe!
And let's be real, who doesn't enjoy watching fish swim around in tanks of water? We bet you're looking for something new to do in the Sims 4, therefore you're going to love my post about fish tanks! There's everything in the Sims 4 nowadays but not as many various shapes of aquarium tanks as there could be. Now that we've got that out of the way, let's get to what we're all here for – the list of fish tanks!
Love Swan Fish Tank
Fish tanks aren't just for the fish's sake! It can be used as decoration, to create a relaxing environment for you and your sims, or even for getting rid of those pesky insects in your home. Now you can fill your Sims 4 home with the most popular and beautiful fish. This is a custom-made new fish tank and it comes in an unusual shape that is perfect for any room of your home. This will be the center of attention in any room. The Sims 4 fish tank will bring the most beautiful, unique, and natural look to your game, so make sure to get it. Here's your download link.
Barbara Sims – Aquarium EA Recolor
Do you want to make your Sims 4 home almost as realistic as real world? It doesn't get better than this. Your Sims can now create their own personal aquarium and watch their fish swim in it. This is a custom one-of-a-kind aquarium that requires the expansion Cats and Dogs to work. Available in 8 different colors that match well with any home décor in your game! To install, click here.
iMac Fish Tank – functional
Many people feel more peaceful when they see their favorite fish swim around in the tank; this is why they keep them in their homes as well.
It's time to add some life to your boring home with a minimalist iMac square fish bowl. Make your iMac the most popular desktop on the block with this customizable, functional, and affordable fish tank. You could purchase fish of many species to add to this tank. Complete with 9 swatches for you to choose from. To install this one, click here.
Globe Fish Tank
With the Globe Fish Tank, you can finally have a stylish and exotic fish tank without having to spend your days playing the game. These tanks are available in 10 swatches. The tank is fully customizable with the use of decals and decorations that come along with it so it feels like a real-life fish tank and not just ordinary home decoration. It also doesn't require any game packs, which is a plus. To install this piece into your game, click here.
Aquabox Aquarium fish Conversion – sims 4 fish tank
Talking to fish is always fun, and it can get a little lonely in the same room your sims live in. So why not add a fully functional aquarium! This latest addition to the Aquabox line-up is sure to put some life into your home. With a 60 Gallon capacity, this tank will keep your sims company for quite some time. Have your sims enjoy their own home ocean here.
Store Tropical Aquarium Edit by OhRudi
Build your own tropical paradise with the Sims 4 Store Content Tropical Aquarium for your home. This aquarium requires the Store Content Tropical Aquarium from Sunlit Tides Gold to be installed on your computer. It has corals and aquatic creatures. Once you have installed it, the aquarium will appear in your game. Download this piece from this page.
DavinaOjeda Sherlock Holmes Aquarium
Fish tanks are something that many people love and want to have in their homes. This is why there are so many fish available online for the Sims 4, from tiny goldfish for beginners, to sweet guppies or koi carp for professionals. Fish tanks also create a calming and relaxing atmosphere that can be enjoyed every day by both kids and grownups.
Sherlock Holmes Aquarium is a perfect addition to any Sims home. You can use it for fish, decor, or just for fun. This is a custom aquarium that's compatible with the base game and does not require any expansion packs. It contains separate objects and is of perfect quality. Here's a direct download link.
Aquarium Counter Island Base
Create your own personal aquarium at your home with this Sims 4 custom-made counter that has a built-in aquarium base. The aquarium base is fully functional, allowing you to purchase your own pet fish, and set lighting intensity and hue just like a normal aquarium. Here's your download-link.
sims 4 fish tank
Your Sims will have the perfect pet in their home with this Sims 4 aquarium! With the lid open, your fish will swim around in your house like they're in an actual aquarium. The owner of the fish can purchase and sell fish from their inventory, and take all their pets without even visiting the store. Read more about it here.
Box aquarium – sims 4 fish tank
If you want to make your Sims' home even more beautiful, this aquarium is for you! This set will help you create a fish museum or just decorate your interiors. You'll also be able to choose from different designs and shapes of aquarium tanks and accessories depending on your needs.
This fish tank gives you everything you need to create your aquarium; it's basegame compatible and comes with 22 items, including a fishbowl, various decorations, and even a filter. This aquarium has a square built-in tank, which will look awesome in any bedroom, living room, or even office. It also has a floor koi pond, floor pond, large jar, lily pad, and other fish as accessories. Here's your download link.
Sophisticated DIY Mini Aquarium
Your Sims will be the envy of the neighborhood with this luxurious and modern fish tank! A great addition to your Sims 4 home, the DIY Mini Aquarium is a great starter fish tank when you first start out. Or use it as-is to decorate any room in your house. With three decor items: a mossy rock, a water feature, and an ornamental plant, you can customize your tank for any style. You can add any type of fish to it; koi fish, goldfish, or pacific fish. Check it out here.
Fish tanks have become a popular way to relax and relieve stress. They are also a great way to start a conversation. In the gaming world, fish tanks are the most popular decoration in any Sim 4 player's home.
There is a meme that says "Fish tanks are more popular than toilets" which is actually true. As Sims come with some very basic needs that they want fulfilled like food, water, and sleep but fish tank owners tend to make their sims happier than toilet owners.
I think this is because sims enjoy being able to watch their fish feed at night while they sleep and feel satisfied when they see their plants grow healthy from the water in the tank. Fish tanks have since become an essential part of any Sims 4 player's home so it's no wonder you're reading this now. We hope you enjoyed this list as much as we enjoyed writing it.
Related Content