Welcome to our post on sims 4 adidas shoes and clothes! Just like Adidas is popular among us, it is popular among Sims 4, and for good reasons – be it adidas clothes or , adidas shoes! Sims get the best clothing and footwear from Adidas to make themselves an adorable, fashionable, and cool-looking personality. Here we are listing some of the most popular Adidas mods for sims including sneakers, shoes, sportswear, etc. Your sims are going to love it.
Table of Contents
Sims 4 Adidas Shoes
Sims 4 Adidas Superstars Shoes
Lets start with our favorite sims 4 adidas shoe: With Adidas super color base game mod, you are never short of shoes. Expand your Adidas shoe collection with a recolor, letting your sims feel great wearing a new pair every day!
Adidas Gazelle Shoes for Males
The Adidas male shoe mods are great for fashionable young adults, love to look good, and like something extremely simply designed. These mods, available with recolor base game fratire, are the answer.
Adidas Outdoor Sims 4 Shoes
Charm your sim's personality with this adorable Z Adidas outdoor sneaker mod to give him a candid appeal and dynamic attitude. Great for sims' outdoor activities and casual use.
Adidas Kids Stuff
Adidas Sims 4 Shoes for Kids
So, these Adidas shows for kids are our most popular pieces of custom content. Or recolor. whatever you want to call it. Great for sims' casual use and all outdoor activities. Available in a range of vibrant colors with elegant design and lace structure.
Adidas Sims 4 Shoes for Toddlers
Give your sim toddlers a brand-new look with these beautifully designed Adidas shoes that are highly functional, stylish, and comfortable. The sim kids would look cuter in these Adidas toddler shoe mods.
Toddler Adidas Outfit
Let your sims toddlers shine in exclusive Adidas toddler outfits mods and let them feel high in confidence and boldness. Available in a range for female toddlers to enhance their cuteness.
Adidas Sporty Toddler Outfit Collection
Never forget the toddlers when it comes to sports and fitness. The sims are the biggest sports freaks and would love to play more in these beautiful, charming, and highly functional Adidas sporty toddler outfit collection mods.
Adidas Female Clothes
Adidas Cropped Shirt
Amp up your sims to-and-from with this Adidas cropped, comfy short that looks like a standout and wears like a staple. Make it pop with leggings, shorts, or lounge, and make your sim stand out. For more crop tops, follow this link!
Adidas Female T-Shirts Summer Collection
Get a trendy Adidas collection of printed & solid t-shirts mods for your sims, all set to let the world on fire with their boldness, confidence, and a unique style statement wearing Adidas exclusive t-shirt.
Adidas New Style Athletic Outfits
Let's add some interesting features in your sims' workout sessions with these eye-turning Adidas new style athletic outfits, nobody can resist. Extremely feminine, creatively-textured, and highly functional sportswear mods for your sims.
Summer Adidas Short Dungarees
Sims would love to wear dungaree; after all, it gives them both attitude and style at the same time. This summer Adidas short denim dungaree mod is all set to give your sims a perfect street-style candid look.
Adidas Male Clothes
Summer Adidas Male Tees
Let these Adidas summer tees keep your sims cool this summer with a style. The mods are all set to transform your Sims' personality from boring to interesting. Available in different designs.
Adidas Shorts and Pants
Adidas Sporty Shorts
This Adidas sports short mod makes great stuff for your sports-loving sims. Get the stylish mod available in 5 swatches and is suitable for both teens and elders. It is the best everyday, athletic, sleepwear as well.
Adidas Sweatpants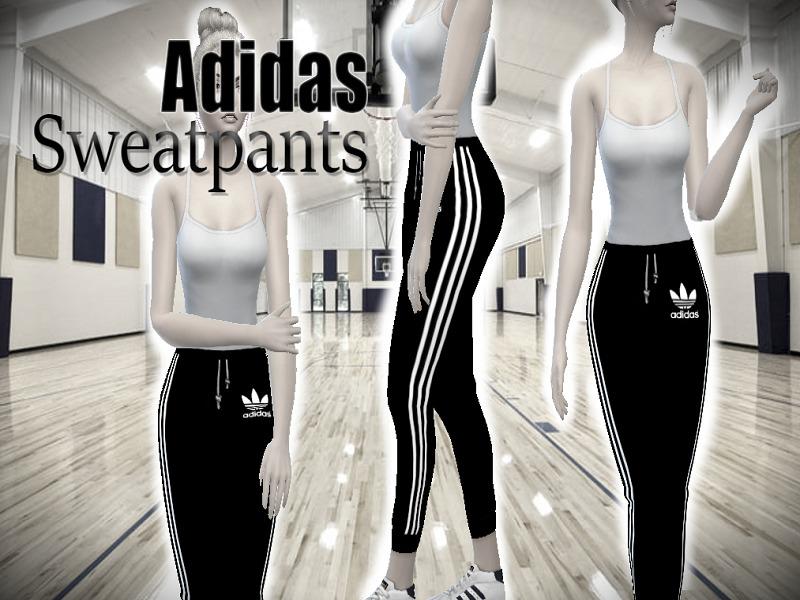 Give your sims some cool, trendy, and bold appeal with Adidas sweatpants mod. Great for female sims to give them a candid appeal and lots of confidence. Functional, stylish, and able to be re-colored.
Adidas Summer Leggings
Adidas lightweight summer leggings mods will keep your sims cool and comfortable the whole season. Available in unusual colors. Pair it with Adidas shoe mods to get the best impact.
Adidas Camo Athletic Pants
The key is to make your sims updated with the latest trends in terms of clothing and whatever they are doing. Adidas camo athletic pants, available in various designs, would motivate your sims to be more dedicated to their athletic activities and spirit.
Adidas Athletic Shorts
Let your sims do sports with style and confidence. These Adidas athletic shorts mods give your sims' sports personality an oomph factor, making the center of attraction. Available in various re-color possibilities.
Adidas Athletic Pants
Adidas summer athletic pants mods make the perfect activewear for your teens. Trendy, elegant, and able to be re-colored, giving your sims something unique and stylish to wear every day.
High Waisted Adidas Summer Shorts
Expand your Sims' collection of "favorites" with these high waisted stylish Adidas high-waisted summer shorts that look excessively flawless in terms of design, look, and style. Get the mods in distinct colors.
Adidas Black Leggings
Adidas's leggings for your sims riff on athletic styles – they're printed with the house's logo and a sporty 'Gym Wear' motif. Cut from stretch cotton-jersey for a flexible, second-skin fit, they have a flattering high-rise waistband and distinctive covered toes.
Adidas Caps for The Sims 4
Adidas cap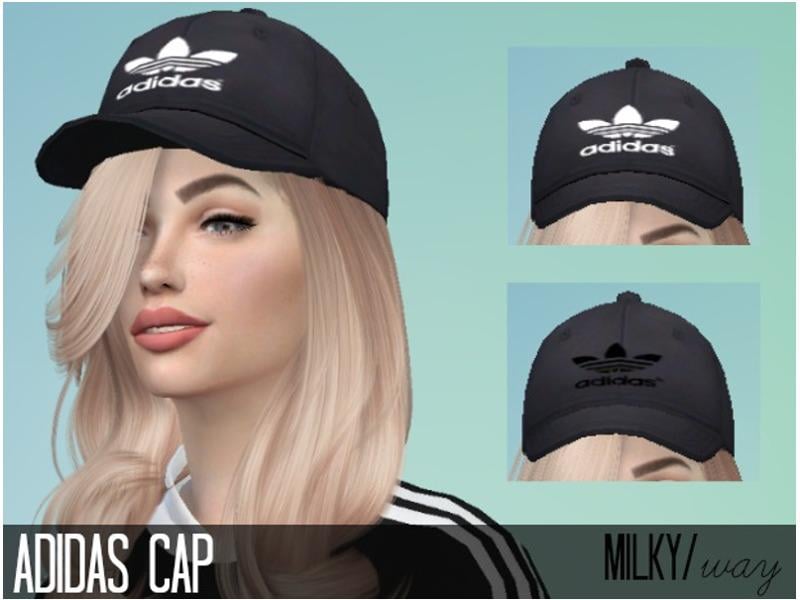 Caps are always a significant part of sims' dressings. Why not go for Adidas cap mods for your sims, to make them look cool and fashionista in their unique way?
Adidas Socks
Half Length Socks
These Adidas calf-length socks mods extend past the knee, warming your sims' entire leg and boldly showing off the sock. Great for bold and sport loving sims who love to follow the latest fashion trends.