Let your Sim Plunge into the Victorian Era
Victorian Period was very historic and had many things that will still be a hit in 2020. Keeping that in mind, here are Victorian inspired mods that will let your Sim plunge into the period of victoria where things were rather unique, extreme and exciting. You will find good amount of likable mods for both men and women here.
Style your Sim with Victorian Inspired Mods
Chesham Victorian Curtain High 2×1
These Chesham victorian inspired curtains are very classic. They give your room a beautiful victorian vibe. If you are into victorian period and enjoy the drama is offers, then you should love these curtains. They come in nine different variations.
Chesham Victorian Curtain Mid 1×1
These are Victorian themed curtain that can transform your modern bedroom or living room into a classic victorian period novella. They are mid in size and they come in nine classy colors.
Chesham Victorian Curtain Mid 2×1
These Chesham curtains have the ability to take you back in the Victorian periods. They comes in colors like red, royal blue, maroon, black, olive, blue, white, peach and ash. The mid x1 size makes a room look classier.
Chesham Victorian Curtain High 1×1
These Victorian inspired long chesham curtains are for houses that are very big and needs extra attention to details. They again come in nine different color variations. Each color is warm and cozy to look at.
Everyday Victorian Dress by LollaLeeloo
If you love the Victorian fashion then this dress would impress you for your female sim to wear. It has a top shirt like style with a mermaid tail like skirt. The detailing of the lace on the shirt is beautiful. The print of the bottom part is classic. It comes in six beautiful colors.
Vampire Lord_Victorian vest03_T.D.
This is a jacket you have seen in every vampire movie ever! You may not like vampires but the vampire Lord Victorian style jacket is a winner! It will look very fancy on your male sim. The vest underneath has color options.
Everyday Victorian Suit Top by LollaLeeloo
This creation is dedicated to Victorian kings or prince. They look very elegant and royal. The suit comes in three different colors namely, Red, black and blue variations. They have silver and golden detailing on the shoulders and front.
Everyday Victorian Suit Bottom by LollaLeeloo
This fashionable and Victorian themed suit is perfect of any adult Sim. It will seem as if you have went to a Victorian place when you wear something like this. It comes in six different patterns and colors. All the colors are between brown, white, green, blue and red.
Victorian Bustle skirt01_T.D.
If you truly want to make your female Sim fit into the mould of Victorian period then having a bustle skirt is a must. It is floor touch skirt and it looks very classy. The lace detailing is impressive. It comes in three colors, red, green and violet.
Victorian Bustle vest01_T.D.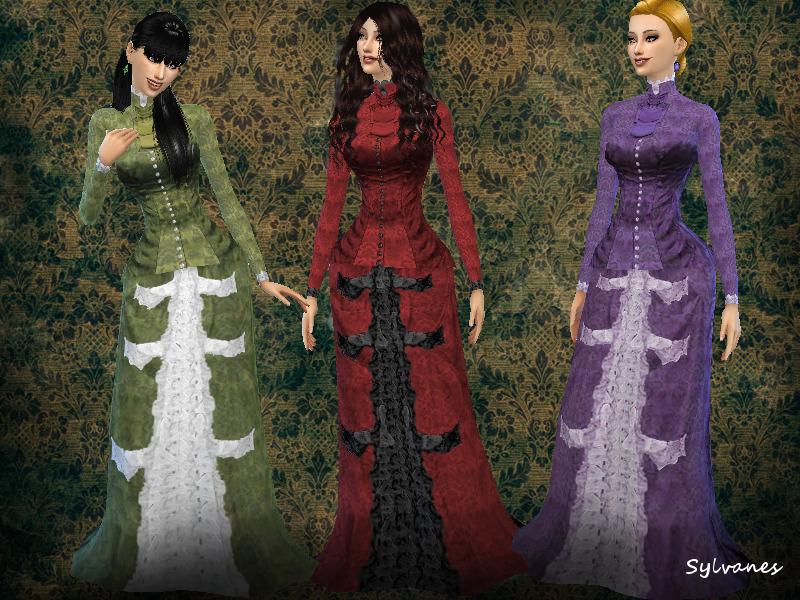 If you are looking for a quality top that would tribute the Victorian period and it will suit with your bustle skirt, then there is no other choice than this bustle vest. The design is great and the detailing on fronts is good. It comes in three colors.
Bruxel – Queens Royal Victorian Jacket
If you are looking for a matching royal jacket for your female Sim to match with the Sim king then this jacket is perfect. It comes in five colors. It looks great with white pants as it brings out the detailing of the jacket well.
Victorian Swimsuit for Sim ladies by LollaLeeloo
During the Victorian period, ladies used to go to swimming in a covered way. This old fashion swim wear is designed that way. It comes with a top that is half sleeved, short skirt like design and then the bloomers shorts to keep their decency intact.
Bruxel – Fancy Victorian Jacket
These victorian jackets are ancient but still very fashion forward. They are unisex so your male Sim and female Sim can enjoy wearing these. They come in five stylish colors. The detailing is mesmerizing.
Bruxel – Victorian Soldier Boots
To go with your Victorian outfit, these military kind of boots are perfect for your male Sim. They comes three glorious variations. All of them are very classy and rigid. They come in black, brown and tan color.
Victorian countess top_T.D.
If you want to project your female Sim as a upper class Victorian lady then these countess dresses are perfect. They look like fancy curtains for the design of the skirt. It comes in six beautiful designs and colors.
The styled Lord_Victorian vest2_T.D.
If your male Sim is a stylish one, then this vest will uplift his style further. It looks kinds of gothic but very sleek. It looks like a king, a prince, a man of honor has arrived when he wears this vest.
Bruxel – Victorian Tights
Even during the Victorian times, tights were a big hit both for men and women. In this collection, you will get four variations of Victorian tights. They are pure white, pure black, leggings with stockings (for more leggings or stockings follow the links!) and button up leg designs.
Victorian countess skirt_T.D.
This countess skirt comes in a dress too but the specialty of this skirt is you can pair it up with any other top you see fit with this skirt. It comes in six different colors and designs. All of them are very higher class Victorian lady like outfits.
Victorian Pearl
In this mod you will get Victorian style house, the front yard, backyard, indoor, kitchen, bedroom, living room everything in a cloth of Victorian touch. Even the kid's room is in Victorian theme. Everything is very light colored but the lights are in round shape which was distinctive style of the Victorian period.
The mysterious Lord_Victorian vest04_T.D.
This coat is very mysterious and it looks very fashionable too. If your male Sim is mysterious, likes to project a spooky vibe of himself then this fashion forward Victorian long coat is perfect for your Sim.
Bruxel – Victorian Leggings – Get Together needed
These Victorian leggings are suitable for men. They are white and exceptionally tight. You can pair them with royal coat, a tight vest or even a jacket. They look very stylish and fit.
Sober victorian blouse_T.D.
This blouse is for your female Sim who likes to cover them up. In the Victorian period women used to stay covered mostly. This blouse is sober with full sleeves, high turtle neck. They come in six vibrant colors.
Sober victorian skirt_T.D.
These Victorian skirts are again designed to keep the modesty intact of your Victorian inspired Sim's outfit. It will go perfectly with the Sober Victorian blouse but feel free to pair it with other tops too if you like.
Victorian Set from TS3
This is a complete bedroom set that is 100% Victorian themed. It comes in a bright maroon color. Every curtain, and every furniture of the room screams of the Victorian period.
Small Victorian Dollhouse
Kids love toys and every girl dream of having the perfect dollhouse so they can create their own little dreamland there. This doll house is Victorian themed. It comes in a bright color that will suit every little girl's room. It will give your little Sim to play around in a Victorian period with pleasure.
Accents Victorian Paneling
To make your house or room more suited to the Victorian style, this accent Victorian paneling are perfect. The swirl design, the detailed pearl and the white background looks very elegant and classic. This will look good in your living room or even the sitting area in your house.
Modern Victorian Cabinet, Counter Isle, and Counter Recolours – from Vampires GP
When you are transforming your house into a Victorian inspired modern house then adding cabinets, islands and counters is essential. These are Victorian themed counters that would make it easier to make the Victorian transformation. There are 15 color options.
Victorian Fireplace from TS3
A fireplace is a must in every Victorian house. So when you are creating décor around the Victorian theme, then pick this fireplace as it will fit perfectly in that concept. The color contract is perfect and would suit any décor around it. More decor items are listed here!
ZOLA – Victorian Steampunk Shirt – Male
This male shirt is rather gothic but it is Victorian inspired. It looks very classical and you can pair it with brown or white pants. It comes in two swatches. The vibe of the shirt is very goth.
Romantic victorian house
This is a classic romantic Victorian inspired house that looks very unique. You will not find anything else like this anywhere else. The color combination is very nice and would make you stand out in the neighborhood.
Madeleine's Victorian Retreat Walls DV001
When you are transforming your house into a Victorian theme, the walls are very important. These walls are very unique and despite being Victorian inspired, they give out a trendy vibe. They come in three different variations. The flowery one is my personal favorite.