What we adore about the Sims 4 is the endless custom content that keeps the game fresh and exciting! The game has completely transformed itself with the addition of historical custom clothing, hairstyles, accessories, and everything in-between. Simmers can now use cc to play through their favorite decades and we could not be more excited about it! In this post, we will highlight some of the best historical CC you can add to your game for free.
Sims 4 Historical CC: Clothes & Hairstyles
If there is one area of The Sims 4 CC that is underrated, it is Historical CC. Which is absolute nonsense when you look at how stunning this CC is. By adding historical CC to our games, we can dress our sims up in the most amazing gowns, and play through numerous historical challenges. Just imagine how fun it would be to play the Legacy Challenge through different decades!
In recent years, CC creators have become even more talented, adding more historical CC options for simmers to choose from. The clothes and hairstyles have become so good that we dare say even a historian would applaud them.
We find it extremely fun to dress our sims in historical CC and play through our favorite decades. And, we know a lot of other simmers do too. This is why it is our pleasure to introduce you to some of the best Sims 4 historical CC on the internet. Enjoy!
Holmes Elegant Dress – DZIFASIMS
Whether you are a big fan of Sherlock Holmes or Enola Holmes, you will stan this Holmes dress by DZIFASIMS. If you have ever wanted to dress your sim up in some Sherlock Holmes-looking outfit, now is the time to do so! This stunning creation is an Edwardian 3-piece style bolero dress. Which comes in 20 different swatches, including 16 solids and 4 plaids. Yes, 20 different swatches! So whatever new colors and palettes you are looking for, DZIFASIMS got you covered with this piece.
Furthermore, the Holmes dress is long and will work perfectly for your sim's everyday and hot weather outfits. In conclusion, this is a stunning piece that is essential for any Holmes fan simmers. So, what are you waiting for? Get your historical murder mystery gameplay on, and download this stunning dress now!
Regency Reverie Part 1 – Sims 4 Historical CC
Now, let's move on to another iconic, historical tv show, Brigderton. If you're a Bridgerton fan you will love this Regency CC by GILDED GHOSTS. As you may be aware, Bridgerton is set in the Regency era, which included a ray of breathtaking gowns and clothing pieces. And just like the popular tv show itself, this cc pack promises a ton of stunning regency looks.
However, despite the obvious connection to Bridgerton, this pack is inspired several by Jane Austen adaptations. With 15 new meshes, this cc is created as a love letter to Austen´s much-beloved heroines. Every piece in this pack is named after a character or location in her novels. Whether you are a Bridgerton fan desiring a little Regency gameplay or an Austen stan you will enjoy this pack. So, treat your sims to a little Regency look by installing this cc here!
1895 AF Silk Visiting Walking Dress- VINTAGE
Congratulations, you've arrived in the Sims 4 Victorian era! Yes, can you believe it? VINTAGESIMSSTRESS has provided us with these amazing 1895-inspired silk dresses, and we could not be happier about it! Whether you are a history nerd or a fan of the great series Murdoch Mysteries which is based in the Victorian era, you will adore this cc.
This shiny, silk bgc dress is HQ mod compatible and comes in 25 colorful swatches, including black and white. Could it be any more perfect? We don't think so. Tagged as everyday, party and hot weather wear this dress is indeed perfect for your sims daily promenade. So, treat the history buff in you and download this amazing custom content now!
1898 Evening Gown – VINTAGESIMSTRESS
Yes, VINTAGESIMSTRESS keeps on delivering. Here, with another Victorian-era-inspired dress, but this time an evening gown. Like the walking dress, this stunning creation is the base game and HQ mod compatible, tagged as everyday, party, and formal wear, and can be found under the long dress subcategory.
In addition to all that greatness, it comes in 22 swatches, including 7 beautiful light pastels, which we are absolutely in love with. Again, could VINTAGESIMSTRESS creations be any more perfect? We're honestly not sure, as she keeps on outdoing herself. So, whether you want to add a beautiful evening gown to your historical gameplay, or you just can´t stop staring at this beautiful creation. The dress is available to download here!
June Set Part 1 – ACANTHUS
Wait a minute… Did we just travel back in time? Indeed, we did. Welcome to the Sims 4 17th century. With outfits and looks resembling different versions of Napoleon himself. History buff simmers will have a lot of fun with this extra cc pack, that is for sure! Created by ACANTHUS this pack offers a Chemise a la Reine, with 22 swatches, a Chemise II, in 23 swatches, a Robe a la Turque, with 44 swatches, the Hedgehog hair, the Gainsborough hat, the Leghorn Hat, the Bow Hat, the Silk Headband, and a beautiful Cameo Pearl Necklace.
And lastly, the pack is HQ compatible and includes 12 new meshes. So, whether you want to dress your sims up in fun 17th-century looks, or you just want to treat the history buff in you… This breathtaking pack is available to install here!
June casual suit Part 2 – Sims 4 Historical CC
Yes, you are still in the 17th century. Did you think we would let you move on without introducing you to the second part of the ACANTHUS June set? Of course, we would not dare. Now, lets us introduce you to the male version of this 17th-century-inspired cc. Stunning is it not? It gives us major Napoleon vibes, so if that is what you are going for in your historical gameplay, then this pack is certainly made for you! Like the ACANTHUS first June pack, this cc offers a lot of CC pieces.
Which includes Justaucorps, Knee Breeches, two versions of Embroidery, Louis XIV hair, the Cocked Hat, Louis XIV boots, a Cravat Bow and Brooch, Dress Sword, and Baldric, One Shoulder Epaulette, Sash, Bow Sash, and Silk Stockings. Indeed, this pack offers a whole lot. And, like its female version, it comes with 12 meshes and is HQ compatible. So, if you have already downloaded the June Set Part 1, what are you waiting for? Go install the June Set Part 2 now!
Bernadette's Stays – LLAZYNEIPH
Real history buffs, who have an eye for detail, will appreciate this cc pack by LLAZYNEIPH. This pack consists of several undergarments, which were worn to support the chest, back, and posture back in the day. It comes with an overlay that will change the color of the chemise underneath too, so you can completely customize your look! These fun stays are new mesh, and the chemise underneath is frankenmesh.
Plus, PDS for coloring is included, how great is that? In addition to the realism it adds to your game, it supports pregnant frames too! So, you will not have to worry about your pregnant sims missing out! In this pack, everyone is certainly included. So, get this amazing garment in 30 different swatches now! You can download it here.
1890s Coats Converted For Toddler Girls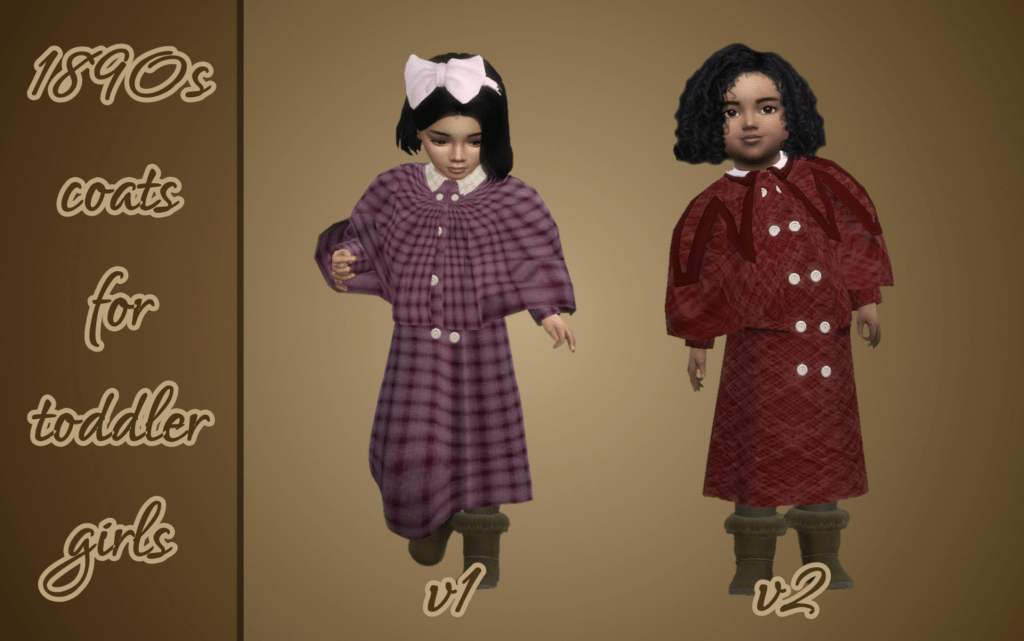 Let's go back to the queen of historical cc for a moment and check out more of VINTAGESIMSTRESS cc. Yes, she keeps on delivering, and we cannot be more excited about it! If you liked the female historical clothing, you will adore these toddler girl coats as well! Like VINTAGESIMSTRESS another cc, this pack is the base game and HQ mod compatible. Which is just phenomenal if you ask us.
The clothes are also tagged as casual and cold weather, so your sims won´t freeze to death on a cold winter day. Yes, that can happen and every time it does, it breaks our hearts. The cute coat comes in 16 different swatches, including solid black and white for your more chic sims. Furthermore, the same coats are available for teens, if you go to this patreon page. So, treat yourself with these adorable toddler girl coats, and install this cc pack now!
1894 Triple Cape Coat For Boys – VINTAGESIMSTRESS
Indeed, of course, VINTAGESIMSTRESS has these cute kid coats available for male kids too. And, like her other cc packs, this one is also base-game and HQ mod compatible. Furthermore, the adorable coat comes in 16 beautiful swatches, including solid black and white. You may want to use those swatches for weddings or funerals?
We do not know, but wearing black in times of mourning was definitely a thing back in the day, and still is in different places of the world. So, that aspect might be an interesting storyline for your historical gameplay! The coat is of course tagged as casual and cold weather wear, as usual. So, whether you want to dress your sims in this cute coat for their everyday wear, or you want a more fashionable outfit for the winter days – this is the pack for your little sim boys. Now, stop wasting your time, and add these cute coats to your game already!
1896 Ulster Coat For Men – VINTAGESIMSTRESS
No, we did not forget about your grown male sims. How could we? When they can look this great. If you already downloaded VINTAGESIMSTRESS's other creations, then this pack is the perfect addition to your dresser. Just like the other packs for kids and females, this one is a base game and HQ mod compatible too.
The men's coat is tagged as casual and cold weather wear, perfect for any given day in the Sims 4 1800s. Beyond that, this iconic coat comes in 14 different swatches, including 5 different beige/brown options. Which we are very excited about, seeing as though brown is a very historical color in clothing. So, what in the world are you waiting for? VINTAGESIMSTRESS has provided you with outfits for your entire sim family members. Now, go ahead and download this new piece of cc to complete your historical gameplay aesthetic!
Regency Hairs – BUZZARDLY28 – Sims 4 Historical CC
If you were worried we forgot about historical hairs, then relax, because of course we remembered! Did you miss the Regency era? Then, you will be happy to know will travel back to the Regency era with this cc pack! Luckily for us Bridgeton fans, BUZZARDLY28 has created these Regency Hairs for us to use!
These stunning hairstyles come with 24 EA swatches, are hat compatible, and are also compatible with GILDEDGHOSTS bonnets if you have that package installed. We adore the look of these hairstyles, and are very excited to share that you too can download them for free! So go ahead, and complete your Sims Regency look by downloading these fantastic hairstyles here!
We hope this list provided you with some inspiration to delve deeper into simple vintage clothing. Get start on creating some ladies and classy gentlemen! Huge thanks to all the awesome creators that keep blessing us with their designs. Check out related content by visiting the links below. Enjoy!
Related Content