If you're reading this, it is no doubt that you're a fan of My Hero Academia and would obviously want to experience it in the Sims 4. Luckily for all of us, custom content creators of the Sims 4 have been providing us with an array of Bnha – My Hero Academia cc packs and Mods; shirts, hoodies, hairs and lots of special outfits. This post is our best picks of Bnha CC. Enjoy!
---
Coolest Bnha Custom content and Mods
Hair Pack – Boku No Hero Academia
Starting off, we have the hairstyles of the five characters: Midoriya, Backugo, Todoroki, Kirshima and Kaminari. The hard work put into the making of these definitely shows.
Shinso Hair
A hairstyle inspired by our underrated Hitoshi Shinso. You can choose between a collection of 10 swatches (some of which are based off other random characters). You could also grab custom eyebrows to match the hair.
BNHA – Toga Hair
Toga has to be one of those characters everyone loves! This incredible hairstyle by Drosims comes in a variety of 49 swatches. Check it out by visiting the link below.
BOKU NO HERO ACADEMIA
A number of sets including items for following characters: Lida, Ochako, Tsuyu, Momo, Jiro, Sero, Toga and Mina as well. We're getting custom hairstyles, each in a separate pack -in addition to custom glasses. Enjoy!
My hero academia Hair Packs
This thumbnail on its own is breathtaking, isn't it? You're getting seven separate packs from this set. They include items for Itsuka Kendo, Setsuna Tokage, Ibara Shiozaki, Kinoko Komori, Tetsutetsu Tetsutetsu, Neito Monoma and Shihai Kuroiro. Sweet thing is, there's a little background on all of these characters in case you wanted to learn more about them.
Sims 4 bnha CC
This custom content of Dabi Todoroki for the Sims 4 is brought to us by MOCHI SIMS. You could watch the creator put it together here. To install this one, follow the link below.
OVERHAUL, CHRONOSTASIS & MIMIC
A masterpiece of a set this is! It includes Chronostasis' hair, Overhaul's hair, earrings, gloves, mask that can be found under Hats, fur as a Necklace, full-body outfit, shoes and a scar. Check it out by visiting the link below.
Sims 4 bnha cc Kai Chisaki
A custom content dedicated to Overhaul Chisaki Kai. Bringing this into your game will definitely have you experience a new lifestyle; a rather unusual one. Check it out clicking the link below.
GENTLE CRIMINAL & LA BRAVA
As for this set, it brings life to Gentle Criminal and La brava's hairs and full-body costumes that come along with shoes -in the Sims 4. Custom facial hair is also included in this set. You also get Criminal's scarf and La's bow.
Sims 4 bnha cc bakugo
If you're not excited for this set, you definitely should be! You will have to download a few cc packs for him to look exactly like showcased picture. Visit the link below to install them.
Sims 4 bnha PONY TSUNOTORI & YUI KODAI
If you'd like to create sim characters with Pony Tsunotori and Yui Kodai's hairstyles, this set is your way to do that. It also comes with their shoes. Check it out by clicking the below link.
My hero academia cC
These hairs are brought to us by BOTROM – U1. We definitely recommend checking out their custom content for the Sims 4. To install the hairs follow the attached link.
Sims 4 bnha cC T-shirts
These bnha t-shirts are sick! They are available in a collection of 3 swatches but they work on both genders from toddler to elder. Download them into your game from the following link.
Sims 4 bnha cC Hair
A maxis match hairstyle inspired by My Hero Academia. It comes in the two showcased versions. For easily installation, follow the link
My Hero Academia Hawks Eye Marks & Eyebrows
We could all agree that these eye marks are stunning! They're base game compatible and are found under Skin Details, Tattoos, Face-paint and Eyeliner. Oh and it works on all genders from teen to elder. The eyebrows are available in 2 swatches for male sims.
Mei Hatsume CC Set Release
Another awesome custom set for all of My Hero Academia fans! An outfit, shoes and a bag. But you should keep in mind that the shoes and the outfit need to go together to work properly.
SHEMAGE & PHANTOM THIEF
Simmers, this set too contains costumes for Shemage and Phantom -in addition to custom shoes. And it also has custom hats and eyes. Check them out by visiting the link below.
Izuku's Set bnha cC
Such a cutie, isn't he? This set has 10 swatches for the outfit, 10 swatches for the shoes and 11 swatches for the backpack. Have a closer look at them by visiting the link from below.
Sims 4 bnha CC – My hero academia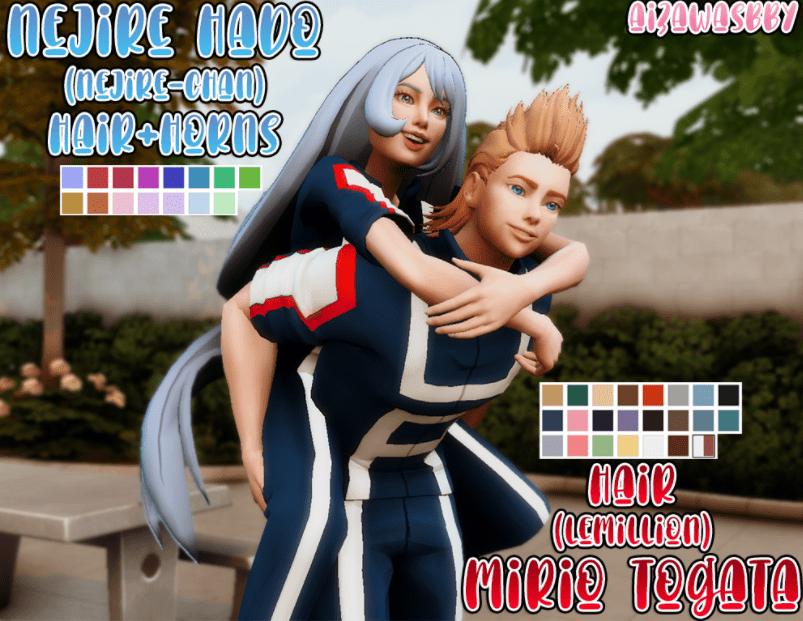 You get a few things off of this set: hairs, horns, costumes and mustache. And they're available in a number of unique colors. Go ahead and check them out yourself.
My hero academia CC
What a set to end this list with! A jacket in 10 swatches of different color combinations. Check them out by clicking on the following link. Check out custom jackets for the sims 4 here.
We couldn't be more grateful for the awesome work put into the making of these Sims 4 bnha CC items and mods. Be sure to check out the latest Sims 4 CC by visiting the links below. Enjoy and always stay updated on newer content!
Related Content: