The Coolest And Darkest Goth Mods for The Sims 4
We all have a little corner in us where our rebellious selves hide. Why not tear those walls down and unleash that chaotic aspect of your character through some dark clothes and hairstyles? And that is exactly what we bring you in this post – a list entirely dedicated to Goth Mods and CC for The Sims 4! Enjoy!
The Best Goth Mods and CC for The Sims 4
Dark/Goth Crop Tank Top
The anti-Christ top piece is here and you need to have it! But don't worry; this mod has some other designs as well, like the sleek black one and the satanic one. Go to ModTheSims to find out more or download the mod directly fromhere.
Goth/Punk Crop Top – Version 2 DYUI
This crop top screams "Punk" in all of the 10 versions it comes in! It's a lot of fun to shuffle through them all and wear them on different Sims. We recommend this CC a 100%, so hurry up and use this download link.
Electric Dreads for Men And Women – TS3 Conversion
If you've ever touched an electric guitar then you probably know the burning sensation to conquer the world! And this mod is a perfect way to show that feeling! These amazing gothic dreads for The Sims 4 are a creation of Esmeralda and you can download them from here.
Harley Quinn Styled Goth/Punk Garter Leggings
Walk with the ferociousness and wildness of Harley Quinn! These leggings are a perfect bottom part for any self-reliant Sim! They are tight, dark and sexy – is there more to be asked for? Be a part of the numerous people who have downloaded this gothic CC from this page and thank Chubbychipmunkz for creating the mod.
Gothic Bedroom Conversion From TS2
Here we have a neat conversion of a room from The Sims 2 into The Sims 4. There are beds, tables, cabinets and what not – all updated to fit the modern graphics of the game. We're sure that you'll find something you like as well, after you download the mod from here Now you don't have to miss The Sims 2 as much!
Black Off Shoulder Gothic Sweater
At annettssims4welt.blogspot.com we came across this charming black sweater. With the off shoulder design, the front comes into focus with all its included variants. The creator here is Annett and you can follow her on her Instagram page. To download this CC, click here.
Beautiful Gothic Corset & Long Skirt
Another mod by Annett which we really love is this pack of a nice tight corset and a long neat skirt. They're all available in unique colors and shapes, so you won't see your outfit on any other Sim! The CC is available for download from this link.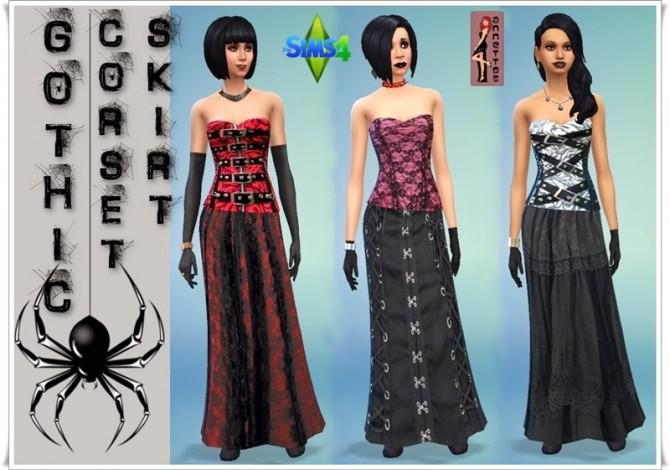 Awesome Pack Of Gothic Shirts & Skirts
And the packs just keep coming! Take a look at this little compilation of awesome gothic shirts and skirts for The Sims 4. They fit all body types and match every personality! Get them quickly from here.
Mystifying Gothic Veil Accessory
This gothic veil will perfectly match a dark and brooding Sim, but it can suit the rest as well. It could also be a wonderful addition if you're throwing a '20s styled party, so it is a must to get it. Download this super cool CC from this link.  
.
Gothique Living Set Conversion From TS3
Here is another fantastic conversion, but this time from The Sims 3 to The Sims 4. The number of items is truly amazing here and you'll find all sorts of things – from chairs and tables to cushions and bookshelves. Enjoy your old new room from here.
Jeans & Boots Cybergoth World Collection
We absolutely love this Goth CC by Jenni! You'll find the jeans gorgeous in every dye and the different designs on it just add that little youthful flavor which we all like. And the ultimate match for them is the pair of included boots! Follow the amazing mod maker at jennisimsunanuevaexperiencia.blogspot.com or her on Facebook page. To quickly download this CC, follow our direct link.  
JULI – Sexy Goth Mini Dress
Didn't this black bomb piece take your breath way? Right…moving on… The mod is the very "idea" of attractiveness and the proof for that are the incredible 65,000 downloads at The Sims Resource! Hurry up and enjoy this urban dark suit in its 10 swatches after you download it from here.
NIDA – Goth Shrug Dress With Leg Garter – Version 2
And while we are on the topic of "hot" and "provocative", check out this gothic shrug dress. Its length goes to just the right point go give off a seductive and challenging vibe. All the credits go to Helsoseira and to download the CC, click here.
NYMP – Black Sheer Gothic Dress
But Helsoseira has created another fantastic dark mod in the same sexy line! Break the mundane and opt into this black baby which comes in 6 different variants! On all occasions and in all places – rock on! Download the CC quickly from this link.
RAIK – Pale Night Gothic Blazer for Males
And to end the list properly – here we present a handsome and compact Goth blazer for your male Sims! It's already downloaded more than 50,000 times from The Sims Resource and it is wildly popular in our community. We advise you to try it as well and to download it from here. Don't be afraid to get dark!