Most people want to try out short hair at some point in their lives. But, they often regret it afterwards. Luckily, in the Sims 4, you can always switch back to anything else whenever you feel like it. Here's a list of the best short hair CC for your males, females of all ages in the Sims 4. Sit back and enjoy!
Short Hair Custom Content: It's time you've given your Simmies a haircut!
In this post, we have collected the best short hair recolors and hair mods for your Sims of all ages. And worry not, the list includes custom hairstyles for both males and females. We hope you will enjoy it. You can always visit our main article on custom hairstyles for the Sims 4 for a bigger collection of CC packs!
Let's dive right into our list!
1. Short Hair Recolor
The 'recolor' edition in the short hair has vibrant 30 different colors available in this mod. This hairstyle will add glamour and glow with the right touch of shade. Elegant and decent; the gradient of two shades in every color combination is the hot new thing. Try this hairstyle out, and make your Sim look fabulous. To acquire this mod, the Get Together expansion pack needs to be installed in the game beforehand. Have a look into The Sims Resource to find this publication or simply directly head to this page to get this very beautiful hair set.
2. Very Short Haircut
Who says women do not look good in short hair? Have a look at this mod by Neissy, which is again a finding from The Sims Resource. The hair gives your Sim an extremely stylish look, popping out the rest of its features. Check this link to download the modification. This haircut is sleek and sassy. It does come with hat-add-on compatibility.
3. Teased Short Hair
Just look at this beautiful haircut style created by Birksche. This bold look is a pure demonstration of power and dignity. Pair this up with some big hoops, and you are ready to shine! With the hair flicks classily hanging on her head, your female Sim has the audacity to carry anything and face everything. Just go to this page to test out this beautiful teased short haircut, which was created by Birksche.
4. Short Hair CC With Bangs
Bang with bangs! Yes. Another outstanding hairstyle for your female Sim. Having this hairstyle makes an elegant look, with a taste of decent and cute. The 'Short Hair With Bangs' mod was created by Kjlck. The hairstyle mod is available in different colors and is also hat-compatible. The download link is available on this site.
If you like maxis match custom content, you're going to love this collection!
5. Shaggy Short Hair
Fans of anime watch out! You will be excited about the next item on the list, which is a piece from kijiko-catfood.com! Haven't we all crushed on the cute animes with the shaggy rough hairstyle while watching anime? Now, you can give your Sim the hairstyle you always wanted! Do not forget to smash in this one! The Shaggy Short hair for females and more info are available here.
Short Hair for Toddler and Kids in The Sims 4
6. Little Ebisu Short Hair for Toddlers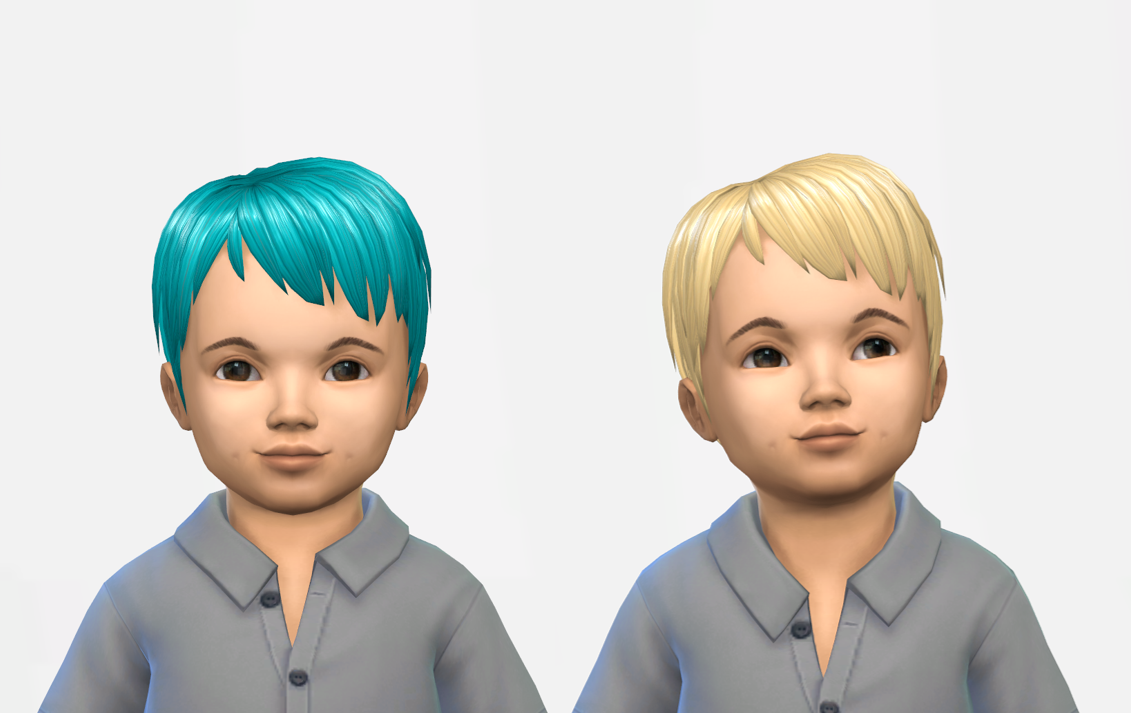 This adorable hairstyle is a must-have for all Naruto lovers. This charming yet cute hairstyle is the go-to for your Sim toddler. Just go to this page to check out this hair set which was inspired by little Ebisu. The creation is a piece from The Sims Resource.
7. Curly Short Hair Recolor
Okay, let's admit it; curly hair is the best kind of hair that God created. You can give your Sim child a short curly hairdo and even color it whatever you want. You can find this hairstyle on this site. The mod was published by Jeisse197. Do you like this creation and you would like to check out cooler curly creations? Then have a look at this page – we have collected many more curly hair findings for The Sims 4 there.
8. Kida's Short Hair Style
Most kids love giving off emo or an edgy vibe. This hairstyle is a perfect blend of such, coupled with the cuteness that comes with the child's innocence. You can give your Sim kid any hair color you want with this aesthetic hairstyle. This one is another extraordinary finding. Go to this page to get this hair pack, as the creator decided to publish its creation at The Sims Resource.
Short Hair for Males
9. Shaggy Short Hair
You should have a look at this hair mod, which is a must-have for your male sims if you love shaggy hair cuts. This light hairstyle makes your male Sim look cool and calm, with a touch of sophistication, something which would help your Sim gain confidence in the tasks he performs. The file is available under this direct link.
10. Messy Short Hair Edit
Messy hair always looks extremely attractive to guys. Laidback, relaxed; you want your Sim to give off a cool vibe with this cray messy hairdo, making him look 100x more attractive. The list concluded with this simple yet beautiful finding. The source of this item is blog.naver.com. Follow this link to install this cc pack.
Conclusion
Which of these short hair CC packs did you like the most? There are a ton of hairstyle variations that you could resort to if you end up feeling sick of having short hair for your characters. Below is a collection of custom hair mods for your Sims 4! Check them out and have an awesome day!