Read this article to unlock fresh, stylish, and unique Sims 4 bedroom ideas that will transform your Sims' sleeping spaces and help them have restful nights!
Top Sims 4 Bedroom Ideas You'll Surely Love
Bedrooms in The Sims 4 go beyond being mere sleeping quarters. They are the spaces where your Sims' dreams come to life and where they go to replenish their energy bars after a long day of work. Since these rooms play such a huge role in your Sims' daily lives, why settle for uninspiring designs when you can create bedrooms that are not only functional but also oozing with personality? In this guide, we've handpicked a selection of incredible bedroom ideas that will cater to your Sims' comfort and style preferences!
More on SNOOTYSIMS: 30 Bedroom CC That Will Add Life to Your Sims 4 Bedrooms!
---
Luxury Bedroom Set
For a really awesome bedroom idea, get this Luxury Bedroom Set from us! With its stylish vibes, this one is a total must-have for your Sims. 😳
What's included:
Double Bed
3 Curtains
Rug
Lamp
Ceiling Decor with Lights
Nightstand
Nighstand Decor: Alarm
Nightstand Decor: Tray with Cups
Floor tile
Click here to download!
---
---
Barbie X Horses Bedroom CC Pack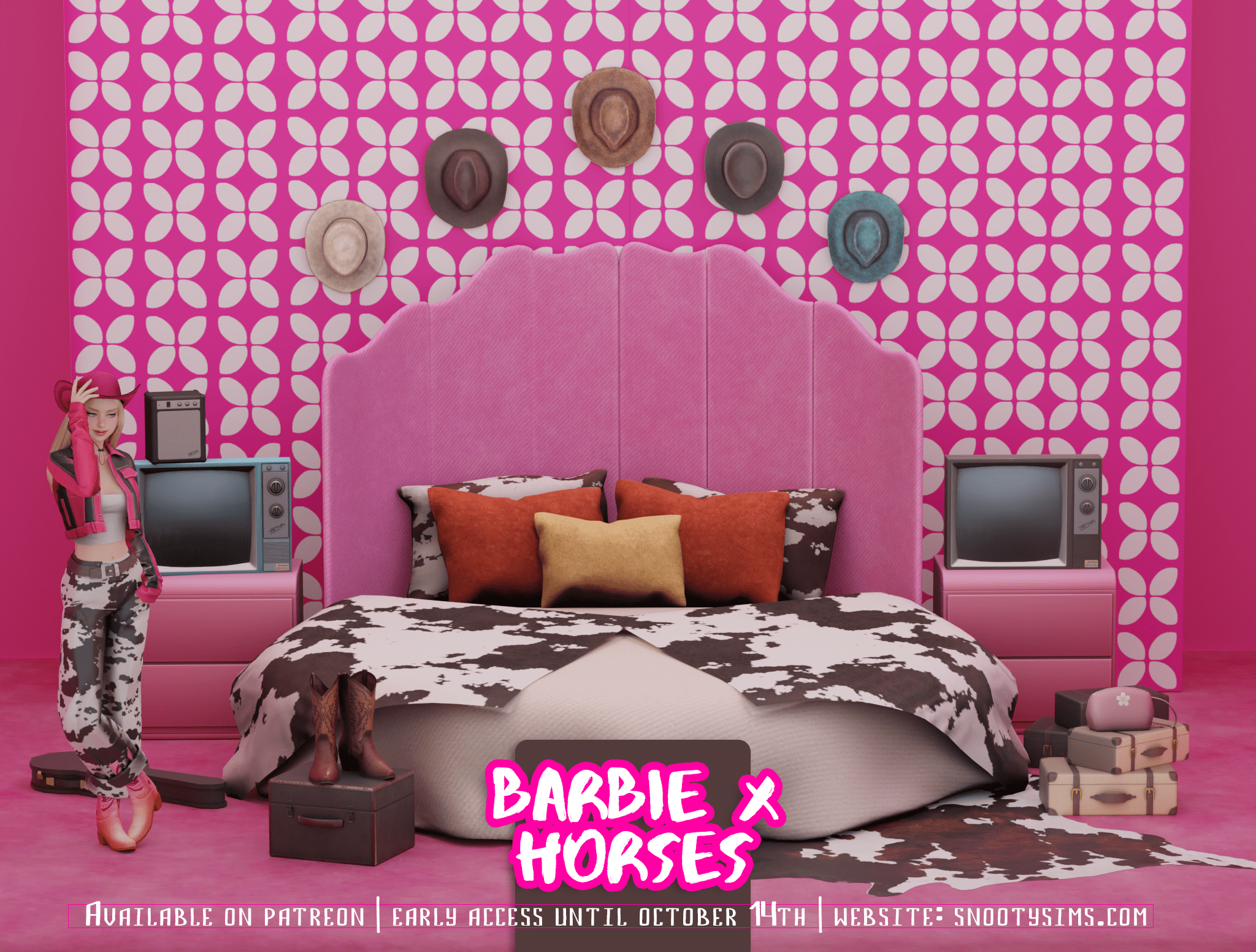 This is a very special bedroom set from all of us at SNOOTYSIMS. We hope you all come to like it. It's a lot of stuff mixed into one big bedroom – but yeah, that'll be your next cowboy Barbie's comfy space! You get 15 different objects that make up the set.
Here's what's included:
Bed (2 swatches)
Nightstand
3 Hats (2 of which come in 2 swatches)
Radio
TV (2 swatches)
Purse
Suitcase (2 swatches)
Leather Bag
2 Rugs
Wallpaper
Guitar Case
Cowboy Boots
Click here to download!
---
Wrapping It Up: Try These Bedroom Ideas Today!
We hope you've enjoyed these Sims 4 bedroom ideas! Say goodbye to dull and predictable spaces, with these bedroom downloadables that are oozing with personality and style, making your Sims' lives truly extraordinary. Remember, bedrooms in The Sims 4 are more than just sleeping spaces, they're the windows into the dreams of your Sims.
We are on Facebook, Twitter, YouTube, Instagram, and TikTok, where you can follow and message us! Or, you can leave us a comment on this post! Happy Simming, Simmers!