Are you looking to bring the survival-horror classic The Last of Us into The Sims 4? Well, look no further! Here are some of the best custom content we found to create Ellie and Joel into your game, in no particular order!
It's Time to "Endure & Survive" in the Sims 4!
The Last of Us is regarded as one of the best survival-horror games in recent times, with the especially lovable characters and terrifying atmosphere. Given the recent remaster for the Playstation 5 of Naughty Dog's instant classic for the first game in the series, as well as the latest trailer of the HBO show based around the game being recently teased, we wanted to help scratch that TLOU itch for you while we all wait for the show to drop!
1. Cantransimmer's first set:
First off, let's start with one of the most iconic outfits of Joel and Ellie. This set includes Joel's green flannel shirt and Ellie's pink long-sleeve top. This awesome clothing set is made by cc creator Cantransimmer! Visit the download page here.
2. The Last of Us Part 2 Loading Screen
If you're looking for an immediate visual change, here is a haunting loading screen overhaul taken from The Last of Us Part 2. This will help immerse you whenever those pesky loads occur! This is a replacer mod, so be sure to only use one loading screen mod at a time! This mod is made by creator LunaLobaSims on TheSimsResource. Here is the download page.
3. Ellie's Part 2 Outfit set
Here is a great outfit set for Ellie from Part 2, made by cc creator Lady Moriel! This is a full-body outfit and comes in 20 color swatches! The outfit is base game compatible and works with the High-Quality Mod. Here is the download page from Tumblr.
4. Part 2: Ellie's Tattoo
 If you are making Grown-up Ellie, you're gonna need her awesome tattoo on her arm! This custom content is made by cc creator Blue Ancolia on Tumblr! The creator also allows edits to this cc, if you are looking to change the colors or something like that! Here is the download page.
5. Joel and Ellie Clothing Set 2
Another amazing clothing set by Cantransimmer. The set includes Ellie's hoodie, Joel's red plaid shirt, and some additional accessories and jeans. These of course are another iconic set for the lovable cast! Also, the creator included some Create a Sim Background replacers if you're interested it's on the same page! Download the clothing set here.
6. Ellie Part 2: Sim + Hair
Bring Ellie Williams into your game with this breathtaking sim – with the hairstyle and skin detail also included! This pack is made by Golyhawhaw who has a catalog of detailed realistic sim celebrities.
The Skin detail has one color swatch and the hairstyle includes EA swatches. Both are HQ mod compatible. Here is the download on their Patreon for free.
7. 2425 Constance Ave Lot (TLOU2)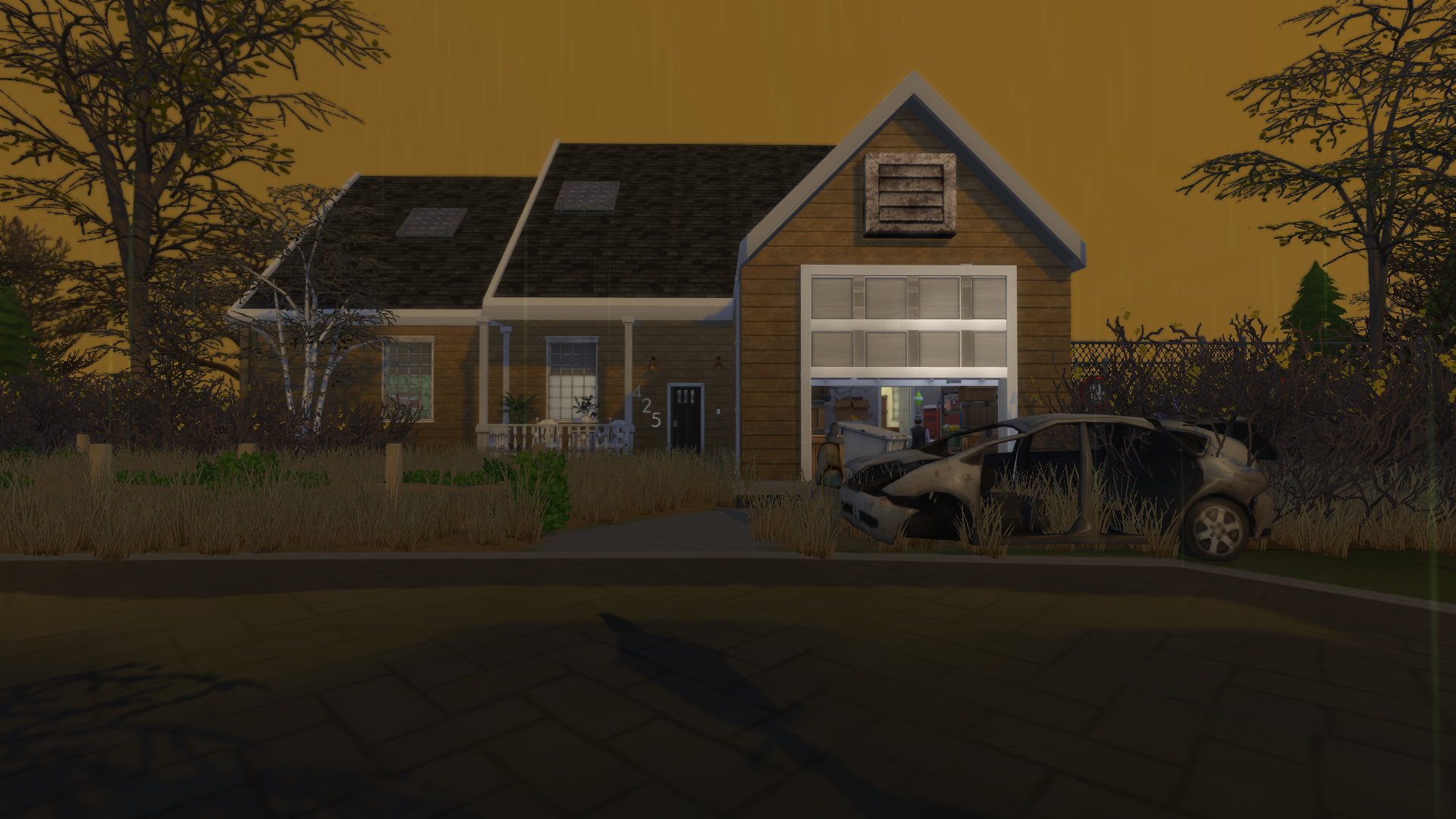 Let's change it up a bit with this building lot of the 2425 Constance Ave house from The Last of Us Part 2! This lot is made by user Cuddlepop on ModTheSims.
You'll need most of the DLC and stuff packs and several required cc listed on the original page. Here is the download page from ModTheSims.
8. The Last of Us Part 2: CAS background
Looking to change up your CAS background? This replacer mod made by creator LunaLobaSims, adds a lot of atmosphere to your game. Perfect while you create your sims! This is a replacer, so be sure to only use one background at a time. Here is the download page on TheSimsResource.
9. TLOU2 Ellie Denim Outfit Set
Look at this absolutely awesome cc of Ellie! This is an outfit set made by cc creator Mimoto-sims. Alongside Ellie's outfit from Part 2, this set also includes her backpack, guitar, and more! It also has two versions of the denim shirt with/without bandages. 
If you wanna get straight into making Ellie as a sim, this is a perfect set to install!
Download this set from their Tumblr blog.
10. Joel Miller Outfit
Joel is by far one of the most adored characters Naughty Dog has created. Here is his outfit set made by Cantransimmer. Another bonus this set comes with is a gasmask and bag with a rifle attached. This mod author is definitely a fan of the series so be sure to check out their page for more! Download the set from their Tumblr here.
11. TLOU2 Ellie's Eyes
If you're searching for some realistic eyes, these are super high quality! This is a companion cc to the Mimoto-sims denim outfit for Ellie featured earlier. This eye set comes in 12 gorgeous swatches to pick from! Download this cc from their Tumblr here.
12. The Last of Us Poster
Lastly for this list, is your sim a fan of TLOU? Show it by decorating your sim's home with this iconic poster of Ellie and Joel!

This cc is made by creator SulSulAdrianna on TheSimsResource. Also, the poster is base game compatible so anyone can enjoy it! Download the poster here on TSR.
Final Thoughts
So that's it for The Last of Us custom content at the moment! I'm sure there will be more especially now that the remaster and HBO series are bringing the fandom together again! Some of the cc creators mentioned in this article have made other outfits and stuff from TLOU series, so check them out and you might find some more gems!
Happy simming everyone, and here's to the TV show of TLOU being good, fingers crossed!