To Hide And Decorate
For centuries now, curtains have represented a duality of interior design. The perfect curtains must be able to shield a room from the outdoors, while also creating a charming view for those enjoying them from the inside. To make sure your interiors are as gorgeous as they can be, we've selected these curtains aviailable for download. This assortment pulls from many different schools of design and even includes a few options for your Sims' bathroom. Pick your favourite!
Curtains For All Interiors
Charlotte bedroom – Curtains
The Charlotte bedroom cultures by Spacesims are a neutral classic that blends in with most spaces. This set has 221000 downloads at The Sims Resource, and is especially suited for rooms where you want an elegant touch by the windows without drawing too much attention away from the centrepieces. The curtains are opened partially so you can balance the sunlight indoors, and the different colour options make it a very flexible option. Download it here!
Curtains and Canopy's – Canopy Doublebed Bar White Silver
While the first association with 'curtains' is 'windows', Shino&KCR bring an elegant style back to the future with this gorgeous bed canopy. Its sheer material adds a soft touch to the bedroom, and it's compatible with most default beds. Get this hit with 210000 downloads at The Sims Resource!
Curtains and Canopy's – Curtain Solid Prints left
With a mix of solids and artsy prints, this curtains set by Shino&KCR is great for rooms that need a little more than just colour. The options included are complemented by the fabric, helping break monotonous walls and making for a nice touch by the window. This item has 205000 downloads so far, and can be found on The Sims Resource.
Curtains and Canopy's – Curtain sheer left
Rooms missing a soft element can finally be complete with this sheer curtains set by Shino&KCR. Available at The Sims Resource with 200000 downloads, it brings a simple solution to spaces that need a finishing touch. Get it here!
Curtains and Canopy's – Canopy Doublebed Bar White Gold
A sibling of Shino&KCR's golden bar canopy, this item caters for those who prefer the shine of silver over gold. Like the previous set, its curtains are available in different colours, and it'll fit most double beds. This item has 196000 downloads to date, and can be found at The Sims Resource!
Curtains and Canopy's – Curtain sheer
Curtains do wonders for defining how tall a room feels. Those looking to keep them off the floor can get this look, courtesy of Shino&KCR. With 196000 downloads, this set comes in a sheer fabric with many different soft colours. You can find it at The Sims Resource!
Curtains and Canopy's – Curtain Solid prints
Interiors needing a boost of energy in the same tied-up style as before can get this version of Shino&KCR's solid print curtains at The Sims Resource. The variety of styles caters for many different rooms and tastes, as the 189000 downloads indicate.
Alira Curtains
For those days where less is more, try the Alira transparent white curtains by sim_man123! Its elegant fabric and flow are a great complement to most interiors, and have already raked in 183000 downloads. You can get them at The Sims Resource!
axiatos curtains deco
Fans of monochrome aesthetics will love Jomsims's axiatos curtains. This set, with 145000 downloads, flows elegantly all the way down to the floor. Its sheerness makes it a great complement for rooms of all colours, and can even fit gothic interiors! Experiment with the different shades included to find the perfect way to get the walls to shine through. You can download this set at The Sims Resource!
Lyne Curtains – Blinds V4
Nynaeve's blinds need no introduction, with 134000 downloads. A staple piece in both offices and homes, these retractable blinds are a practical way to keep the sun out with a small footprint. Get them here at The Sims Resource!
fashion Curtains3
Those seeking a designer touch can find it in Pilar's three-part fashion curtain collection. With a blend of patterns and soft colours, this is a great addition to a fashion-forward interior. Download it at The Sims Resource, where it has 121000 hits!
Fashion Curtains2
Drawing inspiration from the same source but with a single pattern, Pilar's fashion curtains are available here in a different style that has 116000 downloads so far.
Emerson Sheer Curtains
When sunlight isn't a problem but you need a soothing touch, sim_man123's Emerson curtains are an excellent choice. A simple but elegant set, it has 112000 downloads, and can be found at The Sims Resource.
acnassy nursery curtains
When building cosy environments for kids, try out Jomsim's Acnassy nursery curtains! This adorable set comes in blue and pink, with grey and beige covers on top. It has 105000 downloads on The Sims Resource, get it here!
Country Dreams Curtains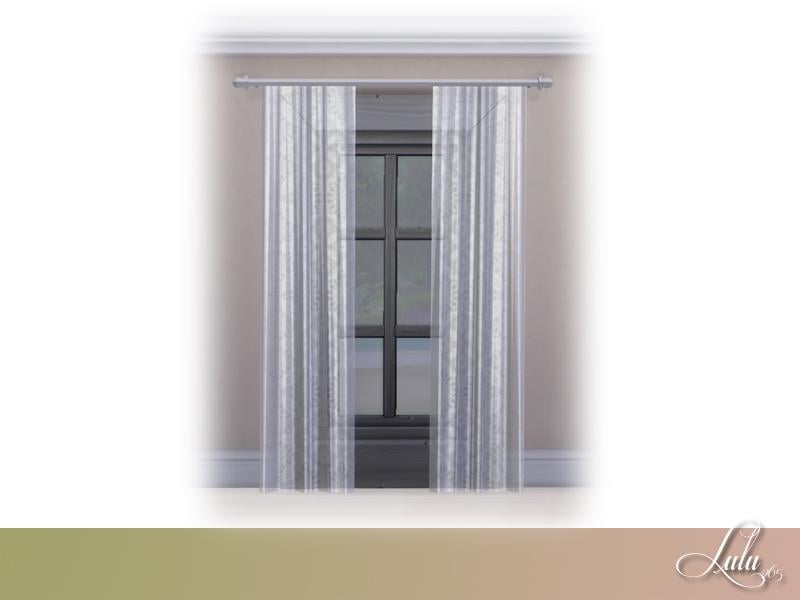 Country houses and chalets sometimes need a special touch, and Lulu265 brings just that. This sheer set brings the classic country look to The Sims, and it has 102000 downloads. Get it here to bring your relaxing place to life!
Lyne Curtains II – Medium Sheers 2×1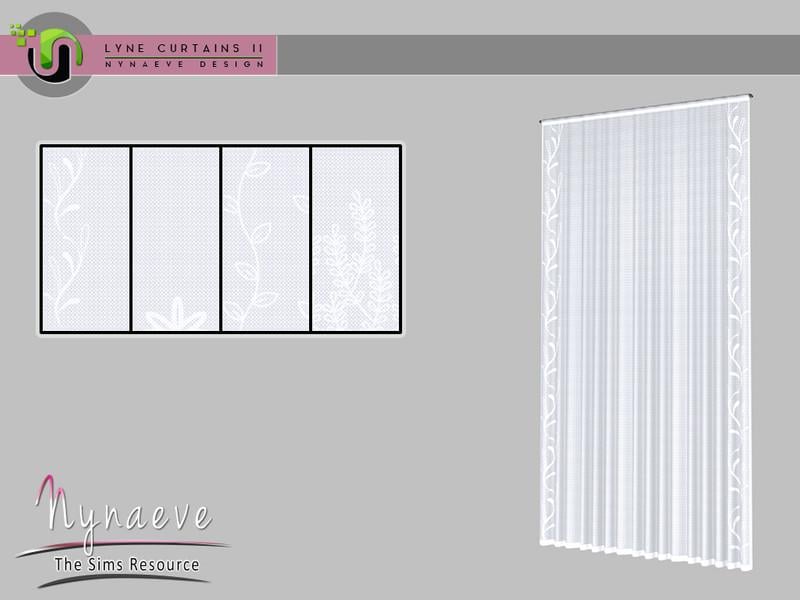 With a patterned sheer white texture, Nynaeve's Lyne Curtains are a great pick for classical interiors. Download this gorgeous sheer piece at The Sims Resource, where it has 95000 hits.
Federal Curtains from TS3
For those missing this stable from The Sims 3, TheJim07 ported over the Federal Curtains set. With 7000 downloads, it's a nice blast from the past that can be found at Mod The Sims.
TS2 to TS4 – 12 Curtains
Are you looking for a trip down the tunnel of time? Look no further than Elias943's port of twelve The Sims 2 curtains into The Sims 4. These are available in different styles and colours, and come with the trademark windows. It has 6000 hits so far, and can be downloaded at Mod The Sims.
Flowing Caress Curtains Retexture
Whether you like pastels or dark tones, this retexture by PearlStitches is the perfect addition to the already great Flowing Caress curtains set. Find it at Mod The Sims, where it has 4000 downloads!
kardofe_Living room Benson_Curtains
Breaking symmetry can look greater than you think, and some rooms need exactly that. kardofe's Benson curtains set brings a nice balance to interiors going for a trendy but elegant vibe, using one thick side closed and a sheer open one. This cool addition has 99000 downloads at The Sims Resource, and can be obtained here.
4 curtains
Players seeking a gorgeous set of curtains for classical homes will be delighted to find a collection of fancy styles. They come in many different colours and patterns so you can choose the perfect one for your interior. Find it here at Mabra's blog!
4 curtains
Get the attention back indoors with this gorgeous set of half-closed curtains by Mabra. Available in four different patterns with a range of colours for each, it's guaranteed to brighten up rooms while also keeping some of the sunlight out, in a great balance of function and fashion. Get it here!
4 recolored single beds with beddings and matching curtains
Are your toddlers picky with their aesthetics? Worry not, Mabra has a solution for you! To bring a full committment to the room, this set comes with matching beddings in different styles, including their favourite cartoons. Download it here!
Bathtub Curtains
You've chosen curtains for all rooms, and even added a canopy to the bed. What now, right? Well, there's no reason why your Sims shouldn't be enjoying the great looks of their home in the bathroom too. Anett has created a gorgeous set of bathtub curtains, with a blend of wanderlust, noir and nature. Go on her blog to download!
Bathtub Curtains Huck Designs
The previous set also has a beautiful retexture inspired by black women across the world. These styles by Annett are a gorgeous tribute that can brighten up the bathroom, get it here!
Bathtub Curtains with Carol Robinson Pictures
Those seeking to bring a great artist's work to their home can now do it thanks to this collaboration between Annett and Carol Robinson. The soft touches on the designs can make the bathtub the most beautiful spot in the house! You can find this set here.
Bathtub Star Curtains
Watch the stars – this set by Annett's Sims brings the stargazing experience right to the bathtub. Whether you like the dark of night or colourful splatters around them, this set is a great complement that can be found here.