Who doesn't love a good bob haircut? They're super cute and a nice little change! I bet every now and then you'd want to try it out on your Sims as well! Here's a collection of bob hair cc packs for you to choose from. So go ahead and give your Sim a new look!
Bob Haircut CC Packs for the Sims 4
If you're looking for a really cute change for your sims, look no further than bob haircuts! Whether you're looking for long or short bobs, this post has it all. And if you're undecided on whether you want curly or straight hair, don't worry – we've got options for both! So go ahead and treat your sims to a little change – they deserve it!
1. Veron Long Bob
Pure elegance and grace! This long and smooth bob hairstyle is a brilliant addition for anyone who is into tidy looks. Plus you can play with the different colors to find the perfect match for you! The mod is a creation by Zitarossouw and you can download it from here.
2. ShortBob Converted: 2 Ombre Recolours
If you are even remotely into bob and ombre hairs – then you've got to check this one as well! The wonderful recolors by Jackericrich look super bright and summery. Bowling nights or pool parties, this hairstyle is good to go on every occasion! This mod can be downloaded from our direct link here.
3. Untamed Bob
Another special hairstyle is this particular CC. The amazing creator at birkschessimsblog.wordpress.com has taken an original Sims 4 hair from the game and redesigned it into this awesome addition. A bit more volume and a bit more style – and we have this! All base colors work as well and you'll enjoy them all on this fresh new look! This is the direct download link.
4. EA's Child's Bob Recolor
Does your Sim need a new glow? If yes, then you must try this awesome bob hair mod! The creator Taraab has taken the base game model for kids and redesigned it into a beautiful hairstyle for your adult Sims! Don't wait too long and visit The Sims Resource, or follow our direct link here for a quick and easy download!
5. Nora's Bob Hair Made By PantuKinha
Pantukinha is a famous Sims 4 mod creator and his CC is wildly popular within our community. Here he is with a cool mod of pretty bob hair which you'll love! It's simple and delicate and it is a clean version, without the Ghost Headband like Nora from Noragami! You can find it on The Sims Resource or you can download it directly from here.
6. Nora's Bob With Ghost Headband Made By PantuKinha
And if you are playful enough, you can definitely try the original version which has it included the Ghost Headband. Now your Sims can enjoy the perfectly lovely look of Nora from Noragami! Plus it looks super good inside the game, so there are no reasons why not to try it! For this particular download, you can follow this link.
7. Toddler Bob
Here we have a fantastic new bob hair mod for your toddlers! It's small, cute, and cheerful – everything that your little Sim needs to be as well! The little flips at the sides are just too sweet and they go very well with hats! Visit birkschessimsblog.wordpress.com to download this CC for yourself or get it from this direct link.
8. Toddlers PixieBob 2 Versions
The way this bob hair mod looks on toddlers Sims is simply incredible! It suits their faces in an amazing way and highlights their hidden beauty. And you can also put a hat on it to achieve the highest level of adorable! Follow our direct link for a quick download!
9. UnComb Bob Toddler Hair
Dreamy, tidy, and charming – that's the exact recipe that makes the perfect toddler hair! We love to use this mod on our young Sims and we enjoy it a lot! Don't hesitate too much and head over to birkschessimsblog.wordpress.com to get it for yourself!
10. Versions of Bob hair
A wonderful set of bob hairs is here! And this time it's double the style and excellence! Now you can finally give your female Sims the ultimate short and sweet appearance they need! One with longer and the other with shorter sides, but both with gorgeous bangs – they are really the mods that shouldn't be missed! Hurry up and download them from here!
11. Wavy Bob Hair Girls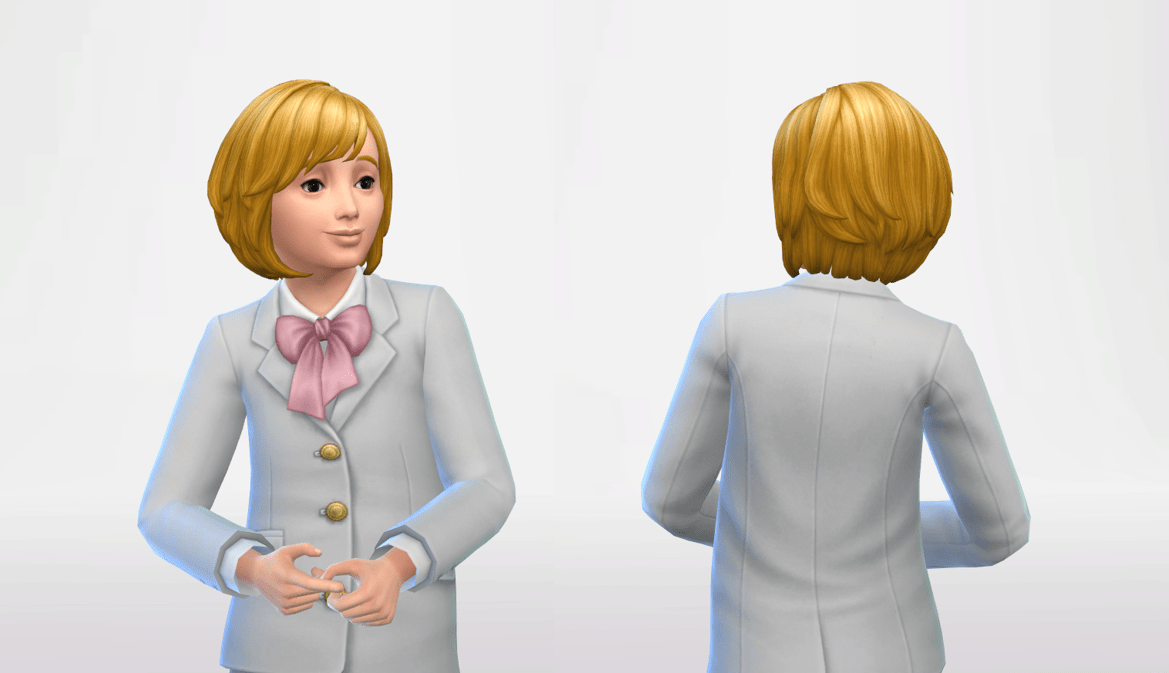 As lovely as spring – this bob hair mod is another must-have for your kids' Sims! The design is brilliant and elegant, and the base colors play really well inside the game. It is also compatible with hats and looks pretty good in all of them, no matter which season it is! Visit birkschessimsblog.wordpress.com for a download or use our direct link here.
12. BECKY Simple Short Wavy Bob
Let's continue with this wild and powerful look! This mod of bob hair is absolutely necessary if you are going for a celebrity career! It comes in 63 different colors and you should utilize them all to stun your audience with your appearance. Click here to download this CC and if you haven't visited candysims4.tumblr.com yet, do so now for more amazing content!
13. Bob Hair 124
Look at these perfect lines! The classic bob shape is finally here and in a beautiful glow which you can now enjoy! Short at the back and longer at the front, with or without a hat – this mod should not slip you by! All the credits go to the creator Yoyo (free) which you can follow at butterflysims.com. And for a quick download click here.
14. Mid Curly Bob – My First Pet SP Needed
Let's end this lovely list with an exotic bob hair version! The incredible texture of the curls has won us over many times already. We strongly recommend you to try this super cool mod and to check The Sims Resource for more brilliant CC. There you can also give your thanks to the creator Drteekaycee! And if you want to download this CC pack, click here.
15. Bob with Straight Bangs (for Female)
If you are into fun or short and simple hairstyles – then this one is definitely for you! The gentle style of this mod is cute and appealing, and it makes for a great addition to every Sims 4 hair collection. Unique colors are at your disposal to make it truly your own and you can get them from here. For more information visit kijiko-catfood.com.
Conclusion
Well, there you go! These were some cute bob hairs for your simmies. Make sure to enlarge your collection by visiting the links below. Happy simming!