Amalia Hairstyle Ombre
Do you like colors and magic in your hair? We do too and we can't get enough of beautiful shade flows in link here.
Gorgeous Hair Ombre
More into the long ombre hairs? No problem! Here is an awesome mod for you to play with and give your Sims that enchanting and spellbinding look! It can be found on mystufforigin.blogspot.com but you can also download it from here.
Medium Soft Wavy Ombre
It is sure as hell that you'll fall in love with this CC as we did! Just look at it! The colors fuse perfectly with the gorgeous curls and the perfect volume of the hair! Don't hesitate to mess around with them inside the game! Download it quickly from this link and check mystufforigin.blogspot.com for more info.
Hair Chalked Ombre Galaxy Inspired Colors
A fan of summer? Please stop and check out this wonderful mod that we found at ohmyglobsims.tumblr.com! These fantastical watery hues make this mod an absolute necessity if you're going for an exceptional look. Mermaid or not, it's very worth the try! Download the curly hairstyle from here.
Hair Chalked Ombre's Brunette Base
And if you liked the previous one, here is a more down-to-earth version of it! Each color variant is unique and different from the rest because they are hand painted by the amazing creator at ohmyglobsims.tumblr.com. Give her thanks there or download the mod from here.
Anto Amber Retexture Hair Ombre + Child Naturals + Unnaturals
Looking to stun the Sims around you? This bob and ombre hair mod can give you just that! The design is gorgeous and it comes with 84 different colors – 34 of which are totally unique and magical! Hurry up and download this CC from our direct link here. You like this bob hairstyle mod? Then you should check our post dedicated to the best bob hairstyles in the web.
Anto Esther Hair Retexture Ombre Naturals + Unnaturals
Here you have a similar amaze-all type of hairstyle! The mod plays wonderfully inside the game and it's very fun to goof around with it and all the unnatural color shades! It's already highly popular within our community and we know that you'll like it too! Get it from this link! You like this ombre hairystyle?
Anto Lena Hair Retexture + Ombre + Child Naturals + Unnaturals
Longer and gentler – this ombre hairstyle is a don't miss opportunity as well! The brilliant textures go extremely well with all the different color variations, but the unique ones is where this mod becomes truly extraordinary! You can find it shimydim.com or you can download it from our direct link here.
Anto Linda Hair Retexture Ombre Naturals + Unnaturals
Win over the heart of your surrounding with your elegance and style! This ombre mod sets a true standard for a beauty that other hairstyles can't come near! Highly customizable and flexible, it is an awesome addition to have in your hair collection in The Sims 4. Visit this link for a download.
Anto Sophie Hair Retexture Ombre + Child Naturals + Unnaturals
One more fantastic ombre mod is this handsome hairstyle. This CC comes with a bandana that only adds to the attractiveness of the 84 different shades! If you want to set the ombre, look for it in the earrings section and apply it to every color you want! You can download it from here.
LeahLillith Berry Hair Retexture Ombre + DarkRoots Naturals + Unnaturals
Let's continue with these fabulous bangs with dark roots. For all of you who love the natural look of dyed hair but with an option to make it look magical as well – this is an absolute must-have! We can't tell you how amazing it actually looks in the game, so we urge you to try it for yourself! Download it from our direct link here.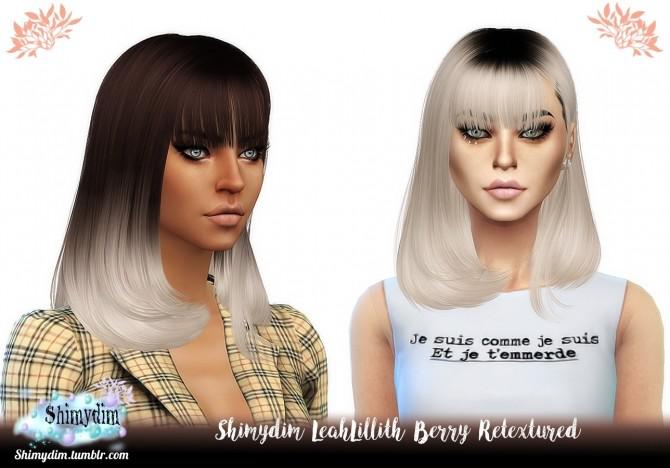 LeahLillith Celine Hair Retexture Ombre + DarkRoots Naturals + Unnaturals
Braids! Yes, finally braids! AND they come in this glorious mod with dark roots and ombre shades that will blow your mind! The 84 unique colors are here as well but at the 34 unnatural ones is where this hair becomes magnificent! You know and we know that your Sims need this! So go and get it from this direct link!
LeahLillith Delina Hair Retexture Ombre Naturals Unnaturals
One look at this ombre hair mod and we were completely charmed! A crown like a princess and long gentle locks that can't keep anyone calm! This hair mod is for every ambitious Sim that wants to win the world! Head over to shimydim.com to get it for yourself or click on our direct link here.
LeahLillith Evy Hair Retexture Ombre + DarkRoots Naturals + Unnaturals
One thing is for sure here – this particular hairstyle is the one way ticket to popularity and fame! Beautiful roots and glorious volume – this CC will give an infinite amount of attractiveness to your female Sims! Plus you can choose between the many colors to make it your own! The direct download link is here.
LeahLillith Karin Hair Retexture Ombre Naturals + Unnaturals
We're ending this list with the last of these fantastic mods. This one is a wonderful hairstyle with sleek top and a long wavy tail! As well as the previous ones, the dark roots and the ombre shades are overlays and can be found in the earrings section. You can combine them in an endless way and achieve the look you are looking for! Don't wait too much for these and get them from shimydim.com. And for this particular CC you can follow our direct link here.