The best Sims 4 Mods created by Nightcrawler
It's time for another creator showcase list! This list contains some amazing Sims 4 mods & CCs made by Nightcrawler. The creator's name suggests some mystery, beauty, and unusual vibes – and so do these hairs in the list. Go ahead, check them out, and if you think your Sim would benefit from these gorgeous hair masterpieces, don't forget that download links are also included!
Custom Mods & CC by Nightcrawler listed here!
Nightcrawler-Impulse
Let's start off the list with this amazing bun, which already has 818000 downloads at The Sims Resource. Look at that silky smooth hair, with the bun itself crafted with mastery, and the loose locks which make it a little bit more relaxed – so it can be worn on a fancy party or a simple weekday as well. Download it from this link.
Nightcrawler-Confetti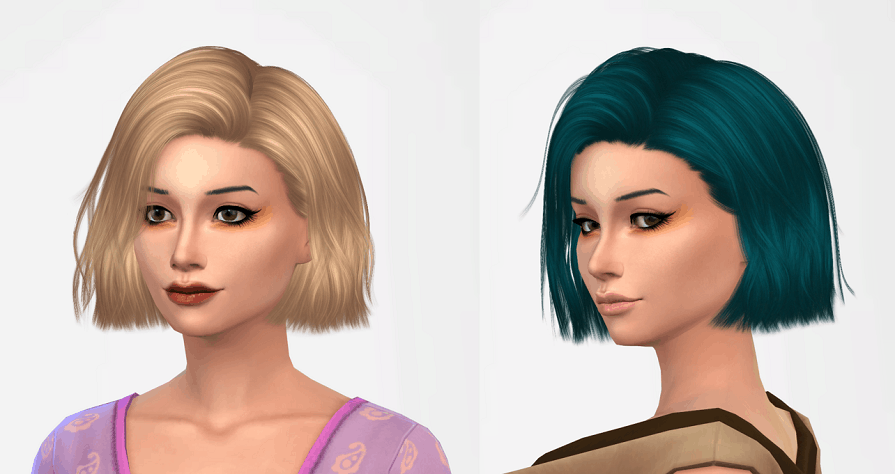 It looks like Nightcrawler sims' names for these hair creations have more meaning than just a nickname. This asymmetric bob is called 'Confetti,' which suggests exactly that playfulness and fun that it radiates. With the many available colors, it is a perfect way to express a personality that's just as playful and fun. Go to this link to download it. You like that bob hairstyle? No worries, we have listed further awesome bob hairstyle mods, just follow this link!
Nightcrawler-Crow
Another bob from Nightcrawler sims – this time a long one. The nickname 'Crow' also speaks for itself. Did you know that there are crows in many religions and mythologies? They are always pictured as mysterious and divine… Just like this hair. It is velvety, voluminous, mesmerizing. To download it right now, click here.
Nightcrawler-Sugar
Gimme some sugar, baby! Make your Sim turn all heads with this luscious cascade of shiny hair. This is for those who love long, rich hair but want to put an emphasis on their face. This is achieved with a simple updo – wear it and own it! Start by downloading the hair from here.
Nightcrawler-Turn It Up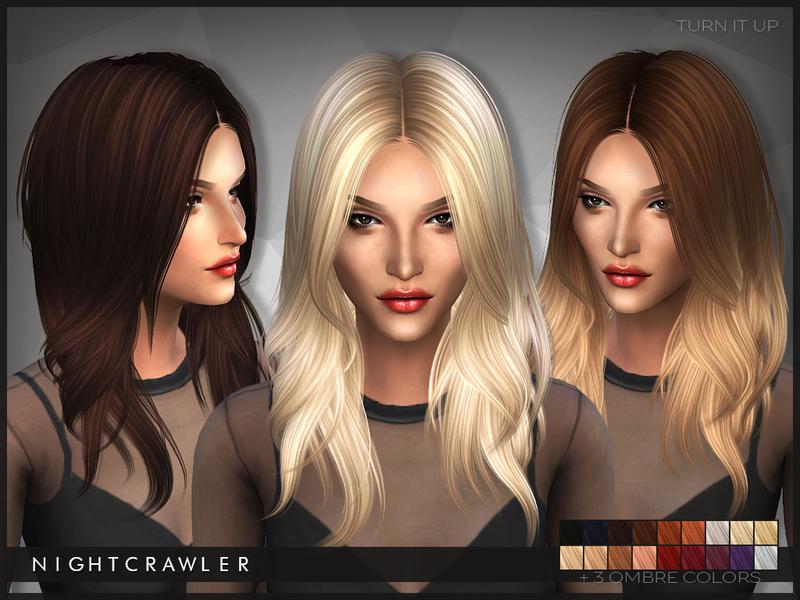 The long bob is making its comeback, it seems! This is a classic, parted-in-the-middle version with a twist (quite literally)! The straight roots and wavy ends make this long bob classy, elegant and fun at the same time. Visit this website if you want to download it.
Nightcrawler-Dayana
If you are keen on ombre hairstyles, you're gonna love this long, shiny, perfectly brushed hair by Nightcrawler sims. Look at how the long locks cascade over the shoulder and down the chest and back… If you have a feeling about it you cannot explain, head over to this website to download it.
Nightcrawler-Orchid
This gorgeous long hair by Nightcrawler sims has more than half a million downloads at The Sims Resource already. And no wonder it does! It is a long, lush hairdo with a voluminous fold of the front part. Choose your color from the many available versions here!
Nightcrawler-Flirt
Here's one for the flirty ones! This one by Nightcrawler sims looks just like Penny's famous top knot from The Big Bang Theory. As the name says, this hairdo suggests flirtiness and a charming vibe. For this comfy and modest look, go over to this link to download it.
Nightcrawler-Lush
Look at those beautifully crafted braids! This hairdo is perfect for those occasions when you want to be a bit more comfortable, or when it's hot outside and want to go for a stroll. It also makes your Sim's face have the spotlight with the simple and perfect braids and bun. Download Nightcrawler sims's creation from here.
Nightcrawler-Pearl
Elsa's famous braid is now available at The Sims Resources! Just one world: magical. Not only for ice blondes, this long and voluminous braid has just enough messiness to it so that you can achieve an elegant, yet cheeky look while keeping it comfortable and breezy. Go ahead and download it from our direct link.
Nightcrawler-Snow
Another hairstyle, another suggestive name: 'Snow.' And it does exactly what it promises. It gives you the same feeling as looking at freshly fallen snow from the inside with a roaring fire. It is soft, glossy, and slightly wavy. Just like a dream. You can download it from here.
Nightcrawler-Milady
Another long hairstyle with a little twist. But this is no ordinary twist. Instead of making it more playful or cheeky, this one adds some class and medieval-style royalty to your Sim's hair. Make your Sim a lady by clicking here and downloading it now.
Nightcrawler-Kylie
Look at the image, and be amazed. It looks just like Rihanna's famous layered long bob, right? Nightcrawler sims really did an outstanding job with this one: You can never go wrong with a layered style, especially if your hair is thinner. Choose one of the many available colors, and rock this asymmetric hair, whether your Sim is a teen or an adult! Get your hands on it now at this link.
Nightcrawler-Violet
Longer, more voluminous, cascading down onto the chest and back: This style is a no-brainer for those with long hair! The secret to it is to take a little hair from the front and put it on the other side. Job done, your Sim looks like someone from a fashion show! Get this hairstyle by Nightcrawler sims from here.
Nightcrawler-Break Free
Another long hairdo with a little twist: This hairstyle is one of the big hits of the 2010s – and no wonder it is! It's comfortable, stylish, and highlights both the wearer's face and hair while keeping the style simple and elegant. Get this Nightcrawler sims creation here.
Nightcrawler-Da Bomb
Da Bomb. Need we say more? This long hairstyle with luscious waves and a voluminous updo in the front is already at half a million downloads at The Sims Resource. Get the style today at this link today!
Nightcrawler-Galaxy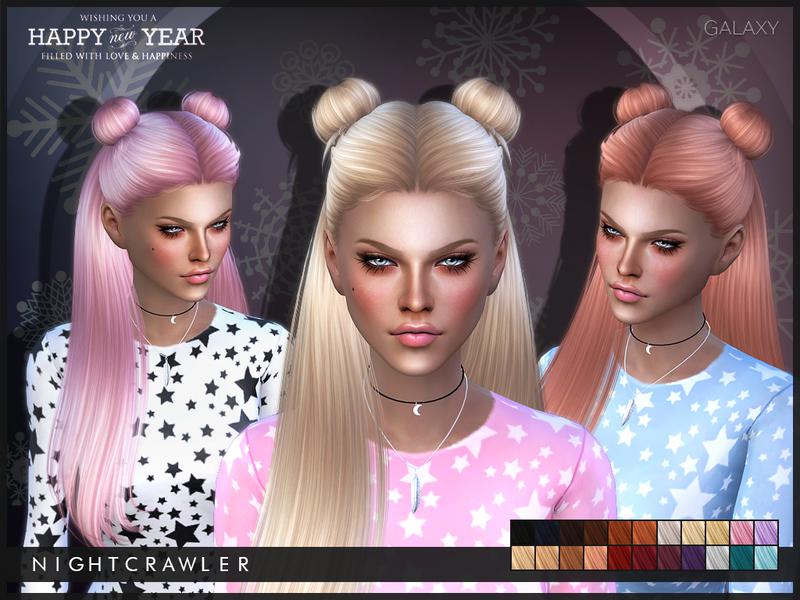 Take off on an intergalactic mission today with this gorgeous hair with two top knots and long, straight locks. It is perfect for someone who wants to highlight their face, but wants to sneak a little bit of cheekiness to their hair. Go to The Sims Resources website to grab it now!
Nightcrawler-Breeze
Just like the name suggests, this hairdo is a light breeze in the summer made by Nightcrawler sims. The middle parting makes the hair a true classic; and the voluminous, slightly wavy locks give it a subtle modern twist. Go ahead and find it at this link – it's up for grabs!
Nightcrawler-Let Loose
'Let Loose' – this hair by Nightcrawler sims is nothing more and nothing less than what it promises… A beautiful- parted-in-the-middle hairdo, where the long, straight locks just go on and on and on. A no-brainer when it comes to long hairstyles! Download it here!
Nightcrawler-Kimberly
Now this is what we call the true Rapunzel hair! It doesn't require much styling, it is beautiful just the way it is. It looks super healthy and absolutely fit for any woman. Own it! It has more than 458000 downloads at The Sims Resource – go over to this page and get it, too!
Nightcrawler-GetUp
'GetUp' and go with this beautiful mid-length hairdo by Nightcrawler sims! This true 'woke up like this' style hair is parted in the middle, and has a natural waviness to it. It suits any face shape and any occasion. Download it from this link.