The Best Sims 4 Kids Hair CC
You are looking for some awesome sims 4 kids hair mods and custom creations in The Sims 4? Here you go! The list includes creations by the most famous modders in The Sims 4 community. If you are looking for even more mods, check this post!
The most Popular Sims 4 Kids Hair Mods listed
Mathcope Zac Hair Kids
Have you ever played The Sims 4 and wished your kid looked like late David Bowie? Here it is then, the ideal haircut for your rising star! This mod will give your Sim a super sharp look and some extra handsomeness when performing fun activities. Big thanks to the creator Mathcope who published it on The Sims Resource. And to download the mod directly, click on our link here.
Curls Sims 4 hair mod for Kids
Ah, curls… They are so extremely adorable that we just can't go on without them! And we especially love them when they come in this wavy and magnificent form. Perfect curl, perfect length – something that you must have in your hair collection! We found this awesome mod at birkschessimsblog.wordpress.com, but you can download from our direct link here.
John Hair for Kids
And if style is what you are looking for – you found it! Cutely parted in the middle, long and straight on the sides – this awesome new hair mod is great addition to have! And it also goes amazingly well with hats so you can have even more style! Mystufforigin.blogspot.com is the source of the mod which you can download it directly from here.
Anto Thorns Kids Version
A trendy, modern killer look! Now your kid Sim is ready to take over the world of fashion and start its modeling career. This mod gives an infinite amount of attractiveness to their appearance, making it an absolute necessity if you're into beautiful and stunning looks. Visit simiracle.tumblr.com to download it, or follow our direct link here.
Kids Kida's Short Hair Style Made By PantuKinha
Here we have one of the most popular hair mods among the Sims 4 community! We certainly agree with the taste of our fellow players because it simply looks amazing! It suits toddlers and kids Sims in a wonderful way. And with almost 50,000 downloads on The Sims Resource, it is one of our favorite mods. All the credits go to the creator Pantukinha and you can download it directly from here.
Wings OE0316 Hair Kids and Toddler Version
You love braids? And you want some more of them? Us too! That's why we found this charming hairstyle for your Sims. A beautiful design and a lovely vibe – what more can we ask for? It comes with 30 different color variations, each of which can add a special glow to your Sim! Just head out to redheadsims-cc.blogspot.com and get your own one!
Little Ebisu Short Sims 4 Hair Mod for Kids Made by PantuKinha
Small and sweet like a desert! And if cupcakes were little Sims, they would certainly wear this haircut! It's short, delicate and adorable – and your kid will enjoy a fresh look throughout the day. The mod is another creation by Pantukinha and it is published on The Sims Resource. And for a quick download click here.
Daran Kids Dreads
Get ready to get famous! This exotic hairstyle is the mark of popularity. Dreads carry with them a certain relaxing vibe while they look amazingly pretty 24 hours of the day! They are also a perfect match for every hair color and they go well with all hats! Don't wait for too long and download yours at birkschessimsblog.wordpress.com or follow our direct link here.
Medium Messy Hair for Kids
Wild and bushy hair – who doesn't love it? In brown or blonde, ginger or black – it will always look ready to rock the world! Give your Sims this awesome look which we found at mystufforigin.blogspot.com. You can download it by following our direct link here.
Bangs For Kids
Bangs and banging appearance! That's what this mod offers – a true queen hairstyle! It's slick and elegant, and the three-level style is just too much to miss! The bangs are numerous and you can change them to find the one that suits you the most. We found this treasure at simiracle.tumblr.com and you can download directly from here.
Yosano's Butterfly Hair Clip for Kids Made By PantuKinha
Next on our list we have this cute little hairstyle by the famous Pantukinha. The simple beauty of this mod is suitable for every type of kid Sim, whether it's a gloomy bookworm or a total goofball! It is published on The Sims Resource and you can download from our direct link here.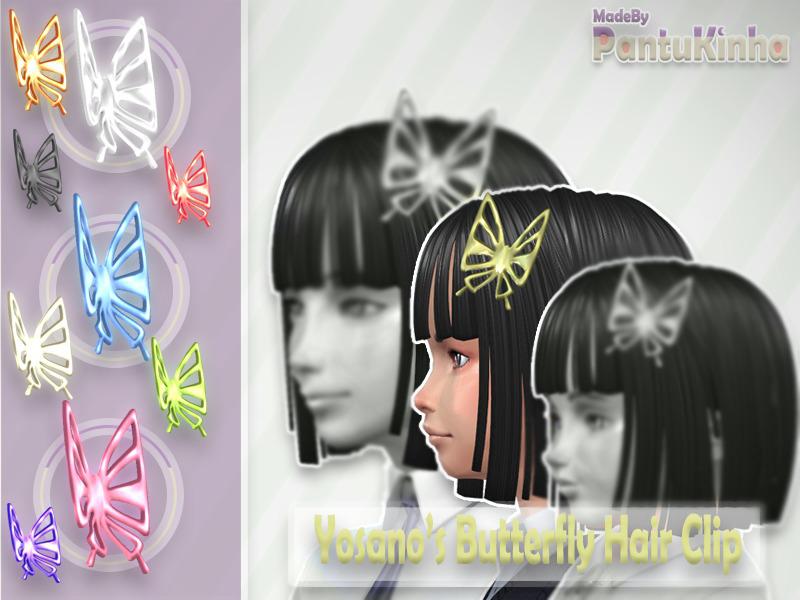 Further Sims 4 kids hair mods
Mega Curls for Kids
You want to give your Sim a more intelligent look? Here we have for you a fantastic hairstyle to match the spirit of your little genius. Every different color shade is as lovely as the previous one, which makes this curly hair mod an absolute must-have! Go to birkschessimsblog.wordpress.com to download it, or click on the direct link here.

Anto Madison Kids Version
Getting ready for a spring adventure? This flowery hairstyle might be the very thing you need to get the most out of your kid's cuteness. The mod is a real gem which we found at simiracle.tumblr.com and you can download it by clicking the link here.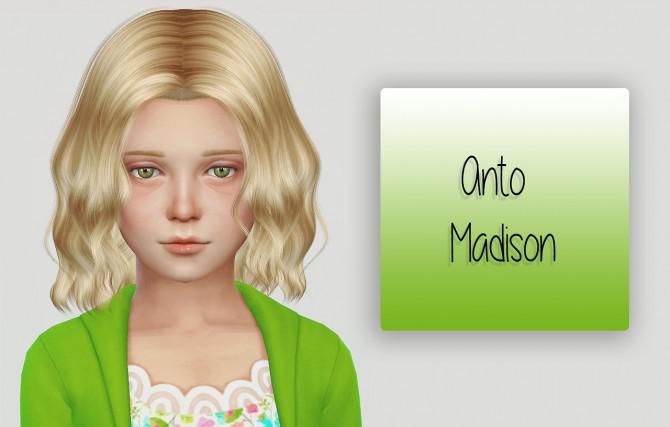 Leah Lillith Faye Hair 001 Toddler and Kids
You feeling a little crazy? Don't worry – we've got the perfect hairstyle to match your mood! Take a look at this gorgeous braid and the splendid bangs! They come in 30 unique color variations which your Sims can enjoy. This mod is already extremely popular among the Sims 4 community and it can be found at redheadsims-cc.com.
Anto Perfect Illusion Kids Version
Let's finish this list with one of the most beautiful Sims 4 hair mods on the entire internet! No one can dislike this magnificent ponytail! It is really a treasure find which we enjoy a lot. The official source of the mod is simiracle.tumblr.com, but you can download it directly from here.