Though the characters of the Sims 4 have the latest and greatest technology available for their entertainment needs, the generic designs of cell phones, tablets, and gaming devices are pretty unexciting. Let's do something about it!
While there have been many others before it, the Nintendo Switch is currently one of if not the most popular handheld gaming console around. With a wide range of games for all types of players, it's a great device to get anybody into gaming for the first time or the fiftieth time! That being said, it's no surprise that we want to get our sims in on the fun too. Check out this collection of awesome Nintendo Switch CC for your gamer sims!
Nintendo Aesthetics & Usable Electronics
Whether you're looking for functional gaming devices or just some pretty decor, you can find it for the Sims 4.
1. Nintendo Switch by Littledica
This set by littledica has both functional and decorative content featuring a usable handheld Nintendo Switch, a docking station that works as a gaming console (City Living Required), and associated clutter pieces to complete the look. There are 5 items total and you can get them here.
2. Nintendo Switch by blarffy
A simple decorative Nintendo Switch console available in 6 pretty swatches. Available here.
Love the look of CC computers? See our faves here.
3. Switch Earrings by Amelylina
A pair of earrings made from Nintendo Switch games available for Zelda, Animal Crossing, Pokémon, and Crash Team Racing fans. Download them on SimsFinds!
4. Nintendo Switch – Functional, Accessory, and Decoration by RedHeadSims
RedHeadSims created a whole suite of Switch items for use or appreciation by your sims. Similar to littledica's collection above, this set has a playable handheld system as well as a fully-functional gaming console (City Living Required), as well as some decorative items like Joy-Cons. Additionally, she included CAS accessories of the console & Joy-Cons in several configurations for your posing needs. Learn more & download here.
This CC link has all files merged into one package, but did you know you can seperate them again with Sims4Studio? Learn how to merge & unmerge packages with our guide.
5. Nintendo Switch Poses by Katverse
Katverse is a great resource for the Sims 4 poses as she covers a huge variety of vibes. This collection comes with 5+ poses for a sim who loves to play their Switch no matter where they are! You will need RedHeadSims' CAS accessory console (linked above) to use these poses.
6. Nintendo Switch Set by Simmin' My Best Life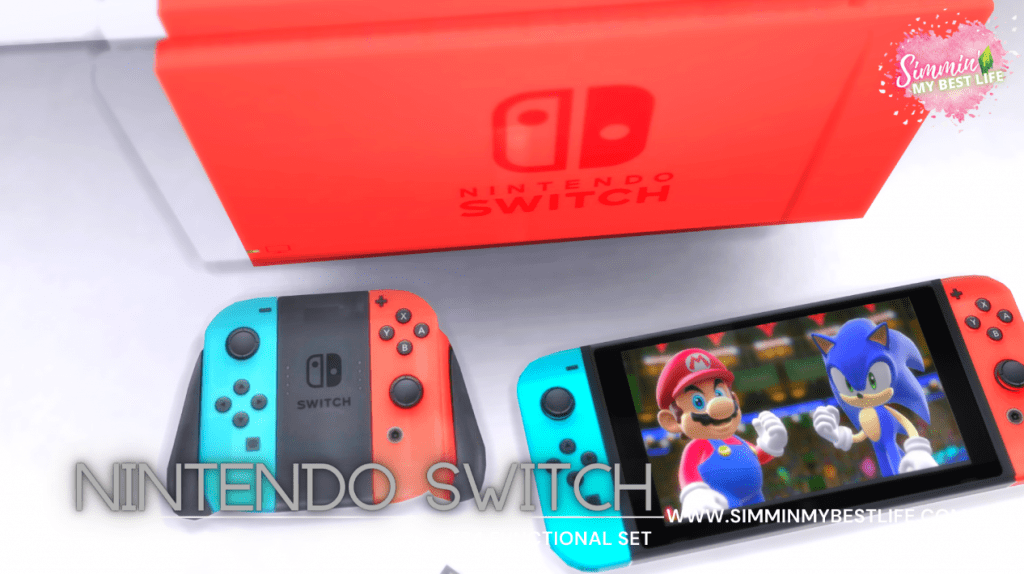 This is the largest set we've got on the list, with 9 different items to choose from. There are several deco objects including a game case with 35 different swatches and a handheld switch with 72 swatches, a functional gaming system (Required City Living) and even options for Super Mario themed overrides for the controllers! Head over here to read all the details and download them for yourself!
Need more Super Mario Bros. content in your sims' lives? We've got you covered.
7. ACNH Nintendo Switch Conversion by GhostoWoohoo
Launched in March 2020, Animal Crossing: New Horizons had great timing and became a very popular game to play with friends while we were all cooped up in our homes. It's no surprise that Nintendo released a Switch with an ACNH skin, and GhostWoohoo decided our sims needed it, too! There are 2 versions of this Switch, a deco version and a functional version (Requires City Living) which can be downloaded here.
8. Nintendo Switch by FakePikachu
Another version of the Nintendo Switch as a full gaming console (Requires City Living), this time in 26 different swatches covering a range of Nintendo games, with a few Sims 4 swatches tossed in for fun. Download the system and pick your favorite swatch on the Nexus.
9. Functional Switch by AroundTheSims
This set has functional Nintendo Switch handhelds and a TV console version (City Living Required) along with controllers that are available as a deco object and an override for the TV console's controllers. There are 12 swatches available for the handheld and controller items. You can find them by going here and scrolling down to December 6th.
10. Nintendo Switch Lite Set by SimmerKate
The Switch Lite is a more compact version of the Nintendo Switch with the biggest differences being its non-detachable controllers and lack of TV connectability. It's still a great console for gamers on the go and those who don't need a huge screen to enjoy their gameplay. SimmerKate converted the Switch Lite for the Sims 4 and included both deco & functional versions plus a deco box, all available in 4 colorways.
Don't forget to protect your sims' eyes from screen strain! Find them a new pair of glasses here.
11. Functional Nintendo Switch Lite & Deco Version by LaSkrillz
Another Nintendo Switch Lite, this time in an adorable pink colorway. The functional version works just like a tablet, and the deco version comes with 7 swatches that change what game appears on the unit's screen. You can get this cute little console here.
Switching Off: Closing Thoughts
Why let your gamer sims deal with boring, generic console systems when you can spice things up with cool CC? With so many creators making custom content with the Nintendo Switch, it's easy to upgrade your sims' gaming experience with fun, funky, functional content featuring games & characters you know and love. Download your favorite swatch, have fun, and happy simming!