My Absolute Favorite Sims 4 Poses Mods
Finding the perfect pose for your Sim is never easy. The internet is filled with custom poses, mods, and CC that could take your breath away. And the best one might only be a click away from you.
Because of that, I want to give you my overall best 25 custom poses mods and CC for Sims 4 in this post. I'll list my favorite poses and will tell you why they're worth downloading. I'll also include the download links, so you can try them out right away.
Make sure to check the links below for specific types of poses if you're in need. Also, check our general Mods & CC page for the best mods and CC guides out there!
40 best Custom Poses Mods & CC for Sims 4
25. 15 Unique Sitting Poses by Isims1357
Teen and free-spirited adult Sims can both benefit from these sitting poses. When looking at these images, who doesn't think of the afternoons spent on a lawn doing a picnic or having a blast with friends at a high school bonfire? So, get your hands on these sitting poses right now!
24. Beautiful CAS poses mods 04 by Ms Blue
Girls and young women, watch out! This pack has different hand and leg poses. All of them radiate self-confidence and power, so they are guaranteed to make your Sim stand out!
23. Amazing Pose Pack 01 by Ms Blue
Relaxed, natural, and comfortable – you can't go wrong with these true & tested poses designed by Ms blue! They will look good on men, women, or children. What more can we ask for?
22. Bestie's Poses Mods pack by Isims1357
Isims1357 created something that we have been longing for a while. This is a pack of custom poses that showcases friends in a perfect way. Shaping hearts, hugging, or holding hands – here you'll find a pose for every occasion.
21. The Sims 4 Better Portraits poses mods
What does it take to take good photos? Well, it's not enough to put on your best clothes and your best smile. One of the lesser-known secrets of successful portraits lies in the poses themselves. You need to learn how not to be stiff and just enjoy the session – which is achievable with these poses!
20. Sweet Loving Couple poses by KatVerseCC
Love is one of the most beautiful things in the world, and its feelings are perfectly captured by these sweet couple poses. No matter where they are, your Sims can now engage in a loving embrace any time, which will also make your heart warm.
19. Close to Me Sims 4 Poses Mods Pack by KatVerseCC
Speaking of love and warm feelings – you have to check out this couple poses pack by KatVerseCC too. Being able to open up for someone and commit to a loving relationship is the best thing you can ever do. So why not express it with a pose in Sims 4?
18. Sovereign exposed heels – Mesh needed
When it comes to poses, and especially modeling, there is one thing you cannot leave out – high-heeled shoes! If you use the Sovereign Exposed Heels CC created by Libertay, your Sim is guaranteed to turn some heads around!
17. Model poses 17 Poses Mods Pack and CAS
This pack contains absolutely everything you need to ace a modeling job or a career! Catalog photos, fashion show poses, and even some relaxed everyday poses can be found here to make your life like a runway. Give your Sim unique movements and poses today!
16. Model poses 22 Pose pack and CAS poses mods
A vogue pose pack! Did you know that there are many types of modeling? This pose pack created by Helgatisha was made for brave runway models. Just look at the image and imagine your lady Sim walking in the spotlight, stopping every now and then to strike one of these poses. Doesn't she look fabulous?
15. Pregnancy Poses Mod Pack 2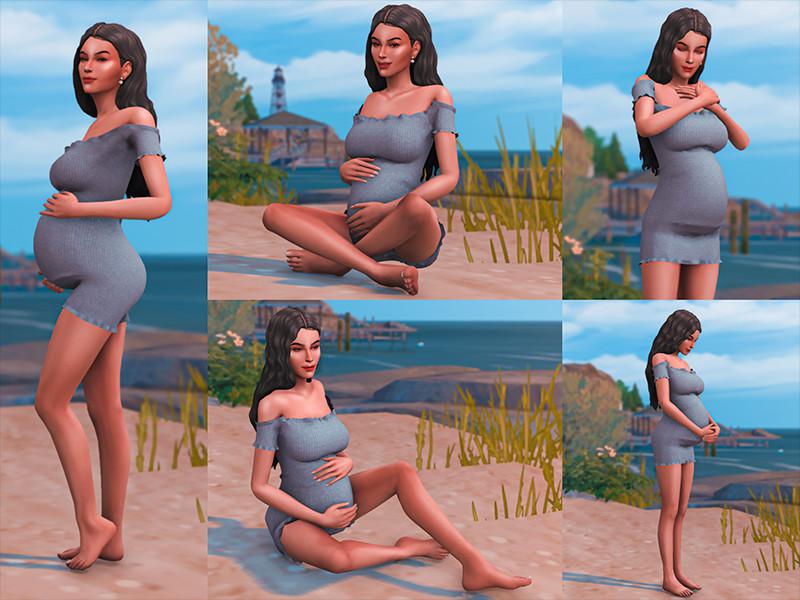 Pregnancy photoshoots are more popular than ever now. Just look at what Katversecc has done here! Her pregnancy poses look amazing in-game. They're warm, cute, and spiritual. In other words – ideal for your Sims! Just make sure you enable script mods and custom content in your game.
14. Model poses 23 Posepack and CAS poses mods
Time to strike a pose! Improve your Sim's portfolio with these amazing modeling poses by Helgatisha. There are many poses to choose from, so you can use subtle and small movements to make a catalog photography session come alive. Or you make all jaws drop at a fashion show's runway.
13. Just Some Cozzy Moments Pose Pack
Trying to celebrate the winter holidays with your Sim friends? Well, this is the perfect pose pack for that occasion. Here you will find 3 different poses, all with their own magic. You can also make it look like your Sims are wishing Merry Christmas or Happy New Year to each other, so definitely give it a try.
12. Cute Me and Me Friends Pose Pack by Couquett
Ah, it's a blessing to be so young and free of care! I love this pose pack simply because it highlights the carefree lives of my children in Sims 4. These are all playful poses full of warm feelings.
11. Chic Gilrs II Pose Pack by Couquett poses mods
Girls pose the best and there's no doubt about it! This pack perfectly illustrates that, showcasing the girls in their best light. All mods poses here look great in-game, allowing your female Sims to pose fashionably and fabulously.
10. Pregnant Diva Pose pack by WisteriaSims
People say that women glow with beauty when they're pregnant. Well, that's certainly what's going to happen to your Sims with this pose pack! Here you have a bunch of different poses of female Sims holding their bellies. All of them are simply adorable and I recommend them trying them out!
9. Flower Chamber: SING FOR YOU Poses collection Barstool Microphone
If your Sim follows the singer career path, this pack is definitely for you! These mods poses are all on a barstool with the Sim holding up a microphone. There are actually many different singing poses and you can create an entire photo album using them!
8. fabulous Celebrity Pose pack
And if your Sims are celebrities, this is what you should be downloading. This pack includes 5 unique poses that I love using them. They're perfect for a night out or a one-of-a-kind celebration.
7. Toddler in Laundry Hamper Poses by KatVerseCC
Here we have one of the most adorable poses packs for Sims 4! The toddler is super playful and he decides to jump into the laundry hamper. What do you do in this situation? Well, you photograph them first, of course! Hurry up and get these poses in your game!
6. Pose family walks by LeaIllai
Spending quality time with your family is what life is all about. With these poses, you can make your Sims look like they're having the time of their lives. The mother, the father, and their kid will hold hands and you'll get to photograph them!
5. Anger Pose pack by Beto_ae0
We put the female Sims in the spotlight more than once on this list. But what about the male Sims? Well, this pose pack is a perfect opportunity to highlight the masculinity in your Sims. Show off that anger and look glorious while doing it!
4. Amazing Couple pose tango by LeaIllai
To come to a compromise, I suggest you take this pose pack home with you. Here, both your male and female Sims can look glorious together. They'll be wildly dancing, doing extremely passionate tango poses on the podium. So, what are you waiting for?
3. Adorable Baby Time Poses by couquett
This is one of the most adorable pose packs in Sims 4 and there's no doubt about it. With it, you can set up 4 babies or toddlers on a sled. They'll look super cute while you take pictures of them!
2. Love surprise Pose pack by Beto_ae0
Hands down, this is one of the most romantic Sims 4 things I've ever seen! It's an entire pose pack of a "love surprise" event where the male Sims prepares an awesome picnic for his partner. Sweet dinner with your loved one under a starry sky – is there something better in this world?
1. Realistic Girl Pose Pack 25 by KatVerseCC
And the winner of the best mods poses for Sims 4 is this one! I absolutely love how these poses look in-game. They're the most realistic ones I've seen for this game thus far. This is how most of my female friends pose for pictures in real life, so it's great to see my Sims do the same too.
Conclusion
The internet has tons of Sims 4 mods poses. There are probably thousands of packs out there, each unique in its own way. However, I've selected the 25 best pose packs here that I regularly use. I hope you liked them too.
Make sure to check the other lists of poses on our site if you want even more ideas for Sims 4!
Happy simming!