Are you looking for some diversity with your Sims hair? Consider going Alternative by using the best Sims Emo Hair CC packs! Emo left the mainstream in the early 2000s, maybe, but when the When We Were Young festival happens in October I guarantee it's going to make a full comeback! So why not get hyped up several months ahead and start making some Emo Sims? Turn up the volume and blast some old-school Paramore or Hawthorne Heights as we dive into Sims 4 Emo hair CC.
Alternative Sims Emo hair
The Sims hair selection is constantly expanding to include more variety, style, and textures. Players have a lot of hairstyles to choose from in The Sims 4: from ethnic hair to buzz cuts and everything in between! The same goes for alternative hairstyles. If you want to recreate your Emo and Scene qweens teenage years (or it was never a phase to begin with, then to reflect your current alternative hairstyle in adulthood) check out the in-game hairstyles too.
There are a few options of Emo Sims hair that you can choose from ranging from short, long, spiky/layered, straight, and wavy. However, we all love what CC brings to the table when it comes to expanding customization possibilities of The Sims 4.  Here are some of the best Emo CC hair packs around the web.
MaruChanBe2 Sims 4 Emo hair
Her description gives us all the details we need: "…I love emo/scene/gothic/egirl/alternative styles so my cc is gonna look mostly like those things."
She certainly delivers! Here is a ponytail with classic Emo/Scene side-swept bangs that comes in an array of colors – even with the stripe-dyed hair that literally screams Scenester.
Click here to download the hairstyle and the mesh required. Note that when you go to download, you're going to see the required mesh attached in the post: remember to download that as well or the CC will not show up in your game!
Next, this wispy, multi-layered, modern-day Emo/Scene hairstyle is essential. The infamous strikingly shorter hair cut in layers at the top while keeping the rest of the hair long and thin is the hallmark aesthetic of Scene. Download the hair and mesh here.
Finally, this is giving us the cosmetology-school Emo style that led to the creation of the Scene style. Does anyone remember the wave of Emo teenagers who studied cosmetology en masse? That's the vibe radiating from this hairstyle (and yes, that's how Scene became a thing!). 
PinkyCustomWorld sims 4 emo hair
PinkyCustomWorld has a selection of what looks like hundreds of Emo/Scene and even some Cyberpunk-inspired retextured hairstyles to choose from.
This longer hairstyle with deep side-swept bangs and bright swatches gives us major Scene vibes. You can find the mesh required and the hairstyle here.
Then, this retexture of another mesh by PinkCustomWorld is a classic short Emo boy-band hairdo! Think of bands like Alesana and tell me this Sims hair doesn't take you back to those early 2000s days.
I love the recolours of how contemporary this alternative colorful high ponytail looks and here is the mesh required for it to work.
Middle-parts are emo too, so we have to show them some love! Here is a bright bob retexture that's Emo yet chic.
Short, pushed aside voluminous hair that probably needs copious amounts of hair wax or spray? We love that rocker aesthetic, so get it here.
The waves and color gradient of this hair – from ombre to two-toned – make this look elegantly Scene. Download it here, and don't forget to download the required mesh listed in the description as well.
Lastly, this short, messy hair by PinkyCustomWorld exemplifies some serious Pop-Punk/Emo style. 
JavaSims CC hair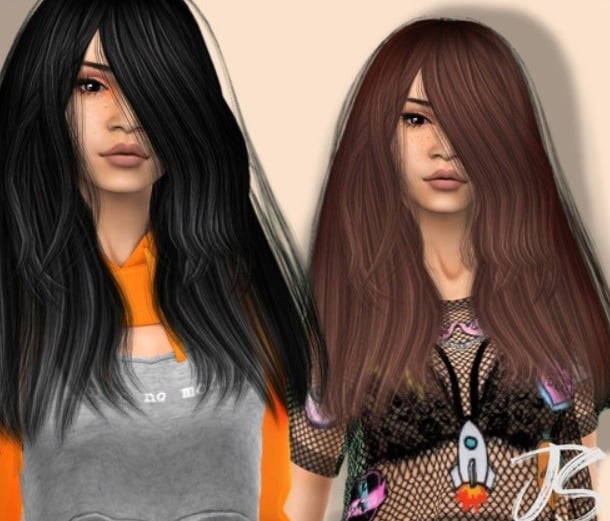 CC creator JavaSims doesn't only make Emo or Alternative hairstyles but has some great ones that I believe you'll love.
If you're looking for the original Emo style that emerged during the 90s, there are hairstyles for that as well. Here is a beautiful hairstyle by JavaSims showing that much more subdued, but still unique Emo hairstyle of the early 90s.
This short, wavy bright colored hair is still striking and is in the realm of Emo, yet is more subtle than the wild, disheveled fury of the Scene styles. Download here.
DarkoSIMS3 hair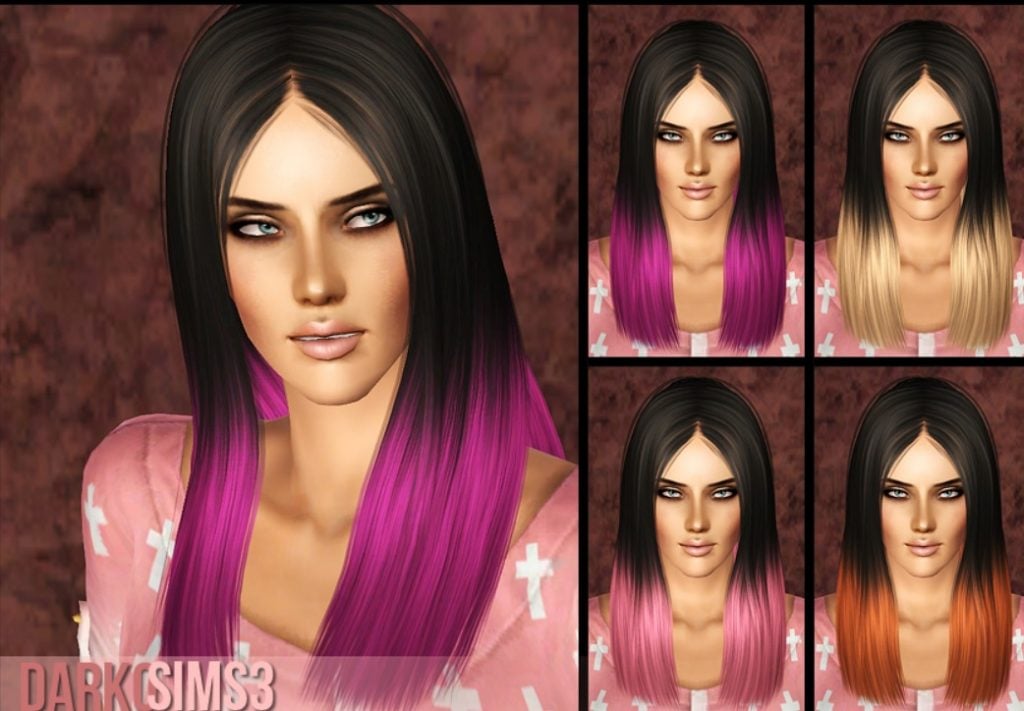 Another middle-part Emo hairstyle, this even, dip-dyed even hair is so prim yet edgy! Click here to download it.
Feral Poodles CC hair – BGC
Undercuts surged in popularity again during the mid and late 2000s. This Emo hair CC wouldn't be complete with them! Feral Poodles has created these bold hairstyles with razored designs. They are base game compatible and they include all of EA colors plus a special palette.
Remember the band Hey Monday? This short, layered bob with dyed bangs by Feral Poodles reminds me of the hairstyle of the vocalist!
Hair that covers one eye was the original standard of an unmistakable Emo hairstyle before side-swept bangs jumped into the picture. Check out Feral Poodles' ombre-dyed Emo hair.
Last but not least, thick, textured, and curly hair in bright colors (or not) is just as Emo as any layered haircut. In this tumblr page, you'll be able to get these wholesome Emo curls for your Sims.
Kabbie CC Hair
This CC pack by Kabbie gives us 5 options to transform these hairstyles into Emo styles. The lower elegant bun isn't a typical Emo style, but feel free to download it anyway: Emo people go to formal events and dress more regal sometimes!
The ombre and unnatural colors are bright and bold and the pastel colors add some Pastel Goth aesthetic to your options! In the description are the necessary hairstyle meshes you'll need to download in order to transform those styles into the Alternative look you're aiming for. So choose one, some, or all!
Check out these awesome Sims 4 eyeliner mods!
Phoenix
Phoenix-Sims makes beautiful Alternative hairstyles and retextures of existing meshes.
Many of the styles are less disheveled and wild and more cohesive and conventional – yet they still have plenty of Alternative colors to give those Emo/Scene/Punk vibes.
This long hair with a subtle pop of color by Phoenix-Sims is gorgeous and is a classic Pop-Punk style.
Yet, it is still versatile enough to border on an Emo/Scene aesthetic especially depending on the color combinations you choose.
Then, another high ponytail with beautiful bright, yet smooth colors carries on that Alternative style versatility.
Half-up, half-down hairstyles are conventional but not everyone wants bangs – or at least not everyone wants bangs in their face all the time.
Use unnatural colors to this hairstyle by Phoenix-Sims and let that speak for itself about your Sims' Alternative edge.
Lastly, this shorter, two-toned hairstyle is adorable yet still has that 'rock on!' aesthetic.
Phoenix-Sims not only has a verified account on the site but has a Patreon with exclusive CC if you decide to become a member. Click here to check it out!
Conclusion
There you have it! Plenty of Emo hairstyles to choose from so you can customize the Emo Sims of your dreams.
We've covered some of the more subtle, early-Emo styles, from the Pop-Punk/Emo aesthetic, to the contemporary Post-Hardcore/Scene Sims 4 Emo hair.
And who knows how else this article helps you out? If you're bringing Emo back yourself in real life maybe you'll also be inspired by these hairstyles!
If you decide to create a Screamo or Post-Hardcore band Sims band, show us some screenshots of them in the comments!
Related Content