If you were just wondering how to cool up some of your Sims – you are at the right place! We love to style our Sims in different ways and to give them unique vibes. Glasses are one of our ways to do just that, so we compiled our favorite Sims 4 glasses in a single list. Enjoy!
Glasses CC for Your Males and Females of all ages
In the Sims 4 players control their virtual lives through interactions with other Sims. With the help of custom content and mods, players can create and customize their own Sim's outfits, hairstyles, and even eyeglasses. This provides an unprecedented level of customization for the series and opens up opportunities for players to create unique and memorable Sims.
Electronic Arts offers many different types of glasses for any design you can think of, but if your Sims, whether male or female, are looking for something original, then custom glasses is your answer.
The selection includes styles such as aviator sunglasses, retro glasses, and classic ones with an iconic look. There's also something exceptional for everyone in this collection. Choose from different shapes, swatches and sets of glasses. Get creative and enjoy!
HONEY Astraea Bat Wing Sunnies
Looking for a way to make your Sims character look stylish and super cool? Check out our HONEY Astraea Bat Wing Sunnies! They're 100% new mesh and will have your Sims looking like a total badass. Whether you're fighting crime or just hanging out at the beach, these sunglasses are sure to turn heads.
With batman like style, your sims will be the envy of all their friends. So grab a pair today, and let the good times roll. To install this piece, follow this page.
Check out Sims 4 hair recolors CC for your game!
cloud glasses -brsims – the sims 4
These glasses are perfect for your fashion-forward female sims. The cloud design is stylish and unique, and the glasses come in eleven different swatches to match any outfit. Cloud glasses are the perfect way to complete your look.
These one-of-a-kind glasses are perfect for giving your Sims an edge in the fashion world. Plus, the cloud design is sure to turn heads wherever your Sims go. So why wait? To install this piece of CC, follow this link.
If you loved this vibe, you'd love these retro custom content packs for your Sims!
TS4 – Bat Glasses
Halloween is in full swing and you're stressing over what to dress your sims up as! Help your sims stand out in the crowd with these custom, adorable bats for their eyes.
Kareem Zi Sims has created 10 different shades, in a perfect slider compatible pack. Your sims can wear these glasses when they're feeling festive and want to look spooky. They work with all age groups and genders, so feel free to get creative with all your sims. Here's your download link.
CAT EYE GLASSES V2
Are you tired of getting odd looks when you wear your regular sunglasses? Now you can transform your sims into totally awesome cat-eyed characters with these exclusive new glasses.
Your sims will get all the swooning they deserve when they're wearing these amazing and adorable glasses. They come in many colors, including mint, green, black, and white. Click here to download.
Blomstra Glasses
Okay, we're sure that your sims would love these glasses. They're designed particular for your female characters. Not only do these frames have flowers etched into the sides, but they are also tinted and untinted so that you can choose the perfect look for your sims. These glasses come in 18 swatches, so you're sure to find a pair that's perfect for your sim's personality.
The flowers on the frame are a bit of a visual attention grabber, and these glasses will get noticed. Oh, and they're BGC, too! Here's your download link.
Tech Glasses by BlueRaptor
It's the future and these glasses are an upgrade for your sims. They come in 12 different colors and styles to choose from. They are futuristic and make a fun fashion accessory for your sims.
The Mod is available on BlueRaptor's page for free. However, it requires the Get to the Work expansion pack, but it's worth it. These glasses are sci-fi with a hint of coolness, that will make your sims look like futuristic geniuses. To install this one, click here.
For more futuristic custom content and mods for the Sims 4, read this post.
Glamorous Honey sims 4 glasses
Jump into the center of the attention with these glamorous glasses and steal the hearts of all the Sims around you! And why not – you have the perfect weapon to do so with this mod! You can find the CC at blahberry-pancake.tumblr.com and you can download it from this direct link.
If you're a fan of alpha hairstyles, we recommend this post of the best Sims 4 alpha haircuts.
Elisa Glasses in 9 Swatches by Serenity
In that similar style we have this great mod by Serenity-cc. Although simple, these glasses come in 9 swatches – from bright and summery to dark and mystical. We're sure that you'll find your own favorite after you've downloaded the mod from this link.
Classy And Intellectual Eyeglasses
We've played with many of these mods, but this one is our go-to when creating a writer or a scientist Sim. The level of intellect this mod adds to the appearance is invaluable and we advise you to get it for yourself if you play the game in the same line. Get it quickly from here.
Why don't you magnify the handsomeness of your Sims with these custom eyeglasses? They are plain, clear and suit every face inside the game. 10 swatches are at your disposable to make your male and female Sims true models! Download the CC directly from here.
We recommend checking out this list of Sims 4 clothes for your female sims.
The Famous Sindra sims 4 glasses
With thicker frames and a little bit of wider shades – Pralinesims has created this mod to satisfy every Simmer out there! The eyeglasses are modern and in style – something that every Sim wants to possess. Visit The Sims Resource or get the CC directly from this link.
Glasses CC for Males
Realistic Horololo Glasses in 25 Swatches
The popularity really speaks for this mod too! Pralinesims has broken download records with this one as well – simply because of how good and realistic these eyeglasses look. They also come in 25 different colors and nothing is stopping you to try them all! Click here to get them ASAP!
venti glasses & simonetta heels by sforzinda
With all the technology in the simulated world of The Sims, you can feel nostalgic by putting your male Sims in vintage glasses. Sforzinda has put a lot of effort into making the process of creating these glasses as seamless as possible. The sunglasses come in 9 swatches – black, dark green, hazelnut brown, dark gray, light gray, light green-blue-greenish yellow, orange-red, purple-violet-indigo blue, and white.
The horned rims, thick lens, and metal accents will make your Sim reminisce on simpler times while looking stylish in the process. They will be a great addition to any sim's wardrobe. Check it out on this page.
pixel glasses – the sims 4
Pixel glasses are not just a trend, they are the next big thing! I mean, would you look at that? With pixelated custom content for the Sims, your game will be more immersive and lifelike. Furthermore, these glasses will have all of your male Sims wearing pixelated shades that make them look like they just stepped out of an 80s movie or music video.
I honestly don't recall seeing any pixelated custom content for my sims, so I am hoping to find some attractive pixelated clothing and other items that will bring beauty to my Sim's life. And since pixelated custom content for the Sims has been a topic of conversation lately, it seems like it is the next big thing! Be one of the first to get in on this trend. Follow this page to download.
[HOTSWE] JENO glasses
With a set of glasses that resemble BTS's famous JENO, you can now mimic your favorite singer's style. The design has three different color combinations that will fit your taste and personality.
And honestly, we could all agree that these glasses are a new type of fashion accessory with an artistic twist. They are inspired by the BTS band and they are a new way to express yourself and look a bit over the top. Here's your download link.
"I'M A BOSS ASS BITCH" Glasses
The Ray Ban 2140 sunglasses have recently been recolored by pauleanr-only to include male sims. The mesh is not included, so you need to download that first. These glasses have a striking resemblance to Jacksepticeye, Markiplier, and Pewdiepie's glasses.
The creator of these glasses has also released two recolors for those who want even more options: a dark brown color and white gradient option which look very similar to the originals in their default black frames. Feel free to check them out on this page.
Cosmos Moon-Shaped Glasses
And don't forget that moon-shaped shades are available there as well! They can also be dipped in every beautiful color variant of the CC, so there is no reason for you not to try it. You can download this version from here.
Unisex Sims 4 Glasses
Altul Glasses for All Cool Styles
Why not start this compilation with a blast – an entire pack of awesome glasses mods for The Sims 4! The CC is stuffed with 30 different looks which you won't find boring. They are all creations by Pralinesims who published them at The Sims Resource. To get the mod for yourself go here.
Fashionable EKSEO sims 4 glasses
Pralinesims is the creator behind many of our favorite Sims 4 mods – including this one! No matter if you're styling your Sim in a modern fashionable way or you want to turn them into a Harry Potter lookalike – this is the go-to CC! The 370,000 downloads speak a lot for the mod and you can also get it from here.
Modern EXOV Glasses
Glasses are one of the ways Simmers utilize to make their one-of-a-kind Sims. The same thing is possible with this glasses mod which is already too popular within our Sims 4 community. If you wanna be one the many happy owners of these glasses, follow our direct link here.
Borderline Glasses for Both Males And Females
One more amazing mod of glasses which works for both male and female is this beautiful one. While the shape remains the same, the design of the frame is heavily developed and you can change it up to 50 different times. The CC is available at blahberry-pancake.tumblr.com or just download it directly from here.
PAB Glasses of The Movie Star
No one was left immune by this creation of Pralinesims as well. There something about the classy way these glasses are designed; they somehow shine with that popularity of a movie star. Hurry up to The Sims Resource to download this Sims 4 mod or get it directly from our link.
Brilliant Shine Forever Glasses
Here is a highly customizable pack of eyeglasses for The Sims 4. The truly brilliant design of this mod is available in 60 different colors – all unique enough to be standalones! The official publication is done at The Sims Resource and you can download this mod from link.
Stormy New VEOX Glasses
Another model-style eyeglasses mod is here. It looks powerful, stormy and ready to achieve any goal along with your Sim. Countless thanks go to Pralinesims and his talent for custom content creation. And you can download this particular one from here.
Elegant Round XOEV Glasses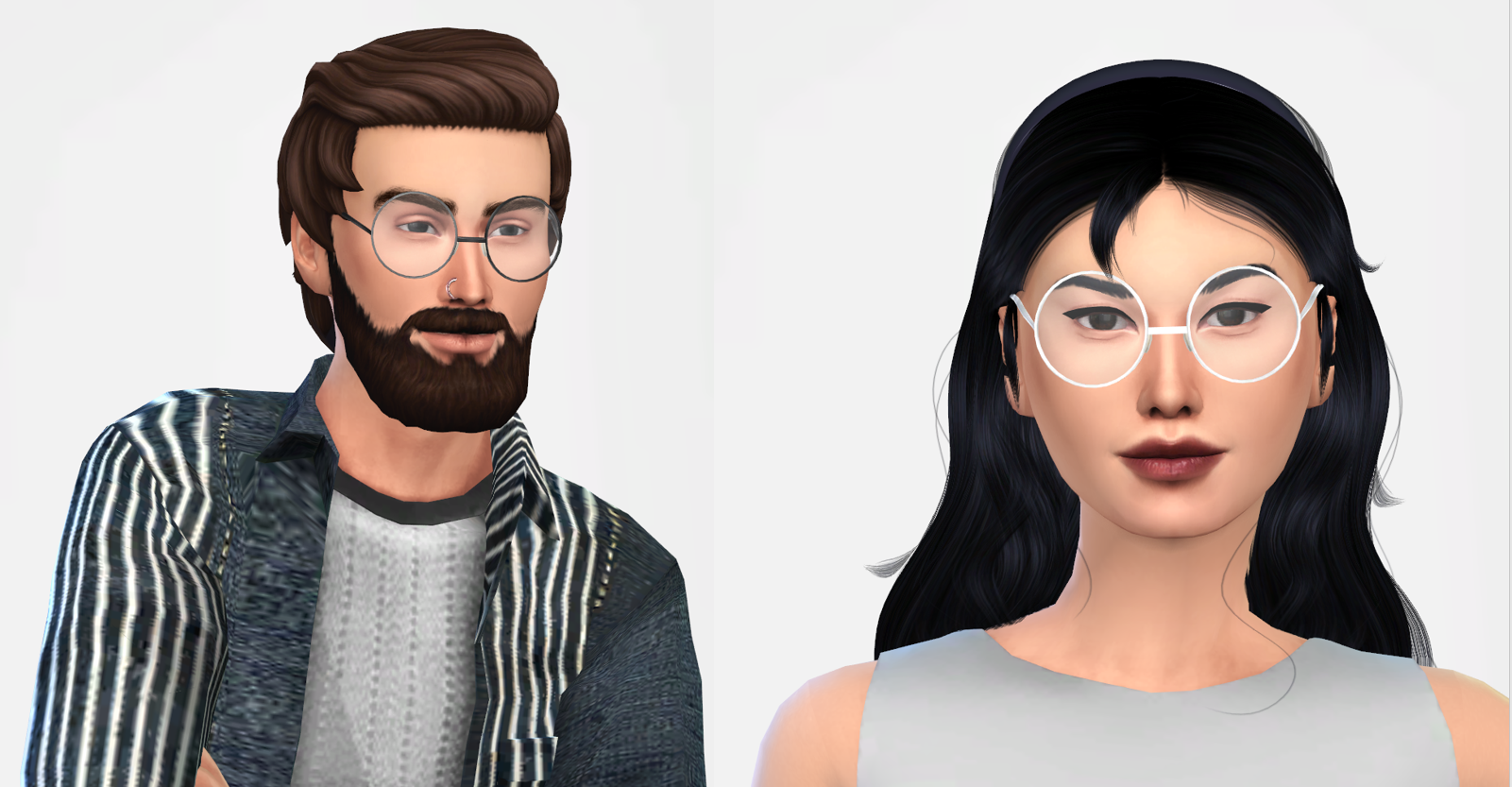 Nothing would fit the end of this long list better than these elegant round glasses. They come in 10 one-of-a-kind color variants, so you can really become something unique. The mod is downloaded over 500,000 times at The Sims Resource and it's waiting for you too. Click here to get it now!
Spectacular PIENE Sunglasses for Models
Step into the world of glamour with a firm step! But your Sim can only do that if they have these glasses put on! The Sims 4 community loves this mod and has already downloaded it over 180,000 times. To get it for yourself, click here.
Toksik'S Miss Jackson Sunglasses for Conquering The World
It's time to give the perfect wicked vibe to your female Sims! Watch them conquer and subdue the world with their looks. And with the 10 colors in which this Sims 4 mod comes it's hard not to do so. This is the direct download link for the CC.
Sims 4 Toddler and Kids Glasses
Circular Glasses for Kids
The round John Lennon style glasses are here and you must have them! These babies hold the power to turn every Sim into a superstar with just one click. Why don't you test them out? Head to blahberry-pancake.tumblr.com for a download or use our direct link.
Here's a list of children hairstyles and clothes custom content for your game.
Cosmos & Honey Glasses for Kids
While you hang around at blahberry-pancake.tumblr.com, please consider the prestige version of the circular glasses! The design of this mod is truly gorgeous and the custom color shades are something we can't live without! Here is the direct download link.
Check out this list to find a matching necklace for your character!
outline glases v2 – kids – the sims 4
The internet is full of frames for your sims, but many are too big or not the right color. There's a need for something in between, which is where these frames by blahberry Pancake come in.
Nerdy! Not too big and not too small. Just the right size to be cute, but also acceptable to little tykes. This is what you want from something that is going to be their favorite accessory for a long time. Check them out here.
In conclusion, we hope you enjoyed this list of the best Sims 4 glasses custom content. Do you want to complete the perfect look with an awesome dress? Then have a look at our post on the best clothes for your sims. The perfect makeups are listed here. See you soon!