Is punk rock your thing? Nothing looks edgier than mesh shirts, studded accessories, military boots, and statement fashion details. Thanks to customized content, your Sims can show up in the world like real punkers. Keep on reading to find out the best Sims 4 punk CC you'll ever come across!
If you love goth stuff, check out this selection of The Best Sims 4 Goth Makeup CC!
sims 4 punk cC for All Sims to rock
Sims lovers always like to have more versatility and choice when it comes to dressing up their character. This is why CC can come in especially handy, particularly for those who enjoy standing out from the crowd.
To inspire you and give you more choices to choose from, we have prepared a list of edgiest Sims 4 punk CC looks for you to incorporate into the gameplay. Buckle up and let's get edgy!
1. Punk outfits for male and female Sims
If you'd like to get a few different punk-rock looks all at once, then this set of CC is for you. It includes statement outfits for both male and female Sims, such as checkered pants and skirts, studs, or bombers. On top of that, you'll also find that must-haves such as nail polish, boots, and fishnet details are a part of the looks, too. Check these Sims 4 punk clothes cc out here.
2. Undead Ahead sims 4 punk choker by Evellsims
What is a punk look without some dramatic studs? This CC can be approved by the early punk fans from the 70ties. There are a few variations of the collar and the spike colors. You'll get to choose between 40 swatches for your Sims ladies, and the best part is, that it is suitable for all ages, from teens to elders. Download it here.
3. punk living room by catSaar
Bring your favorite aesthetic into the interior design, and opt for this punk room! Being a cool combo of red, black, and white details, this living room screams attitude and style. The dark aesthetic is not for everyone, but it is certainly a good match for punkers who like to push limits, show up, and live in a space that reflects their authenticity. From music instruments to wall decor and dark details, this space has it all. Browse and download it here.
4. Studded leather jacket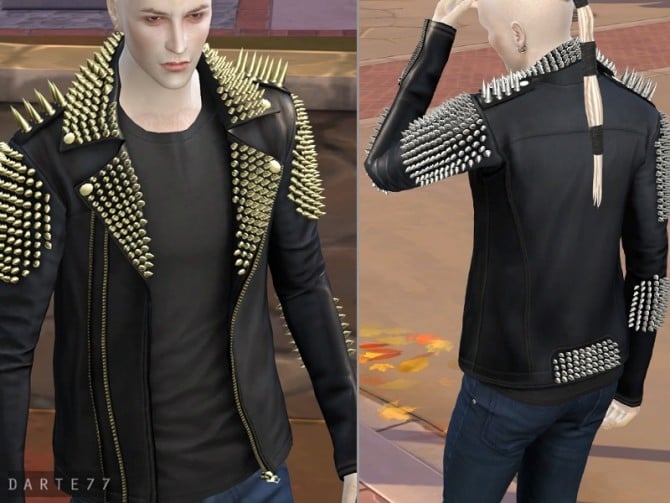 Would you like to dress your Sims like an Exploited fan? You are on the right page, as this leather jacket with studs will blow you away. You'll get to choose between a few stud colors, from gold and copper to black and silver. Even if you get them to wear the plains shirt and jeans, they will still stand out from the crowd. That's how effective it is! Your men of Sims will enjoy rocking it. Get it on this page!
5. Punk hair starter pack for males and females sims 4
This set includes three hairstyles, all applicable to male and female Sims. With this one, you've got a neat mohawk, and you can also choose a double mohawk (or bihawk) and hat chops type of look with a shaven back and bangs. These two remind me of Lol from "This is England", and Soo Catwoman. If you'd like to try Sims 4 punk hair cc out, go to this page.
Mohawks are an important part of every punk look. Check out the Best Mohawk hairstyles for Sims 4 here!
6. Male and female punk outfits
Now we are talking about versatility! This CC pack includes not one, but many outfit combinations. You'll get to access individual clothing and footwear pieces that you can then match to your liking! This one includes pants, boots, and tops for both men and women of Sims, so you'll definitely have fun experimenting with different looks! If you'd like to try them out, go here.
7. Punk Rock t-shirt collection by Sims4 Sweetshop
Misfits, Bad Brains, Dead Kennedys, Blondie, and Sex Pistols – all iconic band t-shirts are here, ready for your Sims to rock them! Made for gentlemen only, these shirts are simple, yet bold pieces your Sims can use to show their punk spirit. To try out this punk tee yourself, go here.
8. join the punk side Sims 4 cC inspired by Vivienne Westwood
Punk is more than fashion, it is an attitude, and this Sims 4 punk CC set reflects that. These ladies know how to match details to look bold and show their personality. The set includes details such as buzz cut, and clothes inspired by the early Viviene Westwood style. You'll love how these match the characters of your rebellious Sims! You can get it on this page.
Are you a fan of piercings? Check out these Septum Piercings for Sims 4.
9. Punk outfits, hair, and makeup for female sims 4
You can now look more punk than ever thanks to these iconic looks for Sims ladies. The punk aesthetics is all about pushing the limits, and these CC pieces will help you achieve that. This CC lookbook has all it takes, from makeup and hair, to complete looks. You can now push the limits with torn leggings, leopard print, buzz cuts, and piercings. Get all the fashion details from the lookbook here.
10. unisex shorts by nellythekid
This one is basic shorts any real punk lover needs to have in their wardrobe. It comes in three camo variations, and six recolors for each style, which is cool. While it looks like a male-only model, you'll be pleasantly surprised to find out that it works for females, too! You can choose the one with an anarchy patch, skeleton, or rainbow details. Get it for free here.
11. Set of punk rock posters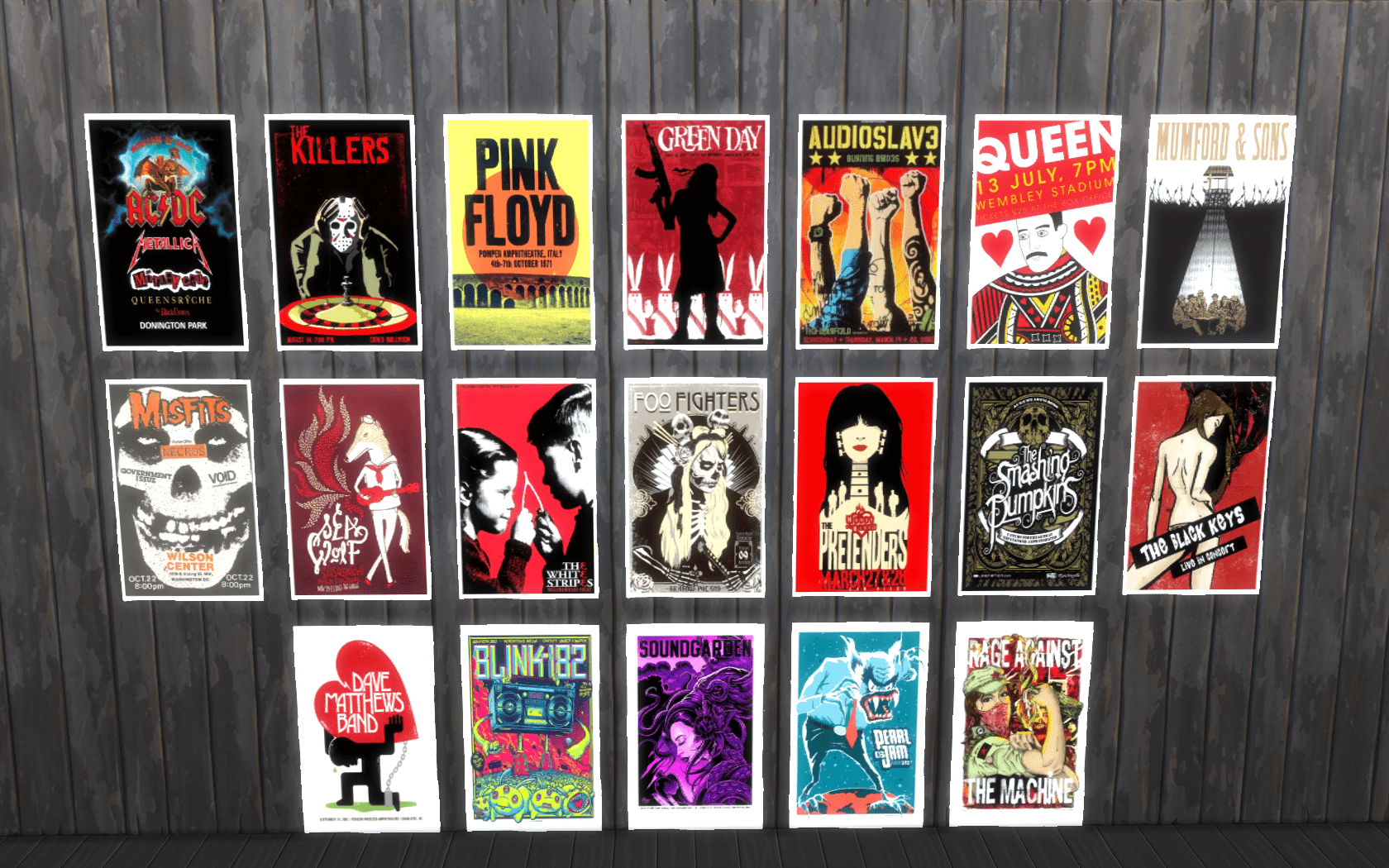 Let's admit it – this list just wouldn't be complete without punk posters. This Sims 4 punk cc pack includes 20 customized band posters only real music fans know how to appreciate. While not all are punk genres, you'll get a decent selection of big alternative names, and a few big punk names, such as the Misfits, Green Day, and Blink 182. Check it out here.
If you'd like to have EMO personality traits available in the CAS mode, go here to get it.
12. teen style stuff: The punk kid
This Teen Style stuff pack made by Synth X Lumia has all you need to dress a punk teenage boy. You'll get two variations of rocker's hair, a distressed crop with a Thrasher-like logo, platform boots, and dual-tone pants. It also includes an outfit for the athlete and the "it girl" look, in case you'd like to spice up your gameplay. Get the looks on this page!
13. band female t-shirts by Merakisims
Let's not forget our ladies. If you like Misfits and are a fan of alternative, metal, rock, or grunge, then this CC is for you. You can wear a t-shirt with or without an overshirt. All brand logos look like original shirts and are not translated into Simlish language, which can be a big plus if you want something authentic. Here's your download link.
Conclusion
This was our list of Sims 4 punk CC must-haves. We have incorporated all the essentials, such as studs, punk band t-shirts, hairstyles, and decor details. We have hopefully sparked the interest and given you something to start with. Punk's not Dead!