The Best Drinks Mods & CC for The Sims 4
Drinks are something that we are always going to be in shortage of in The Sims 4. That's because the real world is abundant with liquors in all kinds, and we can enjoy most of them! But our Sims are far less fortunate in the base game. And that's why we always add many different CC & mods to spice things up! Here is our drinks collection.
Here are the Best Drink Mods & CC for The Sims 4
Silicon Drink Dispenser
Planning a party? Well, you can't start one without juices of different flavors right? Here we have an awesome pack of 3 unique ones – orange, strawberry, and kiwi! They come in a nice glass dispenser, so your Sims can freely use it. Thousand thanks to Wondymoon who created this awesome extension!
Meitnerium Drink Bottle
Looking for some classic wine bottles for The Sims 4? Look no further! Wondymoon has also created a small assortment of them, ranging from rose, white, and dark red. They're immensely popular on The Sims Resource, over 110,000 downloads, and they deserve your attention too!
Industrial Bar drink bottles
But Simcredible! has gone even further! You know all those bottles you see behind the counter of every club? Well, here they are for The Sims 4! Creating a bar can't feel complete without these drinks scattered around, so definitely get them!
Silicon Drink Crate
And if you're going to own a few wine bottles, why not keep them in a crate? This CC by Wondymoon is a gorgeous piece of decoration, and we've found thousand different uses for it already! The three color variants are great for matching the style of your home, so you can't make a mistake downloading them!
Kawaii Breakfast. Drinks
For the smallest of your Sims, we have a super cool – super cute little set of hot drinks! They come in total of four unique variants, angry and smiling face, and blue and pink color. Filled with almonds and a sweet cookie in the shape of a bear, they make for the perfect morning drink for your kids!
Eastleigh Drink Showcase
Storing your drinks doesn't mean hiding them, but displaying them! And what is a better way to show your collection than with Artvitalex's stands? They're made out of wood and come in three colors, light brown, dark brown, and a gray one. But no matter which one you choose, they all look damn beautiful inside the game!
Movie Decor. Drink
And here is something for your teen Sims! Whether it's going to the movies or just hanging out, there is no better drink option than a cool cola. These red and white plastic cups are excellent decoration tools for your restaurant or modern home. Soloriya is their author and she has published them at The Sims Resource.
ambracio Metal trolley for drinks
Owning a drink trolley is immensely fun! Not only is it a place to put all of your bottles, but it can prove an essential piece of equipment for your butler when serving your guests. All the credits go Jomsims who created this awesome CC! If you like this, you may also have a look into our post on the butler mod for The Sims 4!
Freya Outdoor Drink
Enjoying the stunning beaches of Sulani? Well, why not get an ice cold drink to satisfy your summer thirst? Here it is in a white glass and made by Angela! Her creation has been downloaded nearly 40,000 times, which shows just how necessary the CC is in these kinds of situations.
Voice – Enjoy Your Drink-Pose
But to celebrate an anniversary, you're going to need the perfect champagne glasses and also some poses to capture the love of your Sims! This extension provides you with four necessary poses for such an occasion, so make sure to try them out! Thanks to the incredible maker Lancangzuo114!
Isotonica Drink individual packages
As a decoration, you could also use these drink packages. They all come as individual items, so you can place them separately wherever you want. Their price is really low, just 59 simoleons, and they're created by 333eve333.
Isotonica Drink Powder
And 333eve333 has created even more individual drinks CC. These bottles are great for adding a healthy vibe in the household of your active or sporty Sims. Setting them around the kitchen or the living room can give you a realistic tone.
Glasses Set 'KL' Softdrink
We believe that you can never have enough glasses for all the different liquors and occasions there are! These glasses in particular go best with some hot chocolate, but you're free to use them however you want. Just make sure to give your thanks to Buffsumm at The Sims Resource.
Kirin Tea Drinks
But if you're fishing for some oriental vibes, then why not take some of these Asian teas home? There are 5 of them in total, and they are of all the traditional flavors like lemon and milk tea. Yourdorkbrains is their designer and you can find them at The Sims Resource too!
xyra Deka drink
Here we present to you something different. These bottles by Xyra33 hide some of the strongest liquors in the world! If your Sim is a drink enthusiast, then make sure to get this CC for them! The bottles come on a platter, so you can safely decorate your walls.
Post-apo drink
Have you ever dreamed of owning a post-apocalyptic bar where creatures of all kinds can find their oasis? Well, here it is! Genkaiharetsu has created something really special here and you need to experience it. Hurry up to The Sims Resource and get all the updates straight away!
Drink Blood Not Plasma Wall Sticker
And Memysimsandi has provided us with a nice piece of a decoration that we find absolutely funny! The "Drink Blood Not Plasma" wall sticker is an awesome way to make a party even more fun, so make sure to give it a try yourself!
Soft drinks
This pack of CC features a popular set of can drinks. As a decoration, they go ideally in a kid's room or a kitchen, but since they're all colorful and fun, you can put them anywhere else!
Hat Tea Bow Drink Me (Alicia wonderland)
Here is an unusual one – tea pot for your head! This is an accessory item that we've used more than we can tell, just because it looks so damn fun inside the game. Its official publishing source is jennisimsunanuevaexperiencia.blogspot.com and it is created by Jenni.
Fruit Juice Drinks Set
No one can ever have enough fruit juice in their house, that's a fact! Take a look at these adorable bottles that we found at one-billion-pixels.blogspot.com and tell us that you wouldn't want to own them? They're 5 in total, all in different colors, and coming with a bonus bag! Perfect!
TS2 to TS4 Drinks Collection
Remember that night bar set of bottles we talked about above? Well, here is the complete package! Whiskey, Martini, Rum, and everything else. All of them are realistic and tons of fun to play with in The Sims 4. We recommend them 100%!
Simple Drink Tray
These glass drinks are something that we use in every party we organize for our Sims. They look incredibly beautiful and they come on a tray, which is perfect for serving! If you want to see more of their maker, then head over to downloads at veranka-s4cc.tumblr.com.
Summer Drink clutter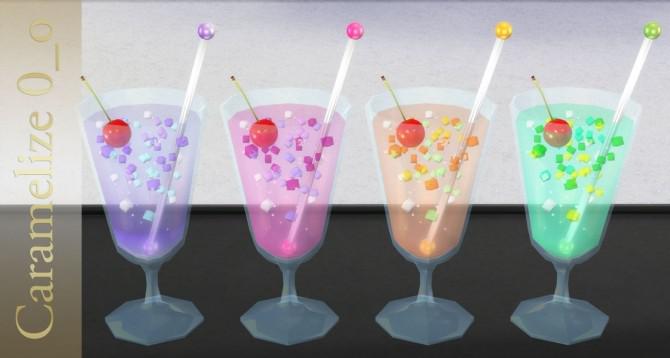 And while we're in the festive mood, meet your go-to party cocktails! Four flavor options are at your disposal to decorate and style up your celebration. They are both elegant and cute, which makes them a must for every Simmer! You like these items? Then you should visit our post on the best clutter cc & mods in The Sims 4!
Coaster Drinks
Did you think that we forgot all about coasters? Well, take a look this gorgeous pack! Here you will find the perfect coaster for every drink and every occasion. Either with coffee mugs or whiskey glasses, these coasters are the best decorative pieces for finishing your desired looks! We have found them at one-billion-pixels.blogspot.com originally.
Updated custom drinks
When it comes to cocktails and aperitifs, we want all of the mods and CC on the internet, thank you very much! But one of our favorite collections is this one that we discovered at sims4.aroundthesims3.com. It replicates many popular drinks from the real world and it's essential for every adult party! And if you're planning on throwing one, then definitely get these!