The Most Beautiful Pigtails for The Sims 4
Pigtails are awesome summer hairstyles, but they are great in the other seasons too. There's definitely something special in the wacky way they shake when you walk, even if they're braided. You can wear them anywhere: at school, the park, the mall, the beach… We love to create Sims with pigtails and that is why we've made this list of the most beautiful mods for this hairstyle. Enjoy!
Simple Abby Sciuto Inspired Pigtails
Have a look at these simple little pigtails! Inspired by Abby Sciuto from NCIS, they are perfect to start this grand list! Not too silly and not fancy – get this super cool mod from here.
Braided Pigtails – Spa Day Needed
If you've been following us, then you know that we love braids – in every shape and color they come! That's why we've included this amazing mod here that you can enjoy in 18 different color shades. But remember that you need to have Spa Day Game Pack. If you have it, click this link to download it!

Butternut – Pigtails Long Wavy Bangs
Perfectly proportional pigtails with neat bangs! Being a non-default color mod, they make for a unique appearance inside the game. The creator here is Alexandra_sine and she has published the CC at The Sims Resource. To download it quickly, click here.
Curly Pigtails And Bangs for Females
Going for a retro style is always fun! These curly pigtails have just arrived from a totally different age and are ready to give your Sim the ultimate change. We found this great CC birkschessimsblog.wordpress.com but you can download it directly from here.
Dark Golden Blonde – Pigtails Long Wavy Bangs
If you've liked the Butternut version of this hairstyle by Alexandra_sine, then you'll love this one. The dark gold color option is what truly makes this mod realistic and we love to play with it inside The Sims 4. To get this one as well, follow this link.
Colorful Dip Dyed Pigtails
Have you ever wondered what your Mermaid misses? That's right – this fantastic hair mod! But these colorful pigtails can be put on every Sim and we promise that they will shine! Thousand thanks to the creator Jujuawesomebeans who made the CC available from this page. Try them out!
Flirty Braids Summer Pigtails Collection – Part 04
A truly gorgeous CC is here and we don't believe that anyone can pass it by! The pigtails here are in perfect shape and volume AND they work for children as well. So, for summer or not – you must have them! The official source of the mod is simlaughlove.tumblr.com and you download it from here.
Curly and Girly Pigtails
Here is another version of the old-fashioned curly pigtails. Now they are wilder than ever, but also longer and more beautiful. If you haven't checked birkschessimsblog.wordpress.com yet, then do it now to find more info about the mod. And to quickly get this CC, click here.
Golden Blonde – Pigtails Long Wavy Bangs
Light and glowing! This hairstyle is conquering the internet with its beauty! It is popular and well known within our community, with more than 5000 downloads on The Sims Resource. The designer is once again Alexandra_sine and you can download her mod from this link.
Untamed High Pigtails for Girls
Why not go for something crazy and energetic with this pair of pigtails? They are shaky, untamed and eager to tell everyone the wildest secrets! All the credits go to the wonderful Kiara24 for creating the CC which you can download from here.
Colorful And Playful Pigtails for Kids
Colorful and playful pigtails is what kids need! In this short style, they're even cuter and more sought after, so we definitely think that you need to give them a try as well. You'll love them in all 9 colors. Download them quickly from this link.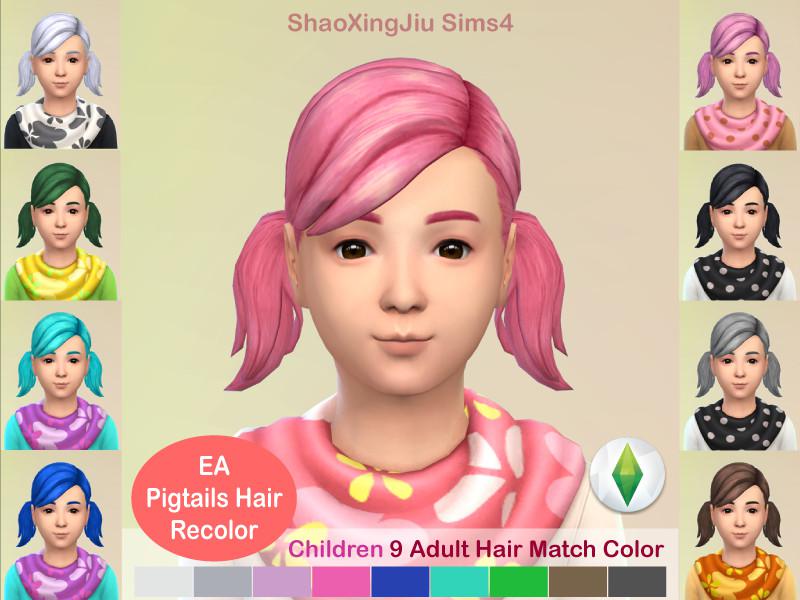 Lovey-Dovey Looped Braids Summer Pigtails Collection – Part 06
Your kids Sims won't get a higher level of adorable than with this hairstyle, but you can get there with your adult Sims as well. The beautiful design is what has captured us at the beginning but we also love every color version of it. Hurry up to simlaughlove.tumblr.com or download the mod directly from this link.
Short Mid-way Pigtails for Women
These short and mid-way pigtails are an awesome addition all-in-all, but we have found that they best suit the wild and outgoing Sims. Hats also work with this CC and an interesting fact is that they will still stick out when you put one on! If you want to try them too, download them from here.
Lovely Mild Pigtails for Girls
Here is a must for your little angels! This is an appropriate kid version of the previous hairstyle, so they can have this lovely look as well. The pigtails are highly famous and they have set a trend on The Sims Resource. To download them, click here.
Mischievous Pigtails Summer Pigtails Collection – Part 05
And if you have a few little devils in your household as well – this is the mod for them! These big and flowing pigtails look exceptionally pretty inside the game and you'll find them a fantastic addition for your older Sims too. All the base colors suit it and it is hat compatible as well. If you want to download them, follow this link.
New Classic Pigtails
If we were having a pigtail competition – this mod would win the prize! The classic shape is too invaluable to be left out of your collection and you must possess it too. The design is solely by Neissy and if you want to download her CC, visit this page.
Big And Lengthy Peppy Pigtails
Fans of the big styled and high-volume hairs beware! Here are the pigtails that'll sweep you of your feet. Your Sims can have these two beautiful lengthy locks from simlaughlove.tumblr.com or you can download them directly from here.Either way, you are at bonus!
Adorable Pigtails for Toddlers
Another fantastic CC sensation on the internet are these adorable pigtails for your toddlers. Available in 9 colors, they can make their little heads totally fruity and colorful. Be playful and download the mod from this link. The creator is the wonderful Jeisse197!
Classic Pigtails With Bangs
For the braided pigtails and bangs lovers – here is another addition to the combo. But this one is a real classic! The braids are long, the bangs are down to the eyebrows and the hair is lovely in every color. You want to give it a try? Then download this awesome CC from here.
Playful Braids Summer Pigtails Collection – Part 02
And while we're talking of classics, take a look at these gorgeous pigtails as well. From high up, they flow nicely down to make the heart shape we all want. Perfect in the summer but all the same exceptional in every other season, they are truly a must-have hair CC for every Simmer. To download them quickly, follow this link.
Sassy Curls Summer Pigtails Collection – Part 03
And now we present you a unique hairstyle, heavily inspired by Harley Quinn. The pigtails are all in wild circles here and you can also put them in that pink, blue and blonde mash to get the exact look of Harley! For a quick download, use this link.
Sporty Twintails Summer Pigtails Collection – Part 07
Simlaughlove.tumblr.com should become one of your regular spots for finding new awesome mods for The Sims 4. And for a perfect example we've brought you these twin tails pigtails! Whether on your adult girls or your kid Sims, this hairstyle will rock on! Download it quickly from here.
Sweet And Blissful Pigtails
And we're ending our pigtails CC collection with a wonderful mod we've found on The Sims Resource. The author Drteekaycee has described the pigtails as sweet and blissful and we cannot agree more! To find out more about him and to download this mod, visit this page. Happy simming!