The Sims 4 community has library of accessories that you can use to make your Sim look cool. And if you're looking for some cool backpacks custom content for your sims, you've come to the right place. This post will give you a good idea of what to expect when you're looking for Sims 4 backpack custom content for your characters. Read on to learn more about the various packs available for free!
Our favorite Backpacks for the Sims 4
We are always really amazed by how much detail is possible in the Sims 4. This game is truly remarkable, but what's even more so is that all of this detail can be changed with just a few clicks of the mouse. That is why this article will go through some of our favorite customization features that include backpacks for your simmies.
And if you're wondering why backpacks in particular, allow us to explain. Backpacks are a staple piece of fashion. We all end up with them at some point, whether it be for school, travel, or sport. And while your old faithful backpack may have served you well in the past, there's always room for improvement.
When you're looking to get your sim a new backpack is usually when the questions start to come into play. What color should I get? Is it going to be a big one or a small one? Do I need it for a formal outfit or a casual one? These are all important factors that need to be taken into consideration before making up your mind. With so many different options online today, it can be difficult to know which one will suit your needs best. So, hopefully this post will give you an idea on some of the best backpacks that you get for your sims. And which are believe will absolutely complement their outfits. Enjoy!
REINA TS4 PARFAIT sims 4 Backpacks
Fashion is an ever-changing industry. Sometimes it changes so much that it can be hard to keep up with trends and figure out what's what. But now, there is this new backpack that may help me with that problem. These colorful backpacks are custom content for the Sims 4 by REINA. This pack comes with black straps and has many swatches making it ideal for anything from a casual day to an important night out. For easy download, click here.
LOUIS VUITTON BACKPACK – LIMITED EDITION PINK
The Sims 4 limited edition pink backpack is designed for the girly girls. The backpack looks very cute and perfect for a young girl to carry her books to school. It comes in the prettiest shade of pink ever. It's shiny and soft-looking, giving off an instant girly vibe.
This pretty pink bag features two straps, one for your hand and one for your shoulder. The size of this backpack is amazing too and could be styled easily with any outfit. For easy installation, follow this post.
Road to nowhere cC pack
With custom content, the possibilities are endless. You can now make something you have always wanted to come to life, or create a new item that looks exactly like something you have in real life. The 10 colors of this backpack are simply gorgeous. You can decide whether you want to be girly with pink and purple, or dress your male sim up in a mauve and navy color scheme. Your Sims will love this adorable backpack designed for them.
It has a few colorful buttons at the front which add a funky vibe to it. It also reminds us of Life is Strange for no particular reason. You can find it under accessories. Here's your download-link.
We have a dedicated post on similar boho-themed clothing for the Sims 4.
sims 4 Backpacks Delicate Leather Backpack
There are many different kinds of backpacks by many custom content creators. This is a celebrity sims 4 delicate leather backpack that offers a wide range of features.
There are 48 different color options available for this backpack. These include black, brown and red among many more. This makes it perfect for any occasion and any outfit. The bag has some unique features such as tiny pockets on the side walls and an optional crossbody strap. Oh and a nice rose on the side to brighten up your sim's look. Grab this bag from this page.
Feel free to have a look at these custom jeans that would fit perfectly with this backpack.
KICKFLIP BACKPACK
A trendy, practical, and fun backpack for male sims. This backpack is one of the most practical pieces your male sims can own if they need to carry their belongings on a day-to-day basis. Or perhaps, if they are looking to take their appearance to the next level. In addition, this KICKFLIP BACKPACK will make getting dressed in the morning much easier with its appealing colors and design textures that are sure to bring out your character's personality.
The backpack is designed to maximize comfort and practicality with 16 colors to choose from. The colors range from light grey, black and dark blue to light blue, salmon pink, green, brown and many more color variations. Head over to this page for easy download.
Recolors of ATS' Kids Backpack
This is a recolor of the ATS Kids Backpack with new. It is not actually just a recolor, but an enhancement to the original Kids Backpack. The pattern of the backpack seems to have changed to give it a more modern and edgy look. It is a lot of fun to have your kids dress up as different animals that they probably love.
This mod basically replaces the default backpack pattern with a different one, which means you can now have Batman and Tiger prints on your back. The mod also includes animals like kitties, pigs, and bunnies to choose from. So if you're looking for a new pattern for your kid's backpack or just want to troll parents everywhere – this is it. Feel free to have a closer look at it on this page.
You can check out the coolest toddler clothes for the Sims 4 here.
The Sims 4 – Teen Backpack CC
With over 20 different design options, the Teen Backpack from the Sims 4 has something for everyone. If you're feeling creative with your overall teen sim's outfits and would like an accessory that includes some unique details and patterns, then be sure to take a look at this pack.
Inspired by trends and styles, Teen Backpack in The Sims 4 includes several patterns in one pack for endless style combinations for your Sim. You can even share what you make with us to show off how your outfit turned out. To install these backpacks in your game, click here.
DS Basic sims 4 Backpacks for Hand
The Sims 4 cc community has also expanded their backpacks to include multiple cultures and patterns. It is important to consider the different types of characters who will be wearing these backpacks as well, like traditional school backpack brands for boys versus girls, cooler more gender-neutral straps for both genders, or even the balloon strap for kids who want a playful feel. This one is more of a basic backpack that is designed for hand.
With over ten colors to choose from that are in plaid patterns, this is a must-have bag. It comes in two versions: left and right. You should check it out from this page.
louis vuitton palm springs backpack for pets
We bet you are going to fall in love with this one. The Sims 4 is an open world game in which players create simulated people and test their skills in various activities like cooking, practicing law, and creating a rock band. With this game, players can simulate the world around them in ways that are too expensive or unrealistic for real life.
And now you can bring your pet into the mix. You could get this Louis vuitton backpack for pets to make sure your pet stays fancy and comfortable as they walk around town. It has a luxurious leather exterior that is available in a number of swatches. What are you waiting for? Check it out here.
VIGILANT sims 4 Backpacks 
The VIGILANT backpack is designed with a classic military design, with a tactical look. The idea behind the VIGILANT is to give your sims different looks without you having to physically change their clothes every day or have them dress up for work. It's an innovative way to add variety when it comes to clothes and outfits, as well as an easy way for players to switch between different looks.
It is available for both feminine and masculine frames. And it comes in 3 shiny swatches. You could find this one under rings. It would look great with tactical-inspired clothing items like bomber jackets, trench coats, and cold-weather gear. In other words, it's perfect for any situation where you need a new outfit fast and are looking for an untraditional outfit. Check it out here.
We recommend checking out similar ear pieces for your sims by visiting this post.
sims 4 Backpacks TOKEN BACKPACK RECOLOR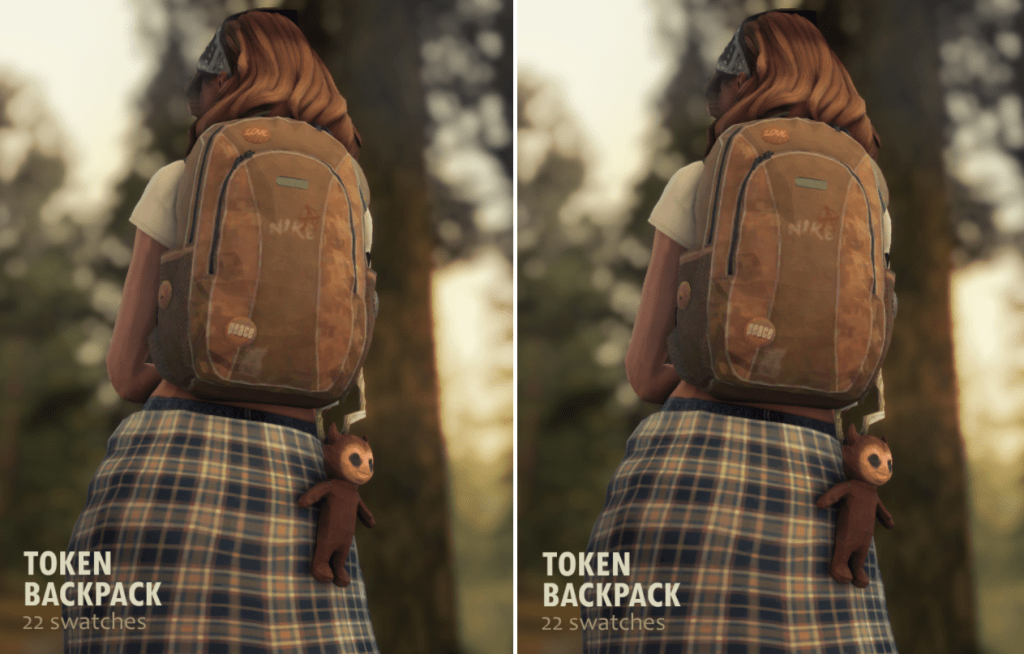 As for this back, it is a simple item that can be used as an ordinary backpack or as a reminder that life is simple. It doesn't matter what your sim's profession or life situation is, they will always find a use for this backpack.
Sims should be able to wear any outfit they want, and this gives them that freedom. You don't need a lot of gear to enjoy life. So go ahead, take a minute and get lost in the great outdoors. Whether you're in the city or at the park, your Sims will look ready for adventure with this backpack recolor. Here's your download-link.
sims 4 Backpacks cat by karzalee
You can customize your Sims 4 character with this chunky backpack and help your kids grow their creativity. The creator StudioKCreation is creating a unique collection of backpacks for kids that are inspired by their favorite animal. There are at least 30 designs available to choose from, including ones that have eye cats and others with whimsical patterns and colors.
The creators of these backpacks design every detail and take into account the size and age of the child as well as their personality to create an item that is going to catch the eye of any little one. These backpacks come in way too many colors, so be prepared for some serious styling. Head over to this post to install.
One way you can change up your character is by adding a backpack to them. You have many different options for what kinds of backpacks you want them to carry – from frilly princess ones that are perfect for date nights, to ones that are more rugged with pockets and straps.
This article was a list of some of the best Sims 4 backpack custom content for your sims. One of the best things about this game is that it can be customized to a variety of settings and players. So why not add some custom content to your game?
There are also many different ways you can change up your Sims' appearances, including changing their hair, clothing, and even their houses. So, make sure to check out related content by visiting the links below. Enjoy!
Related Content