Some say it's fashionable, others say it's comfortable, but regardless of what team your in, everyone likes an oversized shirt every now and then. To make sure your Sims enjoy them as much as you, we've compiled over two dozen of the coolest oversized shirts for The Sims 4! Pick your favorites to start rocking this style today.
Table of Contents
Sims 4 Oversized Sweaters Male
Oversized Male Shirts
Gorillax3's oversized shirts pack combines classic plaid designs with a laid-back style. Download it here to get your Sims to look elegant and trendy at the same time.
Oversized T-Shirt with Hanging Sunglasses
Casual but cool, this t-shirt is a summer hit! Download these colorful styles are nicely complemented by the hanging sunglasses here at Gorillax3. More glasses for your sims are listed in this post.
H.A. Oversized Shirt
Sometimes just being oversized doesn't cut it. For the discerning Sims, add a twist to the fashion with this high fashion shirt by mauvemorn! Download it here.
Oversized Sims 4 Hoodie T-Shirt
A twist loved by 42000 street fashion fans, this FILL sleeveless hoodie shirt by Helsoseira comes with 5 versions including plain and print ones. Download it now at The Sims Resource!
Louis Tomlinson Nineteen Oversized Shirts Set
Teenage heartthrob Louis Tomlison has made a name for himself as a solo artist after leaving One Direction, and developed his own iconic fashion style since. Thanks to Jannibun, your Sims can also sport Louis' signature oversized shirts! With 22000 downloads, this look is available at The Sims Resource.
Sims 4 Boho Oversized Shirt Recolor
Vintage wear is in a league of its own. Birba32 has created a gorgeous collection of men's Boho shirts, for discerning Sims. Fit for both fashionistas with a penchant for nostalgia and hippies, this pack can be downloaded at The Sims Resource, where it has made it to the game of 18000 players!
Oversized Male Sweatshirts
Cherish rainy days, for they are perfect to wear Bazlou's elegant oversized sweatshirts! This item is available in five styles, each bringing unique print and trim combinations. You can download it at The Sims Resource, where it has 14000 hits!
Oversized Sleeveless T-Shirt
Color blocks are more fashionable than ever now, so there is no better time to install Oranostr's oversized sleeveless shirt. This item has 6000 downloads at The Sims Resource, and is particularly suited for skater and alternative Sims.
Sims 4 Oversized Sweaters Female
Oversized Female Sims 4 T-Shirt
Black lily's oversized t-shirts add a classic American feel to this staple look. With 28000 downloads and counting, these outfits are the perfect way to rep a timeless fashion. Download it at The Sims Resource.
Oversized Shirt Dress
What could be better than a long button-up shirt dress with a mix of plaid patterns and five colors to pick from? Helsoseira created this adorable option that's a perfect addition to fashionable Sims. Join 27000 other players by downloading it at The Sims Resource!
Oversized Shirt Female
mauvemorn didn't forget the ladies either! The same style as before is available in a more flowing design with a solid color base, and you can find it here.
Oversized Classic Shirt
This catwalk item by mauvemorn is the perfect oversized shirt to elevate your Sims' looks. The soft green tones, stripes and choker combine for an effortlessly high fashion look, which you can download here.
Oversized Print T-Shirt Dress
Whether you've had a long day or just want some 'me' time, Trillyke's back is the perfect way to lounge without sacrificing style. These twelve shirts inspired by Gucci designs can be found at The Sims Resource, where they've been downloaded a stunning 138000 times!
Female Sims 4 Illusion Oversized T-Shirt
Oversized t-shirts can double as great casual dresses, and Trillyke's illusion pack distills the concept to perfection. With over 112000 downloads, it comes with 40 meshes and can be worn with pants or as standalone items. Download this stylish and versatile collection at The Sims Resource!
Hot See-Through Oversized T-Shirt
Are your Sims up for a modern look? Helsoseira's gorgeous fishnet t-shirt comes with a top and shorts underneath, with 7 variations for a trendy goth vibe straight out of Harajuku. You can download this one piece at The Sims Resource, where it has passed 105000 downloads!
YUNI Oversized Sweatshirt
With 105000 downloads to date, Helsoseira's Yuni pack injects the latest Korean fashion straight into The Sims. The 15 varieties included are great for varying while staying cool! You can download it at The Sims Resource
Super Long Sleeves Female Shirts
Both adorable and trendy, extra long sleeves are in fashion again. Helsoseira has designed a beautiful pack with 11 swatches with different t-shirt brints and sleeve patterns, with 77000 downloads at The Sims Resource.
Moschino and More Oversized T-Shirt Dresses
For those craving a more classic take on the shirt dress, Sims2fanbg delivers 14 varieties of this look, with prints inspired by different pop culture and fashion elements. Over 50000 users have downloaded this pack, which you can find at The Sims Resource.
Oversized T-Shirts with Prints (e.g. Mona Lisa)
Youthful with a touch of vintage – there's no better way to describe Descargas Sims' incredible oversized shirts. This item is available in a dozen versions, each printed with cool graphics or pop culture references that keep it effortlessly stylish. Join 12000 others who have downloaded it from The Sims Resource!
Trillyke's Oversized T-Shirt Dress SHINee Recolor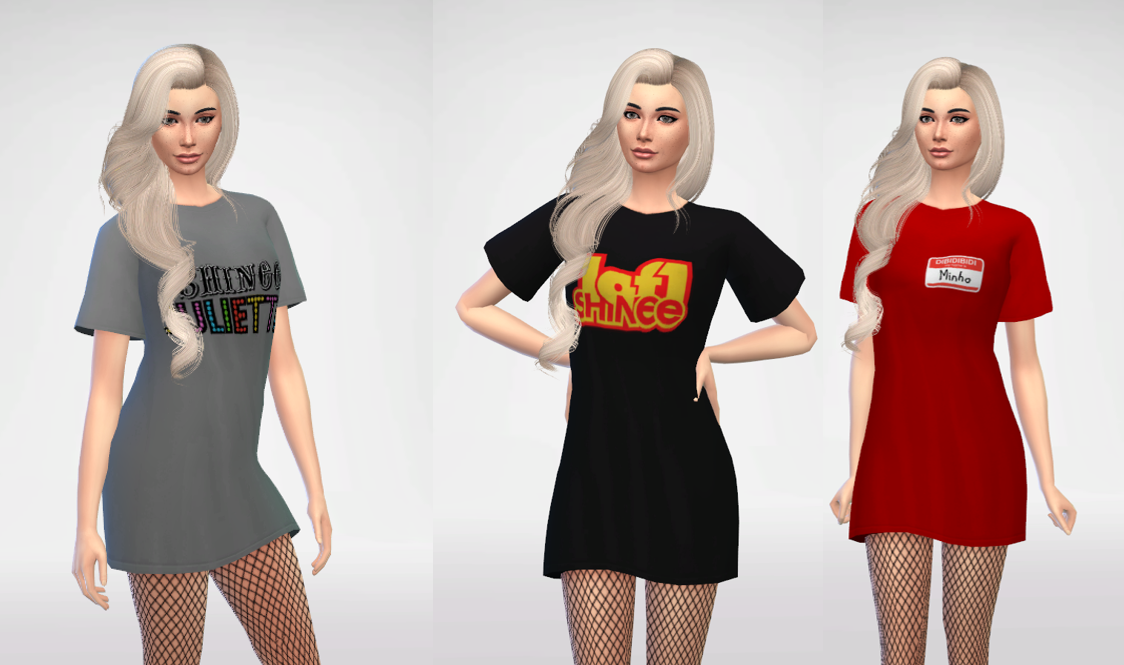 With 10000 downloads at The Sims Resource, Babybubblesim's recolor of Trillyke's oversized t-shirt dress adds even more fresh options to an already great pack. Click here to download and let your Sims share your SHINee passion!
Sims 4 Shirts Toddlers
Toddler Shirt
Kids love Hello Kitty, and thanks to Kardofe they can enjoy their favourite cute cat in game too! This recolor adds an adorable layer to the classic oversized sweatshirt, and can be found at The Sims Resource, where it has garnered 4000 downloads so far.
More Shirts and Clothes for The Sims 4
More shirts are listed in this post. The main post with all the awesome custom clothes for The Sims 4 can be found via this link.