Are you a fan of flower crowns? There are very few hair details that can transform a hairstyle into something magical as much as flower crown CC can. If flowers in your hair are something you are up for, keep reading to find the most stunning floral hair details for Sims 4!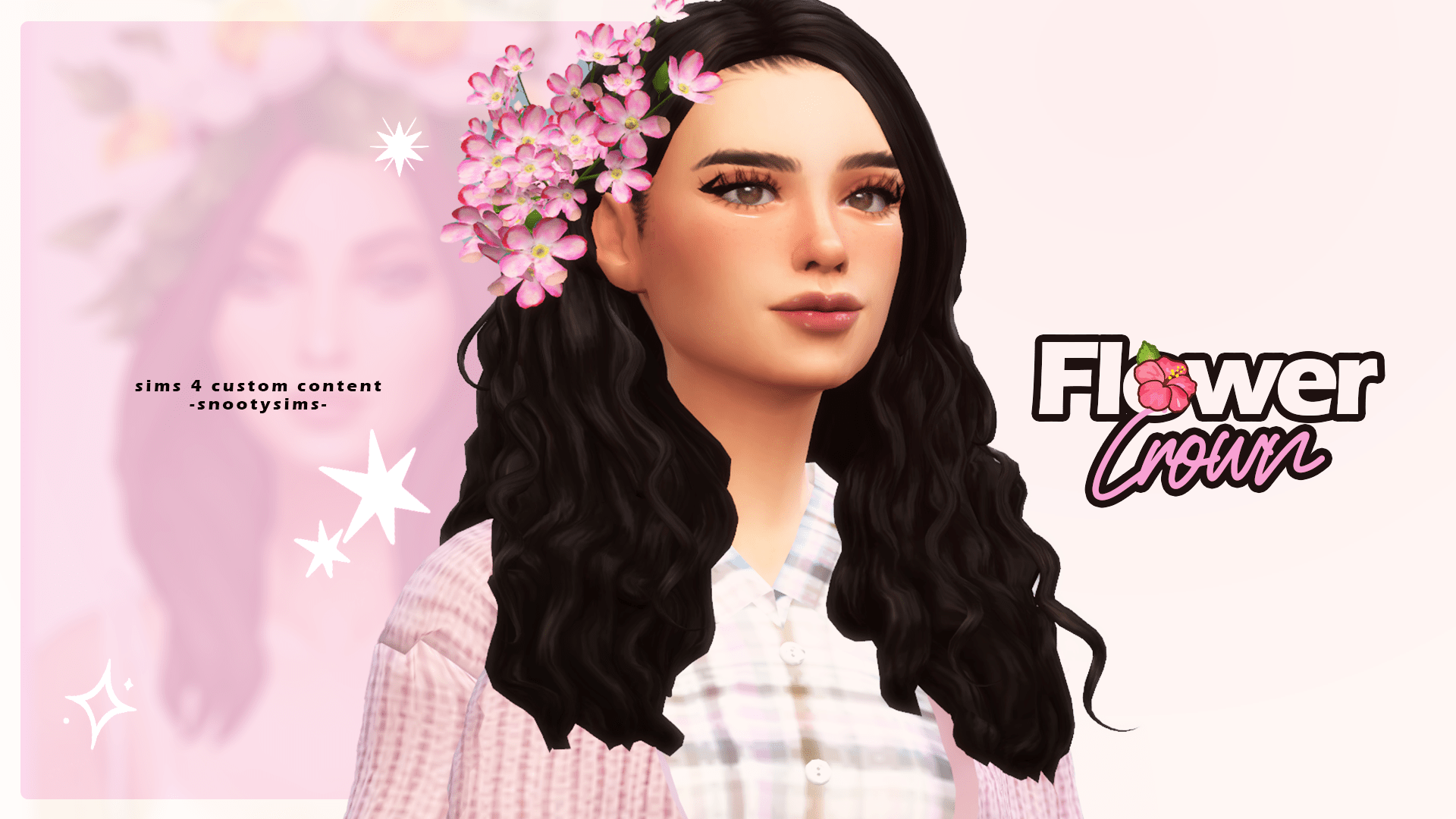 sims 4 flower crown cC: for Adults, Kids, Toddlers, and Pets!
The Sims 4 allows us to create diverse looks by mixing favorite hairstyles with hats. While we get surprised with new details with every game update, somehow, we can't get enough hair accessories. This is why custom content is always welcome to enrich our experience in the CAS mode.
One of the ways to spice any hairstyle up is to wear a classic flower crown CC. If you are creating a free-spirited, dreamy, mystical Sims, then floral details are definitely the way to go.
To help with your selection of CC and save your time, we have set up a list of the best floral crowns for Sims of all ages, including pets. Let's go!
Feel free to check out more accessories for your Sims by visiting the links below!
1. "Connie's Flowers" unisex flower crown
This flower crown brings Woodstock and the late 60's era to your favorite game. Unisex, and suitable for all Sims, from teens to elders, this piece will make your Sims feel like they're in one of Lana Del Rey's videos. The flower design comes in 14 colors and goes with Connie Hair, a wavy short bob that matches your Sims' lust for life. Bring hippie era back and get this CC here.
If you love natural hair and feel a connection to nature, try out these stunning Dreads Hairstyles!
2. s-club floral wedding headwear
Lovely flowers in hair don't have to be big to be noticeable. This sophisticated flower crown comes in three colors and looks hyper-realistic due to its fine texture and shades. It will give your Sims almost an elven, magical look, and is a perfect fit for weddings and special occasions. Your Sims ladies have never looked this dreamy. Get this elegant detail for your Sims ladies here.
3. "Queen of Summer" Succulent Crown
This amazing succulent gown is a unisex hair decoration that needs to become part of your hat and hairpieces collection. The crown includes 10 swatches, including shades of blues, greens, and purples. If you'll love to try out these details from flower crown cc collection, go here.
4. unisex flower crown for toddlers
Thanks to this gorgeous design, toddlers can enjoy looking pretty in flower crown CC, too. These are converted from adult hairpieces to fit the little ones perfectly. Not only can you choose from 65 different colors, but you can also add it to boys' wardrobes, as this is a unisex piece! Give your boys and girls a chance to celebrate Gaia, and get them this crown here.
5. festival girl by Moongalaxysims
Dance with flowers in your hair like nobody is watching, and get a delicate, fashionable floral crown like this to enrich your Sims 4 outfits. These flowers look like they are handpicked. You can get these flowers as part of a whole festival look, including the hair and makeup. Get this Coachella flower crown CC for free here!
6. punani hair with floral details by feralPodles
Flowers in your hair have never looked more romantic! This set of floral designs is a perfect fit for the buns they come with. The whole hairstyle is romantic, classic, yet modern. Your Sims will look effortlessly good, and there are 14 color variants to opt from, 5 of which are ombre, and look impressively realistic. To get this cute hairdo with flowers in hair, go here.
If flower arrangement appeals to you, try out this MOD that will unlock that action for you!
7. Folklore flower crown brenna
Now your Sims can look like a goddess from Eastern European folklore, thanks to this mesmerizing hair accessory inspired by old myths and traditions. Coming in 62 colors for flowers and 60 for leaves, this flower crown CC gives you space to really get creative and play with design. The crown is suitable for adults, both male and female Sims. Get this majestic flower crown here.
8. sunflower headband for toddlers
Celebrate summer with your Sims 4 toddlers, and surprise them with this super cute floral hair accessory! Ideal for any occasion, such detail will always make them feel special. You can even let them pick their favorite color, as the CC includes 10 creative options to try out. If you fell in love with it, this girly flower crown CC is available here.
9. "sibel" rolled updo with floral headband
Vintage has never looked better. This set of hairstyles and hair accessories will make your Sims look timelessly good. Although it comes with a loose bun updo, you can also use it separately, as it blends superbly with most styles in the CAS panel. With these bright flowers in their hair, your Sims ladies will look like classic beauties from old movies. To get feminine bun with flowers from this stunning flower crown cc collection, go here.
10. "emotional hair" flower crown by candysims4
Get ready to pose, as these flower crown CC details are photo-shoot ready. Your Sims can choose to be a "Roses in Bloom" queen and select one of the 15 rose shaded. Or, they can opt for other unique floral styles, which are available in 10 different styles. Just imagine how gorgeous these look with silky dresses or even a later jacket! If you are inspired to make your Sims look this beautiful, get these crowns here.
11. island living flower crown by moonflowersims
If you would like to experiment with big, bold flowers, this look is an absolute must-have. If Island Living options didn't offer enough variety, this CC has your back, as it comes with more than 50 quality recolor options.Your Sims will turn into a Hawaiian nymph in an instant. This summer flower crown CC is available for download here.
12. cute flower crown for pets by NolanSims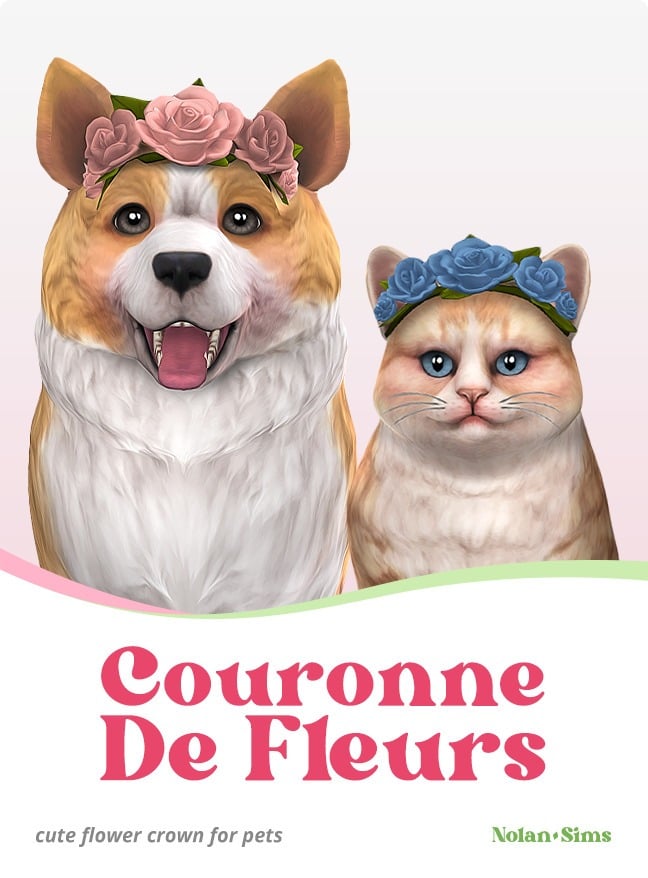 Let's not forget the most important members of the Sims household – pets. These furry pals can also enjoy looking pretty, thanks to these flower crown CC details made just for them! The crown is suitable for both cats and dogs, so no one feels excluded. You can even customize the look and change the coloring. Style your pets like this and get the CC on this page!
If you love pet accessories for Sims 4, check out these fun Sims 4 Dog CC!
13. "maya" unisex flower crown
Equip your humans, mermaids, vampires, and aliens with a gorgeous flower crown they deserve. This unisex hair accessory is reserved for adult Sims only and can be blended with any hairstyle compatible with hats. Plus, you can experiment with 55 shade options. Crown all your adult Sims with this flower crown CC and get it from here.
14. ersch elven set
These flower details are otherworldly. The set includes not only a unique flower crown, but also matching gemstone jewelry, including a necklace, a ring, and earrings. The combination is perfect for creating mystical characters who love the ethereal and metaphysical. You can download this stunning crown with additional details here.
15. unisex flower headband
Sims kids can now jump for joy, as they can join adult Sims in wearing cute hair accessories! This peculiar headband comes in two main variants – with cute lace ears, and without. This is HQ custom content suitable for both boys and girls, and comes with a few color options, just to make everyone feel extra special. The same look is available for adult characters. Browse this flower crown CC on this page.
16. nymph floral crown by roseSims
This flower crown CC can transform even the shyest Sims into a gorgeous garden nymph. Flowers in the hair are more than just an accessory. There are 15 styles you can try, and besides flowers, you can also opt for a green vine crown, which is hard to find. Charm everyone and get this dreamlike crown here.
17. Orange blossom wedding wreath
Just like our ancestors, our Sims can now get wed with romantic flower detail on the bridal veil. Although it looks historical, this look can easily be transformed into something modern and chic with the right wedding gown. The flower crown CC wreath comes in two styles, and includes a veil. If you'd like to try it out, check out this page.
18. "eva set" hair and flower crown
A gorgeous hairstyle like this will make your Sims ladies feel like real Disney princesses. This floral crown CC comes with a long, low-rise ponytail. It has 9 swatches, and you'll be amazed how detailed and textured it looks on your girls. Both the hair and the floral accessories are base game compatible, so you'll have fun even without expansion packs installed! To get this charming look, go here.
conclusion
The list you had a chance to take a peek at was our selection of the dreamiest flower crown CC accessories you can find online. We tried to include different styles and added looks that suit Sims of all ages, from toddlers to elders. We have incorporated looks that are a match for supernatural creatures like mermaids and vampires, and even added some chic accessories for pets to complete the list. We hope you enjoyed Simming with us!
related content