What we love about The Sims 4 Cats and Dogs Expansion Pack is that we get to customize the looks of our sim cats and dogs! Dressing up our little fur friends is one of our favorite things to do in the game. This is why we became so happy to discover that there are many dog cc packs on the internet! In this post, we will be highlighting some of our favorite Sims 4 Dog CC packs that you can download for free!
Sims 4 Dog CC: Clothing, Dog Houses, Toys and More!
Even though the Sims 4 Cats and Dogs pack offers dog clothing, food bowls, and toys it will never be enough for the dog-loving simmers out there! And, yes we belong to that category, as we are sure everyone reading this article does too. In the latest years, CC creators have began to create custom content focused on our sim fur babies, and we could honeslty cry about it. That is how happy it makes us.
One of our all-time favourite things to do in the game is to take care of our doggos by dressing them in cute outfits and providing them with quality toys. And, with the constant addition of adorable Dog CC we get to do that even more!
Now get ready to be blown away, and have your heart melt over these stinking cute dog cc packs. But before we begin, make sure to leave these creators some nice comments after you download their packs. They more than deserve it. Okay, now let's go!
1. River Bandana – SIMSIECAKES
If you have been looking for some quality, yet adorable bandanas for your sim dogs, then look no further! SIMSIECAKES got your back with this River Bandana Pack! When dressing your sim dogs up with this cute bandana you will not have any trouble finding your style. We guarantee you will be happy with this wholesome pack, as the bandana comes in 20 different swatches!
Though the pack requires that you have The Sims 4 Cats And Dogs pack installed, and only works for small dogs, it is still worth the download. Just look at how adorable this little bandana is! So, if you want to dress your little sim dogs up in some wholesome bandanas. Go download this pack now!
2. Pastel Shirt – ZILBERPLAYS
Calling all pastel lovers! This is the perfect dog CC for you. May we present the Pastel Shirt created by ZILBERPLAYS. It comes in 8 different pastel colors, and looks adorable! Though this short can only be worn by big dogs, it is worth the download! And, as with all the other CC we mention in this post, you will of course need the Sims 4 Cats and Dogs to make use of this pack.
But, we are sure you already know that, otherwise what are you doing here reading this? Go purchase the Sims 4 Cats and Dogs first! Anyways, if you want to dress your big dogs in your favorite pastel colors, give this cc pack a download here!
3. Teddy Bear Small Dog Recolor – Sims 4 Dog CC
Let's return to the small doggos for a moment. Look at how cute this Teddy Bear dog suit is! Seriously, we cannot stop staring at it. Imagine your sim dogs running around in this! The image is so wholesome and adorable that we might cry. Who would not want this cute little teddy bear suit for their little sim dogs?
We are convinced the answer is no one. Anyway, this adorable little suit comes in 30 different swatches, so you have lots of options when it comes to dressing your favorite fur friends! Lastly, it is created by the talented FABIENNE, and you can download it here!
4. Fancy Pet House- SIMTOGRAPHIES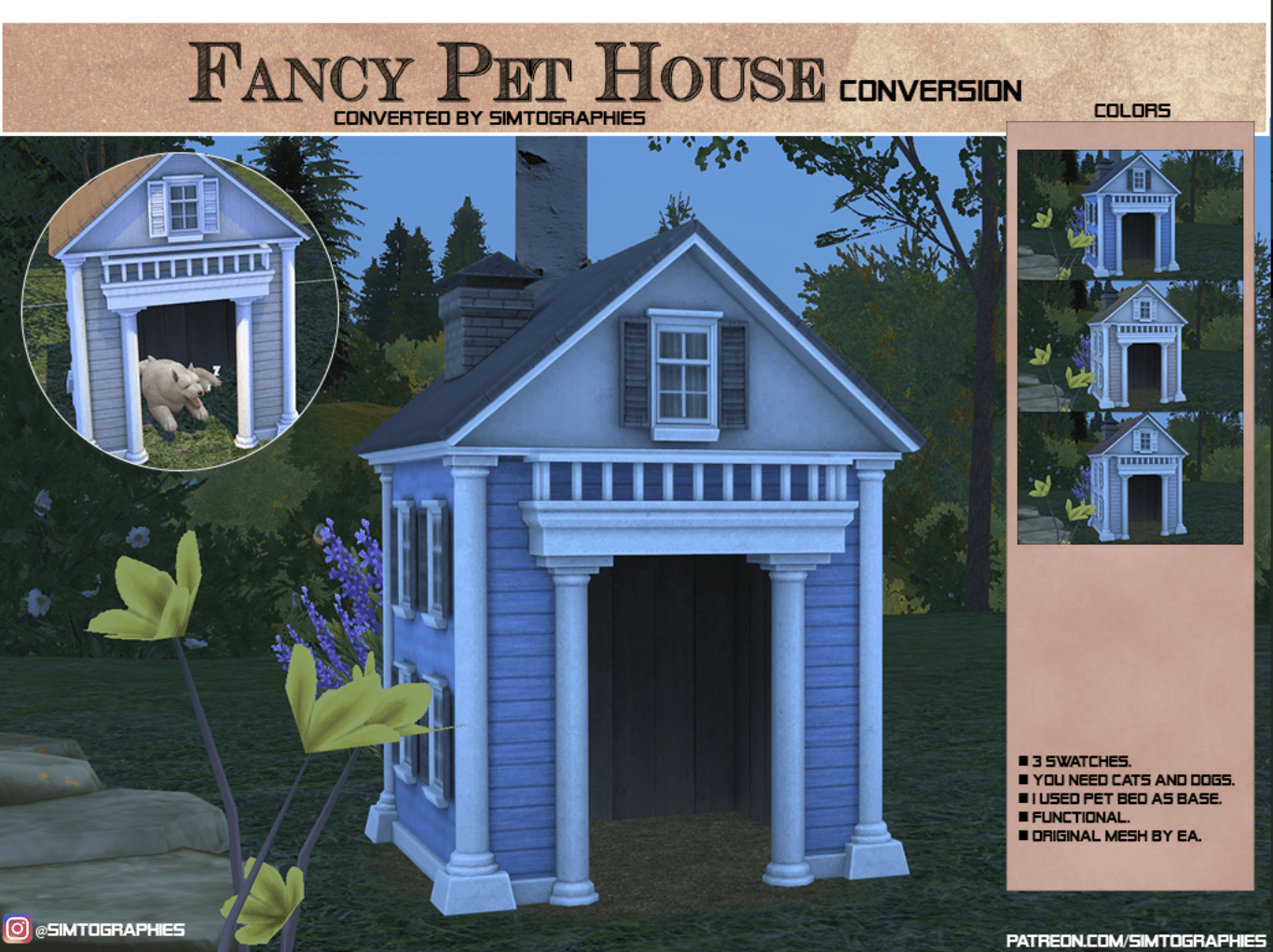 Have you ever played with an upper-class household, and wished the Sims 4 Cats and Dogs offered some fitting dog houses? You know, the kind that would suit that rich Sea Side, Hampton vibe. If the answer is yes, you have come to the right place. Just look at this incredible dog house created by SIMTOGRAPHIES! The CC pack is called "Fancy Pet House", and we could not agree more with the name.
Have you ever seen a more fancy pet house? We sure have not. Anyway, this incredible-looking dog house comes in 3 different swatches, with original mesh by EA. And, yes it is functional and has the same features like a pet bed. There is no reason to not have it in your sims home and enjoy a better gameplay. So, go install now!
5. Pets Seasons package – THEKALINO
Okay, this pet collection comes with so many items we might need a minute to go through it. Created by THEKALINO, the Pets Seasons Package comes with hats, sunglasses, scarfs, and caps for all pets. Followed by, 3 new shoes for all pets, a beach bed, 2 new outfits for small and large dogs, as well as 1 new outfit for cats.
Yes, that was everything, and it is indeed a lot! Being an animal lover myself, I'm absolutely in love with this pack, and cannot wait to see my little doggos walk around with shoes, hats, and sunglasses on! And, if you are just as excited as me, head on over to THEKALINO and install this amazing pack!
6. Small Dog Dress – Sims 4 Dog CC
If you are anything like us, your heart will completely melt over this wholesome small dog dress… Just look at it! STUDIOKCREATION goes in for the win with this adorable CC pack, which includes not just one but 2 small dog dresses! You read that right, it includes 2 pieces! The first dress covers the entire stomach area of small sim dogs, and comes in 14 different swatches! All of which are vibrant and cute.
But, if you thought 14 swatches were impressive, think again, because the second small dog dress, as seen in the image above, comes in 30 colorful swatches! This means you will have no problem finding a swatch that suits your unique style. So, get your small doggos dressed now, and download this adorable pack here!
7. Color Pet Food Bowl + Simlish Names – PINO
Are you as tired of the basic pet food bowls that came with the Sims 4 Cats and Dogs as we are? If the answer is yes, then worry no more, because brilliant CC creator PINO got your back.
With the Color Pet Food Bowl plus Simlish Names pack you get the basic pet food bowl recolored to 10 wonderful swatches.
Including an option to have a simlish name on the bowls! We love this concept so much that we kind of… for the first time, do not know what to say. So, to keep it short and sweet… If you love this pet food bowl revamp as much as we, get to downloading it now!
If you love kittens, have a look at these cat ears CC packs.
8. Couronne De Fleurs – NOLANSIMS
Now, this is the perfect dog accessory for your hippie sim family. With these cute flower crowns, that fit sim dogs and cats of all sizes, your game will be filled with peace and love! Yes, we said that, because we feel the vibes, okay? Anyway, this fun little pet flower crown is created by NOLANSIMS, and will simply light up your game as soon as you install it!
Is there more to say about it? We can all agree it is beautiful right? Well, then let's just skip ahead to installing it to our games then, shall we? Great! You can download this stunning creation here!
9. Emoji Ball – KLIEKIE Sims 4 Dog CC
And, when we thought this dog CC could not become any cuter, KLIEKIE went ahead to prove the opposite. Look at these cute emoji balls? Yes, we can now have our sim doggos play with all types of emojis, and we are stoked about it! So, whatever emotions your dogs may be feeling, allow them to let it all out with a fitting emoji toy ball! Just imagine your sim dogs running around with the happy emoji ball as they are in a happy mood.
CUTE! Yes, of course, the Sims 4 Cats and Dogs pack is required for this to work, but we believe you got that by now. Lastly, we just wanted to mention that there are 27 different swatches for this ball. Meaning your dogs can play with 27 different emoji balls. Yes, 27…So, stop wasting time and go install this pack into your mods folder!
10. Better Pet Bed – CORASCREATIONS
We believe simmers everywhere will agree that the Sims 4 Cats and Dogs pet beds are, well, not the best. They are simply annoying at times. Or, maybe inconvenient is the best word? Either they are too small, or they are too big. And they generally just fit one specific style, which is not very versatile in our opinion.
However, luckily for us, we can now get some new dog beds to our game thanks to the Better Pet Bed pack. Created by CORASCREATIONS, this new pet bed is more versatile and comes in many great swatches, as seen in the image above! So, if you, like all of us, want to add a more versatile dog bed to your game… Go and install this pack here!
Conclusion
Now, our intention with this article was to show you that there are many great Sims 4 dog mod packs out there by many different modders. This post just featured some of our favorites among them. Now, tag your fellow dog-loving simmers in the comments, and lets us know what your favorite dog cc pack is! Ours is the emoji ball pack by KLIEKIE!