More Plants for The Sims 4
We don't know any Simmer that has passed on a single opportunity to put a decoration plant! The plants are the things that pretty up our households, freshen up the looks of it and give a certain ambience. The Sims 4 mods and CC community is rich on this topic and some of its gems deserve our spotlight. Here they are, the best sims 4 plants mods!
If you are hungry for more furniture mods, check this post.
The Best Plants Mods and CC for The Sims 4
Tropical Areca Palm In A Pot
We start this journey off with a beautifully realized idea by Nynaevedesign. She has created a game version of the real life Areca Palm plant, which comes from the tropical regions. Her CC comes in 4 color options and it's loved by the community – over 400,000 downloads at The Sims Resource. Head over there through this direct link.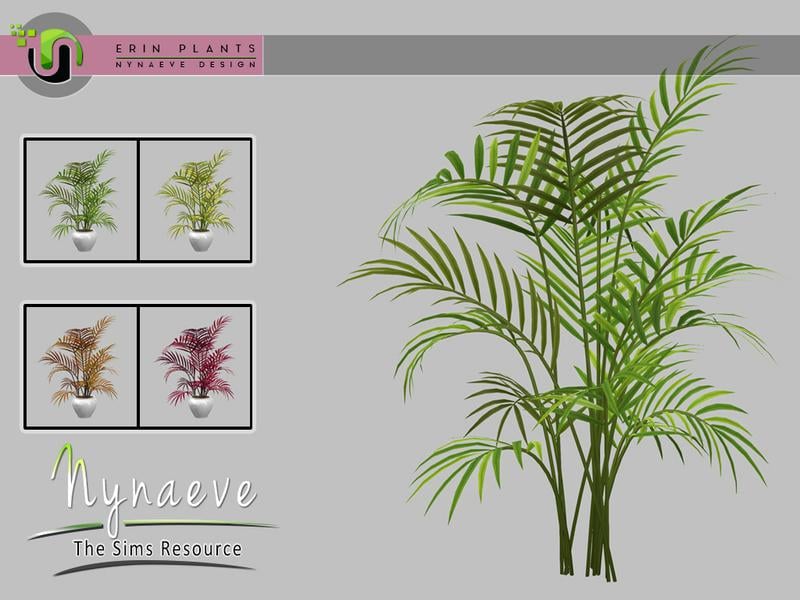 Cute Banana Plant In A Pot
One more fantastic addition by Nynaevedesign is her banana plant creation. For us, a household can only be complete if it contains at least of one copy of this wonderful CC. It only takes 1×1 tiles space but it's powerful enough to give a new vitality to your home. It's available for download at The Sims Resource too.
Calligraphik Small And Gentle Plant – B
If you're missing some small plants, have a look at this one! It requires the tiniest of spaces, yet adds a freshness and class to the whole room. In our honest opinions, it's perfect for an office or a work room, but you can use your imagination and find it a better spot! Download it quickly from here.
Beautiful Croton Sims 4 Plant
Croton Plants are known for their mesmerizing color play as they age. Nynaevedesign has perfectly captured that detail, giving our Sims the option to take care of this beautiful plant. If you're interested, you can download it from The Sims Resource and give it a try.
Exotic Dieffenbachia Plant
Dieffenbachia is one of those exotic plants that every home needs to have it. The strong leaves are terrific for decorating large rooms or halls and they'll remain beautiful through its lifespan; in green, yellow or red version. For a quick download, use our direct link.
Erin Minimalist Flowerpot – 1
Flowerpots play the second most important role when decorating with plants. For that reason, here we've given you a modern and minimalistic choice, something that could go very well with a brand new household. Download it now and fit it wherever you like!
Erin Elegant Flowerpot – 2
Here is another elegant pot in 2 soft colors and 4 variants. It goes super well with modernized interiors and because it takes only 1×1 tiles space, you can put it almost anywhere: living rooms, bathrooms, basements… Visit The Sims Resource for a download or use this shortcut.
Erin Modern Flowerpot – 3
Another popular flowerpot by Nynaevedesign is here, but this one has more of a round top and a narrower base. You can find it complementary to many different places, but we love to use it on our front porches. To get it for yourself, click here.
Erin Delicate Flowerpot – 4
For the most delicate of flowers – here we have this adorable pot. No matter which design you choose for your home, we promise you that it will show up absolutely pretty inside the game! Our favorite is the wooden one, what's yours? You can download the CC from here.
Round Glass Flower Vase for your Sims 4 plants
Every table in every home deserves a beautiful vase and some beautiful flowers in it! Such is the case here, with these tender green leaves in this round glass vase. The CC comes in 4 variants, all designed to give off friendly and homey vibes. And if you want to possess it, follow this link.
IKEA Bladet 3 Plant Pots With 1 Tray
If you're one of those Simmers that likes to stick close to reality and real life stuff in The Sims 4 – you're going to love this item! It can be found in IKEA stores and it's owned by many homes throughout the world. It's cute and fun way to keep your plants. Visit veranka-s4cc.tumblr.com for more info or take this link to make a quick download.
KiKi Pack Of 4 Different Sims 4 Plants
We all know that you can never have enough sims 4 plants mods in your collection, so here are some more. This pack contains 4 lovely trees, shrubs and flowers that you can scatter throughout your home. We love the Sunrose one, but the rest are absolutely marvelous too! Get them all at this site.
Nature In – Living Green Wall 1×1
If you're constructing a household that is green, nature friendly and garden styled – then you'll definitely need this addition! The ability to put green plants on the walls is something we can't really play without, so we recommend it a lot! Thanks to SIMcredible! who created the CC and made it available for download here.
Nature In – Living Green Wall 2×1
And to save you some time, here we provided the larger version of the previous CC. Now you can cover more walls with these refreshing green leaves way faster! The official source of both is The Sims Resource, but to quickly download this one, use this direct link.
Interesting Neodymium Sims 4 Plant
Here is one of the most popular plant CC for The Sims 4 and we can't help but tell you why we like it so much! This Sims 4 plant mod doesn't take a large space and it's always surprising how well it suits the new home. The plant is interesting and gentle and it can be yours if you download it from here.
Heart Of Nature Sansevieria Plant
We're all for exotic and unfamiliar plants to be more present in The Sims 4! The Sansevieria is a flowering herb that is able to bring the heart of the wild nature into your home! And with this in-game replica that looks exactly the same as the real life plant, you can do just that! Download the sims 4 plant mod directly from this page.
Green Vine Plant In A Pot
And we end this long, but vital list with a lovely vine that flows down from a pot! There is no end to the walls it can decorate and freshen up with its sensitive green body, so we leave it for you to discover that. Already extremely popular – over 400,000 downloads from Simmers around the world, you can get it for yourself at The Sims Resource. All the mods are waiting for you there, so don't hesitate too much! Go!