Are you a 90s kid or simply a fan of the 90s? Well, if you answered yes to either of those questions, then this article on the top 90s CC for the Sims 4 is something you definitely want to check out!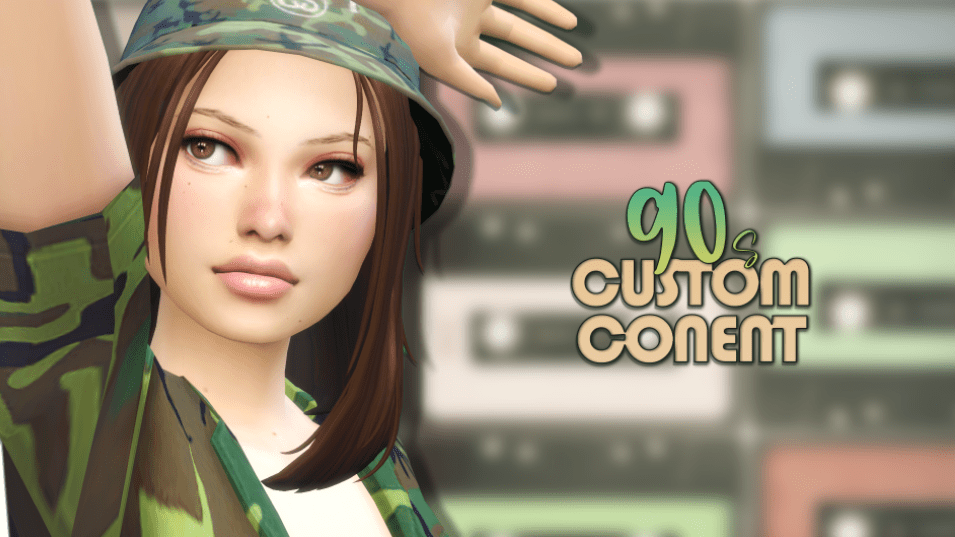 Bring Back the 90s with These Custom Content for Sims 4!
The 1990s brought us some iconic outfits, hairstyles, and décor. Some of it is still popular today while other items have faded into obscurity. In The Sims 4, you have tons of 90s custom content to choose from and download for your game. It will be like the 90s never ended for you and your Sims!
We've narrowed down the best 90s Sims 4 custom content narrowed down to 10+ for you to download. These are the best of the best! Go on and find out which 90s outfits and items are (as people said in the 90s) dope and da bomb!
1. Scrunchies
If you had long to medium-length hair in the 90s, the best way to pull it back was with a trusty scrunchie. It could be in pigtails, a full ponytail, or half up and half down. Doesn't matter what your choice was. The point is scrunchies were super easy to use and if they broke, you could just buy another! Give your sims this fun hair accessory by downloading it here!
2. Corduroy Suit
A popular type of suit available for working women in the 90s was the corduroy suit. While just the mere thought of it might make you instantly start sweating, these suits were quite distinguished. They made people pay attention to you before and after you entered the room. Click here to help your lady sims look like a girl boss straight out of the 90s. If your sim is in the business career, even better!
3. 90s cC Choker
This sims pack comes with a hairstyle in 18 different colors as well as bobby pins, but in our opinion, this isn't the shining part about this custom content from Luumia Sims. The most iconic part is the simple, black choker. Sure, it is only one item and comes with 1 swatch, but chokers were a popular and easily accessible type of jewelry in the 90s. Click here to download.
4. Fanny Pack
Ah, the fanny pack. Say what you will about how silly the fanny pack looks, but they were extremely useful if you didn't feel like carrying a purse. They are even making a comeback today! In the 90s, everyone wore a fanny pack, whether they did so for fashion or because it was useful. If you want to download this infamous 90s fashion accessory, click here!
5. Butterfly Clips
Butterfly clips are pretty self-explanatory. They are hair clips in the shape of butterflies! This custom content pack from Juju Gaming gives you a chance to decorate your sim's hair with butterfly flips in a variety of different colors.
It also is bundled with a velvet dress CC outfit but let's be honest here. The best part is the butterfly clips. They are classic 90s fashion! Click here to download.
6. Acid-Washed Denim Jacket
The Acid Washed Denim Jacket in our number ten spot is a staple of 90s fashion, especially if you were in the grunge scene. You could wear it in jacket form that comes with full sleeves or as a sleeveless vest. Both were good options to wear.
This piece of custom content comes with the jacket that comes in 12 different swatches. With this item, your sim will look like they are ready to get their grunge on. To download the 90s acid jacket, click here.
7. 90s Poster Wall
If you know anything about the 90s, then you know posters were important. Every 90s kid had their wall covered in posters that ranged from music artists, cartoons/TV shows, sayings, and more. The 90s Wall Posters pack gives your sim a chance to plaster their own wall with some posters that were popular.

Some posters included in this pack are Daria, Tupac, Beavis and Butthead, The Simpsons, MTV, and more. Click here to download your copy now and spruce up your sim bedroom wall.
8. 90s CC Male Hairstyle
There were many iconic hairstyles in the 90s, and this includes men as well. The great thing about the 90s hairstyle pack by Wistful Castle is that it doesn't come with only one or two hair colors. It comes with a huge variety, giving your male sims (or female should that be what you prefer) a lot of different options.
To download this custom content, click here. Your sim will look good no matter what hairstyle you end up choosing for them.
9. Jelly Sandals
In the 90s, Jelly Sandals were all the rage. You aren't a true 90s kid if, at some point, you didn't own a pair of these colorful, fun sandals. They have recently made a comeback in our current year of 2022, so you still try them out if you haven't worn them before.
Sims aren't constrained by such time frames, thankfully. With the Jelly Sandal CC created by Victor Miguel, your sim can wear this popular footwear. It comes in a variety of different colors so there should be something that fits your fancy. Does this CC interest you? If so, then click here!
10. Hair Clips
What was one of the more popular hair accessories, besides scrunchies, was hair clips. Yes, hair clips. It sounds simple, but it was extremely popular in the 90s. Hair clips were all the rage, and you can give your sim some cute hair clips that come in a variety of colors.
Once your sim puts these in their hair, they will instantly feel like they have been transported back to the 90s. If you want to download this fun and colorful accessory pack, then click here.
11. Baggy Sweats
Next on our list are baggy sweats, which are still popular today in their own right, but in the 90s they were the height of fashion. Trust on this. So, throw on your baggy sweats and pair them with a crop top, tank top, or midriff top. It gives off a flirty yet sporty vibe, a perfect combination for those who are both tomboy and girly girls.
Want your sims to wear this ironic 90s fashion? Well, click here and download it right away!
12. Band T-shirt
Band t-shirts have always been a thing. They were popular in the 70s, 80s, 90s, and beyond but they were especially popular in the 1990s. They weren't just worn by rock fans but were popular with everyone and could be paired with about any outfit.
If you want to give your sim a Nirvana or Slipknot tank top to wear, click here to download it! You don't have to be a fan of either of these bands (or a male sim) to wear it. It's available for every sim.
13. Bucket Hats
While the name might sound a little strange, bucket hats are anything but strange. In fact, they are pretty useful! The Misfit Bucket Hat custom content pack lets you dress your sims in this popular type of headwear that came out in the 90s. There are tons of different designs and colors that you can choose from, so there really is something for everyone.
Click here to download this cc pack and give your sim a stylish piece of history for their head.
14. Doc Martens
Doc Martens are a popular type of footwear that was created in Wollaston, United Kingdom in the mid to late 1970s. In the 90s, these shoes were popular in the grunge fashion scene. Pair this with your acid wash jacket and you are ready to rock out.
The Doc Martens custom content pack has 10 swatches available for both male and female sims. Want your sim to wear a pair of these chunky, stylish shoes? Well, download it into your mods folder from here!
15. Ultimate 90s CC Pack
Finally, we reach our number one pack, which is actually a collection of some of the most popular 90s outfits to ever be created. This clothing collection has bright colors, quirky prints, and, of course, grunge-inspired fashion.
The creators say that these items can be mixed and matched so you will never run out of outfits for your sim to wear. Click here to download this outstanding 90s clothing pack, created by Sentate and Trillyke for their 2020 collaboration!
Final Thoughts
And there you have it, Sims fans! Here are the top 90s-inspired clothing and items packs that will make you feel you have stepped right back in time. These Sims 4 custom content packs will keep you occupied for hours to come.