Are you a Genshin Impact Fan? If yes, you know that both male and female characters have aesthetic outfits that are impossible to dislike. Now you can blend both of your favorite games and have your Sims dress like Genshin Impact characters. Keep reading to discover the best Sims 4 Genshin Impact cc there is.
Wouldn't it be cool to have a dragon as a pet? If you love fantasy, check out this Sims 4 Dragon Pet Mod!
sims 4 genshin impact cC: Female and male
There are plenty of custom content pieces available online, but we have prepared a list of the best Genshin Impact CC pieces for Sims 4. Some include details, while others include whole outfits so that you can replicate your favorite character.
To make things easier, we have also divided them into two segments – female and male Sims. Enjoy!
Female sims 4 genshin impact cC
1. Lumine by Lady-Moriel
If you love the dreamy look of Lumine, you'll enjoy rocking this Genshin Impact outfit! The CC includes authentic Lumine hair and the outfit with all the details. Any female character can wear it, no matter if they are a teen, an elderly, or anything in between. Every detail of it is texturized and ready for you to enjoy! To get this cc for yourself, go here.
2. Diona Genshin Impact Hair And Hat CC
Anyone who enjoys playing Diona will be smitten by this Sims 4 look. The pink hair is there and the cute Diona's side bangs are on fleek. The front hair tie and the fluffy kawaii ears are there, and so is the original greyish blue puffy hat! She may not be able to heal your Sims, but she will undoubtedly melt some hears in your neighborhood. To get yours for free, check out this page!
3. Beidou Hair by Diesims2412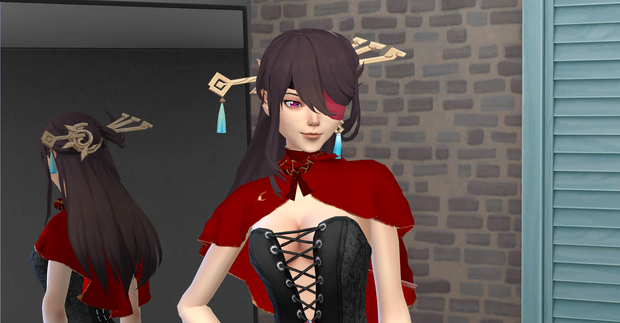 Looking for a Genshin Impact showstopping look for females that will make jaws drop? Look no further, as this Beidou hair is here to blow your mind. She is a brunette with a style and knows how to value a fine hairpiece and you can now look just like her in the Sims 4. The sidebang over the eye and the golden-blue hair decoration will give your Sims the mysterious allure no one can replicate. Check it out here!
4. Lisa Outfit by Mary Sims
Now you can dress like your favorite Genshin Impact witch and charm everyone in the neighborhood! Your Sims ladies can now enjoy the purple aesthetic of Lisa's full-body outfit, including the witch hat. You'll also get a chance to try out their luscious hair, with or without the hat. To get this look for your gameplay, go here.
Learn all you need to know about Sims 4 Magic Wands here.
5. Shenhe Genshin impact Hair and Earrings
Would you like to look like Shenhe? Well, now you can, thank so this awesome custom content for Sims 4 that will help you replicate her look. Sidebang looks effortless, and her hairpiece adds a dose of fantasy to it. You can wear it with different fantasy outfits of your choice or something simple, as this one is really easy to blend. Whatever you chose to match it with, your Sims lady will look authentic. You can find the Sims 4 Genshin Impact CC download for Shenhe here.
6. Jean Genshin Impact by Lady-Moriel
Beautiful Jean can now become your Sims 4 playable character, thanks to this hyper-detailed CC that replicates her look! This GI look includes the outfit she wears, her hairstyle, and a cloak to make the look complete. It is suitable for all Sims from teenagers to elders, so every lady can look like the stylish Jean. Get it for free on this page.
Want to look like an elf? Take a look at these top-shelf Sims 4 Elven Clothing pieces.
Male sims 4 genshin impact cC
1. The Sims 4 Tartaglia
How cool would it be to have Tartaglia in the Sims 4? Your favorite Hydro character can now look like an authentic Genshin Impact character and join other Sims in doing all the basic Sims stuff. Although this CC doesn't come with superpowers, you'll be able to nail the GI outfit, the hairdo, skin, and details. All details are included, so expect authentic Tartaglia accessories, too. If you'd like to get this one for your gameplay, go here.
2. Kaedehara Kazuha's Hair from GenshinSims
Kaedehara probably has some of the most iconic hairstyles in the game. Thanks to this incredible CC, you can look equally amazing while playing the Sims 4. The look with the orange tress is minimal, but effective if you love your characters to stand out. And the best part is? You can download the second version of this Naidoo that's applicable to female Sims, too! To get both, go to this page.
If you love Game of Thrones, get a real Iron Throne for Sims 4!
3. Xiao look by mary sims
This is probably one of the most realistic-looking Genhsin Impact CC pieces there are. The look includes a full Xiao outfit and matching hair so that you can completely recreate him in the Sims 4. The details such as the arm plate accessory, the spikey shoulder shield, and the head pouch bag are just astonishing. Even the eyes on the beast's head are periodically glowing for a super realistic effect! Check it out and get this Sims 4 Genshin Impact CC Xiao on this page.
4. Ayato by Natalia-Auditore
You can now look exactly like the leader of the Kamisato klan, thanks to this detailed Ayato CC. This hydro character is dressed like a boss. He is slaying it in the replica of Genshin Imapct's white smoking suit with purple and gold details. However, you can also pick two more color variations for his overalls. As for the hair, you'll be able to customize it and opt for up to fifteen colors. Browse and download it here.
5. Childe Outfit from Genshin Impact
Looking for a Sims 4 Genshin Impact CC Childe look that looks authentic? Look no further, as this one is a full package and an HQ one. Childe's messy hair can now become your Sims's reality. If you'd like to replicate his full red and gray look, you'll be able to dress your character just like him. The CC includes an original Childe suit with a glowing blue detail. You can find it on this page.
If you love fantasy, check out the best selection of Sims 4 Fantasy CC here.
6. kaeya by Revolution Sims
Kaeya is a mysterious former spy who can now charm the regular folks of Sims 4. Thanks to this custom content, you can now create a character that has the same furry shoulder detail, the same blue hair, earing, and eyepatch. You'll be able to modify Sims' eyes to look like his, as well as dress your gentlemen just like Kaeya! If that sounds fun, check out this CC here.
7. Arataki Itto Set By Revolution Sims
Arataki Itto is a charismatic Geo character, and now, he can be your playable Sims! This CC gives you an opportunity to not only dress like him but also create a Sims with red eyes and real Arataki makeup. You'll be able to make any male Sims look like him, as this one can be used for teens, adults, and elders. If you like it, feel free to check it out on this page.
8. Zhongli Outfit by Mary Sims
If Geo characters are your favorite then you will enjoy the benefit of having Zhongli join your Sims 4 crowd! Thanks to the CC creator Mary Sims, you can now dress your male Sims just like him. The pack includes a full outfit, plus some extra details, such as Zhongli's hair and his long earring. How cool is that? Get it on this page.
conclusion
Ta-da! That was our list of the top-tier Sims 4 Genshin Impact custom content. We tried our best to include different characters from the game to give you a sense of variety for all Sims. The list included both details and complete looks for your Sims 4 CC collection. After all, there can never be too many fantasy-inspired looks in your Sims' wardrobe.