Many people love to cosplay as Harley Quinn for their Sims 4 game, but it's not always easy to find the perfect costume that fits your needs. That's why we've gathered all of the custom Sims 4 Harley Quinn outfits, hair and makeup that you can find into one place.
Hottest Harley Quinn Sims 4 Custom Content
Harley Quinn has become one of the most recognized comic book characters of all time. She is also a fan favorite and has been featured in many movies, TV shows and video games!
It is no wonder that she is also also one of the most popular characters for cosplayers to dress up as. With Harley Quinn's popularity increasing over the years, there are many Harley Quinn custom content available online. There's also a handful of Quinn's accessories that you can use as well. This article will be showcasing packs that will help you to create your own custom Harley Quinn look in the Sims 4.
---
[EnriqueS4] Harley Hairstyle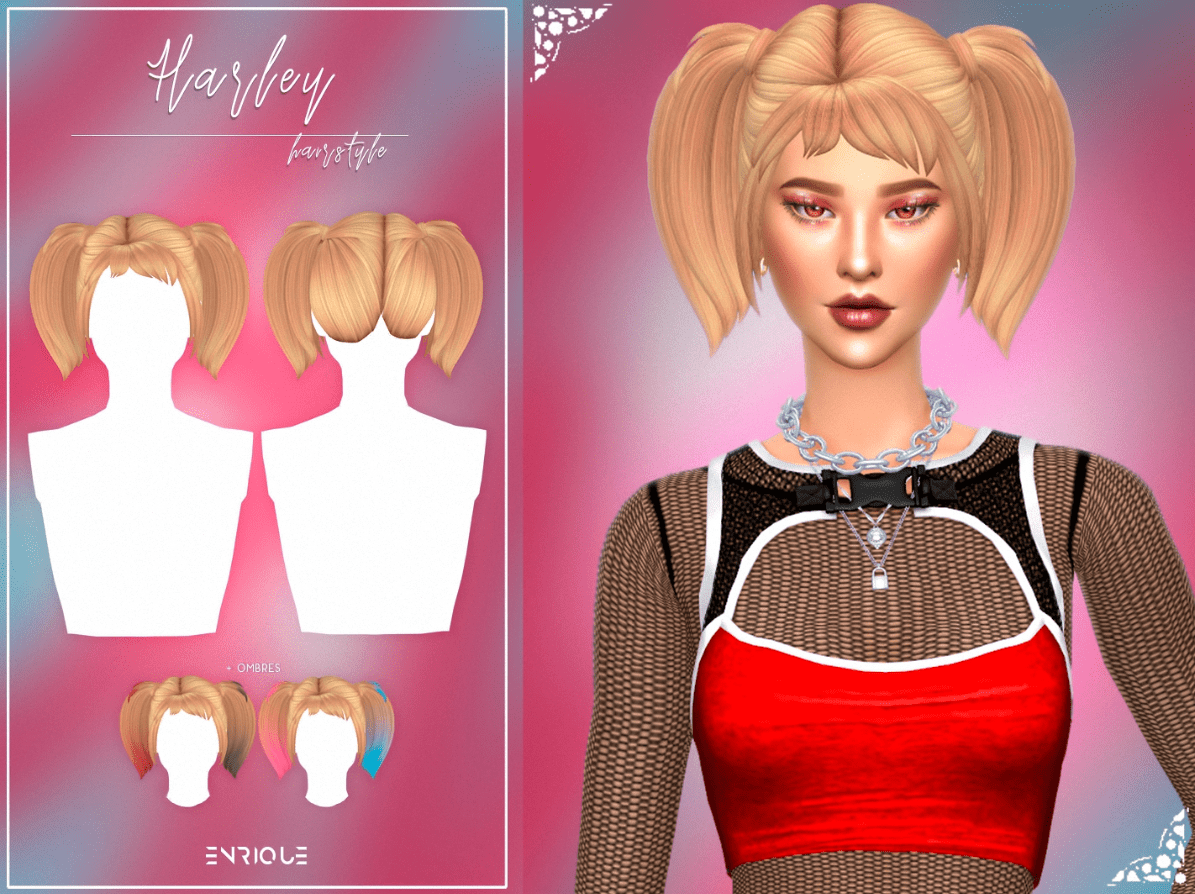 This hairstyle was made for the sims4 and is available in 18 different colors and 2 different textures! Harley Quinn's personality is cunning, unpredictable, and chaotic while her two Ponytail hairstyle reflects these characteristics perfectly. If you are looking for your Sim to have a different style but still be feminine enough, this hairstyle might be right for them!
Some colors mixed in the hair give an elegant touch while others make it look edgy. The bold colors are great for Harley Quinn cosplay, but the subtle ones are suitable for everyday use in game. Head over to this page for easy download.
PUDDIN necklace Sims 4 Harley Quinn
There are many unique features that make this necklace an interesting one to wear. The PUDDIN necklace is an 80's inspired necklace that your sims can wear, giving them a retro look that is right in tune with Harleys style.
We definitely recommend having it to complete your sim's Quinn's look. You can choose from 4 different swatches. And it can be found under head accessories. Here's your download-link.
New Harley Quinn Tattoos
There are many Harley Quinn tattoos to choose from for your sims characters. And these tattoo designs usually have a lot of pink, purple, red, and green colors to show off Harley Quinn's personality like being crazy and sweet at the same time. But these ones all come in black. These tattoos can be used on different parts of the body such as arm, leg, chest, etc.
Harley Quinn tattoos are a must-have for any of her fans. To install this pack, click here.
Harley Quinn Jumpsuit
Quinn' iconic outfit is something that many people want to wear and be like when they play a game like The Sims. Your characters can now dress up in shades of yellow, inspired by Harley Quinn from Birds of Prey. This look is perfect for any occasion whether its your sim's birthday or they just want to take down crime.
This brightly colored jumpsuit is one that you cannot miss out on. It is basic and simple with a pink top and hot yellow overall, which is the most stylish color combination in our opinion. This suit will definitely stand out in any crowd. Go ahead and download it from this link.
Sims 4 Harley Quinn Set
Remember when you first saw Harley Quinn's crazy outfits in the original Suicide Squad? Now you can have the same look in your Sims 4! You wouldn't want to miss out on all the #fashion this season, so get your back-to-school outfit sorted with the latest Harley Quinn outfit, straight for the sims 4. You can install it from this page.
HEARTBREAKER HARLEY QUINN
Harley Quinn's outfit is as distinctive as her personality. So if you want to make your sims characters look like her, then you need to get this custom jumpsuit and hat for your sims characters.
The Harley Quinn jumpsuit is a popular choice among the comic book fans and cosplayers. It's also a great option for your sims characters as well. You can have your toddler sims wear a Quinn dress instead of the usual clothes they wear to go out in public. Grab it from this page.
Sims 4 Harley Quinn Jeans
When Harley Quinn appears on screen, it is hard not to notice her unique style and fashion. You can create your own Harley Quinn inspired look by finding a pair of jeans that suit you and your sims' personalities! But whether you love Harley or not, these custom jeans for your sims characters are a must-have!
There are 4 swatches of jeans that you can choose from. These jeans come in a variety of color combinations including black, red, and white. What are you waiting for? Check it out on this page.
Royalty Harley Quinn Outfit
The wardrobe of Quinn's is a big part of the DC universe. With these outfits, you can create your own Harley Quinn cosplays for your sims. As the newest member of the Suicide Squad, Harley Quinn is a force to be reckoned with. Her iconic red and blue costume has been recreated in stunning detail for The Sims 4. With her psychotic laugh and sharp wit, she is sure to be a hit with any Sim who loves a good laugh.
This blue and red dress is the perfect item for your sims to wear at their next party. It's a great way for them to feel a little crazy, too. Feel free to grab it from this link.
LeahLillith Harley Hair
This is a new hair that was created by LeahLillith. This mod adds a brand new hair to the sims 4 game. Harley is designed as an edgy, sharp, and fun hairstyle that has lots of character – it really stands out among the rest. It will surely give your female sims a sleek and sexy new look. It comes in a number of 17 swatches. To install this one, follow this link.
Sims 4 Harley Quinn BOOTS
Harley Quinn's boots were one of the iconic accessories. They were a big part of the movie and an iconic moment for Harley herself. We recently discovered that these boots and they are available for the Sims 4. So, we decided to share them for anyone who would like to use them in game.
The legendary boots of Harley Quinn from the most recent film "Suicide Squad" are now available for download for The Sims 4. Head over to this page for easy download.
Harley Quinn's Jacket (SS 2016) – mesh needed
It's time to get your hands on Harley Quinn's Jacket in The Sims 4. This brand-new pack is inspired by Harley Quinn from the popular DC film Suicide Squad and features daring ensembles for your sims. And for that, this mod is definitely a must-have! If your sims are a big fan of the DC Comics Harley Quinn character, this weightless jacket will make their day!
This is the perfect edition to your game, with all the fun details and character you expect from Harley Quinn. Follow this page to get this jacket.
HARLEY QUINN LEGGINGS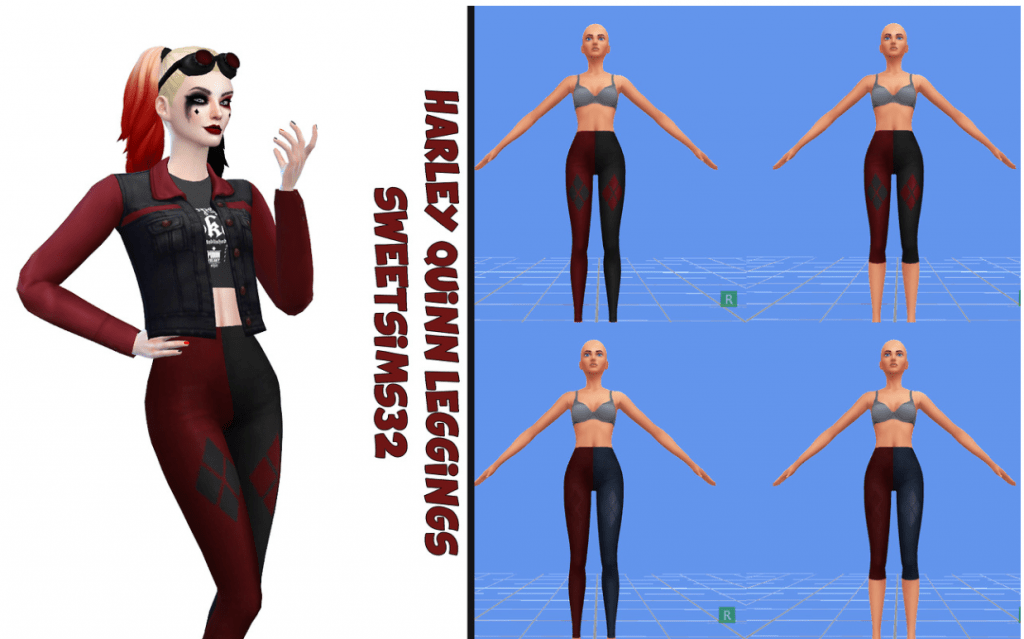 Whether your character has been running around the town just like your favorite DC comic book villain, or looking for the perfect costume, these leggings will have them feeling supercharged! These Harley Quinn-inspired leggings are no different, with a hint of her signature red and black. Go ahead, make the world a little more "crazy" every day!
Wear these bad boys as an outfit to cosplay or just to show off your love of one of the most talked about female villains in history. Click here to install this one.
Harley Quinn Make-up
Being such a popular character, Quinn has many different looks that simmers can try out. Take this time to be creative in your own style with this pack. This makeup custom content is perfect for your sims, whether they are into comics, horror movies or just good old fashioned fun!
Her makeup looks dark and dangerous, but sexy at the same time. In the world of The Sims, Harley Quinn is one of the most popular characters. Her makeup is one of her most iconic features, and now you can give your sims that look. Check it out here.
Harley Quinn Suicide Squad Prison Outfit GTW Recolor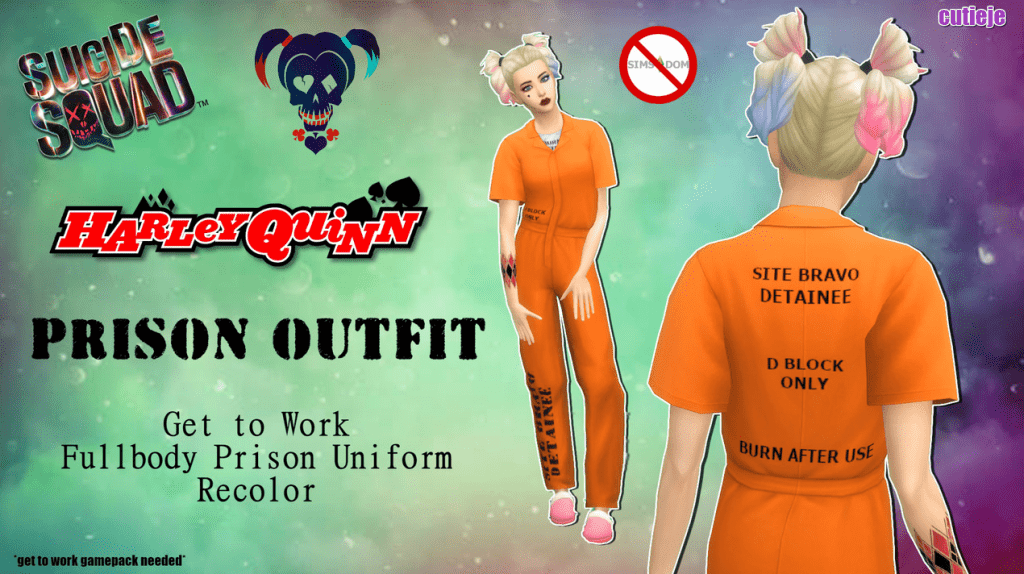 The wildest, wackiest, and most daring prison outfit! We can all agree that Harley Quinn is iconic. She's a force of nature, unbound and unapologetic. We love the femme fatale who can kick ass and look good doing it.
Every sim deserves a chance to don Harley's iconic suicide squad getup, so we're giving it one last go with a gorgeous GTW re-color! If you're feeling lucky and want to take your chances, this is your last chance before the end of the world as we know it. You can install it from this page.
Harley Quinn is one of the most popular characters from DC Comics and she has become a pop culture icon. She has made her way into our hearts with her sassy and unpredictable personality, so now she is also making waves in the Sims 4.
Her popularity has led to a huge demand for custom Harley Quinn clothes, hair, makeup and more custom content. We hope you enjoyed this list of the rarest Harely Quinn's CC. As always, check out related content for the Sims 4 by visiting the links below. Enjoy!
Related Content