Custom content creators of the Sims 4 provide us with an array of different options for customization. So, if you're looking to add more realistic and natural baby hairs for your Sims 4 characters, look no further! Below is a list of some our favorite baby hairs CC. Enjoy
Cutest Baby Hairs Cust Content for Your Sim Characters
Aren't your tired of your sims having the same hairstyle? We can all agree that there's a need for more mods to make the game more interesting especially when it comes to baby hairs which is what we will be focusing on in this post today. The game has no baby hairs whatsoever so it's only natural that we resort to downloading baby hair mods or CCs. And let's just face it, our sims are the best! We love those little sweeties. So, when it comes to making the world even sweeter, it's time to up their cuteness factor with these beautiful new baby hairs.
All of the following packages are lovely and cute, but only some of them are suitable for teens or adults while others are only wearable by toddlers or children. But worry not they are pretty versatile, from curly to straight and everything in-between. So, you're sure to find one to your taste.
Mimilky Babyhair N2
We've seen all kinds of hair on sims. From the crazy hair color to the mutant hair style, we personally got bored of using any of them in my game because they're just "old-fashioned" now. But we've been thinking –what if they had baby hair? That might help us get our game back on track!
These babyhairs will surely work like magic. To make things even better, each version includes different shades which are all perfectly blended together to create an authentic look. They can be found under female skin details.
So, go ahead and change up your sim's look with two different versions and 10 colors of baby hairs. Follow this page for easy download.
Prim Proper and Fancy
The Sims is a game of creativity and there's no one better than you to take on the challenge, yeah? We'll be the first to admit, we're not the best at hair. But we do know that sometimes we need a little bit of help with the perfect hairstyle for our sims.
So, if you're looking for a stress-free way to create just the right look in your game, you should try this new hairline mod! To download this one, click here.
Ez hairs
Would you look at these hairstyles! You really can't go wrong with a solid undercut, and these buns are perfect for any occasion!
It's also worth mentioning that there are several custom options available as well (21 swatches to choose from), allowing you to customize your hairstyle even further if you want to go even more in depth with it! To install this one, click here.
nifty knitting's baby hairs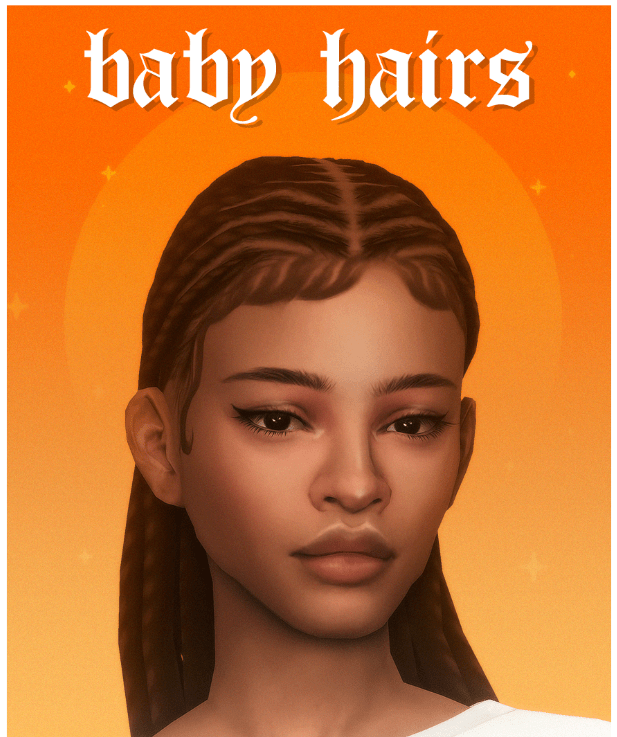 We bet you'd really want to show off my sim's new haircut with these cute baby hairs! Not only are they perfect for your little ones who need a fresh new look, but for your adult sims as well.
And the cool thing is, they are also compatible with any other custom content which makes it even better! To install this one, head over to this page.
BabyHair N3 Mimilky
If you're feeling like your sim's hairstyle is missing something, these baby hairs can definitely switch things up and add some life back into your game. This package works on all simmies and is available in 10 different variations. Look through Skin Details to find it. To install, follow this link.
Baby hairs for your YF / AF sims
For those with the doe-eyes and the pouty lips.
What we love about this CC is that it doesn't require modification and fits right in with the game without any glitches. Download it from here.
Sims 4 Baby hairs
Looking fresh and new! This updated pack of babyhair cc is perfect for all of your sims! It includes a range of 20 colors, 5 styles, and 6 lengths. So, grab your copy and make your sims look their best already.
Whispy Hairline
A 'perfect' hairline with baby hairs is not an easy task, but we're still are committed to finding the perfect look for our characters. This one is a well-defined, clean hairline with the cutest babyhairs ever. We're sure it will draw the eye to your sim's face.
It comes in all of the 18 maxis match EA colors, in addition to a black one. And you guessed it, it works well on all genders and ages. Follow this link to install.
Trendy Babyhairs
Do you want to make your sims feel like babies? We've all seen it some time in our games – that little bit of hair that grows on babies when they are born. They should be the same as they were at birth, but the short hair is cute and keeps them warm, so many players like to change their default. And now it's probably your turn!
These baby hairs by MIMILKYBABY are available in a set of 20 colors. So, you could still find the perfect hairstyle and top it even further. It can be found under Skin Details. Here's your link.
Sims 4 Baby Hairs
Many of us forget the little things that completely change up the look of our sims. And this mod is an awesome reminder that we can't do without a fresh hairline with adorable baby hairs!
Watch this YouTube video for a closer look to these babyhairs. You'll find a download link in the description of the video.
Now that you have an overview on the best baby hairs mods for the sims 4, it's time to get your creative juices flowing and start creating some of your own.
This list is just a collection of gameplay mods that we hope you enjoy. If you want to make your own, or have any suggestions or requests feel free to comment below and we'll be sure to update this list. As always let us know what you think in the comments below!
Related Content