We've compiled a list of the best default eyes and special default replacement CC packs for the Sims 4. So, if you're looking for some, this post will help you find them. There are a lot of eyes to choose from but we've narrowed it down to just 25 sets so that your time can be used efficiently. Enjoy!
What's cool about customizing your Sims' eyes is that you can change up the size, shape, and color of them to make them your own. It doesn't matter whether you want a character that looks like yourself or not – there are plenty of eye options for everyone.
So, we've got an amazing list of must-have default eyes and default replacement eyes for both your male and female sims! But just in case you're wondering what differences there are between defaults and non-default, allow us to explain.
In short, a default mod will completely override the EA skin/eyes/eyebrows and every sim in your town would have it too, whereas a non-default mod wouldn't completely replace the EA original. But we're mentioning some default replacement eyes… what are those? Good question! They are used by every sim in town but each sim uses its own EA eye color. With that out of the way, let's dive right into our list!
The Sims 4: Your Coolest Default Eyes Mods and CC Packs
25. Plasticity Eyes
We're starting off with a mod you must NOT miss. If you're looking for new eyes for your sims 4 game, these are the ones to get. Now you can finally have your favorite default eyes on any Sim you want. And we just have to come forth and express how much love we have for them. They've got a sparkly look to them. It can be found in the eye category, like all other defaults on this list. You also get default replacements of it. For easy download, click here. If you're liking the double eyeliner, make sure to give it a look here.
24. Epiphany Eyes
Don't stare too hard, that's one black hole, a dark blue mixed up with light blue actually. And there's more to see; different eye designs and colors by Simkoos. Although this set of eyes is the furthest thing from realistic eyes, they would look good on vampires. Maybe even mermaids, no? Straight up download it from this link.
We recommend checking out this compilation of custom headbands for the Sims 4.
23. Keane Default Eyes
We believe the eyes are the key to unlocking the beauty within, and these eyes are the key to unlocking a whole new level of beauty in your Sims 4 game! Thirty different eye colors, isn't that just generous? Your sim's eyes will surely be looking like crybabies. Available to you for both genders and all ages. Download this set from this page.
Read: A collection of the best Sims 4 earrings custom content.
22. Dolce Eyes Set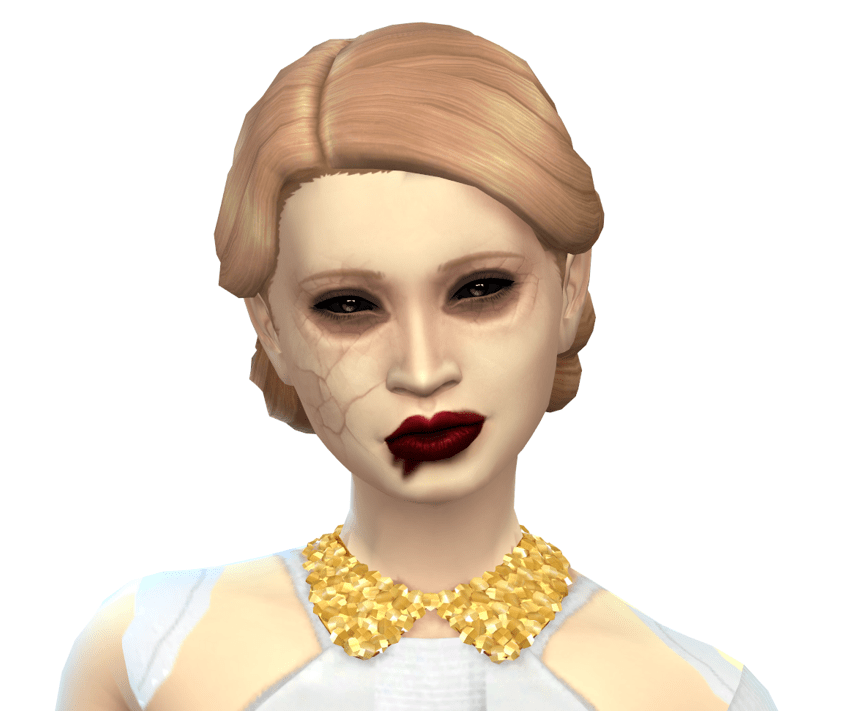 WRIXLES sure knows how to get things done. Your sims, from toddler to elder can rock these eyes, but you need to have the vampires pack for it to work. Download.
If you'd like some smudged lipstick to go with these eyes, read this post.
21. Old Default Eyes
I don't know about "old" but this baby pink color is a must! You can download separate packages for humans, aliens, males, and females. But just take a moment to imagine how wonderful it would be to have all your sims wear this color. Download from this page.
For the best maxis match makeup custom content, read this post.
20. Daydreaming Eyes
This one will surely appeal to you. This color of all the 30 tones it's available defines daydreaming. You can find it under the eyes category. Make sure you grab it from this link here.
Here's a collection of pigtails hairstyles for your characters in Sims 4.
19. Ame Soeur Eyes
Let's just put it this way: you get 20 colors as default, nondefaults, and contacts in the face paint section. And, yes, you most definitely need that hair too. Click here to check it and other alpha hair mods out. To download these default eyes, click here.
These eyebrows are stunning! If you'd like similar custom eyebrows for your sims, click here.
18. Eira Eyes
This one is available to you as defaults with around 18 different swatches to choose from and non-defaults in 46 swatches. To be honest, there's nothing that makes it stand out, it's exactly the many swatches it's available in —such a broad variety that is sure to come to everyone's liking. You can download this one from this page.
Check out this collection of custom wedding dresses for the Sims 4.
17. Eyes Ultimate Collection
The ultimate collection of defaulted eyes. We could talk forever about Pralinesims mods; there's so much to appreciate. This collection contains almost all default eyes made by them which is about 232 files altogether —that doesn't even include swatch numbers.
Your female, male sims can use these from teen to elder. These here come all in numerous versions, for female and male sims, toddler-elder. We hope you guys enjoy them as much as we do.
Follow this link to download.
16. Glow Default Eyes by guycuk
These default eyes are so pretty and make your sims' faces look so realistic. They're definitely the highest quality CC eyes we've ever seen. You should really get these, they're amazing! So, these eyes are a great way to change up your sims' looks and make them stand out as different characters. There are 18 different colors to choose from, so no sim will ever look the same! Check them out here.
15. Eyes 04 HQ Eyes
The Sims 4 is awesome. But it could be better: with soft eyes that match your desired mood. Sure, you could download a bunch of mods, but frankly, it's a hassle- someone should have done something about this! Thankfully, someone did. Eyes 04 HQ is a default eye CC modification mod created by Alf-Si. Using 23 colors to choose to match any desired mood, these default eyes will make your sim happy. It's guaranteed. Here's your download link.
14. Hamadryad Eyes
These eyes are the perfect accessory for any Sims 4 user. Immerse your Sims in a world of magic, color, and wonder with these beautifully designed eyes! Hamadryad Eyes are default eyes for the Sims 4. There are 33 Swatches available in natural and fantasy colors for all occults, genders, and ages of your sims. Visit this Tumblr page to download.
13. Neon Bubble Default Eyes
Have you ever wanted a sim with big, vibrant, glowing eyes? Yeah, us too. That's why we recommend these. They are perfect for any sim who wants to give the impression that they are full of life and staying cool under pressure. Grab this set of eyes and create the best sims ever.
12. STILL FEEL EYES BY BAIEYU UPDATED
STILL FEEL EYES are default eyes that can be used for any sim. They come in 18 beautiful colors to choose from, including purples and greens. They have no transparency and are enabled for all ages and genders. These whisper eyes are gorgeous! To install, click here. You should check out the other Baieyu CC packs too.
11. Wundersims No.1 Default eyes
You are in for a big surprise. Wundersims is a new eye CC. This set has rare eye highlights, so you can take your sim to the next level of beauty. With this set of eyes, you will never need to find another one for your favorite sims 4 game character. You should definitely give it a look.
10. Sims 4 GISAMO EYES
If you're looking for realistic eye textures for your Sims, you've come to the right place! Gisamo eyes have a variety of styles for different occasions. These are rather semi-realistic eyes for your characters in the Sims 4. So, what are you waiting for? Act now and give your Sim a completely new look with Gisamo's dreamy eyes! They're available for Maxis match-styled eyes, default eyes, and all the way up to non-default. You could install them by clicking here.
9. Langit Default Eyes
We love playing the Sims 4 and getting creative with our Sims' appearances, but we can't find a set of default eye colors that are realistic enough. And we've tried a bunch of them. We want a medium-sized iris, higher saturation, and interesting but not over-the-top eye reflections. With this mod, say hello to all of the above. To install these polaroid eyes, visit these download links.
8. Eunoia mermaid eyes
Your sim characters who are toddlers or elders can try these out. And it works on both genders equally enchanting. These default ea eyes come in a number of unique swatches. Heterochromia is also available for this set as facepaint. To install this one, head over to this Patreon page. Don't worry, it's free!
7. Default eyes Sci-fi eyes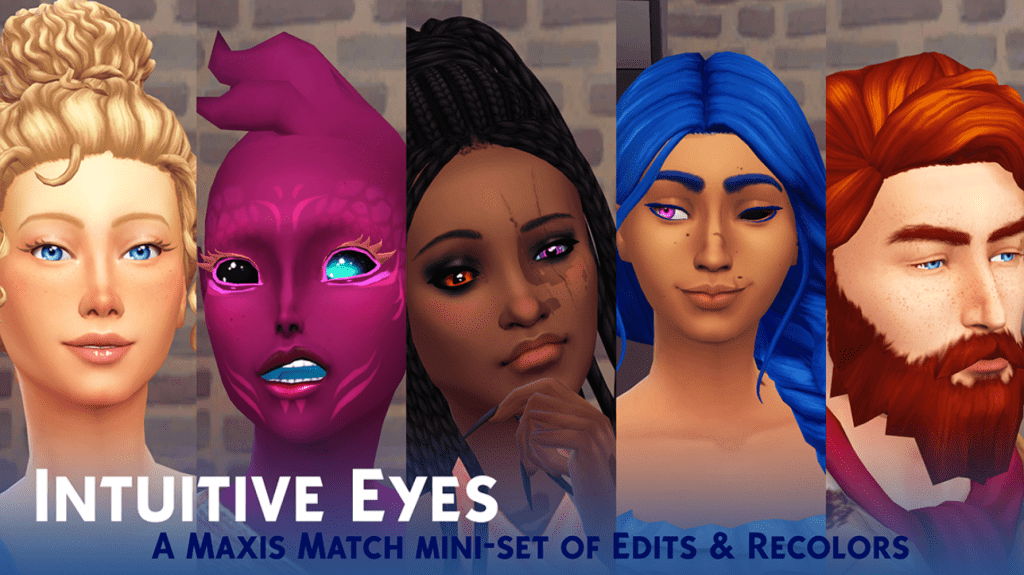 Make your Sims look like they've got an inner light. These Intuitive eyes come with many dynamic shadows and eye colors to make your Sims look deep, thoughtful, and intelligent. They are custom content and Maxis match, so they'll look great with any skin tone or style you choose. These are also the eyes to get for some crazy fantasy! To install this set, click here.
Default Replacement Eyes Mods and CC
6. Starlet Eyes
There really aren't that many default eye replacements out there for the Sims 4. So, this is one of those that you must treasure. You get this wonderful eye replacement mod in the following colors: white, baby pink, hot pink, orange, lemon, lime cyan, baby blue, ultra-marine, lilac, and rainbow (the one showcased). Click here to grab this one.
5. Payxis Under Your Spell
Tell me this wasn't the most iconic label ever! You get two files by visiting this link; a default-replacement package and a non-default version. It comes in 6 different designs. (Spoiler: you get funky pupils!)
4. Courageous Eyes
Old but gold, that's what this is. Oh and if you like this eyeshadow, check it out on this post, along with other maxis match make up mods.
Click here to download it.
3. Alieny Eyes
Remember to remove any default eyes you have before putting these ones in your game. Download from here.
2. Corazón Eye set
We know that you would like full customization of your sim because we'd do too. These animal default replacement eyes are one of the best CC packs you could find. "It's very maxis matchy," said the creator. "With some more detail and subtle shadows on the sclera." It's definitely catchy if anything. To download, click here.
1. Default Replacement Eye Colors
You probably don't want to pile up lots of unnecessary packages, that's what we compile the best of it in one place. Every vampire character and occult sim will need these occult eyes. Download here. They'll probably need that hair too, give it a look perhaps?
Check Out Some of the Coolest Maxis Match Eyes Here
This was our list of the best default eyes and default replacement eye CC packs for the Sims 4. We hope you've found what you came here looking for. We can never be thankful enough for mods creators. Check out a great collection of maxis match eyes here. Follow this link to find more eye mods.