20+ Hand-Picked Sims 4 Toddler Mods
#14 Preschool Mod by Kawaiistacie
The Preschool Mod is one of the best toddler mods for Sims 4, period. It's developed by Kawaiistacie and it's a part of her big Education System Bundle mod for the game. This extension is rework of the school system in Sims 4 and it's much better than what we have in the best game.
The Preschool Mod focuses on your toddlers by giving them option to be home schooled before they're old enough to go to school. There are tons of interactions here, ranging from asking for help (about hunger, bladder, etc.) to asking adults to play with toys.
Installing the Education System Bundle by Kawaiistacie honestly feels like installing a new expansion pack, so I recommend it a lot.
#15 Drink-o-Baby Bottle CC for Sims 4
If we're talking about must-have toddlers mods and CC, we can't avoid the Drink-o-Baby! This is a trademark item for all toddlers around the world, including our cute little Sims. And if you have a family with a toddler in your game, then you should definitely have this object too!
The Drink-o-Baby CC is a functional bottle that toddlers can use in Sims 4. It has 3 unique designs and many many recolors. Some recolors even change the pattern or the picture of the bottle, so you'll end up having an entire pack of Drink-o-Baby bottles.
I can't imagine playing any realistic toddler scenario in Sims 4 without this custom content. And in my opinion, it's one of the best addition to this Sims 4 toddler mods and CC list!
#16 Toddler Playpens CC for Sims 4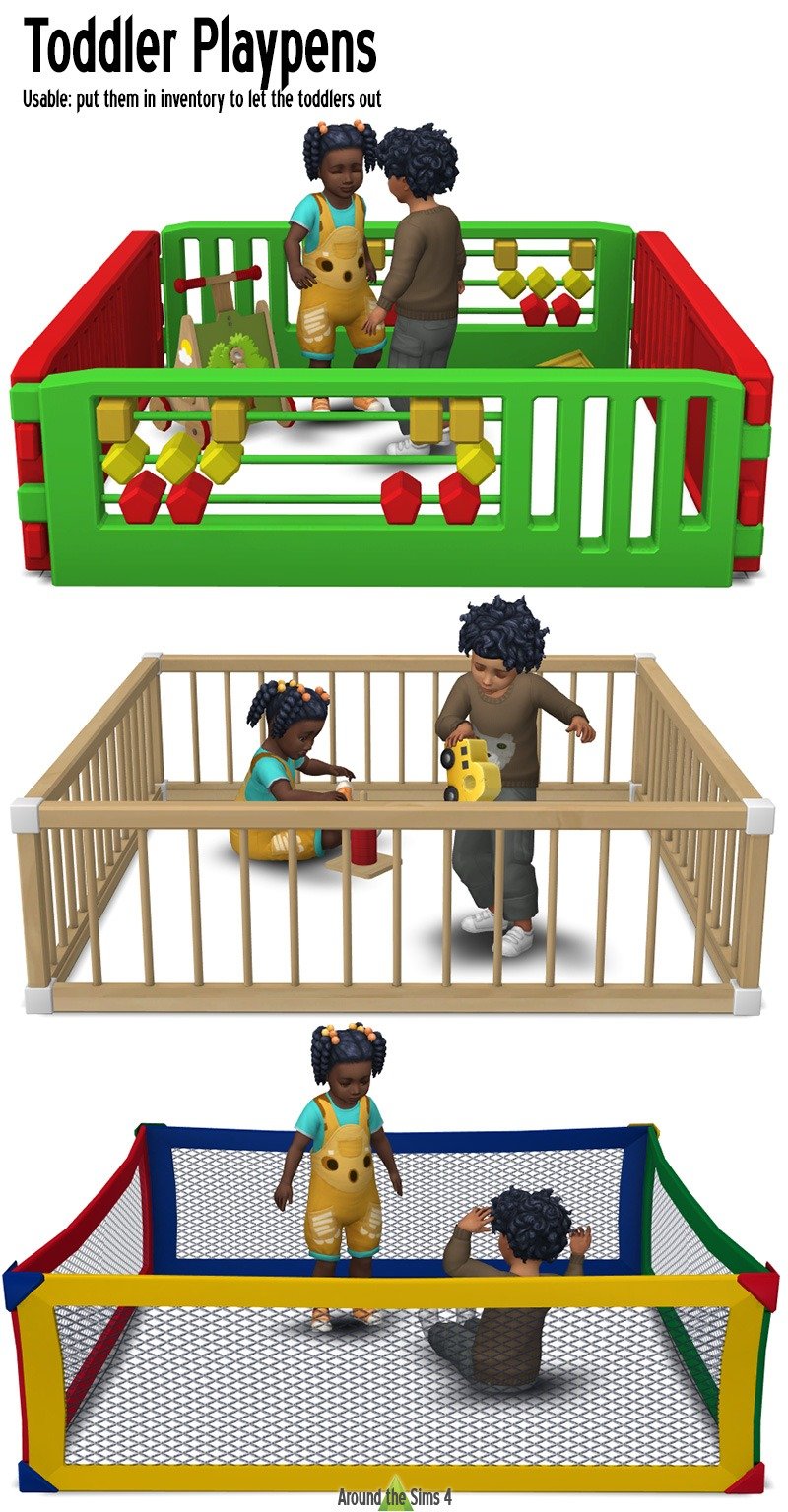 Speaking of must-have toddlers CC, I must also recommend this awesome pack of toddlers Playpens. These are also functional items that allow you to secure your toddlers in. Much like in the real world, toddlers won't be able to get out of the Playpens. They will play and do all the things they usually do, but in a walled off area.
I personally like this object a lot and find myself using it often. It's a convenience type of thing for me because I can put my toddler here and send my adult to do other things that they need to do. So, definitely check it out!
And through the link below, you can download one or all 3 of the playpens together!
#17 Toddlers Have Less Nightmares Mod
Nightmares are one of the things you deal as you're raising a toddler in Sims 4. Normally, these nightmares aren't too big of a problem for the average player if you don't mind them. However, they can be really annoying, especially if you're playing longer with a toddler.
So, the best solution for this is the Toddler Have Less Nightmares mod. Like its name suggest, it's simply a quality-of-life change that makes it your toddlers will have less nightmares overall. The mod will help your adult Sims and it will make your gameplay much easier.
This extension works with all mods and I haven't encountered a problem yet. For more info, use the link below.
#18 No Puddles under Bathtubs from Splashing Toddlers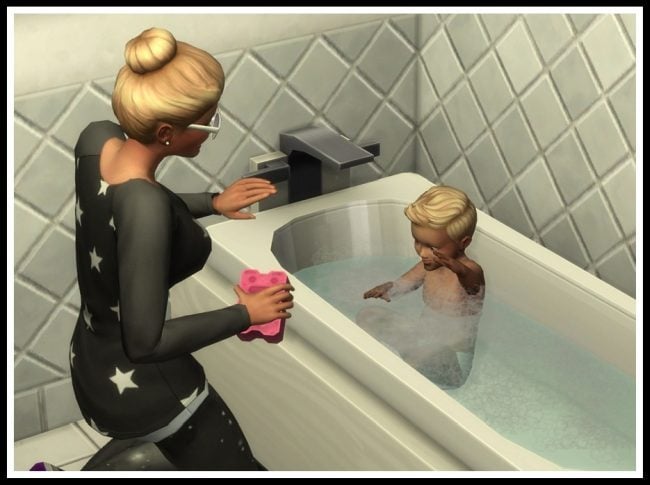 Another problem that often gets overlooked by Sims 4 modders and independent developers is the splashing when toddlers take a bath. Again, this isn't really a turn off for most players, but it can get pretty annoying over time.
The No Puddles under Bathtubs from Splashing Toddlers mod lowers the chances of toddler making puddles when taking a bath. However, it doesn't completely remove them. In other words, toddlers will still splash around just not as much.
The creator of this mod is the amazing LittleMsSam and I recommend you to check out her Tumblr blog through the link below!
#19 Meeting New Siblings will Change Relationships
I've covered this mod in another post here on SnootySims, but I want to do so again. The mod you're seeing here is one of the best relationship mods for Sims 4, and not just for toddlers. Basically it gives equal chances that two siblings will love or hate each other when they first meet.
Normally, siblings always express love when you bring a newborn to their family. But with this mod, they can also express anger and dislike right away. Then, this will influence how their relationship will be in the future too.
For example, siblings that started on a good foot will continue to have a loving relationship even as adults. But, siblings that didn't initially like each other may even become enemies. Much like real life.
#20 Kids Make Less Mess & Clean Less Mess
I've mentioned already that it's difficult to take care of toddlers in Sims 4. It's a full-time job for your adult Sims, especially considering how many messes can toddlers crate during one Sim day.
Well, the Kids Make Less Mess & Clean Less Mess mod by Miss Puff is one of the nicest mods I've installed recently. It's an extensive overhaul of the toddlers' behivour, making it less likely that they will make messes around the house.
As a result, you adult Sims will spend less time cleaning after them, which is definitely what you want. I'd suggest you check the author's info on ModTheSims if you're interested in this mod. Follow the link below to do so.
#21 Kiddie Pools Give Movement Skill for Toddlers
Despite all the messes they create, you can have tons of fun while rasing a toddler in Sims 4. And of the most fun things you can do is to throw them in a kiddie pool! Kiddie pools don't necessarily give anything back to the toddler, except the fun. However, with this mod, toddlers will get increased movement speed after being in a kiddie pool!
Of course, this isn't the most significant toddler mod on this list. But for someone who often creates kiddie pool parties in Sims 4, it's definitely a nice things to have. And by the way, I still have this mod installed in my game files and I benefit from it all the time!
#22 Toddler Sicknesses and Stacking Symptoms
When it comes to illnesses in The Sims 4, they're practically non-existent. Your Sims will almost never get sick or seriously ill, which is also true for toddlers. However, this mod gives you the chance to make your toddlers sick with various types of illnesses.
For example, you can give your toddler cold or the flu. You can also make them have a stomachache if you want to. And just like in the real world, your toddler Sims will feel bad while under the effects. On the other hand, your adult Sims will need to take care of their toddlers until they're healthy again.
Honestly, I'm a big fan of realistic mods for Sims 4. And this one is one of my favorite since children are simply prone to colds and flus all the time. So, it's nice to have this option in the game too.
#23 Skip Toddler Lifestage Mod
And here's a mod that I'm not a big fan of personally. In my opinion, the toddler phase is the most interesting life stage in The Sims 4, despite its drawbacks. But, I can admit that sometimes it would be useful to just skip this stage!
Well, this mod does exactly that! It allows you to skip the toddler phase completely. This means that your baby Sim will go immediately to a child, without ever being a toddler. So, it's a simple jump from baby to a kid!
This mod was created by scumbumbo who originally published it on ModTheSims. If you're interested in his script, make sure to read his notes using the link below
#24 dfsd
If left alone, adult Sims will always do a hundred check up a day on their toddler. Of course, this isn't a bad thing since they're parents. However, it gets really boring and annoying when you watch your Sims checking up their toddlers time and time again.
Well, this mod solves this problem by stopping the autonomous check ups entirely! With it, your Sims won't check up their toddlers on their own. Instead, you'll be the one that decides when they will perform check ups.
This isn't a game-changing mod by any means, but it frees your adult Sims to do other things. And I really like it for it!
#25 new Traits For Toddlers in The Sims 4
The New Traits for Toddlers extension is one of the best Sims 4 toddler mods I've ever installed. As its name suggests, it adds new traits that you can use on your toddlers. However, that's not all. It also adds tons of toddler whims, including "Play with Dolls", "Talk About Princesses with Another Sim", and "Ask Another Sim for dessert".
As far as the traits go, you'll find them very fitting and exciting. They will add depth to the character of your toddlers in Sims 4, so I totally recommend using them. There are tons of stuff to check out here, so use the link below as soon as possible!
#26 Functional Dino Slide (with Custom Animation) Mod by necrodogmtsands4s
Slides are one of the most fun things for toddlers in real life. And now, your toddler Sims can enjoy slides in The Sims 4 too!
This custom content adds a functional slide with dinosaur decorations. Your toddler can climb it and slide down with a custom animation added by the creator of the CC. It's a fun activity to do in the game, so you should check it out!
#27 Ultrasound Scan for Sims 4
And finally, we have the Ultrasound Scan mod for Sims 4. This isn't technically a toddler mod, but it's one of the best Sims 4 mods overall. It allows your Sims to visit a gynecologists and get an ultrasound scan. They can also receive images of the baby and even hang them on their wall.
So, it's something to do before the toddler arrives in your household!