Get the Best Family Poses for The Sims 4!
Family poses in The Sims 4 are chosen based on two things – the size of your family and your family's character. Sometimes it's better to go for the ones that can include all of your family members. And sometimes it's better to get the one family pose that really matches your family's spirit.
In any case, I'll give you 25 examples of the best family poses for Sims 4, so you can make the best decision possible.
Also, if this is your first time trying out poses in The Sims 4 for your family or otherwise, make sure to check our general poses guide. There you can learn more about various types of poses and how they usually work.
Now let's talk about the best family poses!
Missing some clothes CC? Check our grand selection!
25 Must-have Family Mods for Sims 4
25. pose request #98 by sciophobis – the sims 4
In my opinion, a family of 3 should always have an exceptionally cute photoshoot. And there's a reason why I start this compilation of Sims 4 family poses with this one.
In this pack, you can see a mother posing with her two children. All poses are lovely and serious, reflecting the love between the members. You can set up this photoshoot in your backyard for the best results.
24. isn't mommy awesome? pose pack by bored sims – the sims 4
Next we have this adorable family pose that features the father, the mother, her toddler, and her newborn. The pose is all about showcasing the excitment they have about the new baby. The focus, however, is the toddler that just comes to realize how awesome his mommy really is.
23. Family is Everything #1 Pose Pack
This is one of my favorite family poses pack for SIms 4. It features 8 unique poses that are suited for family members of all ages. Some poses are only with 3 Sims and some are with 4. But regardless, all of them look realistic and fun!
22. mommas baby pose pack by frxsk0sims – the sims 4
Do you know what the modern moms do very well? They take awesome selfies with their babies all of the time! These are 4 different yet similar poses that all look incredibly good in-game. Totally cute!
21. best buddies pose pack by aquariustrait – the sims 4
It's important for every parent to be a friend to their kid. And if you're Sim strives to achieve that too, then this family pose pack is definitely for you. It has 3 differnet poses all of which show fathers, sons, moms, and daughters being best friends.
20. family photoshoot – the sims 4
This is one of the most extensive family poses packs for Sims 4. Not only are there tons of poses to choose from, but all of them look distinguished and stylish. They're perfect for your modern mom, dad, and a kid.
19. Traditional Family Pose Pack by Beto_ae0
Here are a couple of family poses that you've probably seen before. This is how people traditioanlly pose for family photos in movies or TV shows, and it looks damn good. It's definitely a pose pack for bigger families in Sims 4.
18. Cute Grandma Pose Pack by Beto_ae0
17. Fun Big kids (Pose Pack) by Beto_ae0
Even though the children pose is the main one here, there are other family poses in this pack too. They're best fit for celebrations such as birthdays where you can take awesome photos of your family and their best friends!
16. Once upon A Time Family Pose Pack for Sims 4
If your Sims are readers and you want their children to be raised the same way, there are no better family poses than these. In this pack, you'll find 9 adorable poses that all feature your Sims reading to their children.
15. #55 poses pack – the sims 4
Do you have two mommies and two beautiful girls in your household? This pose pack is the one for you! It showcases these two parents in a perfect light and captures the love they both share with their children.
14. Family on Vacation II – Pose Pack by Beto_ae0
Every Sims 4 vacation should feature these family poses. Young and beautiful – this pose allows you to capture this priceless moment in the lives of your Sims. And one of your Sim will get to use a selfie stick in order to take the best picture possible.
13. mommy, attention! – the sims 4
Like many moder moms, your Sim is probably working from home. But how can she get all the work doen with her toddler snooping around? This is a very cute set of family poses all about the mom and her new child. Interesting and unique.
12. Friends meeting (Pose Pack) by Beto_ae0
Some friends we consider family, right? Well, what's a family photoshoot without such close friends being included. In this pack, you'll find 2 similar poses that feature all of your family members, plus their closest friends. It's perfect for big celebrations or weddings!
11. my mom is pregnant ! by simsulani – the sims 4
One of the things that brings a lot of happiness to children is the waiting of a sibling. Every child likes to have a brother or a sister, so you can clearly see the excitiment in this pose. You can really make some good photos with this pose in Sims 4.
10. Just Married (Mega pose) by Beto_ae0
Even though this is only one pose, it deserves all of your attention. It is by far the best wedding family pose that I've ever seen for Sims 4. And it's not just me – this pose has been downloaded over 2 milions times on TheSimsResource. Hurry up and get yours!
9. Family Portrait #4 Poses by Atashi77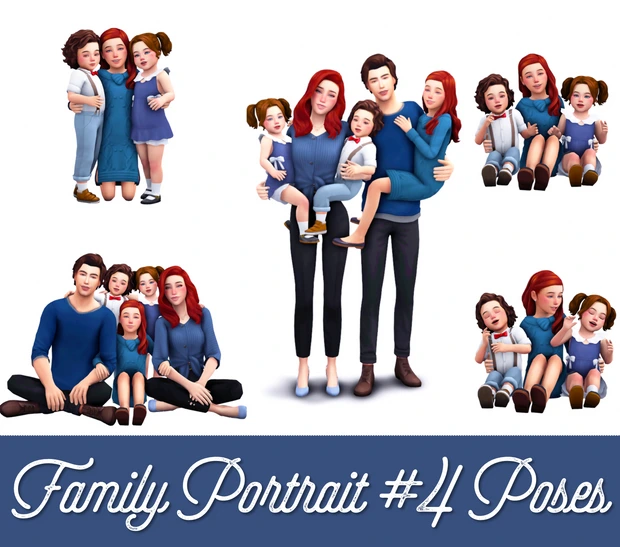 If you want to do a family portrait in Sims 4, these are the poses to get! All of them feature the Sims' children, either alone, with the mom, or with the dad. All of them are adorable and definitely worth your time!
8. trying to stand – the sims 4
There's rarely something more adorable than a father teaching his daughter to walk. This pack of family poses for Sims 4 is playful and fun. It gives you a unique opportunity to capture the love between the daughter and the father. Definitely a must-have!
7. greensims_ x simsulani – my little family by simsulani – the sims 4
This is a simple pose pack for a small family of 3. Here, it's all about the mom, the dad, and their biggest joy – the kid. All of the poses in this pack are lovely and beautiful. And if you want to showcase the chemistry between your small family, this is pack to go for!
6. "LEGACY" Pose pack by Sofi Sparks
Playing with a sophisticated family in Sims 4? No problem – this "Legacy" pose pack is the best way to photoshoot such a family. Besdies the vintage one, there are 3 more "modern" family poses, so it's a whole package!
5. Mega poses pack #4 by Zairah
For your young Sims family of 3, I recommended these awesome poses! The pack is a combination of selfies and regular photos. Some of them include all three members of the family while some only two. In any case, you'll find your perfect photo opportunity here!
4. Just little cute moments (posepack) by couquett
I can't get over the fact of how cute this family poses pack for Sims 4 is. There's something about a young mom and a dad teaching their toddler to walk. These are one of the most importnat moments in a parenthood, so you better capture them too!
3. Fun afternoon with my cousins by couquett
Enough with the parents/children family poses! What about a pose pack for your kids in Sims 4 and their cloeset cousins or friends? Here you have 4 unique poses that look amazing in-game! Definitely worth the try.
2. Family Meeting PosePack by couquett
We've had tons of family poses in this list. However, this is the single-best family pose pack for a large Sims 4 family. You can put all of your Sims here, from your elders to your toddlers. All members are equally visible, making it a perfect pose for your entire family!
1. Family's poses Mac Allister by Helgatisha
And the ultimate best family pose for Sims 4 is this one! Every member of the family is present here and looks at the camera. The spotlight is taken by your main female Sim, i.e. the mom. The father, the childrens, and the grandchildrens can all be present here too!
How to Add Family Poses in Sims 4? (Guide)
Poses work like any other type of CC (custom content) in the game. That means that they can be downloaded from the internet, extracted, and pasted into your Mods folder. However, the individual poses can't work alone.
If you want your Sims to be able to pose, you're going to need Andrew's Pose Player mod. This is a simple tool that adds the interaction "posing" inside the game, which shows up whenever you click on a Sim. Visit this link to learn more and download the Pose Player mod.
And lastly, you'll want to use Andrew's Teleport Any Sim mod as well. As the title suggests, this mod lets you instantly move any Sim to any place of the house. It can be very difficult to gather all members of your family to do some poses. So this mod makes the job ten times easier, and we highly recommend using it. You can download it here.
Conclusion
If you have a really big family in The Sims 4 and you want some poses for it, then check out this link. TheSimsResource is a fantastic place that offers many incredible poses, so we recommend checking it out. The key here is to go for the poses that at least resemble your own family. That way, you'll know that you're making the right choice.
If you have more questions, post them in the comment section below!