Do you have Sims who want to experience the amazing feeling of being a foster parent? Well, now they can with the Foster Family Mod! It's all about providing care to young Sims or cute pets who need a loving home.
Here's What You Can Expect From The Foster Family Mod
LittleMsSam, who is popular in the Sims Community for creating lifelike mods that spice up our gameplay in The Sims 4, is also known for launching the Foster Family Mod back in 2018. The said mod, which LittleMsSam constantly updates, allows our Sims to adopt and take care of precious infants, toddlers, children, and pets.
By joining an organization called the LMS Foster Family Network, the soon-to-be parental Sims can experience a smooth and efficient adoption process. Check out the best features of the Foster Family mod below!
1. Join the Foster Family Network
If your Sims are ready to be a superhero foster parent, let them grab their phone and find the "LMS Foster Family Network" menu. Register to the network so they can foster little Sims or pets and get notified when there is availability. If they change their mind, no worries, they can ust unregister anytime.
Register for Foster Kids: Sims can sign up to be a foster parent and receive notifications when a child needs a loving home. Sims can also manually check once a day if there's a young Sim available for adoption.
Check for Foster Pets: Let Sims manually check daily for pets in need between 8 am and 7 pm (requires your Sim to have a pet bowl on the lot).
More on SNOOTYSIMS: Parenting Mods For Realistic Gameplay: Adoption, Chores, Therapy & More!
2. Choose Foster Family Options
It's all about your Sim's needs and what they can handle! Sims can set their preferences for the age group of kids and whether they prefer cats or dogs. They can always change it later or go back to the default settings.
Customizing the Adoption: Via the phone, choose which age group of children and which species of pets (cats or dogs) Sims want to foster. Sims can change settings or reset them back to default.
3. Let the Love Begin!
Once your Sims are in the LMS Foster Family Network, they'll get notifications when there's a child or pet available for fostering. They can then decide if they want to welcome them into the home or not. They must pick through the Foster Family Pie Menu.
Accept or decline the opportunity to foster. If Sims accept, they will go into a rabbit hole for 1 hour to pick up the child or pet.
Read more on SNOOTYSIMS: Realistic Adoption Mods for Sims 4 You Need To Try Now!
4. Caring for Foster Kids and Pets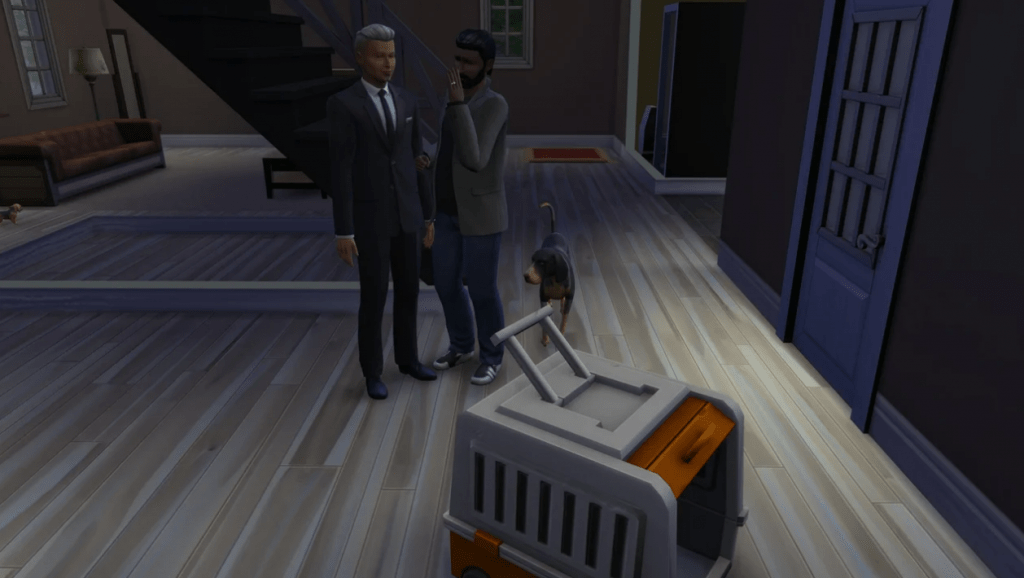 Make sure your Sims' foster cuties have everything they need. Always check their needs, give them outfits, and even set up a caregiver relationship with other members of the household so they can always be cared for.
Welcome Interaction: Click the "Welcome them into their new Foster Family" for foster children or pets to activate all hidden traits and to formally add them to the household.
Pet Interaction: Interact with various objects to engage with foster pets, including pet beds, pet bowls, pet recipe food, pet obstacle courses, and pet toys.
Other Pet Options: Perform treatments such as "Treat Animal" when a pet is sick or "Spay/Neuter Animal" to control the pet population.
Did you know we started creating CC for the Sims 4? We have a Patreon page that you could follow us on. Check the one below for 3 free cat bed CCs!
5. Foster Family Support
Your Sims are doing an awesome job, and the LMS Foster Family Network knows it! They will support your Sims with everything they need to help them with taking care of the kids Each week, you'll receive some financial support. Cha-ching!
Support Schedule: Every Monday, Sims will receive money for each foster kid they take care of.
Support Value: They will get $500 for teens and kids and $750 for toddlers.
6. Nannies and Butlers Can Help Too
After adoption, there are some more things to consider to prioritize the welfare of the adopted children. Your Sims can introduce the foster kids to the Nanny, Butler, or Babysitter at home, so they can recognize your new kid and take care of them as well.
Forging the Relationship: Click the nanny, butler, or babysitter and choose the interaction, "Introduce Foster Kids" to formally forge a relationship.
In a Nutshell: Is the Foster Family a Great Mod?
LittleMsSam's Foster Family Mod for The Sims 4 is all about spreading love and creating beautiful memories with kids and pets in need. It's one of the most realistic and heartwarming mods you can ever get for your game, so we recommend it! You'll have warm feelings in letting Sims foster and relish in the journey of making new relationships. So, get your Sim's parenting skills ready and let them take on this touching adventure! Happy simming, Simmers!