You don't want your sims to be left in the dark, do you? These long sleeve shirts custom content are definitely stealing all the spotlight. Sims 4 cc and mods creators never cease to amaze us with their perfect designs. In this list, we've round up a collection of long sleeved shirts for both your male and female sims. Let's have a look!
An amazing Collection of Long Sleeved Shirts for Your Male and Female Sims
long oversized turtleneck sweater
This set is absolutely stunning! A couple tens of long sleeved turtleneck sweaters. They are available in a variety of 20 swatches and can work on female sims from teen to elder. To install, visit this page.
Layered long sleeve shirts Custom content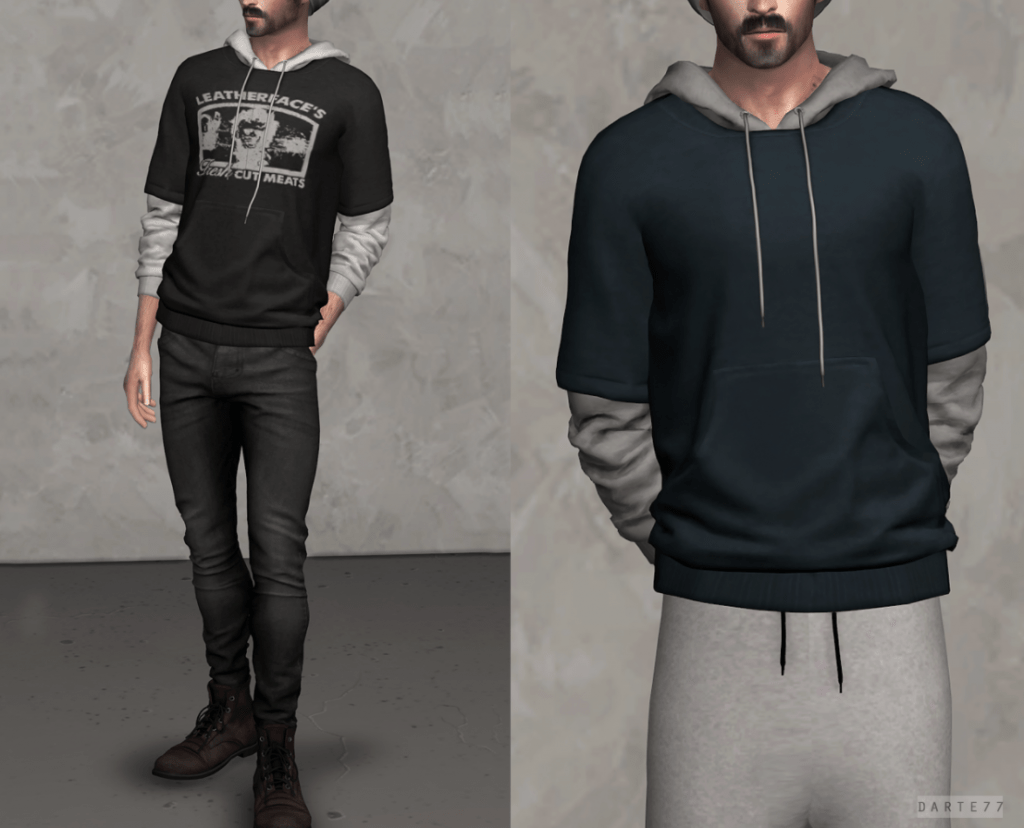 If you have any doubts that your male sims won't like this one, rest assured -because they definitely will. You could either match it with a cool pair of jeans or even sweatpants. You get 13 unique swatches from this set. Here's your download-link.
Long Sleeve Shirts custom content
These are the type of shirts you get when your sim's on the go but you want them to still look stylish. It's available in both plain and patterned swatches. Head over to this page for installation.
Long sleeve Polo
A bunch of Polo shirts for your male sims. These long sleeved shirts are base game compatible and are available in the showcased set of colors. Here's your download-link.
Long Sleeves Top from SIMS4 Marigold
This has to be one of our all time favorites. It's way too long sleeved but we're here for it. The orange one definitely stands out. Head over to this page to check them out.
Long Sleeve Shirts Custom Content
Another great set by Darte77. This long sleeved shirt is available in 20 swatches. And could be your sim's pick for any day of the week. To install, follow this link.
[VAPOURYSIMS] COLORED LONG SLEEVE CROPTOP
This crop top is more of an fashioned style but let's admit the fact that most of us are old school anyway. Our sims love this top and we're sure your would too. It's available in 22 patterns. Here's your installation link.
Basic Long Sleeve T-Shirts (Remake)
We bet most -if not all- sims would rock this one. It's a shirt that will never go out of style. And best thing is, it's available in 40 swatches, so your sim will surely find something to their liking in this set. You can download from this page.
Monica Long Sleeve SHirts custom content
This top brings back beautiful memories of the goo' old days, 'cause it looks pretty cozy. It's available in 35 swatches. To download, follow this link.
Long Sleeve & Shorts
Original textures for these long sleeved tops and shorts. They're definitely not practical but your sim will surely rock a party wearing those. For easy download, head over to this post.
We hope you enjoyed this list of amazing long sleeve shirts for the Sims 4. Check out related content below or head back to the main post for a bunch of awesome custom shirts for both your male and female sims. See you there!
Related content: