After much trial and error, Sims has given players a heavily requested and much-needed Create a Sim customizable options: skin tone diversity! Keep reading to find out how the developers improved the look of Sims skin tones.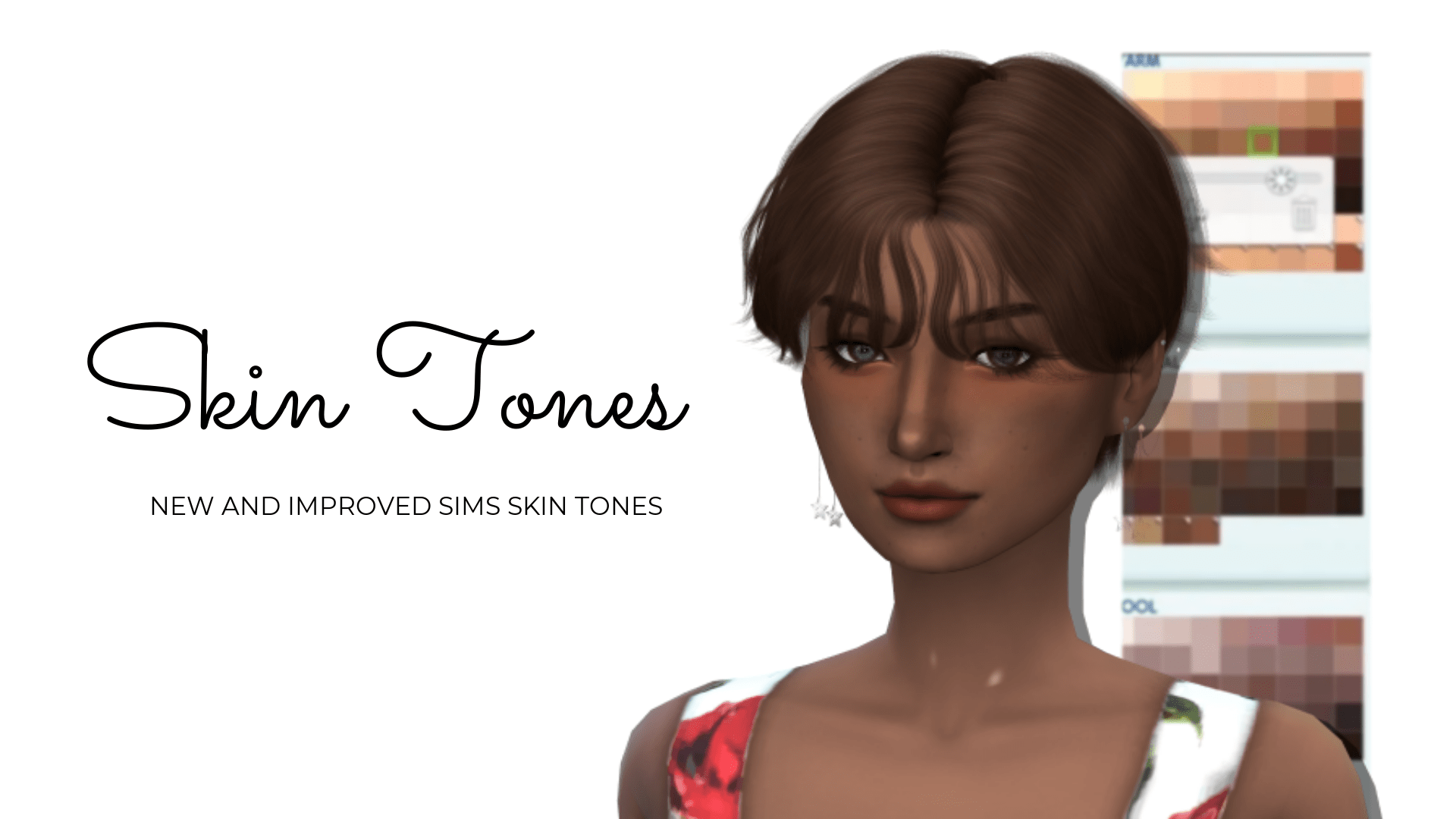 The original issue with Sims skin tones
Sims 4 skin tones have gone through cautious and complex development after feedback from the Sims gaming community – in particular, the medium and dark tones needed further improvement. 
Sims players are not shy to provide feedback and constructive criticism: players made reports to the developers concerning the darker skin tones giving Sims an ashy and blotchy-looking appearance and noticing the selection of makeup colors didn't appear on the darker skin tones well.
On their official page at ea.com, Sims 4 developers acknowledged these issues and informed players that the next update will solve some issues such as color banding on Sims cheeks and foreheads, streaky skin colors, nose discoloration, and more.
The improvements made to The Sims 4 complexions
Before releasing the free game update – on October 6, 2020, for PC/Mac and on November 10, 2020, for consoles –  the developers released several notes on the progression of the existing skin tones.
The update fixed the existing variety of skin tones' uneven complexions and corrected the lighting and shadows on the skin tones for a more optimal experience and to be more visually appealing and realistic in combination with Sims skin complexions.
On December 8, 2020, Sims 4 released another major update on skin tones in collaboration with Sims community members such as Mia Zaff, Xmiramira, and Rao.
After incorporating their suggestions and feedback into their development, Sims 4 launched an update that added over 100 new Sims skin tones with a color scale that allows players to change color values.
The update also made changes to make the existing Sims skin tones display even better and created four additional color scales for makeup so that players can customize colors complimentary to their Sims skin tones.
How to use the color scales
The developers really did their thing with this new update. Now players have a vast selection of colors and tones to choose from. 
Once you are in Create a Sim mode, select the Face icon and then choose Skin Tones. You'll see the color charts divided by warm, cool, and neutral Sims skin tones. The attention to detail in this area is impressive.
Select a skin color and you'll be prompted to create even more customization. A sliding scale will appear that allows you to make the specific shade you selected darker, lighter, or medium-toned.
You'll also see the option to save the custom skin tone you've just created, which will be displayed at the bottom of the existing skin tones chart.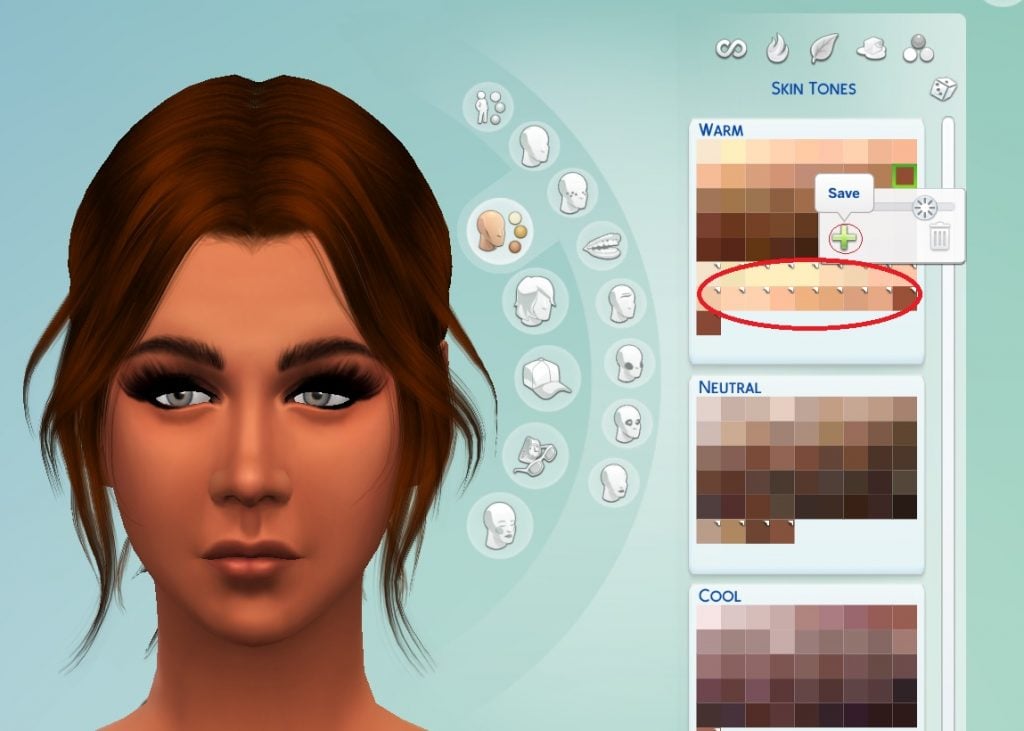 Navigate to makeup and choose any category. Once you choose a makeup look, you'll see four sliding scales appear where you can adjust the makeup's brightness, opacity, saturation, and hue.
Now that's customization if I haven't seen it!
This will help you create a makeup look that actually blends well with Sim skin tones instead of making them look like they put random shades of makeup on in the dark! We love to see it!
How well do the new skin tones measure up?
Having over 100 new skin tones to choose from makes a huge difference. The Sims 2 and The Sims Busting Out on PlayStation 2 need this! It was so disappointing how uneven and dare I say, grayish, the darker skin colors always looked!
I remember being quite frustrated with how the makeup appeared on my darker-skinned Sims because the makeup is too pale or pigmented to suit their skin tone too.
In those games, my Sims always look sick compared to the lighter-skinned Sims! I wasn't happy about that but it didn't stop me from continuing to play the games. The show must go on, right? Sims is too fun for its own good!
Generally, Sims has come a long way from those dark times and it was a slow and meticulous process.
Getting feedback and suggestions from popular Sims players, including CC creators, is an incredible and humble move to make!
CC creators bring a lot to the table when it comes to adding great content to gameplay, so for the developers to keep their minds open and collaborate with some of these creators is really impressive.
Now I don't only rely on CC to improve the look of my Sims skin tones. And even when I use CC, sometimes they appear in combination with the existing skin tones to create a more customized appearance like in the screenshot below:
Why we needed this update
I haven't spotted any glitches with the new Sims skin tones, so I have no complaints about them. In fact, I'm very satisfied with the range we've been given and the extra customization options we have!
Your Sims with melanin no longer have to settle with ashy-looking, uneven skin! Unless you want them to look ashy, then that's all you. Otherwise, it's not something that is just an inherent aspect of the game we have to settle for.
There is a meaningful progress behind these updates too. It brought conversations about diversity in games to the forefront.  
The Sims always strives to incorporate many aspects of our actual lives into the game, not just with careers, raising families, and activities but also with their Create a Sim customization tools!
Players have the ability to create Sims of any race and ethnicity with pre-set mouths, noses, different hair textures (which were also improved with the skin tone update!), and eyes.
So it is only natural to acknowledge and address the issues and concerns with skin tones and complexions for both genders, especially female sims.
As players requested developers to address the appearance of darker-skinned Sims, the Sims 4 developers really showed that they truly aim to represent aspects of all of their players in the game.
Final Thoughts
It's true that Sims has fantasy elements like mermaids, aliens, vampires, and the Grim Reaper; but we also have plenty of regular families in the Sims doing regular things like going to work and school.
It's not unreasonable to want more realistic skin tones, precise reflections of ourselves and our everyday lives to be included in the gameplay. 
A big thanks to the developers and their collaborators for solving our never-ending battle of having darker skin tone options look ashy in games and making the Sims 4 the inclusive game it is.
Related Content