Sims 4 Slider Mods: A must-have list to step up your gameplay
Here you will find the best sims 4 sliders! Have you always wondered that something is missing from your gameplay? Maybe something that would allow for more freedom to create your Sims, or simply make things more realistic in your game? Look no further – in this post, we've collected the best Sims 4 Slider Mods you can download to take your game to the next level. Start browsing now!
More body mods are listed here!
Here you go – our favorite Sims 4 Slider Mods
Height Slider
Have you ever thought about how you wanted to make your Sims look taller without messing with the animations? This height slider, which already has almost two million downloads at ModTheSims was created by Godjul1. It has a few different versions to help your Sims look more realistic with this mod. Join the other downloaders at this link.
Enhanced Butt Slider
Is your Sim always doing squats but the results just won't show? Not anymore, thanks to Cmarnyc's enhanced butt mod. The mod has a number of different butt shapes, both for females and males. Start adjusting your Sim's butt's height and shape by downloading the mod from here!
Enhanced Leg Sims 4 Sliders
With quarter of a million downloads at ModTheSims, this enhanced leg mod by Cmarnyc provides different, more realistic thigh shapes to your Sims. Make your legs stronger or skinnier with this sims 4 slider, which you can download from this link.
Breast Separation Sims 4 Slider
All Sims' boobs look exactly the same… Well, not anymore! Thanks to Cmarnyc's slider, now you can make your Sim's breasts more realistic: you can bring them closer or set them more apart. You can create natural breasts that correspond to your Sim's age more. Get the slider today at our link.
Shoulder Height Slider (All Genders)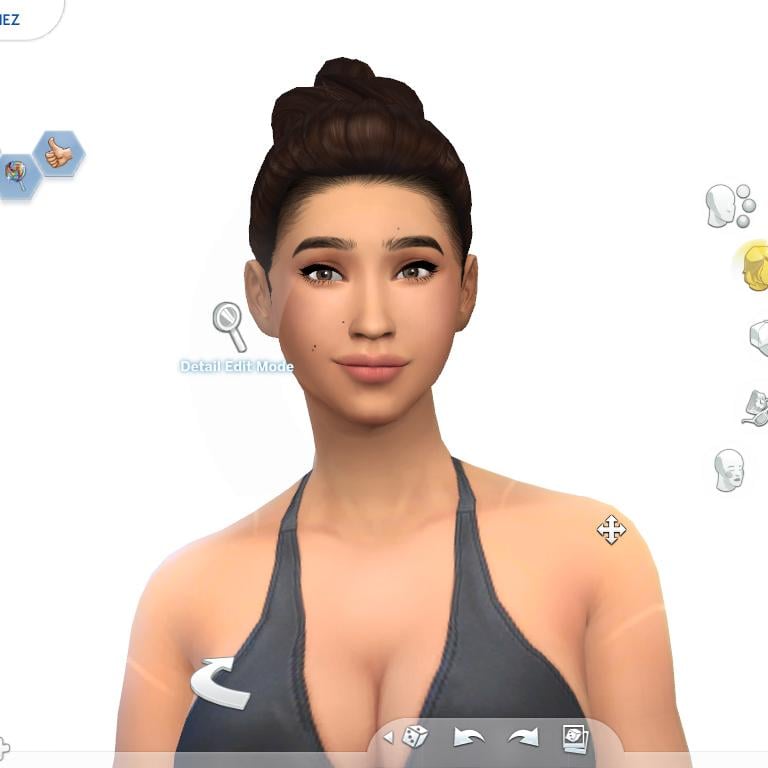 Do you want to adjust your Sim's neck length without making them taller or shorter? This slider by Hellfrozeover is the best solution to do so! Available for all kinds of bodies and builds, all genders and ages, this mod allows you to change shoulder height for a more natural, realistic look. Get it today at this link.
Female Waist and Hip Height Slider
Another mod by Hellfrozeover: not only can you adjust your Sim's neck length, but you can also play around with her waist/hip height. Find the perfect balance between waist and hip size by downloading this mod from here. Start customizing right now!
Female Chest Depth and Width Slider
Another mod for your female Sims' boobs and chest area created by Hellfrozeover. This time, you can adjust the depth and width of the chest of your Sim, thus creating more defined back and chest muscles. Download the mod today at our direct link.
Pointed Ears as CAS Sliders
We've already had a collection of Elf Ears here, but here is a mod that helps you with those pointed ears. With this slider, you can add pointed ears to your CAS; and then you can also adjust the size and position of those ears. Start creating your elf Sims by downloading the mod from this link.
Glasses Slider
From now on, you'll never have to worry about whether the glasses your Sim is wearing match their face. This slider created by Evol_evolved allows you to modify glasses based on size or face shape. You can also move or rotate them – so start rocking your perfect glasses or sunglasses today! Just go to our direct link and download the mod.
Sims 4 Face Slider
For an awesome check the face slider, which was published at Tumblr. Follow this link for the download!
Bulge Slider Mod
Follow this link for our post on an awesome bluge slider mod!
Lip Slider Mod
In this post, you will find an awesome lip slider mod.
Hip Slider Mod
For hip slider mods for the Sims 4, follow this link.