If you are looking for good slider mods, we have good news for you: The selection of mods of various slider mods is just too endless. We have compiled the best slider mods in 2022 for you!
More Slider Mods and Body Presets @ SnootySims
Before we get into the ranking of the best slider mods ever, we would like to point you to our topic-specific overviews. Whether you're looking for body presets or specific sliders for individual body parts, we've selected the best mods for you! In our ranking we put great emphasis on realism, good usability, easy installation and of course the popularity in the community! Here you can find the links to the rankings:
Sims 4 Slider Mods: A Must-have List to Step Up Your Gameplay
Creating your Sim in Sims 4 is never perfect. There are many obstacles that stand between you and your ideal Sim. But these limitations can all be solved by using the Sims 4 sliders and slider mods!
These tools will give you the freedom to edit your Sims in ways you thought impossible. You can use it to make your Sims more realistic and more human-like. In this post, we've collected the best Sims 4 Slider Mods you can download to take your game to the next level. Start browsing now!
Our Favorite Sims 4 Slider Mods in 2022
#1 Height Slider
Have you ever wanted to make your Sims look taller without messing with the animations? Well, here is a tool that will help you achieve that! This height slider allows you to increase or decrease the height of every individual Sim. It is created by Godjul1 and it has over two million downloads at ModTheSims. It's also packed with additional features which you can check here!
#2 Enhanced Butt Slider
Is your Sim always doing squats but the results just won't show? Not anymore, thanks to Cmarnyc's enhanced butt slider. The mod has a number of different butt shapes, both for females and males. Start adjusting your Sim's butt's height and shape today! Check out the entire detailed info and download the slider from this link!
#3 Enhanced Leg Sims 4 Sliders
With quarter of a million downloads at ModTheSims, this enhanced leg mod by Cmarnyc provides different, more realistic thigh shapes to your Sims. You can use it to make your Sim's legs look thiner, thicker, or more muscular. It has a bunch of different options and you can use it to edit the thighs, the knees, and the calves. Visit this page to learn more about it!
#4 Breast Separation Sims 4 Slider
All Sims' boobs look exactly the same, right? Well, thanks to Cmarnyc's slider, now you can make your Sim's breasts more realistic. You can bring them closer or set them more apart. You can create natural breasts that correspond to your Sim's age more or make them as big as their heads. The choice is yours!
But honestly, this is one of the best Sims 4 sliders you'll ever discover! You can download the breast slider by visiting this post!
#5 Shoulder Height Slider (All Genders)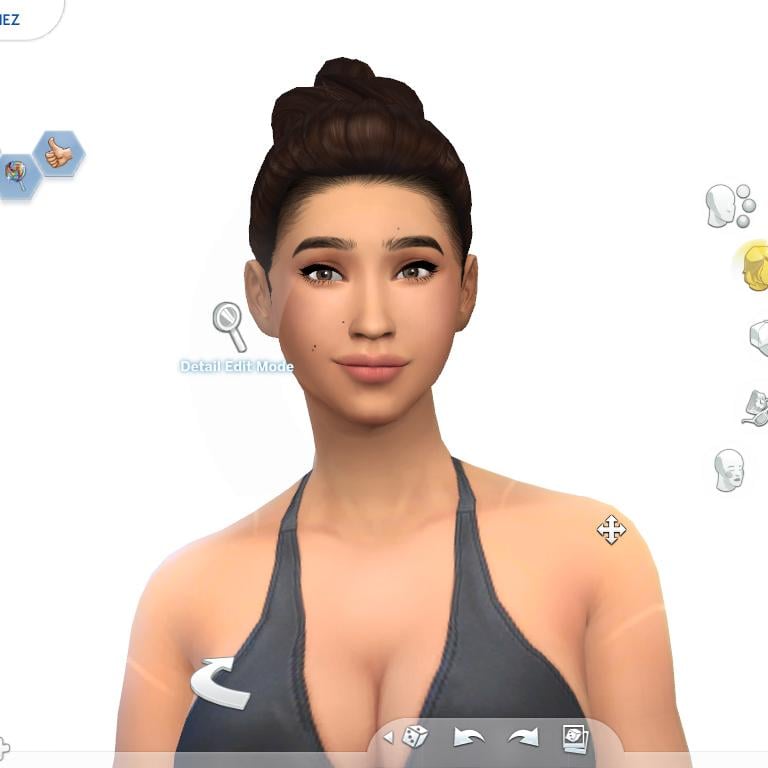 Do you want to adjust your Sim's neck length without making them taller or shorter? Well, this slider by Hellfrozeover is the best solution to do so! It's available for all kinds of bodies and builds, all genders and ages. The slider allows you to change shoulder height for a more natural, realistic look. For best results, learn how to use it by checking this guide!
#6 Female Waist and Hip Height Slider
The waist slider is a sophisticated tool that helps you keep your Sim's waistline in check. It's fanstastic because you can find the perfect balance between the waist and the hip. Your Sim will look healthy and realistic, which is always our goal! This slider is also created by Hellfrozeover and it'squite easy to use in the game. You can download it from this link!
#7 Female Chest Depth and Width Slider
While the breast slider helps you with the shape of your Sims' boobs, the chest slider helps you with the placement. You can adjust the depth and width of the chest of your Sim, thus creating more defined back and chest muscles. It's created by Hellfrozeover and it's very popular on ModTheSims. You can check our entire guide on it throuh this link!
#8 Pointed Ears as CAS Sliders
If you're the type of simmer that likes playing with fantasy Sims, then this mod is definitely for you! The pointed ears slider is an awesome tool that you can use to change the angle of your Sim's elf ers. With your mouse you can drag the ears up and down to set them up exactly as you want. It's really easy to get the hang of it, so make sure you check the slider!
#9 Glasses Slider
From now on, you'll never have to worry about whether the glasses your Sim is wearing match their face. This slider is created by Evol_evolved and allows you to modify glasses based on size or face shape. You can also move or rotate them – so start rocking your perfect glasses or sunglasses today! Visit our in-depth guide to find the download link!
#10 Sims 4 Face Slider
Faces are the most important part of creating your ideal Sims. But the base game tool can't always give us a unique look. That's why we heavily recommend you to use this face slider! It lets you change the width and the depth of your Sim's eyes, which significantly changes their entire face too.
We have more information on how you can use this slider in the game, so make sure you check this post! And for me personally, this is one of the best Sims 4 sliders out there!
#11 Bulge Slider Mod
The bulge slider is one of the most important Sims 4 sliders. It allows you to increase or decrease the size of your Sim's butt. It's especially useful if you aren't using the butt slider we mentioned above. This one is created by hi_land, and you download it from his Patreon page. For more info, you can check our detailed guide!
#12 Lip Slider Mod
Lip sliders excite the most simmers out of all other sliders for Sims 4. The reason is that lips are crucial part of your Sim's facial expression. And you need to nail them before you even start playing! Well, this lip slider by teanmoon is the best tool that you have avaialble for the job! You can make your lips big, tiny, thin, thick, and everything in between.
We heavily recommend you to try it out and download it directly from this page!
#13 Hip Slider Mod
The hip slider is a tool a lot similar to the butt slider and the waist slider. It combines many of the same actions and gives you nearly the same possibilities. However, the hip slider can be used to define the size of your Sim's hips, both males and females.
It's really amazing the level of customization you can reach with it, especially if you combine it with the other sliders. You can download it by visiting this post!
#14 Sims 4 Nose Slider
The nose is often the most important part of a Sim's face. It's what defines the character of the Sim and it's a key element in the general structure of the face. However, the base Sims 4 game only allows us to set up the position of the nose, which is nowhere near enough.
With the Nose Slider by ice-creamforbreakfast, you're now able to adjust not only the shape of your Sim's nose but the angle at which it curves and the size of the nostrils. In fact, you can even change the shape of the nostrils if you want.
All in all, it's a very useful slider for Sims 4, so definitely try it out. Here's where you can download it.
#15 Sims 4 Chin Slider Mod
Even though I gave you plenty of sliders to adjust your Sim's face, the chin slider is definitely one of my favorites. Not only is designing the chin another important element of everyone's face, but it's often what makes or breaks a Sim's look.
This amazing slider by Miiko allows you to change your Sim's face in any way you want. As you can see from the image, you can move the chin inwards to create a more pointy look. You can also drag it outwards to create a more squared look instead. However, you can also slide the chin up and down to design a realistic-looking chin for your Sim in particular.
If you're interested, you can find this slider on Miiko's tumble page and download it.
#16 Sims 4 Lip Fulness Slider
The Lip Fulness slider is another awesome tool to use if you want to create the ideal face for your Sim. The Sims 4 doesn't have many options when it comes to lip fullness, so it's practically impossible to create full lips without this slider.
The best part about the Lip Fulness slider is the fact that you can use it for all Sims – male, female, teen, adult, and elder. You can find it in the earlobe, profile look. Once selected, just drag the lip to the level of fullness you want to have.
This awesome mod is created by vibrantpixels and you can download it from her Patreon page.
#17 Sims 4 Unisex Temple Slider
If you've never seen the temple slider in action, then I challenge you to do so! It's such an amazing tool that allows you to create the perfect temple for every Sim in your game. It works by letting you drag the temple inwards or outwards. And doing this will give you the ultimate look for your Sim.
Personally, I love the temple slider simply because of how much it changes the look of my Sims. It's also unisex, which means that you can use it regardless of your Sim's gender. Also, it works for any age of Sims between teens and elders.
The temple slider was created by squeamishsims and you can download it from here.
#18 Violin Hips Dips Slider for sims 4
Creating the perfect hips for your Sims is not an easy job either. The game doesn't give you too much freedom when it comes to adjusting your Sim's hips, so it's almost always a good thing to install a slider.
The Violin Hips Dips slider you see here is my recommended mod for all of you that really want to create realistic-looking hips and butt. With this slider, you'll be able to drag left and right at the hips area to widen or tighten them. And in the image above, you can see what's the highest and the lowest point you can go to.
This slider is also created by ice-creamforbreakfast and you can download it from this Tumblr page.
#19 Belly Slider for Sims 4
One of the things I find most unrealistic in the CAS menu in Sims 4 is the absence of belly options. In the real world, the majority of us have excess fat around their tummies. This is anything new for modern games. But Sims 4 is far behind this wheel.
As a solution, I recommend you install this super cool belly slider mod created by hi-land. It's a simple-to-use tool that allows you to select the shape and the size of your Sim's stomach. Just drag the belly to whichever point you like and that's it. And if you're creative enough, you're going to get some pretty realistic Sims in your game!
If you want to download this mod, follow this link.
#20 Sims 4 Nose Tilt Slider Mod
In the real world, some people have regular noses, some have crooked noses, and some have noses that are tilted left or right. In The Sims 4, it's not possible to create a tilted nose, so it's recommended to use a mod for that.
The nose tilt slider you see here is the perfect solution if you want to bring even more realism to your Sims 4 gameplay. It will allow you to change where your Sim's nose is facing, regardless of whether it's left or right.
If you're interested, you can visit this page for a download!
#21 Leg Length Slider for Sims 4
If you've ever felt like The Sims 4 doesn't let you create a pair of long sexy legs for your Sim, I got some great news for you! The Leg Length slider by Dumbaby is one of the best Sims 4 sliders that I've ever installed. And I can recommend it to you with all my heart!
Basically, the Leg Length slider allows you to change the position of your Sim's butt relative to the other parts of their body. By dragging the butt up or down, you essentially change the length of your Sim's legs. Drag the butt up and you'll get longer legs. Drag it down and you'll get shorter legs.
Although simple, this works fantastically well in-game. And if you want to download the mod, visit this link.
#22 arm Thickness Slider for Sims 4
The arms are another neglected part of the Create a Sim menu in The Sims 4. But the problem becomes bigger when you start using mods like the belly or hips slider and create a Sim with them. Then, the arms of your Sim end up looking disproportional with the rest of the body. And it really looks unrealistic.
To fix that, I suggest you install this awesome arm slider mod by vibrantpixels. You can use it to make your Sim's arms bigger or smaller, depending on what you need. This slider affects both the biceps and triceps area and the forearms too.
Check this link to download the arm slider mod for Sims 4!
#23 Boots and Heels Slider for Sims 4
And here's an unconventional slider for Sims 4 that you might not know you needed. It's a slider mod only for boots and heels, but it fits the game in a perfect way. It allows you to drag the boots your Sim is wearing in CAS and set their height. This mod works with boots CC which you can download too.
Honestly, this isn't a must-have slider for all simmers out there. But if you're anything like me and you absolutely need this for your female Sims, I suggest you give it a shot. It's really interesting to create a unique height of boots for your Sim, so you might have fun too.
For a download, you can visit this link.
#24 Sims 4 Jawline Slider Mod
And finally, we have this awesome jawline slider for Sims 4! Creating the ideal jawline for your Sim is never easy in the basic Create a Sim menu. The lack of complexity in the option makes it very difficult to adjust the jaw in the exact way you want. And if you think the same, you'll definitely love this jawline slider!
This mod will let you choose the perfect jawline for every Sim you create. But it's also connected with the cheek and temple too. In other words, no matter which jawline you choose, it will always be proportionate with the rest of your Sim's face.
Click here if you want to download this slider.
And those are all the best sliders and slider mods for Sims 4!
How to install Slider Mods? What is the correct folder?