Welcome to our post on the best eyelashes! No looks can be completed without a good set of eyelashes. Whether they are gentle or powerful, eyelashes are like topping for a cake. And eyelashes mods are something we all need inside The Sims 4, so we went on a mission to find the best ones ever! Here they are!
That's still not enough for you? Then have a look at our Sims 4 mods overview post or check our post on the most awesome makeup custom content for The Sims 4!
Table of Contents
Sims 4 Eyelashes: Skin Details
3D Lashes for More Skin Detail
At kijiko-catfood.com you'll also find this lovely set of eyelashes for your adult Sims. It has a pleasant appearance and a tender vibe – perfect for any friendly Sim! The direct download link is here.
Sims 4 Eyelashes: The Best CC & Mods
Natural Eyelashes 
We're starting off with a wonderful pack of hand-drawn eyelashes. These natural looking eyelashes should not be missed by anyone and we have to thank Glaza for creating them! You can find more of his creations at allbyglaza.blogspot.com or you can download this one from here.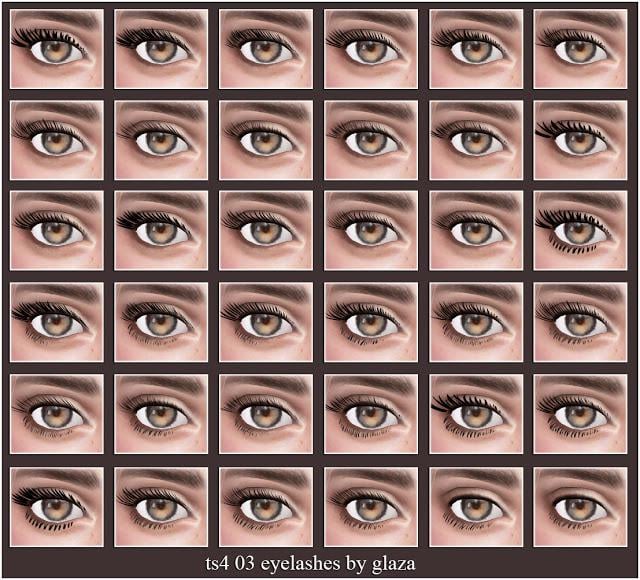 Powerful Eyelashes 
Here is a bit more powerful version of the previous eyelashes pack. This one consists of eyelashes that are a bit darker, stronger and much grander! Visit allbyglaza.blogspot.com if you haven't already and download this Sims 4 mod from here.
Gorgeous Sims 4 Eyelashes 
And to complete these amazing rounds by Glaza – this is the last of his gorgeous eyelashes mods. This one is a bit more colorful but equally pretty and splendid. Once again, they are all hand-drawn for more realistic look. Hurry up and download them from this link.
3D Lashes for Dreamy Eyes
All dreamy eyes inside The Sims 4 have one thing in common – this CC of glorious eyelashes! They flow in lavish manner upward and downward and they'll suit every color of every eye! Download them and try them for yourself. Here is the direct download link.
Smooth 3D Lashes
Just when we thought a more stunning pair of eyelashes couldn't exist – kijiko-catfood.com has provided us with this mod! Long length, smooth curve and beautiful design – this mod should be in every Simmer's collection. Download it quickly from here.
Misty Anime Styled Eyelashes
If you're creating an anime styled Sim, please consider these eyelashes! You won't find a better addition for your themed gameplay and your Sim will look like a real hero in a real story! We found this mod at ModTheSims and you can download directly it from this link.
Bobur's Lovely Eyelashes
And on The Sims Resource we found these lovely eyelashes. The mod makes for some adorable looks and in combination with some eyes – it cannot be topped! Already a popular mod, you can download it from here.
Gentle Eyelashes
Something similar by the same creator Bobur3 Something similar by the same creator Bobur3 we have here as well, but the color option of this mod is what made us decide to put it here! 10 different shades which all have different character and tone, so it is a must to try them all! Download them directly from this link.
Flowery Eyelashes
Delicate as flowers and lovely as spring itself – this Sims 4 eyelashes mod is needed for all female Sims. Plus it comes with 8 color variants so you can find your own and enjoy your brand new look. You can download it from here.
Mysterious Eyelashes
But if you are looking for something darker and mysterious – take a look at this Bobur3's makeup mod. The eyelashes here have a fierce appearance, something that every ambitious and powerful female Sim must have. If you want to get the CC for yourself, follow our direct link.
Tender Eyelashes
Firm, but tender – this mod of eyelashes finds the perfect middle of the beauty and balances it into this dazzling look. If every CC for The Sims 4 could do the same, we'll all be happy Simmers. Don't wait for too long to try this mod and download it from here!
Charming Sims 4 Eyelashes
And for the last of Bobur3's beautiful eyelashes mods we have the charmer's set! Your Sim's eyes will glow with attractiveness and you'll feel able to subdue the world – we promise! All of these mods are available at The Sims Resource, but you can download this one directly from here.
Dawn & Sunset Eyelashes
You really can't go wrong with these gorgeous eyelashes! In this mod you'll find two different designs, one is darker and gives more of a firm look and the other is lighter with a sweeter look. But both are equally pretty in their own ways, so you really have to try them at ModTheSims. You can also download them directly from here.
Meet Your Destiny Eyelashes
Dressing up for the perfect night out? Why don't you give your Sim the ultimate cougar look and trap the love of their lives right then right there? And you have a 24 different ways to do so, because this mod comes in that many variants! Download it from here.
Goth Eyelashes
For all Goth lovers we have this wonderful addition to your CC collection. Dark and cloudy on the edges, clean and delicate all around! This mod is a creation by Vampire_aninyosaloh and it is already downloaded over 100,000 times at ModTheSims. Get it for yourself from this link as well!
Mara Eyelashes
A 'classic' is what we always expect from Pralinesims at The Sims Resource. It is no different with this pair of eyelashes that come in 3 different versions and 5 color shades. We recommend you to download it this mod from here and try it on your Sims. We promise 100% success!
Rio Sims 4 Eyeshadows
Springy and sunny appearances are a large reason why we're all here for! That's exactly why we added this wonderful Sims 4 mod that provides colorful eyeshadows and brand new eyelashes. Play with all the different shades and enjoy the richness of the world! Download the CC quickly from here.
Great Noon Eyelashes for Males
Finally here is a great eyelashes mod for your male Sims too! The design is subtle and not overly aggressive, so it fits perfectly on every man's face. The credits for creation go to Vampire_aninyosaloh and you can download his CC from this link.
S-Club Beautiful Eyelashes
This is one of the most popular eyelashes mods that we discovered on The Sims Resource when we were making this list. And it is no surprise that we fell in love with it as well because it is one of the most beautiful custom content that we've ever seen for The Sims 4. Unique look and custom colors, what more can you ask for? Thanks to S-club who created the mod which you can get it from here.
S-Club Amazing Eyelashes
But S-club's eyelashes mods don't stop there! Check out this amazing look and tell us that you do not like it. It's dazzling! It is already downloaded over 160,000 times so there is no reason why you shouldn't try it too. This is the direct download link.
S-Club Stunning
Here is another stunning mod design and we love this one in particular because it comes in two styles which fit female Sims of all ages in an amazing way! We believe that all of your female Sims could be more beautiful if you get them this CC! You can do so from this link.
S-Club TS4 Universal Eyelashes
Your male Sims don't need to be left out because S-club has given us this universal eyelashes mod that fits everyone! The Sims 4 could really be an emptier place without CC like this one. We urge you to visit The Sims Resource for more info and to download this mod from our direct link.
S-Club Princess Eyelashes
If you want to make your Sim as pretty and as gentle as a princess – now you can do so! These fragile eyelashes would help you make friends with everyone in the game and they will all love you for it! Download this CC from this link.
S-Club Sims 4 Grand Eyelashes
Thick and powerful – this pair of eyelashes makes for a must-have Sims 4 mod just because of all the grandeur it brings to the game. The prestige has never been closer to your Sim and it's actually on one click away. Grab it from here!
Sims 4 Foxy Eyelashes
These foxy and alluring eyelashes are able to transform every female Sim into a star of the night! It is full of charm and mystery, but the custom colors are where this CC shines the brightest! We strongly advocate for anyone to try this mod which is available at this link.
S-Club Brilliant Sims 4 Eyelashes
Praise S-club for creating this brilliant CC as well. No makeup can be thoroughly complete without this set of eyelashes. They add a surprising amount of depth and character to any Sim we've ever created. You can download the mod for yourself from here.
Glamour Eyelashes for The Sims 4
And if you want to touch glamour – here is a sure way to do so! These eyelashes mark the greatness of every female Sim and you can have them right now if you hurry up and download them from this link. The official source of the CC is The Sims Resource.
Luxurious Eyelashes
A luxurious set of eyelashes is what we never miss! These grand lashes have converted every look of every Sim we've created into that of a beauty model. Head to The Sims Resource to download this mod too or get it directly from here.
Special Sims 4 Eyelashes (for Kids and Males)
3D Lashes for Kids And Toddlers
You don't only have to pretty up your adult Sims! We have a super cool eyelashes mod for your kids and toddlers that will make their little eyes sparkle! Don't leave them out and go to kijiko-catfood.com to download the mod or click here.
Adorable Eyelashes
Your toddlers can also look absolutely adorable if you give them this amazing mod! Here the eyelashes are soft and they come in two colors – designed especially for their pebble eyes! You can download the CC from this link.
Natural Sims 4 Eyelashes
And we're concluding our list with the last of S-club's eyelashes – and this one is for men! It's simplistic, natural and it's bound to give them a 100% more attractiveness. All of these fantastic mods can be found at The Sims Resource and to download this one click here. Don't hesitate to try them out!