If you have spent your real-life simoleons on the Sims 4 University DLC, your sim will get to experience and enjoy all the fun things that happen at a University. However, more than anything else, your Sim's end goal is to graduate! Continue reading to learn all about Sims 4 Graduation!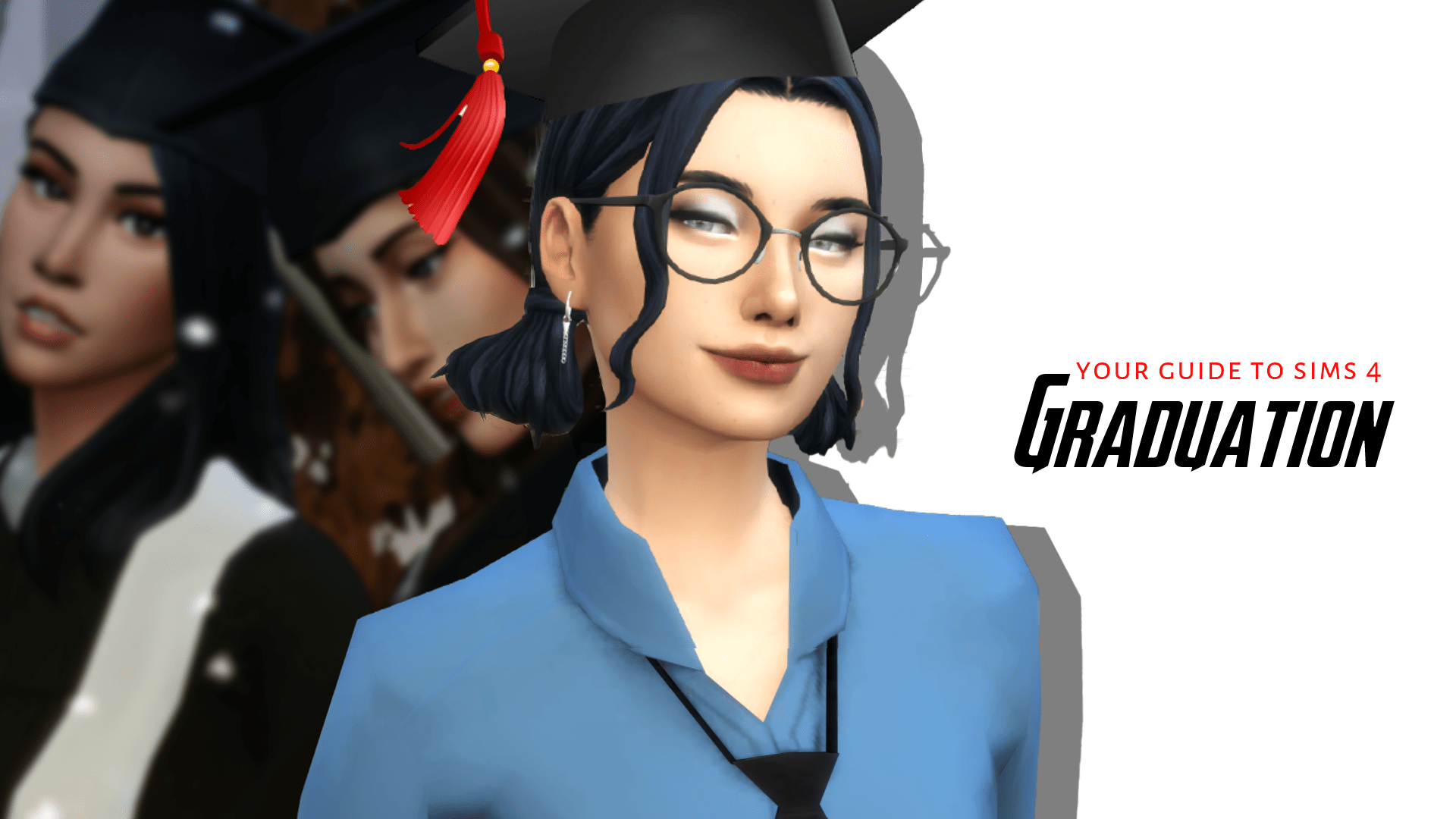 How does my Sim apply for university?
First, your sim will want to work on their degree relative skills to get accepted for specific degrees. After you decide what kind of degree you want your sim to have and brush up on their skills, all your sim needs now is a computer to apply. And then they should wait for their acceptance letter. This takes two days to receive in the mail. Once they get their acceptance letter, they can choose from their qualified degrees and schools.
After your sim chooses what school they want to attend and what degree they want to pursue, they have two options. They can either choose to live on campus so that they can get the full dorm life experience. Or, they can just live off-campus. Once your sim begins their journey, they can also join organizations and even a secret society.
Below are the skills your sim will want to level up to get offered the degree they want to pursue. Some skills require you to have
Art history: Charisma, Painting, Writing, Photography, Archaeology (Jungle Adventure), Salvadoran Culture (Jungle Adventure)
Biology: Fitness, Gardening, Logic, Wellness (Spa Day), Veterinarian (Cats and Dogs)
Communications: Charisma, Logic, Writing, Research and Debate, Parenting (Parenthood)
Computer Science: Mischief, Programming, Robotics, Rocket Science
Culinary Arts: Baking (Get to Work), Cooking, Gourmet Cooking
Drama: Acting (Get Famous), Charisma, Comedy, Fitness
Economics: Charisma, Logic, Research and Debate
Fine Art: Painting, Photography, Violin, Piano, Pipe Organ (Vampires)
History: Charisma, Logic, Research and Debate, Archaeology (Jungle Adventures), Salvadoran Culture (Jungle Adventures)
Language and Literature: Charisma, Research and Debate, Writing, Vampire Lore (Vampires)
Physics: Handiness, Robotics, Rocket Science, Logic
Psychology: Charisma, Logic, Research and Debate, Mischief, Parenting (Parenthood), Acting (Get Famous) Villainy: Fitness, Logic, Mischief, Vampire Lore (Vampires)
how exactly does your Sim graduate in university?
Just like in real life, your sim will need to write semester papers. They will also give presentations, and complete final exams to pass all their classes. That is so that they can graduate with whatever degree they have chosen. You can view the career tab, which details the class days and times and the coursework they need to do to complete the class. Make sure your sim also does their homework every day and pays attention in class so that they can get the best grade!
What degrees can my Sim get?
There are two universities that your sim can attend: University of Britechester or Foxbury Institute.
There are thirteen different degrees your sim can earn, and four different degree types. Your sim will need to have the required skills to pursue whatever degree they want to obtain.
Degree types include regular, with Honors, Distinguished, and Distinguished with Honors. While the Degrees include Art History, Biology, Communications, Computer Science, Culinary Arts, Drama, Economics, Fine Art, History, Language and Literature, Physics, Psychology, and Villainy
Both of them offer all 13 degrees, but to get a Distinguished degree, only one of either school will offer the degree as distinguished. So, your sim will have to attend the specific school that offers the degree you want.
The distinguished degrees at Britechester include Art History, Communications, Culinary Arts, Drama, Fine Arts, History, and Language and Literature. And the distinguished degrees at Foxbury include Biology, Computer Science, Economics, Physics, Psychology, and Villainy.
What are the benefits of getting a degree?
The benefits of your sim getting their degree is well worth the challenging work and studying your sim will need to complete! After graduating, your sim can enter their chosen field at a higher level. They could also earn more pay, have easier promotions, and even get more vacation days.
Different degrees are beneficial for their relative career types. Below are all the different careers that you can get benefits from about the degree your sim wants to earn. Included is any additional content you will need for special careers which are not in the base game.
Art History degree: Critic (City Living), Painter, and Style Influencer
Biology degree: Athlete, Conservationist, Doctor (Get to Work), and Gardener
Communications degree: Business, Politician, Social Media (City Living), and Writer
Computer Science degree: Criminal, Engineer, and Tech Guru
Culinary Arts degree: Critic (City Living) and Culinary
Drama degree: Actor, Entertainer, and Social Media (City Living)
Economics degree: Business, Conservationist (Island Living), and Education
Fine Arts degree: Entertainer, Gardener (Seasons), Painter, and Style Influencer, Freelancer, Fashion Photographer (Moschino Stuff)
History degree: Law, Military (StrangerVille), and Politician (City Living)
Language and Literature degree: Law, Writer, Freelancer
Physics degree: Astronaut, Engineer, and Scientist (Get to Work)
Psychology degree: Education, Detective (Get to Work), Education, Military (StrangerVille), and Secret Agent
Villainy degree: Astronaut, Criminal, and Secret Agent
Finally: It is time for Graduation!
After your sim passes all their classes, they can graduate! One day after their final class, your sim student will get a notification that they have passed all their classes. You will also see on the calendar the day of the graduation party. A dialog box will appear asking your sim if they would like to attend the ceremony. Your sim will still get their degree, as attendance at the ceremony is optional, but where is the fun in that? If your sim does choose to attend the ceremony, they will automatically be transported to the university's stadium where they will be dressed in their school's cap and gown.
Unfortunately, the ceremony is not visible to the player. This is because it takes place inside of the stadium in a rabbit hole. You will, however, be able to hear the ceremony going on inside of the stadium from the outside. After the ceremony is over, your sim will show up outside of the stadium with other grads. They will have a green moodlet with the description "Graduated University". And in their inventory will be a graduation poster. The graduates will toss their caps in the air in celebration!
Sims 4 Graduation Custom Content and Mods
Custom Social Event: University Graduation
If you were disappointed that you cannot see your sim walk across the stage and receive their diploma, this is the mod to get. It creates a custom event to do just that. With this mod, you'll get two new social events. These are Foxbury Institute Graduation and UBrite Graduation Ceremony. You will also get custom interactions.
How to Play
Note 1:
If your Sim has enrolled in the university, or they just earned all credits and are waiting for the rabbit hole ceremony, you can plan your Sims 4 Graduation on the calendar or under their Phone – "Plan Social Event". It's worth noting that if they are not enrolled, they won't be able to throw one.
The event can be held at the corresponding Student Commons, University Housing, Residential Lots and Libraries, Parks, and more.
Note 2:
Except for your own graduating Sim, you need to invite a professor. For the record, he or she does not need to be one. Invite any classmates or roommates under "Other Graduates", and any family or friend you'd like to invite under "Guests". Your Sim and other graduates will show up in a graduation robe. You can invite zero guests or other graduates, and NPCs will be auto-invited to fill the job.
Note that professors need a microphone to host the ceremony. So, if you place a microphone on higher floors or too far away, the first valedictorian will shake hands with the professor where they showed up and takes a long time. And this will prevent you from completing a goal. So, keep the microphone close to the entrance.
Note that sometimes Sims show up not wearing a graduation gown. In those cases, cancel the party and start again.
Note 3:
The first part of the event is the ceremony. The professor calls graduates to the stage and lets them give a valedictory. And then shakes hands with them with congratulations.
Note 4:
In the middle of the event, graduates will throw their caps into the air and graduate!
Note 5:
The last part is when everyone talks and has fun. New interactions show up at this stage. These include "Enthuse About Graduation", "Show Off Graduation Gown", "Compliment Gown" "Mock Gown", "Discuss Career Plans", "Ask to Keep in Touch", and "Enthuse about Cafeteria Menu" and "Crush Dreams about Future".
Note 6:
Anyone who attends a ceremony gets a graduation photo. So, you can dump that dull rabbit hole graduation without losing your precious photo.
Note 7:
Sims with Silver or up unlocks an interaction to "Tell Graduation Story". On success, they'll get confident, and will perform the cap-throwing thingy. You should note that Reward is not included in Fauxbury Graduation.
Note 8:
At last, Sims with Gold Level or up unlocks a reward trait. Memories of Graduation, it includes three moodlets:
Memories of Graduation (Happy +1): Get this buff when visiting the university. It has a cooldown.
Never Too Old to Learn (Focused +2): Get this buff when visiting student commons. It has a cooldown.
Glimpse of Youth (Energized +1): Get this buff when university students are around. It doesn't have a cooldown.
It's a pretty useful trait so I made the event hard to achieve gold. Call me a T-Rex. The reward is not included in the graduation of Fauxbury. But that party is easy to achieve gold though. So, if you want it, visit this page. It is created by The Rex.
Graduation Event for the Sims 4
Maybe you don't have the University DLC, or maybe you would rather just see your teen sims graduate high school… Don't worry! – There's another mod for that!
This mod will allow you to plan a custom graduation event. You can place yearbooks, ask for recommendation letters, and talk with classmates in new dialog options. It is created by BrittPinkieSims.
Cap and Gowns; Sims 3 Conversions
These cap and gown are a conversion from the Sims 3. There is one for male and female in three different swatches. These are the same samples EA used in The Sims 3. The graduation cap is under the hats category, and the outfit is under the full body outfits. It is created by Mathcope.
University Graduation Outfit
This version has more details in the back. It comes in three different swatches as the original Sims 3 ones. Here's your download link.
Graduation Mini Set, part 1
This set includes four items. They include a graduation cap and diploma. Both of which have two variants. You can use them as decorative objects or as pose accessories. Install.
Graduation Mini Set, part 2
As for this set, it includes five decorative cupcakes. They are categorized as clutter. Download from this page.
Graduation Photo Mod
Do you need to generate a graduation photo for a Sim that has a degree? This simple mod will do just that! It requires Discover University Expansion Pack. To install this one, visit this link.
University Decor Conversions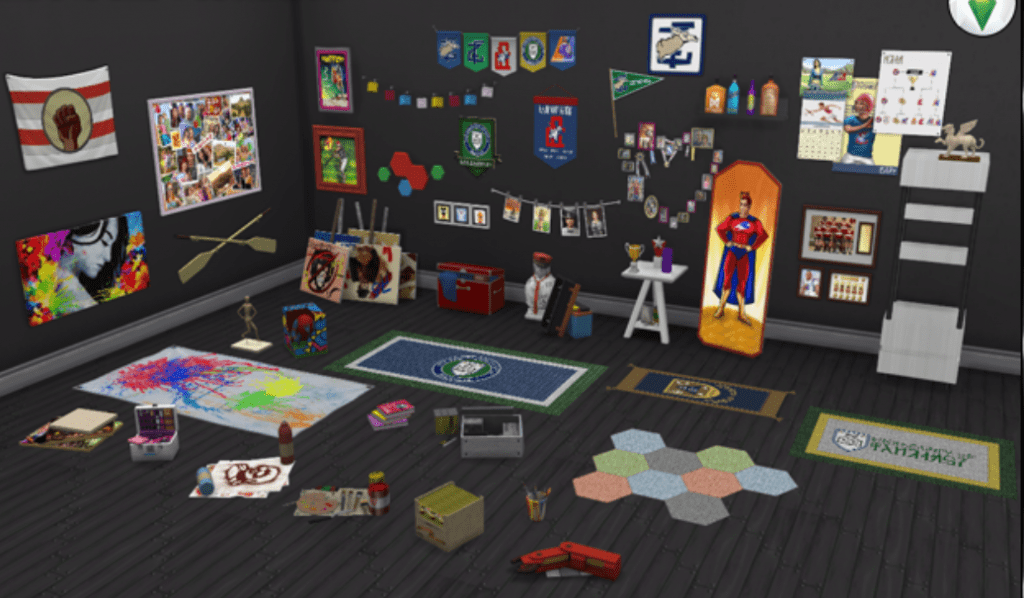 If you're getting tired of the same old décor for Sims 4, you might enjoy this conversion from Sims 3. Firstly, there are the décor items from University Life that includes all paintings and clutter. Please enjoy these 44 51 clutter items for your game! All items are recolored in a 30-color pallet, maxis match woods or their original Sims 3 colors. To install, click here.
Graduation Pose Pack
These poses are perfect for pictures to commemorate the big day for your Sim! This cc pack contains lovely poses with your Sim's mom and dad or anyone else that is important to your Sim that you can create a great photo to look back on to remember. Here's your download link to have the best Sims 4 graduation.