Make cooking and meal times super exciting in The Sims 4 with the Realistic Cooking Mod! Read all about the details in this article we prepared!
Meet the Realistic Cooking Mod!
Somik and Severinka are a famous duo in The Sims 4 community, who are known for creating really cool culinary mods, delicious recipes, and functional objects for the game. One of their best mods, the Realistic Cooking Mod, was able to successfully capture the hearts of Simmers as it introduces a lot of impressive cooking-related tweaks in the game. Below, we listed some of the best features of this delightful mod!
1. A Huge List of Functional Products is Available!
The Realistic Cooking Mod incorporates plenty of functional products in The Sims 4, making your Sims' kitchen experience much more exciting. All in all, there are about 70 new functional products that your Sims can use for cooking!
Featured products:
Frozen goodies such as fruits, vegetables, herbs, and berries
Meat packs such as pork cutlets, chicken breasts, beef flanks, sausages, etc.
Dairy products
Bread, pasta, grains
Flour, sugar, spices
Oils
Eggs
Tea, coffee, and other beverages
Bottled pastes, spreads, and sauces
More on SNOOTYSIMS: 40+ Ultimate restaurant mods to enjoy delicious meals in the Sims 4.
2. Some Products are Readily Edible.
Within the array of products available in the Realistic Cooking Mod, a few are readily edible, such as chocolates, crackers, chips, and spreadable food like jams, peanut butter, and honey. Some products which come in larger packages can also be unpacked and individually consumed, such as bottles of milk.
How much do you know about the food recipes in the Sims 4? Here's the full list!
3. Sims Can Also Create Existing Recipes with the Products.
The new functional products and ingredients that are available through Somik and Severinka's Realistic Cooking Mod make it possible to create default recipes that use these exact new products! When you open the recipe menu, you'll see that your Sims can now use the new products instead of the existing ones.
4. The Cooking Menu Looks More Posh!
The creative duo also worked on a fresher design for the cooking menu for the refrigerator. Apart from the new youthful interface, the menu now also organizes the recipes more efficiently, creating plenty of categories for each food.
There's a whole lot of exciting kitchen mods and CC for the Sims 4! Have you checked them out yet?
5. Grocery Delivery is So Much Better Now.
Grocery deliveries have also been given an overhaul through this mod. You heard it right! There is a distinct delivery service included in the Realistic Cooking Mod, and your Sims can purchase their goodies from this store.
6. There's also a Self-Service Checkout Machine.
Apart from getting their products and fresh ingredients from grocery deliveries, your Sims can also use the Self-Service Checkout, a functional machine that allows Sims to purchase their groceries easily. With this innovative addition to the game, your Sims can even open their own grocery shops!
Ever heard of the Express Delivery mod? Don't miss out!
7. Plus, the Realistic Cooking Mod Works With Other Recipes.
Aside from being compatible with the base game of The Sims 4, the Realistic Cooking Mod also works with the custom recipes released by other creatorsThis makes it easier to have a huge list of delicious recipes that work in-game!
Compatible with recipes from:
Oni
Littlbowbub
Brazenlotus
TianaSims
8. Lastly, the Realistic Cooking Mod Keeps Getting Updated.
Somik and Severinka maintain the Realistic Cooking Mod through continual updates, which include the addition of more recipes, functional items, and grocery hauls. Just make sure that you always have the latest version available so things can run smoothly in your game.
How to Install the Realistic Cooking Mod?
Visit this site to download the latest version of the Realistic Cooking Mod. Unzip and place in your Mods folder.
Optional step (Do this only if you don't have all of the expansion and game packs installed): Find two folders named "EA Override xx_Additions" within the unzipped files of the Realistic Cooking Mod. Then, delete the add-ons that you do not have in the game.
Download the "Any Ingredient" Cooking Tags Resource as well as the XML Injector, which are required for the mod to work. Unzip these and place the contents in your Mods folder.
If you encounter any problems with the mod installation, refer to this guide.
Conclusion: Make Meals More Exciting!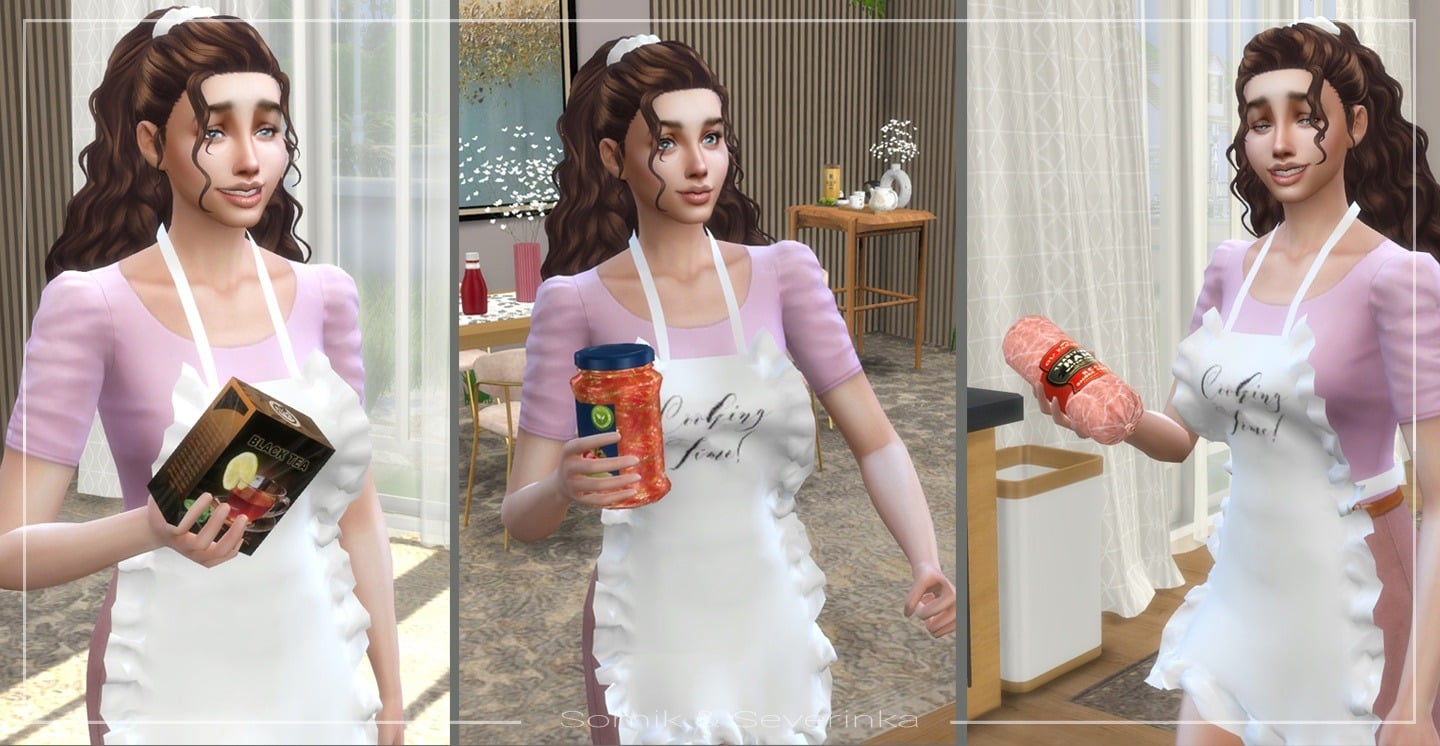 If you love cooking and preparing meals in The Sims 4, the Realistic Cooking Mod is one cool mod that you shouldn't miss. It has all the best features that will make your Sim's kitchen time more worthwhile. Plus, the major haul of new foods, delicious recipes, and functional objects is enough to give you endless hours of cooking-related gameplay fun! Enjoy and happy simming, dear Simmers!
Related Content