If you're a cat person and a simmer at heart, I'm dead certain that you've downloaded all types of cat CC that the Sims community has offered us so far. I've done so myself, unapologetically, and will continue to walk down the same road.😉If you have the same intention, you're in for a good treat because our latest Sims 4 cc is a cute cat's corner CC pack. Continue reading to learn all about it. Happy simming ahead!
Is SNOOTYSIMS now making CC for the Sims 4?
Yes. It was always on our minds, and it was only a matter of time for us. Our Patreon account has been up and running since the 27th of April, 2023. You could say our humble team at SNOOTYSIMS wasn't the most knowledgeable in 3D modeling, not at all to be honest, nor did it know where to start actually.
Tattoo CC
So we thought of starting nice and easy with some simple Photoshop editing, and that's when we've created our "I'm Not Weird" tattoo. It was our very first upload on Patreon. From then on, we created more tattoo CC; "My Galaxy Tattoo", "Minimalist Tattoo", "All Tatted Up", to name a few. Yet during that time period, we also set our hearts into venturing deeper into the world of custom content, and that's when we've decided to learn some 3D modeling and design. It's a long story for another day, yeah? 😉
Furniture CC
All in all, our team expanded and we've stepped foot into the awesome realm of furniture CC! The "Old-Fashioned Camping Bedroom" was our very first upload in that line. You, simmers, have been helping and supporting us along the way which in turn fueled our imagination and desire to get better and better. From then on, we created more furniture CC for the Sims 4 including kitchen CC, infants and kids furniture, mirrors, desks, and lots of decor and clutter custom content.
Was it simple or easy? No. Was it rewarding? Yes, in the broadest sense of the word. There's an unspeakable joy in being able to contribute to a game you've been playing ever since you were a kid. The interflow with the community of those who create and those who download CC, is one that feels like home! So, it was only natural that we've vowed to create more!
For the record, we recommend exploring our compilation of the finest Sims 4 furniture CC finds (including some of our best) by clicking the image below. Have fun while at it!
SNOOTYSIMS has been creating themed CC for the Sims 4!
Oh yes, our favorite zone! Whenever there's a trend wave, we try to follow along. Previously, with the release of the Barbie movie, we've created not 2 or 3 but 4 Barbie themed sets for the Sims 4! The last one being a mix between Barbie and the Horse Ranch expansion pack. Have you downloaded it yet?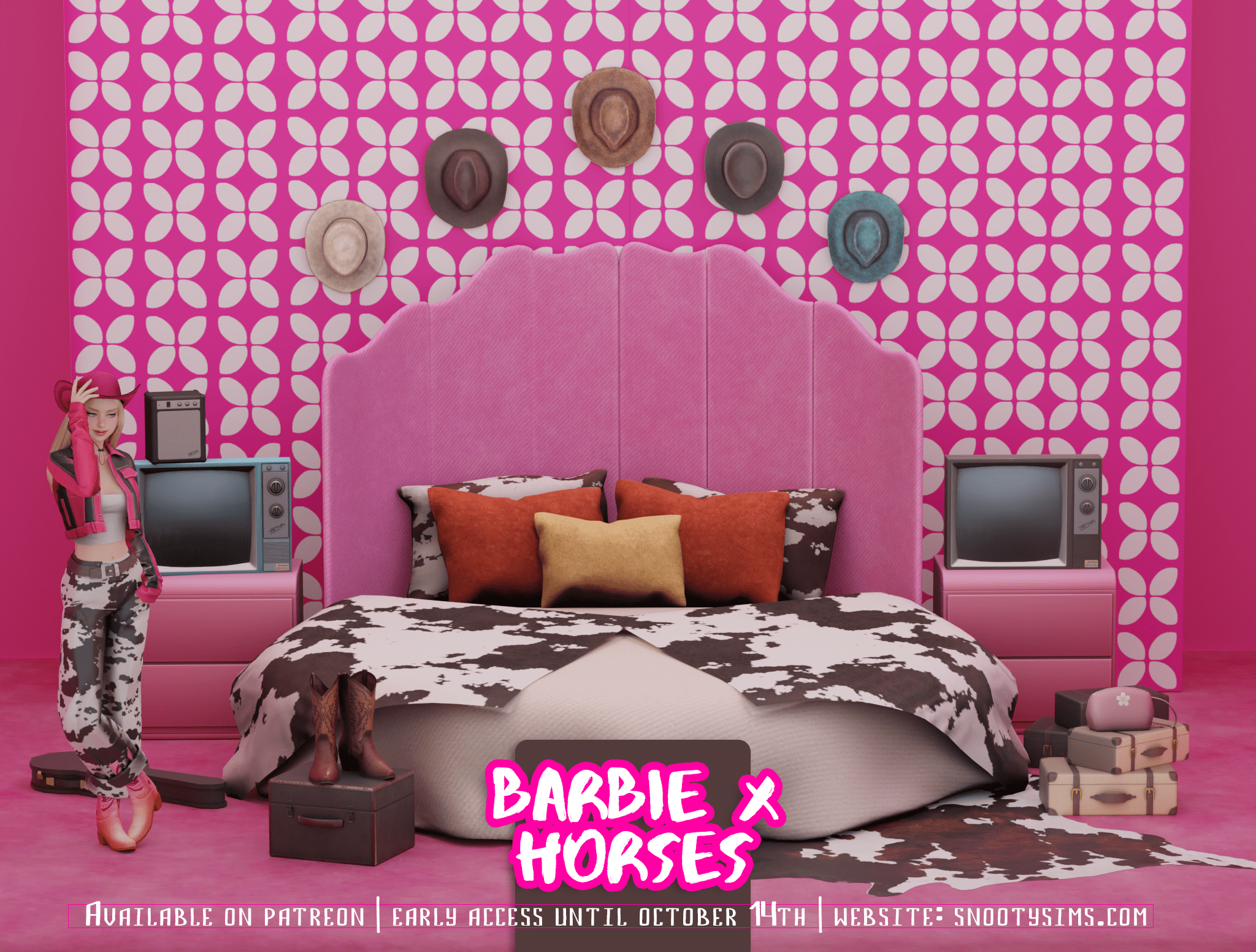 There's more to see in that regard; we have a dedicated post with a compilation of our Barbie CC and other flawless Barbie CC packs by fabulous CC creators. Click the image below to have a look at it!
Sims 4 Pets CC by SNOOTYSIMS: there's always more to come from our end to yours!
Our cute cat's corner set (our latest CC) is NOT our only pets CCt, we've previously created other cat beds that are now free to download on our Patreon.
We didn't want to stop there, so we created one more with much more enhanced textures and mesh materials!
Introducing SNOOTYSIMS' Latest CC: Cute Cat's Stop!
I'm honestly very excited for all of you to try this in-game. We've really up-ed our game with this one. The set has 3 functional objects in store for your cats.
A functional bed
A functional scratching post
A functional food bowl
The food bowl doesn't have 3 states for when it's full, half full and empty. But we'll be releasing an update for it soon!
Download Our Cat's Stop CC Pack NOW!
Keith, a simmer from the SNOOTYSIMS family has created this short reel, featuring our cat's stop set alongside other cute cc finds!
In-game Preview of the Cat's Stop set
We've used some base-game objects and CC to build this cute cat corner. Everything in the picture above is shown in the picture below alongside names, in case you wanted to replicate it yourself. Have fun!
More on SNOOTYSIMS for all of your Pets enthusiasts
We try our best to always come up with the most fun topics for all of you visiting us on SNOOTYSIMS. Below is a bunch of pets guides, mods, and CC compilations that we hope will offer you new fun ways to enjoy the Sims 4 with your pets!
Click the images to visit their respective posts, and have lots and lots of fun!
30+ PET MODS: REVAMP THE LIVES OF YOUR FURRY FRIENDS IN TS4!
HOW TO BEFRIEND ANIMALS WITH PET RELATIONSHIP CHEATS!
THE VARIED WAYS OF HOW TO GET A PET IN THE SIMS 4!
SIMS 4 FISH TANK CC THAT YOU'LL LOVE TO HAVE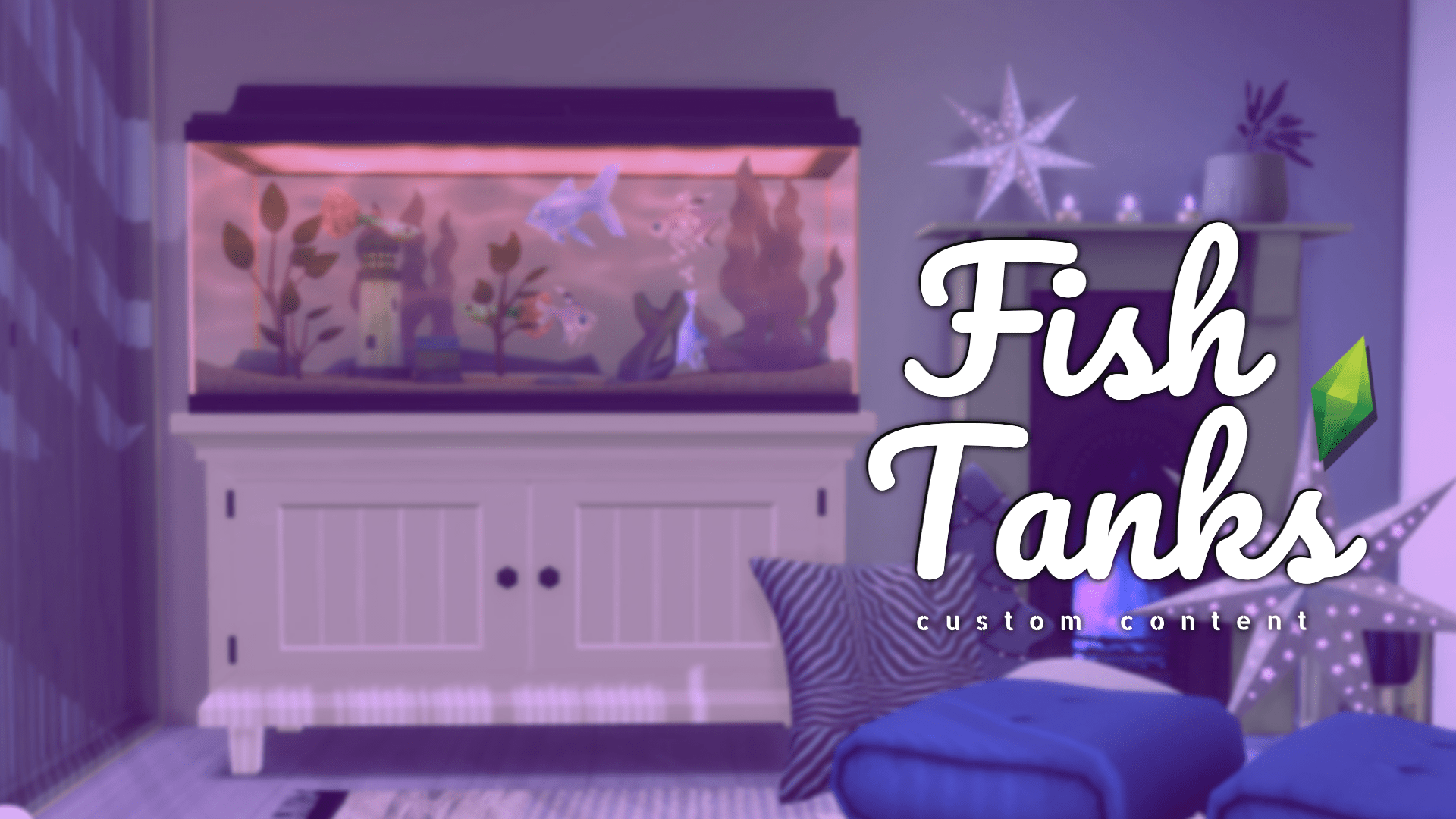 SIMS 4 DOG CC THAT WILL MELT YOUR SIMMER HEART!
THE BEST CC FOR ADDING SMALL PETS TO THE SIMS 4!
And last but not least, a compilation of our favorite Horse Ranch CC for the Sims 4!
70+ SIMS 4 HORSE RANCH CC: BEST CAS & BUILD/BUY OBJECTS!
Closing words
It's only been a few months since we've started creating custom content for the Sims 4, we're definitely not the best at it but we're wholeheartedly learning and aspiring to do better every step of the way! Stay in the loop and follow us on social media to learn about our newest CC whenever there is one! Happy simming, dear simmers!