If you're a Sims 4 player who doesn't like the game barring you from content, you'll definitely want to know about this cheat. Keep reading to learn how to tell the game to quit holding out on you and ignore gameplay unlock requirements, giving you greater access to the Sims 4 Build/Buy catalog!
We get it. The Sims franchise has never been a series with an official end game, so developers have to find ways to keep simmers motivated to continue playing. One of the ways they do this is by locking certain content behind "playwalls" where the player has to do something specific in order to enable access to the content, such as attending a downtown festival or completing a limited-time challenge. It's a good way to keep the game interesting and gives players a steady supply of mini-goals to pursue, keeping the game somewhat fresh.
This isn't always what players want, though! As you scroll through the Buy Mode catalog you can see dozens and dozens of items locked behind these "playwalls," and sometimes it makes sense that your sim(s) would have access to these items even if they haven't completed the associated task(s).
For example, Get to Work has a security camera locked behind the Detective career which your sim might find useful in their home security vault or small business. City Living comes with a handful of unique, lived-in furniture items that sims can only find at the Flea Market, though those pieces also are perfect for college dorms, teen rooms, or low-end apartments. The base game is full of items locked behind careers and other tasks, all taunting players from behind that blasted lock symbol!
Take Back Catalog Control with this Simple Cheat!
There is a single cheat code that players can use which acts like a skeleton key, unlocking oodles of content from within the catalog with no hoops to jump through! After activating TestingCheats, open the cheat console and either type in or cpoy/paste the following code:
bb.IgnoreGamePlayUnlocksEntitlement
If you're in the catalog when you enter this cheat, any locked items will not automatically show as unlocked—you'll have to click into a different category before it takes. The game will tell you "Ignore Gameplay Unlocks cheat is ON" to let you know the cheat code was entered correctly.
Once you enter the Ignore Gameplay Unlocks cheat you will now have access to all of those locked items, including Styled Rooms! Combined with the "ShowHiddenObjects" and "ShowLiveEditObjects" cheats, you'll gain access to pretty much every item that exists in the game, even items you didn't know were usable!
Learn about ShowHiddenObjects, ShowLiveEditObjects, and other useful build cheats here!
Skip the Cheat Codes with Helpful Mods
If you want to have an even easier time getting access to this locked content, no worries! There are a few mods that make it simpler to activate the Ignore Gameplay Unlocks cheat without having to memorize the code.
1. Unlock All Build/Buy Content Cheat Add-on by TwistedMexi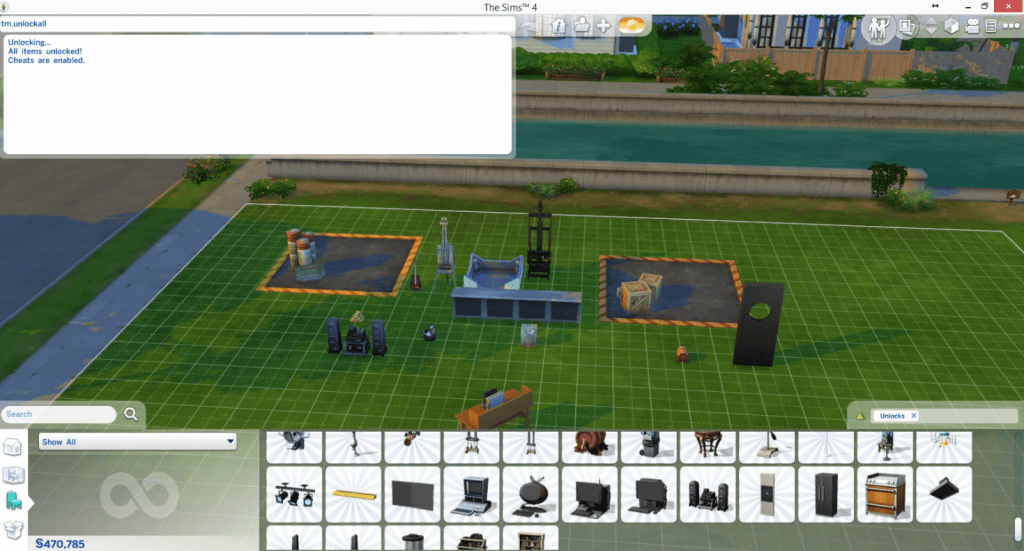 This mod adds an entirely new cheat code, "tm.unlocksall" that unlocks all barred items from the catalog in one fell swoop! If you don't want to deal with memorizing multiple cheats to get access to everything in the game, this mod cheat will solve your problem.
2. Cheat Shortcuts + by imJakeDeason
Another cheat simplification mod, this one adds several code replacements including a few that combine similar cheats together, allowing you to save time and get access to the content you want without having to memorize a bunch of long, convoluted codes. It reminds me of the userstartup.cheat file I had for the Sims 2! Learn more and download here.
No idea what a userstartup.cheat file is? We got you.
3. MC Command Center by Deaderpool
One of the better-known creations for the Sims 4, MCCC is a customizable mod that gives simmers a variety of tools they can use to edit the way their game behaves, including an option to Ignore Gameplay Unlocks. This option can be found by navigating to the "Build Buy Settings" of the mod. Learn more about what this mod can do and download the modules you want from their website.
Learn all about the MC Command Centre by reading our detailed guide!
4. Better BuildBuy by TwistedMexi
One of my favorite mods that I can't play without, Better BuildBuy has the easiest way of accessing content locked behind the Ignore Gameplay Unlocks cheat. No complicated codes, no hard-to-remember shortcuts, no memorization at all—it's just a simple click!
In the Filter Panel found at the top right of the game catalog there will be a Better BuildBuy section added once this mod is installed containing several new catalog options, one of which is "Ignore Unlocks" that will immediately activate the cheat code once you click the checkbox. Literally all you have to do is tick off that box and boom, everything is unlocked for you. This is only one of several useful options built into the mod, and I highly recommend it for all players.
In conclusion
Don't let the Sims 4 tell you which catalog items you're allowed to play with—it's your game, after all! Whether you want to keep things mod-free and the developer cheat code will do the trick for you, or you prefer to simplify things with whatever CC you can get your hands on, you now have several different ways to unlock content without the slog of doing it how the game intended. Save yourself time, stress, and aggravation so you can focus on making the builds that you want to make, no limits. Have fun with your new knowledge, and happy simming!