Learn how to utilize the Sims 4 Sentiments function. Create great relationships that are stronger, more meaningful, exciting, and dramatic! Enhance your gameplay experience by fully understanding how sentiments work. This article will explain the ins and outs of Sims' emotions and how the interactions Sims have can be one of the most fun aspects of the game.
What are Sims Sentiments?
The best way to explain what Sim's Sentiments are is to relate them to human feelings and emotions. These are the feelings that Sims have for each other. They can be good or bad and are influenced by behavior and the interactions in their relationships with each other. It is designed to mimic the way relationships form in real life. Sentiments can also work like memories. For example, if there is a meaningful moment or experience in a relationship, this can be remembered in the form of a new sentiment between the two sims.
These sentiments can be short-term or long-term. The length is affected by the intensity of the emotion. An example of this would be, if two sims went on a mountain climb together, that would create a short-term sentiment memory. However, if a Sim cheated on another Sim that would create a long-term sentiment memory. Sentiments are the foundation of the relationship experience in Sims4.
How do the sentiments work?
Sentiments reflect how Sims feel about each other. This can be acted out in positive or negative ways. For example, if a Sim has cheated on another Sim, this can create the "Furious about Cheating" sentiment. This will create powerfully angry or sad moodlets when they are around that sim that cheated. They can then use their mischievous or mean socials when with that person and friendly communication would be a no-no. Much like real life, the sim expresses their painful memories, frustration and wounds in this way.
On the positive side, Sims can fall in love when using the "Deeply in Love" sentiment, and their interactions around the Sim they love will then produce happy or flirty moodlets when around them and will be happy in social situations together. One of the interesting aspects of sentiments is that they are not necessarily mutual. So for example, in a relationship break-up situation, one partner can be happy and calm about it, while the other partner can be furious.
These are the 4 types of positive sentiments:
Adoring, Close, Enamored, and Motivating.
These are the 4 types of Negative sentiments:
Guilty, Hurt, Furious, Bitter.
A Sim can have up to 4 sentiments at once. If the Sim gains the 5th sentiment, it will replace the weakest sentiment within the current 4.
Within the sentiments there are also more individual sentiments within these types, maxing at 30 base game sentiments, although 54 more are available across all DLC packs.
Where are the Sims Sentiments located?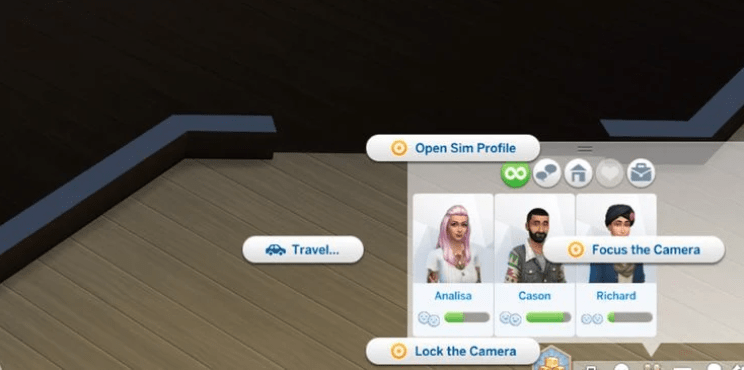 The sentiments are located in the relationships panel, located at the bottom right of the screen. Here you will find all the sims that your sim has relationships with. When you click on the Sim it will display "Open Sim Profile" Here you can view all of the details for the selected sim. The sentiments are displayed at the bottom. If there is nothing there. This panel is empty because you have not had any interactions with that sim. Here you will also be able to see a second sim's interactions with that Sim and how that sim feels about your sim. This is handy if you do not know that sim yet or if they are not in your household.
It is easy to see the sentiments when you are in conversation with another sim. This will be shown in the middle part of the conversation panel. If you click on the icon that looks like a book, this will open up all current sentiments toward the other.
list of Sims Sentiments
Here is the list's of Base game sentiments. Other Sentiments are obtained in DLC packs.
positive Sentiments
Sentiment name Description Type
Adoring
Sim 1 wants the best for Sim 2
Adoring
Base Game
Awed (by Lifesaving Hero)
Sim 2 saved the life of Sim 1
Adoring
Base Game
Close after a Close Call
Sim 2 almost died, but the Grim Reaper changed his mind
Close
Base Game
Closer after a Fun Party
Sim 1 threw a great party and feels closer after spending time with Sim 2 at the party
Close
Base Game
Closer from Happy Memories
Sim 1 and Sim 2 had a pleasant conversation
Close
Base Game
Deeply Connected
Sim 1 and Sim 2 have a powerful connection
Close
Base Game
Deeply in Love
Sim 1 is completely in love with Sim 2
Enamored
Base Game
Growing Closer from Quality Time
After spending a long time together, Sim 1 and Sim 2 feel closer together
Close
Base Game
Impressed
Sim 1 is impressed by Sim 2
Adoring
Base Game
Smitten
Sim 1 is romantically enamored by Sim 2, getting butterflies when they are nearby
Enamored
Base Game
Open-Hearted
Sim 1 is feeling welcoming toward the recent addition to the family, who is Sim 2
Close
Base Game
Cooking Together
Sim 1 and Sim 2 had a nice time cooking together
Close
Base Game

Friendly Advice
Sim 1 remembers when Sim 2 listened to his/her problems and shared some thoughtful advice.
Motivating
Base
Game
Friends in a time
of loss
Sim 1 has formed a bond with Sim 2 – the kind that can only come from the profound grief of death
Adoring
Base
Game
Negative Sentiments
Sentiment Name Description Type
| | | | |
| --- | --- | --- | --- |
| Ashamed of a Terrible Party | Sim 1 threw a terrible party and is worried what Sim 2 thinks | Guilty | Base Game |
| Awkward after a Bad Date | Sim 1 had a bad date with Sim 2 | Guilty | Base Game |
| Betrayed by Cheating | Sim 2 cheated on Sim 1, who feels betrayed | Bitter | Base Game |
| Bitter about Breakup | Sim 1 resents Sim 2 after a bad breakup | Bitter | Base Game |
| Deeply Wounded | Sim 1 was deeply hurt by Sim 2 | Hurt | Base Game |
| Dejected about Rejection | Sim 1 is sad about Sim 2 rejecting them | Hurt | Base Game |
| Festering Grudge | Sim 1 has a grudge against Sim 2, and it's unpleasant when the two are together | Bitter | Base Game |
| Furious | Sim 1 is furious at Sim 2, and they get angry every time they see Sim 2 | Furious | Base Game |
| Furious about Cheating | Sim 1 is very furious that Sim 2 cheated on them, feeling incredibly betrayed | Furious | Base Game |
| Grudging after a Fight | Sim 1 and Sim 2 have an unfinished fight that needs to happen | Bitter | Base Game |
| Guilty | Sim 1 feels bad about something that took place with Sim 2 | Guilty | Base Game |
| Heartbroken | Sim 1 feels heartbroken and hurt whenever they look at Sim 2 | Hurt | Base Game |
| Hurt | This is similar to Heartbroken but doesn't deal with romantic feelings | Hurt | Base Game |
| Infuriated about Cancelled Wedding | Sim 2 canceled the wedding, and Sim 1 is angry | Furious | Base Game |
| Resentful about Divorce | Sim 1 feels resentment after Sim 2 divorced them, and is bitter toward their presence | Bitter | Base Game |
| Saddened | Sim 1 and Sim 2 once had a strong relationship, but it faded away | Hurt | Base Game |
Sims 4 Sentiments
DLC pack list
If these sentiments aren't enough and you want to get more, you can do this via an expansion pack. This is a list of the packs available with added sentiments.
SD – Spa Day
SE – Snowy Escape
DHD – Dream Home Decorator
CoL – Cottage Living
MWS – My Wedding Stories
You can download them here: https://www.ea.com/en-gb/games/the-sims/the-sims-4/packs/expansion-packs
We hope this information is helpful to encourage you to create fantastic relationships with your Sims. Sentiments are an amazing feature that brings near real-life scenarios and an extra dimension to your Sim characters.