Spice up your Sims 4 experience with Legacy Challenges. Here's your guide to the best of the bunch. These days there's a large variety, some really out of this world. I handpicked these favorites just for you, enjoy discovering all about them.
10 Outstanding Sims 4 Legacy Challenges
In this post, we are going to share with you 10 legacy challenges that will make your Sims 4 experience more exciting and fun. Legacy challenges are a great way to add more detail and life to your Sims' lives. They offer a lot of opportunities for fun and interaction, and they can keep you coming back for more.
They also offer a lot of different ways to play, so it's always fun to try new things. So if you're looking for something to do in The Sims 4, check out some of these legacy challenges!
1. sim Crossing
How amazing to bring Sims 4 and Animal Crossing together. Animal Crossing is one of my favorite games, two of my favorite games meet! This legacy challenge requires you to control your sim characters throughout generations. However, it can be played solo too, which makes it very versatile. In this challenge, your Sim will be brought into a small town, where the object is to befriend other people and help build the town.
The object is to:
Rebuild the town
Make friends and build your relationships
Collect collectibles to gift to the museum
Put value on your house of 100,000 Simoleons, through renovation
Bring in an income, by selling your wares. You will not get a job here.
This creates an experience that is very similar to the Animal Crossing game, within Sims 4.
2. Game of Thrones – Sims 4 Legacy challenges
This Sims 4 Legacy Challenge brings in the Game of Thrones into your gameplay. This will go on for 10 generations.
The object is to:
Create a different house for each generation. Examples of this are- House Arryn in Gen 1 and House Targaryen in Gen 2.
Collect points by doing certain tasks in each generation.
Try and get as many points as you can for more success.
Earn points by possibly marrying a certain person, or getting certain traits.
This challenge allows you to bring in the throne room for the true Game of Thrones experience!
3. Generation
This Legacy Challenge is a challenge that also spans 10 generations. In a similar way to the previous challenges, you have objectives to reach. These objectives are to make each generation totally unique from the previous or future generations. So this calls for some creativity and fun! Another aspect is, that in this challenge your Sims will endure certain events.
The object is to:
Choose a gender for the generations to be to remain female or male only, equals or alternating.
Choose how your generations are related. Be it by, blood, fostered, or equals.
Choose who becomes heir. For example, the firstborn, youngest, close friends, or Pool.
Complete objectives for each generation, to be able to move on to the next generation.
Complete objectives to gain points.
4. Hurry up
Now it's time to really get going, as this challenge requires that you get married and produce children as quickly as humanly possible! This challenge also spans many generations. Your sims will need to create the subsequent generations as quickly as they can and build their legacy this way.
This is an updated modification of the Speed Legacy challenge available in Sims 3.
The object is to:
Create as many descendants as quickly as possible!
Keep sims with a short lifespan.
Get old quickly
Complete your main aspiration, to gain points. However, you can change it to other aspirations if you want.
The only way Sims will move out of your house is if they die.
So quick! Get going and grow those families now!
5. Random Legacy Challenge
The Random Legacy challenge for The Sims 4 gives you a certain amount of unpredictability. In this challenge, the Sims live to experience random events. Each generation follows randomly generated parameters that they need to stick to, these are unique for each generation. Your job is to ensure that you can cope with the challenges and successfully make it to the Tenth generation.
The object is to:
Stick within the parameters that are randomly generated for each generation. For example: careers, aspirations and traits.
Keep in mind that each generation will have different parameters from other generations in the 10.
Keep in mind heirs are determined randomly or through various different succession laws.
Stick to the aspiration restrictions which you need to follow.
Complete the challenge once the 11th generation is created.
If you wish to know more about the Random Legacy Challenge, you will find out more from following this link.
Dress up your female sims in the latest fashion trends with these clothes cc packs!
6. decades – Sims 4 Legacy challenges
This Challenge is an amazing Legacy Challenge as it puts you in different periods, with each period spanning a decade. Therefore, in each decade, you will experience events that are unique to that particular decade. Therefore you will need to keep your Sims lifestyle in sync with that decade.
Some rules will be applied during each decade, which helps make each decade unique.
The object is to:
Live in and experience different decades between the 1890s and 2010's
When in each decade, adapt the lifestyle of you and your family to suit that decade
Pay attention to the rules, events, and restrictions of each decade
Keep in mind a new decade will start when your child reaches teen or adult age.
Here's a list of the best Sims 4 baby cribs!
7. Outta This world
This has to be one of the best and most fun Sims 4 legacy challenges…Alien families! In this challenge your sims will be working in the scientist career, this is so they can get a satellite dish. After getting the satellite dish something pretty wacky will happen – they will get abducted by aliens! During the abduction, your sim will become pregnant and this is where it all begins!
The object is to:
Raise generations of Aliens, that stem from the first pregnancy
Play through the aspirations for each generation
Stick to the rules to gain specific traits
However these traits give you less control over your Sims, which can be challenging but fun, enhancing your gameplay.
You should definitely give these body mods a look!
8. Greek God legacy
Ancient mythology and Sims 4? Coool!. In this challenge, each of your generations will be created based on a variety of different Greek gods or goddesses. Each generation will develop the traits of a specific god or goddess. Your sim's first generation will be based on the goddess of the hunt. The other characters that come later are Poseidon and Demeter for example. This creates really interesting characters.

The object is to:
Work on the aspiration for the particular god or goddess
Gain income by working with the skills of the particular God or goddess
Once you finish your aspiration you can adopt one child
Bare in mind you will gain specific traits particular to the god or goddess of each generation.
You'll have a lot of fun with this because each generation is provides so much variety and creates amazing characters.
9. Highlander Crest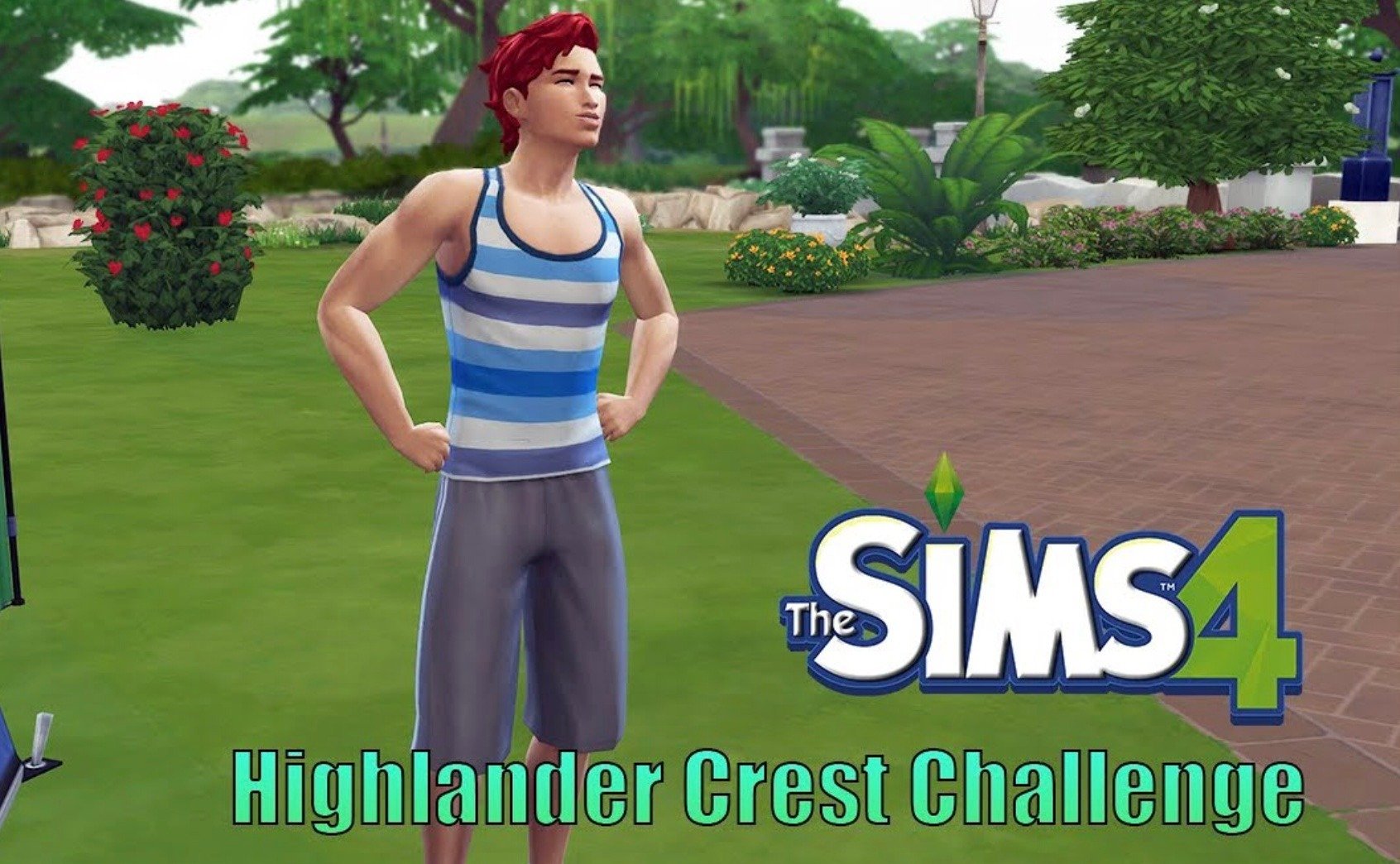 There's a touch of magic with Highlander Crest! It is a mysterious vial containing the secret of a long life! So therefore anyone blessed enough to receive it will have the ability to live through 10 generations! This is the gift of this challenge, you are the recipient of the Highland Crest!
The Object is to:
Live through 10 generations, experiencing all the events involving your family and descendants without dying.
Start as a young adult sim, whether it is male or female.
Start your adventure as this unusual Sim. You will witness your family throughout 10 generations.
Have at least 1 child throughout this challenge.
Use certain cheats that are required for this challenge.
10. History Legacy – Sims 4 Legacy challenges
Travel through time with this fun, unique challenge. This is one of the most interesting of the Sims 4 Legacy Challenges. In this challenge, you will travel through periods in time. You will move throughout history to experience events that are specifically unique to each period.
The Object is to:
Earn a certain amount of money for each historical era.
Travel through a variety of different historical times and experience various events in each era.
Travel through eras from the pre-historic to the modern era.
Gain random traits and aspirations in each generation.
Achieve a set of goals for each generation that need to be achieved, before you can move to the next generation.
So this concludes the best of the Sims 4 Legacy Challenges. There is so much to be experienced and gameplay will be greatly enhanced by participating in them. Go for it and enjoy!
Read all about the Not So Berry Challenge for the Sims 4.
In conclusion, the plethora of challenges for your Sims 4 game is extraordinary, especially since there are always new ways to play. Visit our main post to discover diverse challenges readily available, and new challenges are always being added.
These were some of our favorite legacy challenges for the Sims 4. We hope you will try them out and enjoy the gameplay experience they offer. If you have your own favorite legacy challenge, let us know in the comments below. Until next time, happy Simming!
Related Content